Posted on September 30, 2022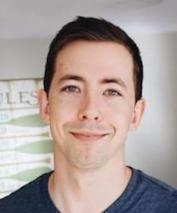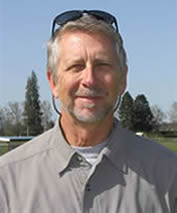 By Steve Ritchie and Eli Ritchie, SuperWest Sports
As we head into Week Five of the season, the preseason quarterback controversy for Oregon football is now a distant memory.
Apart from a shaky start in the season opener versus Georgia, transfer QB Bo Nix has been so productive for the Ducks that any previous debate about who should start just seems silly now.
Perhaps because Nix's previous team—the Auburn Tigers—failed to live up to expectations in 2021, there was chatter that Nix had regressed in his play.
That, plus Ty Thompson's presence as a five-star recruit waiting in the wings, no doubt led to some fan grumbling when Nix was chosen as the starter.
In retrospect, however, it's clear that Oregon got very lucky when Nix chose Eugene over Oxford, Mississippi, and College Station, Texas.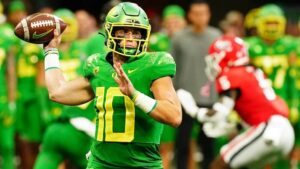 The Ducks' first four games included one cupcake and three pretty stern tests.
Nix's stats for the first month illustrate his productiveness: 95-132 passing (72%) with 10 TDs and three interceptions (two against top-ranked Georgia), plus 26 rushes for 122 yards (4.6 average).
Add to that a clutch late-game scoring drive to pull out the WSU win, and a clear picture of what the senior quarterback is capable of begins to emerge.
One has to be impressed, too, that Nix, an Alabama native and three-year Auburn starter, had the gumption to leave the SEC and the school he had dreamed of playing for his whole life to start over in the Pac-12.
Nix's father, Patrick, had a storied career at Auburn in the early 90s, starting in 1993, when the elder Nix, then a true freshman, replaced injured starter Stan White in the Iron Bowl.
Auburn was down 14-5, and the senior Nix rallied the Tigers, directing them to a 22-14 victory over the hated Crimson Tide, saving Auburn's undefeated season.
Patrick Nix finished his Auburn career as the school's all-time leader in passing efficiency, notching a QB rating of 135.6 during his senior season in 1995.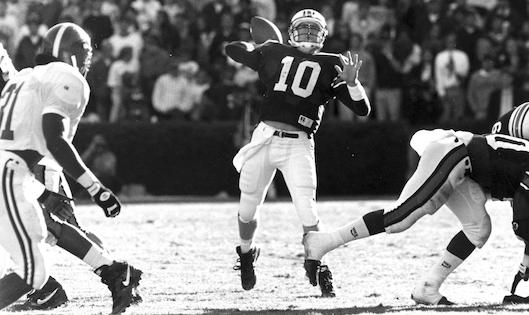 Patrick began a 16-year college coaching career before switching to high school coaching.
Bo played for his dad at Pinson Valley High School, and became the most productive offensive player in Alabama high school history, with 161 touchdowns and 12,000+ yards of total offense.
As a 5-star recruit and the top-rated dual-threat high school quarterback in 2019, it seemed a foregone conclusion that Bo would follow in his father's footsteps at Auburn.
With luck, the younger Nix might lead the Tigers to a conference title, or even a national championship.
Nix's career started out on a promising note, as he led Auburn to a come-from-behind victory, ironically, over Oregon in his first college game.
Nix was selected the SEC Offensive Freshman of the Year and the team's 9-4 record that year seemed a harbinger of great things to come. 
However, the Tigers slipped significantly over the next two seasons. Nix was one scapegoat who caught the ire of some fans.
But the more rational reasons for  Auburn's mediocrity were the coaching turmoil under now second-year head man Bryan Harsin, the continually changing offenses, and a downturn in recruiting.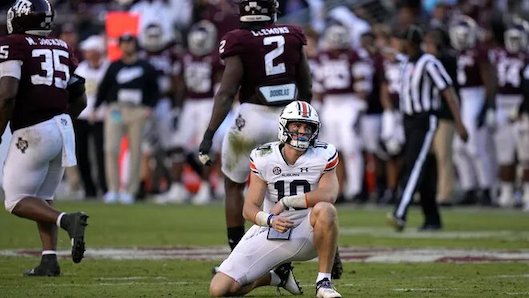 Losing confidence in his head coach, in particular, was a major reason for Nix to transfer, and he noted that Oregon's would be his fourth different offense, his third different head coach, and, of course, his second team. 
The Ducks would also give Nix a chance to win a conference championship, something that wasn't likely to happen at Auburn with SEC rivals Alabama and Georgia, as well secure a possible playoff berth.
While a conference championship is still a possibility for Oregon, the situation on the Plains has gotten much worse in Nix's absence.
A close win over San Jose State and a 41-12 drubbing at home to Penn State got Tiger fans stirred up.
Last week's 17-14 overtime win over Missouri did nothing to help Harsin; the second half of that game consisted of 12 consecutive punts—no touchdowns, no field goals, very few first downs, and lots of punts.
(It must be pointed out that Auburn's quarterback for that atrocious half of football was Robby Ashford, a transfer from Oregon, who went 12-18 passing for 127 yards.)
Nix, meanwhile, is doing just fine running the show for Oregon.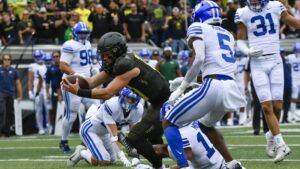 His performance against 12th-ranked BYU earned him Maxwell Award player of the week, the Rose Bowl Pac-12 player of the week, and the Senior Bowl offensive player of the week. 
"I'm excited about (playing for Oregon)," Nix said in a recent interview. "I've adapted to change well enough over time, and so I've really started to embrace the challenges where I'm at now, and I'm looking forward to moving on in the future."
In coming to Oregon, Nix was also reunited with offensive coordinator Kenny Dillingham. Dillingham, a young and widely respected offensive guru, served as the OC at Auburn during Nix's freshman campaign.
Without Dillingham in Eugene, Nix may have ended up with Lane Kiffin at Ole Miss or Jimbo Fisher at Texas A&M. (Perhaps not coincidentally, Fisher was Patrick Nix's position coach at Auburn.)
In just his ninth year of coaching, Dillingham has progressed rapidly through the ranks, having worked for two years at ASU with Mike Norvell, whom he followed to Memphis.
In 2016, Dillingham was a grad assistant; in 2017, QB and TE coach; and in 2018 offensive coordinator. His Memphis offense ranked in the top five nationally.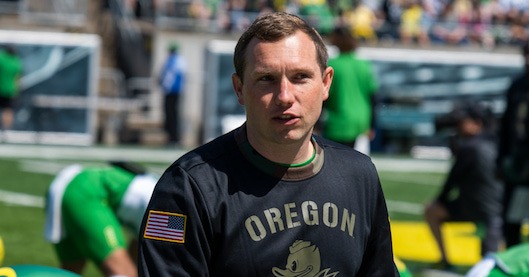 Two more successful years as OC at Florida State followed for Dillingham, but when newly-hired Dan Lanning called, Dillingham saw the opportunity to return to the west coast and to resuscitate Oregon's offense, which had grown stale under Mario Cristobal and a succession of OCs.
Nix's accuracy on short, quick passes, his ability to run effectively, his decision-making, and his ball-handling ability make him well-suited for Dillingham's offense.
It would seem that Nix has also won over Duck fans with his willingness to take a big hit to try to get a first down or a touchdown.
On multiple QB runs against BYU, Nix eschewed sliding as defenders approached, opting to try to run through defenders with considerable success.
Duck fans will likely have many opportunities to appreciate Nix's competitiveness in the big games that lie ahead. An incident while at Auburn provides a possible glimpse into what they can expect.
Late in his junior season, Nix broke his ankle against Mississippi State. Despite the fracture, Nix stayed in the game for the next three possessions, one of which was a 90-yard TD drive.
His heroics went for naught, as the Bulldogs took the win, but his effort stood out more than the outcome.
After the game, Nix said, "A lot of people play with things going on that you have to overcome. That's a part of football, and you have to find a way, whatever happens."
Sounds like the kind of guy you want under center.
Week 5 Prediction: No Pac-12 team afflicts the Ducks quite like the Cardinal. If you doubt that statement, take a look at last year's wild upset win by Stanford.
We think Oregon is so superior to the Cardinal in talent and identity, this game at Autzen should go according to plan, even though it is Pac-12 After Dark.
Final Score:  Oregon 35, Stanford 17
---
—More from Steve Ritchie—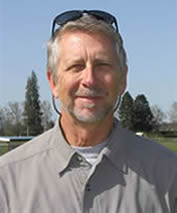 Latest posts by Steve Ritchie
(see all)