Posted on July 31, 2022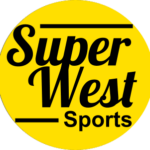 By SuperWest Sports Staff
U
nless you're a sportswriter or broadcaster, you probably didn't have time to watch all seven hours of interviews from Pac-12 Football Media Day on Friday.
We've got you covered with a selection of the best comments from each coach, in their order of appearance.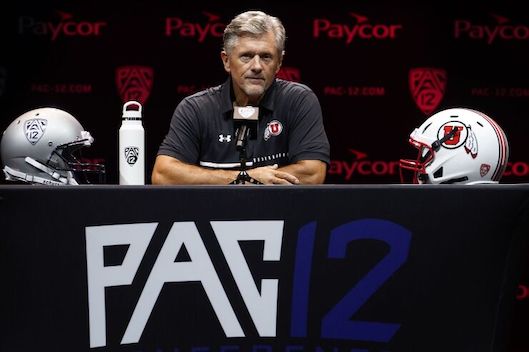 —On the impact of the Rose Bowl on the program—
"First of all, it was a great national stage for our team obviously to be able to be in that game and have that exposure. For our program, it signified the next step in the evolution of our program, winning the Pac-12. We'd been to the championship game, that was the third time last year. We had been denied the first two times, so it was good to get over that hump. We certainly felt the effects of that game in recruiting, still feeling the effects of that."
—On if the conference is still a viable product—
Sure. I think the real proof of the pudding of that is going to be in the media rights deal, see how that comes out. If those numbers are right, absolutely. If those numbers are not where we need them to be, then look at other options. Right now it appears to be very unified, the Pac-10, the 10 that are staying, and we'll see how it goes going forward.
—On the importance of the game against Florida for the Pac-12—
"That's very important. Every game obviously is important. But when you have a chance to go down to SEC country, play a storied program like Florida with their history, a tradition, in a place like the Swamp, that's a challenge for our guys. It's important for the Pac-12 to make noise on the national scene whenever we get opportunities like that. There's several other teams in the league that are going to have similar opportunities. We have to make the most of it. If you want to gain respect, gain national attention, you got to come out and win some of those games. Hopefully we can go down there and play like we're capable of."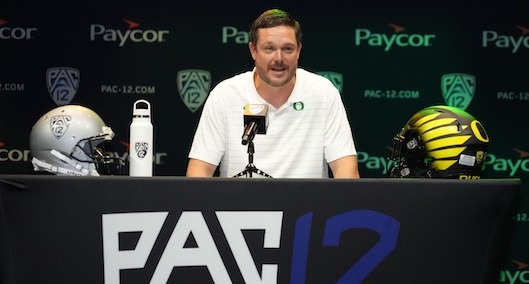 Dan Lanning,

Oregon
—From his opening statement—
"Moving forward, one thing that's certainly changed in this off-season for us is our team has a void. We're missing a brother in Spencer Webb who we lost in a tragic accident. We spent a lot of time together as a family, mourned his loss.  I talked to our players about that moment. Spencer, on your tombstone, there's a day when you were born, a day when you pass. But what made Spencer special is how he lived that dash in between those two numbers. We want to live and create a dash that's meaningful."
—On whether Oregon is still chasing USC's past success—
"Yeah, we're not chasing anybody. We're trying to maximize ourselves. We're going to be the best team we can possibly be in the year 2022. Our goal, like I said, is to win every single game. That's our goal. We have the team and the ability to do it. Time will tell if we're able to fill that void and do those things that are necessary to be successful."
—On impact to recruiting with Pac-12 reputation after USC, UCLA move—
"Yeah, I have zero concerns from that angle, that front, just because I know how strong our brand and product is. Like I said to start, Oregon is a brand that is national. We're going to play premier programs year in and year out. There's some great storied history obviously in this conference. I'm excited about that as that continues forward. I think the biggest way you control that narrative is you go and win games. That's certainly our job at Oregon."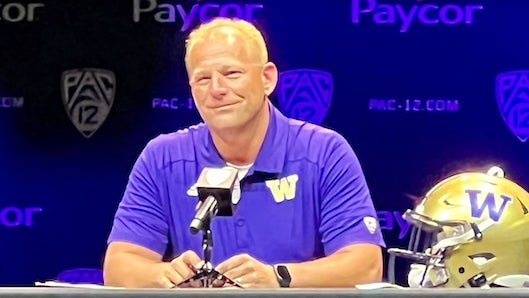 Kalen DeBoer,

Washington
—On what he has seen from the three quarterbacks—
"In our offense, the quarterback position is the driver. It's fun seeing those guys. They're great high-character guys. They understand it's a battle amongst all three of them. But first and foremost our team comes first. They all want to be the leader and the guy that takes the first snap on September 3rd. They're doing a great job of doing it in a united way."
—On turning out top DB's and maximizing talent in the backfield—
"We are going to continue to feed off of that. Fortunately the players we have returning that we need to fill in, a Kyler Gordon, a Trent McDuffie position, they saw what it looked like. They work every day to be those same players. Not that those are easy shoes to fill, but our staff is excited about who we have. I'm excited that those guys have had the experience to see those great players. We got to continue to make it DBU in the future."
—On what's been the most difficult thing to change coming into Washington—
"In the installation of things, it's really gone seamless. I think the evolving of college rules have allowed us to have a little more hands on with guys, be able to install things quicker than you could have maybe seven, eight, nine years ago. That's lent us to feeling confident that when we step on the field next Thursday for our first practice, there's going to be a depth of understanding of not just what that play is but the details how we're going to run it and how we're going to execute it."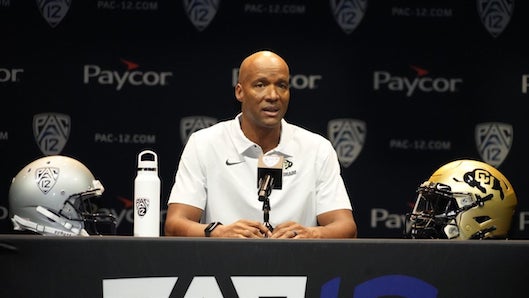 Karl Dorrell,

Colorado
—On the improvements of QB Brendon Lewis—
"The first thing that came to me after the season is he went back and watched all of the games just by himself and made notes and critiques about what he could have done better, what he did well, what he needs to improve on. So he went through that process for himself at the end of the season. To his credit, he's invested a lot of time and blood, I would say sweat equity, this last season to develop into being a better quarterback than where he was last fall. There's no question in my mind and his mind he's not even the same player."
—On UCLA leaving for the Big Ten—
"It was probably shocking was my first impression, was shocking. Being in this conference for over a hundred years, I would say that was the first initial impression, was that. But as humans, as we all evolve throughout the years, we'll evolve and adapt and move forward. I wish them the very best. Obviously that's a school that has made me into who I am today as a coach."
—On this year's team compared to his previous coaching success—
"That's a great reference, what you just mentioned there. That was like year three at UCLA for me, that year you're talking about when we beat Oklahoma. I'm expecting that jump for us this year. We have a great foundation. The foundation is there. Now we're building the talent, building the room, building the roster. I believe you're going to see a quality team this year, a team that's going to be very competitive, a team that's going to win more games than they won a year ago."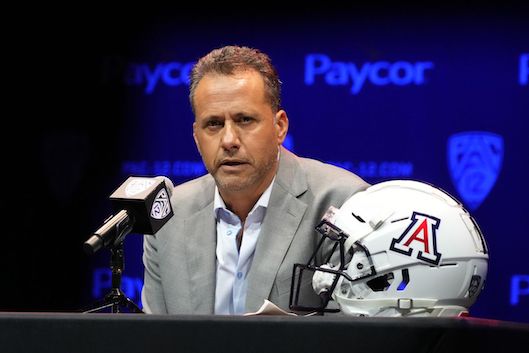 Jedd Fisch,

Arizona
—On pitch to potential incoming transfers after a 1-11 season—
"What they have the opportunity to do is be part of the change, to be a part of a program that I believe offers everything you can possibly want in an incredible environment, in a beautiful community, an opportunity to play and play early. We told those guys we can help you get to the next level if that's what you aspire to do. We know what it looks like in a draft room. We know what it looks like when it comes to successes."
—On his NFL background being a differentiator in recruiting—
"I think a lot of people talk about that they can get you to the next level or they know what the next level looks like, but you actually have to be there to know it. I feel like it gives us an opportunity based on the relationships we have with coaches at the next level to be able to talk with them and kind of see what they're looking, see how the trends of the NFL have changed."
—On potential change to recruiting in Cali after USC, UCLA's departure—
"I hope what it does when parents are making decisions on wanting to watch their children play, they don't have to get on a plane and fly to Newark, fly to Iowa, fly to Ann Arbor. They get to get in a car, drive five and a half hours, and next thing you know they're at Arizona. They can be able to watch their sons play right here on the West Coast, right in prime time television. We're hopeful that that's going to be a huge benefit for us moving forward."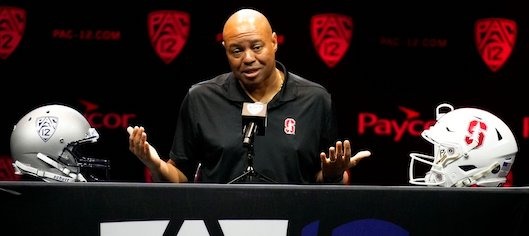 David Shaw,

Stanford
—On how he feels about how college football has changed—
"Now, I want our young people to take advantage of their opportunities through NIL and through other opportunities. At the same time, I don't want to hire and fire college athletes. I want to bring them in, I want them to be students. They're 18, 19 years old, 20 years old. I want to them to enjoy college. I don't want them to be professionals. I don't want that to change, that experience to change. I want them to be on our campus, be college kids, stay up playing video games at 2:00 in the morning in the dorms. That's my answer to that question, is to maintain college athletics the way that they are not just for those two sports but for everyone."
—On overcoming the bias against West Coast teams—
"The biggest thing is we got to win, you know. That's the thing. We got to win. You got to play great football, really show what kind of program that you have. That's where we as a conference have fallen short here and there. Now, I will say built into that, this conference has been really deep, and it's really hard to run the table in this conference. Our conference, if you slip up, you're going to get beat. Doesn't matter who it is, where it is. You have to play your best football and play nine conference games and a difficult out-of-conference schedule is something that maybe the entire country doesn't understand."
—On strength of schedule after USC, UCLA leave the conference—
"You compare our strength of schedule to anybody in America, we'll be in the top 10 in my opinion over the last decade. We play out-of-conference opponents, Notre Dame, BYU this year, Division I opponents.  I'm not worried about strength of schedule. I'm sad to a certain degree about not being in the same conference in a few years with USC and UCLA because those have been a big part of the Pac-10, Pac-8, Pac-12 story. As I said earlier, my hope is we continue to play those two programs even if they are out-of-conference games."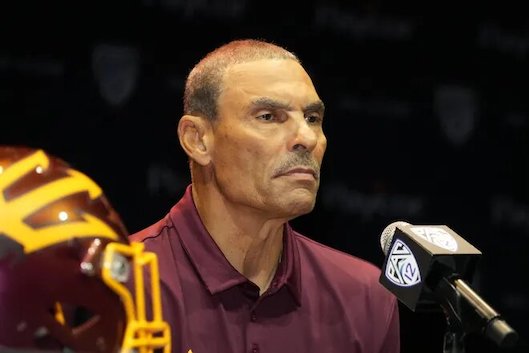 Herm Edwards,

Arizona State
—On NIL, other changes and the direction of college football—
"The funny part is this. Everyone is trying to figure out what is it going to look like. We don't know. It might change again next week. No one knows. But eventually, it will change. Someone else will be sitting at this table. There will be new guys writing stories. They'll be talking about, Hey, you remember what happened back in 2022? You got to adjust. Some will like it, some will not. That's just how it works now."
—On USC and UCLA departure to Big Ten and how it affects ASU—
"I think what's impacted is more than just the realignment of teams going to different conferences, it's how do you go about recruiting now and what mechanism do you have in your conference to generate TV revenue? How can you generate dollars for your programs? That's what everyone is faced with right now. That is how it works. I do know this: the player you have this season, you better re-recruit him when the season is over with because, if not, he might be playing somewhere else."
—On the NCAA investigation being a distraction for the team—
"I think our players and our staff did a great job of having to deal with all that. It's just another testament to the mental toughness that these guys had last year. It's a pretty tight football team right now, what I've learned. You're talking about 43 new players that chose to come here. I think we all get worried about the players that leave. I don't worry about guys leaving. Who are we getting, right? Who wants to come here?"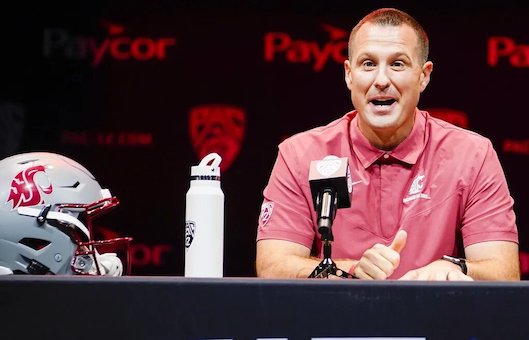 Jake Dickert, Washington State
—From his opening statement—
I believe everybody wants progress, but nobody wants change. I talk to our guys all the time, change is inevitable in life. College football is changing at a very, very fast rate. But I know because we have solution-based leaders in the Pac-12 and we have great leadership at Washington State, I think the Pac-12 is going to be here and is going to be thriving for a very long time.
—On Cam Ward coming to WSU—
"I think Cam's story, if you don't know it, it is a special one. Comes out of a small town, running the wing T, just outside of Houston, Texas. Wasn't heavily recruited. Those are the stories that make college football what it is. I told him all the time, I trust him, I believe in him, go out there and be you, right? Cam hasn't reached his ceiling. For us coaches that really love the passion and the technique and the coaching and the development, that's exciting for us as a football program."
—On the Apple Cup—
"Well, I think when you walk through the door at Washington State, the first thing you hear about is the Apple Cup. But you don't fully understand it until you go through it. I know our people's food tastes better when we win that game. That's how much the Apple Cup means to us. You know being in Washington, houses are divided. It's fun. You're either a Coug or you're with that other team on the other side of the state. But those rivalries are what make college football so special, in my opinion."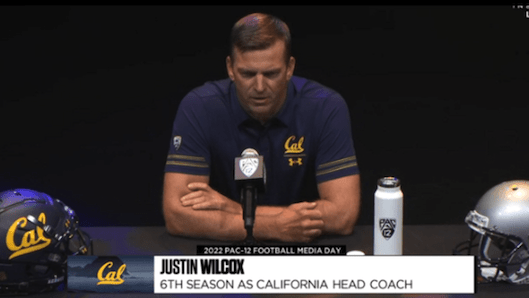 Justin Wilcox,

Cal
—On approaching the season with only 18 returning players—
"There's going to be a lot of new faces playing for us. There's going to be times you're going to be inexperienced at certain positions or units. However, we feel really strongly about the talent on the team. We have some inexperienced guys, but we have some really talented guys. They've had a really good off-season. Now it's about putting it all together, creating some rhythm and getting into the season where we will be tested each and every Saturday."
—On if being the only major UC school left in Pac-12 benefits recruiting—
"I'm very bullish on our program, our institution, what we can offer a young man who wants to come get a great education, get coached well, get treated really well. We will continue to recruit California very hard. That won't change one bit. But I understand that especially for the traditionalists in all of us, when things like that happen, it feels a bit uneasy."
—On confidence the offense can take a step forward this year—
"We are inexperienced on offense at a number of positions, but we feel the talent is probably greater than what we've had. The skill positions, we feel like we're going to have some more guys create explosive plays. We as coaches have to put them in position to do that. We would expect us to take a step forward. Getting more specific, it's really scoring touchdowns in the red zone and creating explosive plays. Those are the two areas where we have to make the biggest jump. If they do that, we'll give ourselves a chance to win."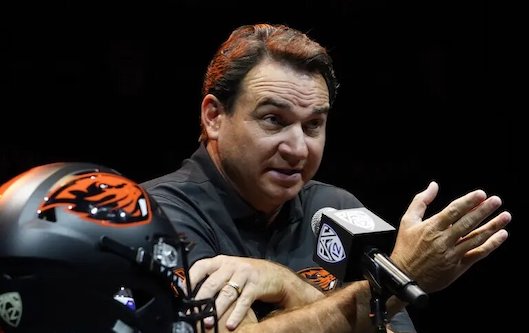 Jonathan Smith,

Oregon State
—On continuing the running back lineage—
"Yeah, we do pride ourselves being able to run the football. I'm just a believer in being able to win games but finish games running the football. That's been a mainstay for us here at Oregon State. At the same time we got to be better and complement it with some explosive passes. We've got receivers on the outside I think we can make some plays for us that way."
—On replacing linebacker Avery Roberts—
"Shoot, I think he was close to if not leading the league in tackles last year. It's not just that production that we're trying to replace. His leadership. He'd been around the game a long time. His work ethic. He'll be missed. We have some depth we feel like that can step into that role. That's what I love about college football, too, is that everybody's roster got some seniors that are on their way out, you're counting on the young guys developing. We take some pride around our place in developing players."
—On if the Beaver program has arrived and not going anywhere soon—
"We're definitely trying to make it that way. We're continuing to rise, we're not going anywhere. You're right, we won five of the first seven. Learning experience, we didn't finish the way we wanted to finish. This year is an opportunity to improve on that. Each year you got to come in and grow, develop, compete. I feel like we got a mature roster that's all about doing that. Now we got to go prove it and show it each Saturday."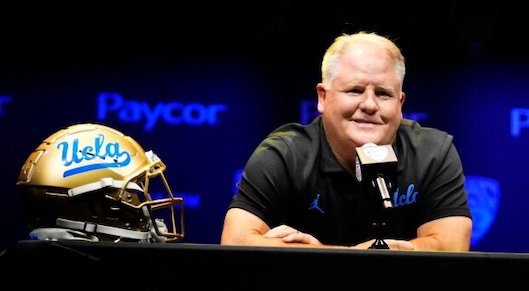 Chip Kelly,

UCLA
—On DTR being in his fifth year as UCLA quarterback and national respect—
"I don't think there's many situations like that in college football right now. But I think he's grown in all aspects. Obviously he's physically matured from when he came in as a freshman five years ago. Yeah, I don't really get into what's gone on
nationally, how people talk about other people. I know within our program he gets that respect, because he earns it every single day, from our players. I think everybody will be excited. We're looking forward to him having an outstanding season for us."
—On the rivalry with USC and if UCLA runs the city of LA after last year's win—
"I think it's an historic rivalry because you have two Power Five schools that are in the same city. There's not any rivalry where there's such proximity between the two schools. There is such a split and a faction of there may be even families that some are SC, some are UCLA. I think it's what makes rivalries great. Who runs the city, who doesn't run the city, I'll leave that up to the voters, I guess."
—On if leaving for Big Ten changes recruiting dynamics on the West Coast—
"I don't know. I don't know if expansion is done. I don't have a crystal ball. I don't know where this is. I think people last year at this point in time, we all sat in here as a conference of 12 and talked about what Texas and Oklahoma were doing going to the SEC. Now we sit here talking as a conference of 12/10. The young kids that we have right now that are playing football are awesome. We should be talking about them. We should be talking about the season that all of them are going to have here in 2022 and not talking about expansion at this point in time."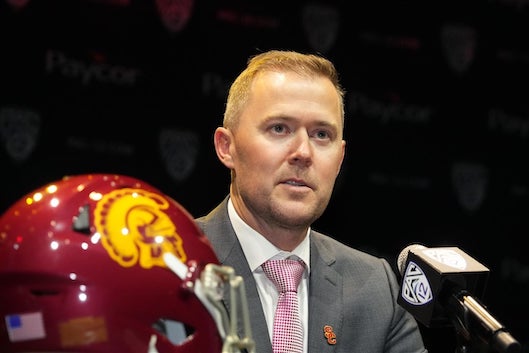 Lincoln Riley,

USC
—On what surprised him in the first seven months (realignment aside)—
"I would say how involved and how passionate our former players are. I mean, we had former greats at every single spring practice. Guys want to be involved. They take so much pride in this program, rightfully so. They were part of the greatest runs that this game has ever seen at any university. To see how open they've been for us, how involved they want to be has been a great thing."
—On the high expectations for the program—
"I don't think it's too much. I don't. I believe in what we're doing. The people we brought in here, the staff we brought in here, we didn't come here to play for second. We are not wired that way. We came here competitively to win championships, win them now and to win them for a long time. That will always be our expectation."
—On the impact of moving to the Big Ten on recruiting conversations—
"Yeah, they're exciting because I think there's some obvious benefits right off the top. Playing in some of the major, biggest, most influential media markets not only in the country but in the world. You think about some of the epic matchups that have happened in the Rose Bowl. Now you're going to have several of those happening each year, albeit in different venues. I think it's going to create some cool and intriguing matchups that will grab attention all over the country. So the conversations have been fun."
---
—More from Staff—