T
he 2022 Pac-12 Men's Basketball Tournament bracket is set, with Arizona, UCLA, USC, and Colorado earning the four First-Round byes.

The top seed was wrapped up days ago by No. 2 Arizona en route to 28-3 overall season, including a record-setting 18 conference wins. It's the ninth No. 1 seed for the Wildcats, who last won the tournament in 2018.
No. 17 UCLA claimed the No. 2 seed with a 75-68 victory over No. 16 ranked USC, which fell to the No. 3 seed on Saturday. Colorado assured itself of the No. 4 seed for the second straight year with a victory over Utah.
Oregon's loss to Washington and Washington State dropped the Ducks to a three-way tie for fifth place with those schools, but the two wins over UCLA propelled them to the No. 5 seed.
The Huskies won the No. 6 seed by virtue of their win over Arizona State, with the Cougars landing at the No. 7 seed.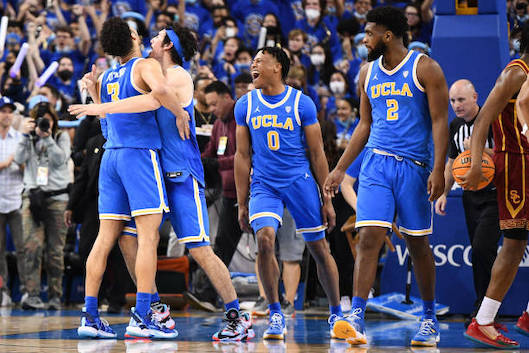 Arizona State claimed the No. 8 seed, Stanford the No. 9 seed, and Cal the 10th seed, leaving the 11th and 12th seeds for Utah and Oregon State, respectively.
Wednesday's First-Round matchups at T-Mobile Arena in Las Vegas will all air on Pac-12 Network, and Thursday's quarterfinals will air on Pac-12 Network and FS1.
Friday's semifinals will be aired on Pac-12 and FS1, while Saturday's Championship will be broadcast on FOX.
The complete tournament schedule with times and TV information appears below.
Wednesday, Mar. 9
Game 1: No. 8 ASU vs. No. 9 Stanford, 12:00 p.m. PT, Pac-12
Game 2: No. 5 Oregon vs. No. 12 OSU, 2:30 p.m., Pac-12
Game 3: No. 7 WSU vs. No. 10 Cal, 6:00 p.m., Pac-12
Game 4: No. 6 Washington vs. No. 11 Utah, 8:30 p.m., Pac-12
Thursday, Mar. 10
Game 5: No. 1 Arizona vs. Game 1 winner, 12:00 p.m., Pac-12
Game 6: No. 4 Colorado vs. Game 2 winner, 2:30 p.m., Pac-12
Game 7: No. 2 UCLA vs. Game 3 winner, 6:00 p.m., Pac-12
Game 8: No. 3 USC vs. Game 4 winner, 8:30 p.m., FS1
Friday, Mar. 11
Game 9: Semifinal 1, 6:00 p.m., Pac-12
Game 10: Semifinal 2, 8:30 p.m., FS1
Saturday, Mar. 12
Game 11: Championship, 6:00 p.m., FOX
---
—More from Staff—