Posted on August 7, 2023


  By Dane Miller, SuperWest Sports
T
his Oregon preseason football preview is the ninth of 12 to appear over as many weeks as we count down the days to the start of the Pac-12 season on August 26th.

Each preview consists of nine sections: Overview, Best-Case Scenario, Worst-Case Scenario, What Should Happen, What Must Happen, Greatest Strength, Biggest Concern, Deciding Factors, and Schedule Analysis.
Nothing is set in stone, however, as rosters and depth charts continue to evolve over the summer.
Oregon Ducks Fast Facts
• 2022 Record: 10-3
• Head Coach: Dan Lanning (10-3 at Oregon)
• Offensive Coordinator: Will Stein
• Defensive Coordinator: Tosh Lupoi
• Home Stadium: Autzen Stadium (54,000), Eugene, OR
• Last Conference Title: 2020, Pac-12
Overview
D
an Lanning and the Oregon Ducks enter the season restocked and reloaded.
Securing the No. 9 recruiting class and the No. 9 transfer class, per 247Sports, UO is positioned to exceed its fourth-place media projected finish.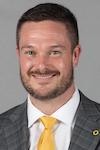 The Ducks return Heisman candidate quarterback Bo Nix, all three of their top running backs, two out of their top three wide receivers, and their leading tight end.
Led by new offensive coordinator Will Stein, the Oregon offense once again figures to be among the best in College Football.
But UO is replacing four of its five starters along an offensive line that was arguably the top unit in the nation last year.
Lanning hit the portal to find some of their replacements, reeling in Ajani Cornelius from Rhode Island, Junior Angilau from Texas, and Nishad Strother from East Carolina.
Expected to run a more balanced offense under Stein, the strength of the offensive line could make or break Oregon's offense this season.
Yet, the key to taking a step forward in Lanning's second season is improvement on defense.
Last year, the Ducks were No. 75 in Scoring Defense, No. 102 in Passing Defense, and a highly concerning No. 123 in Third Down Defense.
And after losing their top two defensive backs, three of their four leading tacklers, their top sack man, and two of their three leading tacklers for loss, the entire season rests on shoring up the issues on defense.
Best-Case Scenario
T
he offensive line clicks from the opener against Portland State to help produce a Top 5 scoring offense in all of College Football.
The Ducks had the 10th-best scoring offense in the country last season and a large percentage of it was due to elite offensive line play. UO led the nation in sacks allowed per game and was No. 10 in TFLs allowed per game.
But Oregon lost four of its five starting linemen and is in rebuild mode down in the trenches.
Junior Marcus Harper II is the lone returning starter from last year's squad, although Steven Jones started in four games during an injury-ridden season.
But Texas transfer Angilau has started 34 games for Texas over three seasons and Rhode Island transfer Cornelius has started 22 games over the last two years at the FCS level.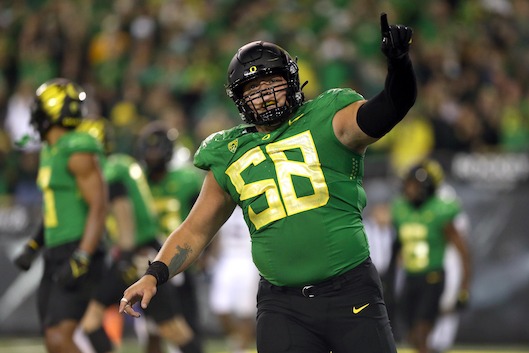 East Carolina transfer Strother has been bought in, too, after starting 30 games for the Pirates over the last three seasons.
The trio adds experience and depth to a group of heavy-hitter young guns.
Sophomore Josh Conerly Jr. and junior Jackson Powers-Johnson, in particular, figure to emerge this season as the next wave of great Oregon O-Linemen.
All told, Oregon has brought in experience via the portal and has several linemen ready to emerge on the scene.
If they are able to come close to the dominance of last year's line, the Ducks could go 11-1 with the sole defeat coming to Utah on the road.
Worst Case Scenario
T
he Oregon defense doesn't make substantial improvements en route to a disappointing 8-4 year with losses to Washington, Utah, USC, and Oregon State.
Regardless of what happens in the trenches on offense, the Ducks have to get better on "D."
Defensive Coordinator Tosh Lupoi lost three of his four leading tacklers from last season in Bennett Williams, Noah Sewell, and Christian Gonzalez. Leading sacker D.J. Johnson is gone, as well.
But Lupoi does return his top defensive lineman in Brandon Dorlus and his top linebacker in Jeffrey Bassa.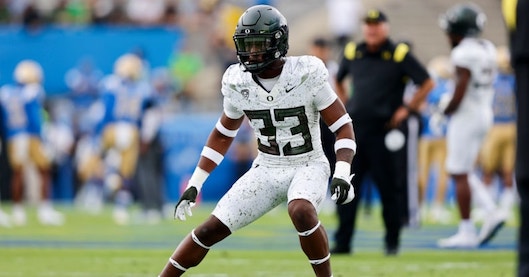 Plus, the Ducks mined the portal on defense.
South Carolina defensive end Jordan Burch highlights the haul. The junior started all 13 games for the Gamecocks in 2022 and posted 60 tackles, 7.5 tackles for loss, and 3.5 sacks.
Fresno State defensive back Evan Williams was a strong addition, too. The senior safety has started 32 games during his career and is a talented veteran presence for the Oregon secondary.
Colorado cornerback Nikko Reed has been brought into the fold after posting seven pass breakups and two interceptions for the Buffs last year.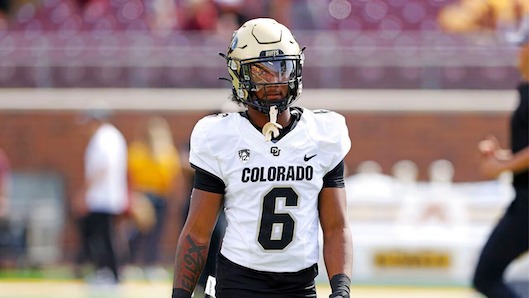 Similarly, Ole Miss safety Tysheem Johnson was added to the roster after starting nine games for the Rebels and finishing third on the team in tackles.
There's a reason Oregon's transfer class was ranked ninth in the nation by 247Sports.
Additional defensive players were brought in via the portal who are expected to contribute, including Arizona State linebacker Connor Soelle, Iowa linebacker Jestin Jacobs, and Alabama defensive back Khyree Jackson.
Yet, Oregon had talented pieces on last season's defense that failed to produce an acceptable unit as a whole.
Defensive Coordinator Lupoi is under pressure to improve the production on the field. If he isn't able to get the job done, Oregon's ceiling could be substantially limited.
What Should Happen
T
he Duck offense shouldn't miss a beat.
Nix is a legitimate Heisman candidate and has the pieces around him to flourish. Lanning's O-Line should be one of the top units in the Pac-12 and provide Oregon the backbone to be successful.
The run game should be deadly with Nix's threat to run, and the UO wide receivers should take advantage of open space.
Stein's offense is slightly more balanced than what Kenny Dillingham ran, which should increase Oregon's scoring production. Dillingham's scheme was a roughly 54/46 run-pass split that was slightly skewed toward the run.
The Ducks averaged around six more running plays per game than passes, despite the passing offense averaging about 70 more yards per game.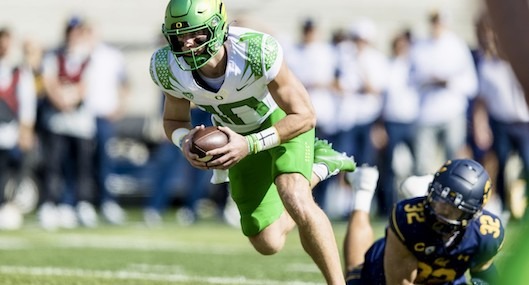 Stein, on the other hand, is more willing to pass the ball.
Previously the offensive coordinator at UT San Antonio, Stein's scheme produced a 51/49 run-pass split in his lone season as coordinator.
But in the previous two years, while he served as the pass game coordinator and wide receivers coach only, UTSA had a 57/43 and 55/45 run-pass ratio.
In other words, once taking over the reins in San Antonio, Stein made the offense more balanced by calling a higher number of passing plays. The same process should be repeated in Eugene.
In his one year as coordinator for the Roadrunners, Stein engineered the nation's No. 9 total offense, No. 12 passing offense, and No. 12 scoring offense. And that was with athletes at UTSA.
With the quality of players he has at Oregon, the sky is the limit.
What Must Happen
T
he answer is obvious: defensive improvement.
Oregon's issues on defense are somewhat confounding given the quality of players on its roster.
It has a strong defensive line with Dorlus, Burch, Popo Aumavae, Casey Rogers, Taki Taimani, and Keyon Ware-Hudson.
Add in four-star freshman defensive end Matayo Uiagalelei (rated as the No. 6 edge rusher in the 2023 Class, per 247Sports) and Oregon shouldn't have any issues upfront.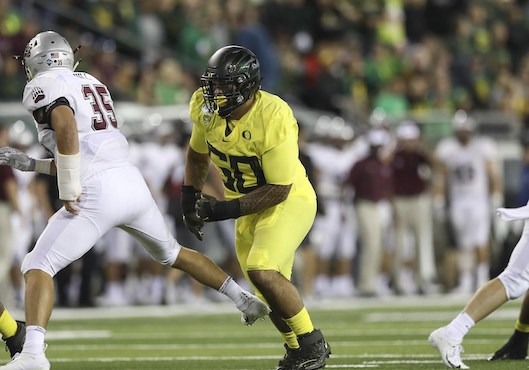 At linebacker, Bassa returns to lead the group along with Jamal Hill and Mase Funa. The trio combined to start 27 games for the Ducks last year.
And with the additions of ASU transfer Soelle and Iowa transfer Jacobs, the linebacker unit should have the talent it needs.
In the secondary, Trikweze Bridges, Bryan Addison, and Steve Stephens IV headline the returning players.
But the defensive back group is heavy with transfers that should fight for starting roles. Reed, Williams, and Johnson all probably end up starting and becoming major contributors.
Four-star freshman cornerback Rodrick Pleasant adds even more talent, coming in as the No. 8 CB in the Class of 2023, per 247Sports.
Still, a team can have all the talent in the world and fail to produce as a collective group. Coaching becomes key in that respect, and Lupoi must figure out how to get it done.
Greatest Strength
I
t's like beating a dead horse, but it's not hyperbole to say Oregon has one of the top offenses in College Football.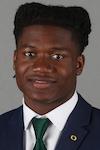 The offensive line must jive quickly, yet there's so much talent up and down the roster.
All three of UO's leading running backs return after combining for 2,026 yards rushing, 15 rushing touchdowns, 474 yards receiving, and four TD receptions.
Running back Bucky Irving is one of the top RBs in the Conference, backup Noah Whittington would start at most other teams in the league, and Jordan James is a highly efficient short-yardage option.
Nix himself added 510 yards on the ground and a head-turning 14 rushing touchdowns.
But it gets better.
Two of the top three leading receivers return in Troy Franklin and Kris Hutson, while leading tight end Terrance Ferguson is back as well.
Adding fuel to the fire, Lanning reeled in USC WR transfer Gary Bryant Jr., Alabama WR transfer Traeshon Holden, and Troy WR transfer Tez Johnson.

Bryant redshirted for the Trojans last year, but Holden started five games for the Tide and finished with six touchdowns on 331 yards receiving. Johnson was even better, posting 56 receptions for 863 yards and four touchdowns.
When combined with Franklin's 891 yards receiving with nine TDs, Hutson's 472 yards receiving, and Ferguson's 391 yards receiving with five TDs, the Ducks have one of the top WR/TE units in the Pac-12.
Sprinkle in 5-star freshman receiver Jurrion Dickey—who is rated as the No. 18 prospect in the entire Class of 2023, per 247Sports—and Oregon clearly has one of the top offenses in the nation.
Biggest Concern
T
he defense is Oregon's primary issue heading into the season.
Despite the talent among the starters and depth built from elite recruiting classes over the last half-decade, the group wasn't able to show the results last year.

Until they take a step forward, the doubt around the program will remain.
In particular, the linebackers must post more tackles for loss and sacks. Tellingly, Oregon's leading tackler last year was a defensive back.
That's just not going to get the job done and is a symptom of UO's problems on defense. The situation is so dire that Lanning converted Hill from safety to linebacker for the upcoming season.
The Ducks need elite linebacker play and that particular position group is a flashing cause for concern.
Deciding Factors
S
imilar to USC, the Ducks need their highly rated recruits from the last few classes to emerge as substantial contributors.
The writing is on the wall for offensive lineman Josh Conerly Jr. to become "The Guy" this year.
But Dontae Manning from the Class of 2020 needs to emerge. Rated as the No. 4 cornerback in his class by 247Sports, Manning has started just three games in his career.
He did start the final two games last year and appeared in all 13 contests, yet the time is now to meet the lofty expectations around him out of high school.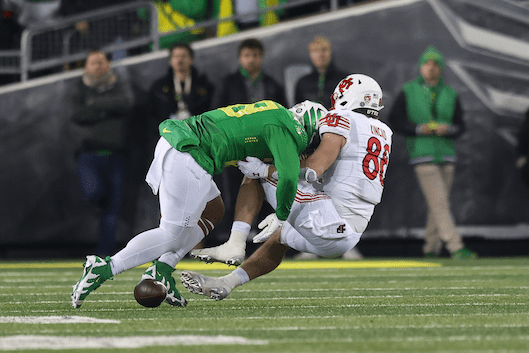 Sophomore Jahlil Florence is another formerly highly rated recruit that needs to up his production. The corner was ranked 11th at his position for the Class of 2022, but only recorded eight tackles his freshman season.
Still, he managed to snag an interception and force a fumble, which are solid signs for his future.
But, there's a reason Lanning went heavy on shoring up his secondary via the portal. The Ducks would be in a much stronger position if the defensive backs developing on their roster take steps forward this year.
At the same time, substantial production out of the Class of 2023 could be what propels Oregon to the Pac-12 Championship Game this season.
Dickey is one of the best players in his class, Uiagalelei is highly touted, and Pleasant is one of the top corners.
Four-star linebacker Blake Purchase, four-star defensive lineman Johnny Bowens III, four-star corner Daylen Austin, and four-star tight end Kenyon Sadiq are all potential contributors that could make a difference down the stretch.
Schedule Analysis
2023 Oregon Ducks Schedule
• Sept. 2 vs Portland State
• Sept. 9 at Texas Tech
• Sept. 16 vs Hawai'i
• Sept. 23 vs Colorado
• Sept. 30 at Stanford
• Oct. 14 at Washington
• Oct. 21 vs Washington State
• Oct. 28 at Utah
• Nov. 4 vs California
• Nov. 11 vs USC
• Nov. 18 at Arizona State
• Nov. 24 vs Oregon State
L
ook, there's no beating around the bush. Oregon has a very tough schedule in 2023.

The Ducks have to go on the road to Washington, Utah, and Arizona State. Realistically, Oregon could lose two out of those three.
The matchup with the Huskies is a rivalry that UO has dominated for the last two decades, but it's hard to envision the Ducks upsetting UW in Seattle this season.
And the Utes have had Oregon's number the past few seasons.
Heck, the matchup with Arizona State is no gimme, either, considering the Ducks' recent history in Tempe and Dillingham's familiarity with Nix.
But, if there is one hill to die on at this point in the offseason, it's that Oregon will beat USC in Eugene. Feel free to screenshot this now and tweet at us later. The Ducks are beating the Trojans on November 11th.

The only other game that's concerning is the finale against Oregon State. The Beavers will have a strong team and have the capability of upsetting the Ducks at home.
At the same time, Oregon Twitter appears slightly nervous about the nonconference game against Texas Tech. Yet, the Red Raiders are projected to win around seven games and the Ducks should handle their business.
At the end of the day, an 8-4 regular season is the absolute floor and an 11-1 mark is within the realm of possibilities.
The final result is probably somewhere in between, with a 9-3 or 10-2 record as a reasonable expectation.
---
—More from Dane Miller—

Latest posts by Dane Miller
(see all)