Posted on May 8, 2023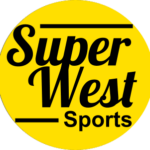 By SuperWest Sports Staff
In this series of updates on the history of SuperWest hoops program, we provide a brief coaching summary, list of the current coaches, along with postseason results, conference titles, award winners, and all-time coaching records.
T
he Oregon State men's basketball program, established in 1901, has won 14 conference championships (counting two in the Northwest Intercollegiate Athletic Association in 1909 and 1912) and has appeared in the NCAA Tournament 18 times.

The Beavers have advanced to the Final Four twice (in 1949 and 1963), and in their 2021 NCAA appearance, they advanced to the Elite Eight after winning their first tournament games since 1982.
OSU basketball first took flight with the hiring of Slats Gill in 1928. Gill, for whom the school's Coliseum is named, remains the winningest coach in program history with 599 wins to 393 losses.
Gill won five conference championships, taking the Beavers to six NCAA Tournaments, including two Final Four appearances. Gill became the Oregon State athletic director upon retiring.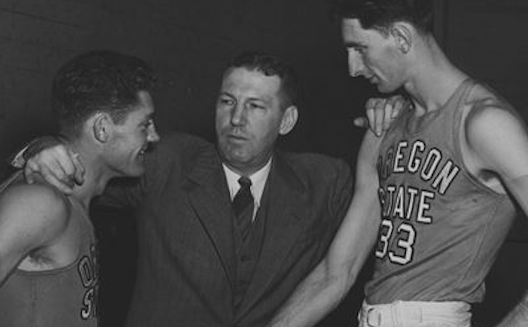 After six years under Gill assistant Paul Valenti, Oregon State continued its winning ways with Ralph Miller, who was hired away from Iowa in 1970.
In his 19-year career in Corvallis, Miller compiled a record of 359-198 (though 17 of those wins were later vacated) with only two losing seasons in that span.
Miller directed OSU to eight NCAA Tournaments, three of which were also vacated, along with an Elite Eight appearance.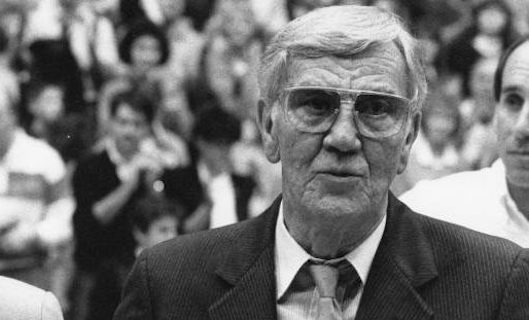 His 1980-81 "Orange Express" team was ranked No. 1 in the polls for eight weeks, finishing with a 26-2 record and earning Miller the UPI and AP Coach of the Year honors.
Miller remains the second-winningest coach in school history.
Wayne Tinkle assumed the reins in 2014 and has compiled a 116-137 record to date, including six .500-or-better seasons in his eight-year tenure.
In 2020-21, Tinkle's team won the Pac-12 Tournament after going 10-10 in conference play, making a magical run to the Elite Eight.
The performance led to a three-year contract extension worth up to $3 million per year. However, the Beavers fell back to earth in 2021-22, posting a disappointing 3-27 mark.
Tinkle's Beavers improved in 2022-23, but still posted a losing mark, going 11-21 record and missing postseason play.
Oregon State University (Corvallis, OR)
Gill Coliseum
Current Coaching Staff
Current Head Coach:
Wayne Tinkle
(2014-present)
Associate Head Coach:
Eric Reveno
(2022-present)
Assistant:
Marlon Stewart
(2018-present)
Assistant:
Tim Shelton

(2022-present)

 
Director of Basketball Operations:
Ryan Lawrence
(2021-present)
Directory of Player Development:
Stephen Thompson
(2014-present)
Postseason Results
National Championships:
0
Final Four Appearances:
2
(1949, 1963)
Sweet Sixteen Appearances:
6
(1955, 1962, 1963, 1966, 1975, 2021) **
NCAA Tournament Appearances:
15
(1947, 1949, 1955, 1962, 1963, 1964, 1966, 1975, 1984, 1985, 1988, 1989, 1990, 2016, 2021) **
NCAA Tournament Overall Record:
13-18 **
NIT Championships:
0
NIT Appearances:
4
(1979, 1983, 1987, 2005)
NIT Overall Record:
3-4
CBI Championships:
1
(2009)
CBI Appearances:
4
(2009. 2010, 2012, 2014)
CBI Overall Record:
7-4
Conference Titles (PCC through Pac-12)
Pac-12 Regular Season Championships:
12
(1916, 1933, 1947, 1949, 1955, 1958, 1966, 1980, 1981, 1982, 1984, 1990)
Pac-12 Tournament Championships:
1
(2021)
Annual Award Winners
Naismith Player of the Year:
0
John R. Wooden Award:
0
Oscar Robertson Trophy:
0
AP All-Americans:
6
(Gary Payton, 1990; A.C. Green, 1985; Lester Conner, 1982; Steve Johnson, 1981; Ray Blume, 1980; Mel Counts, 1964)
Pac-12 Player of the Year:
5
(Gary Payton, 1990)
Oregon State Head Coaching Records
Coach
Tenure
Record
Conf
Titles
NCAA
Trips
NCAA
Titles
Wayne Tinkle
2014-Pres
127-158
0
2
0
Craig Robinson
2008-2014
94-105
0
0
0
Kevin Mouton (int)
2007-2008
0-13
0
0
0
Jay John
2002-2007
72-97
0
0
0
Ritchie McKay
2000-2002
22-37
0
0
0
Eddie Payne
1995-2000
52-88
0
0
0
Jim Anderson
1989-1995
79-90
1
1
0
Ralph Miller
1970-1989
342-198
4
5
0
Paul Valenti
1960, 1964-1970
91-82
1
1
0
Slats Gill
1928-1964
599-393
5
6
0
Robert Hager
1922-1928
115-53
0
—
—
R.B. Rutherford
1920-1922
27-19
0
—
—
H.W. Hargiss
1918-1920
10-25
0
—
—
Howard Ray
1917-1918
15-0
0
—
—
Everett May
1916-1917
11-7
0
—
—
Doc Stewart
1911-1916
67-33
1
—
—
Clifford Reed
1910-1911
3-5
—
—
—
Emmett Angell
1908-1910
19-8
—
—
—
Roy Heater
1907-1908
7-4
—
—
—
Zopher Thorne
1904
2-2
—
—
—
J.W. Viggers
1903
2-1
—
—
—
W.O. Trine
1902-1907
40-5
—
—
—
J.B. Patterson
1901-1902
1-2
—
—
—
---
—More from Staff—