Posted on October 7, 2022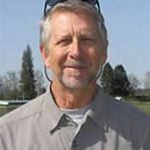 By Steve Ritchie, SuperWest Sports
A
s the Oregon Ducks head to the desert this week to take on the Wildcats in Arizona Stadium at 6:00 pm Saturday, Duck fans with long memories might be feeling a little bit nervous.
Strange things seem to happen to Oregon when they make their biennial trip to Tucson, particularly when ranked high in the polls.
Oregon is 28-17 versus Arizona all-time and has dominated the Wildcats in Eugene, winning 16 of 21 games.
But the Ducks are just 11-11 in games against Arizona played in Tucson. A number of those games were significant, with some very tough losses but also some very important wins.
Here's a look at five memorable games between Oregon and Arizona in Tucson over the last two decades.
November 21, 2009: Oregon 44, Arizona 41 (2 OT)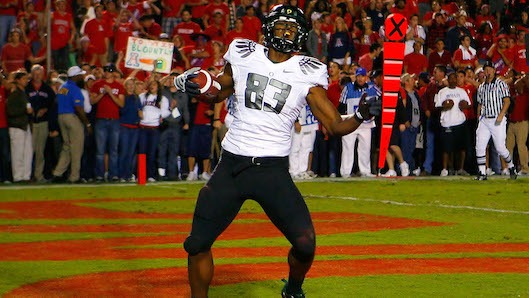 T
he 11th-ranked Ducks came into this game needing to beat the Wildcats (and then Oregon State) to win the Pac-12 title and secure a spot in the Rose Bowl.
Oregon jumped out to a quick 14-0 lead, but then watched Nick Foles and the Cats score 24 unanswered points to take a commanding 24-14 lead in the second half.
The fourth quarter had even more dramatic swings in store.
Jeremiah Masoli led a Ducks' comeback to tie it up at 24-24, but Arizona's Juron Criner, who had three TD catches on the night, caught a short screen pass from Foles and took it to the bank to put the Cats up 31-24.
Arizona got the ball back and started driving for a score that would put them up 10 or 14 points with little time left.
Foles went for it all on a long pass to the end zone, but Talmadge Jackson III made an incredible interception to give the ball back to Oregon with just over three minutes to play.
On the last drive, Masoli went 7-11 passing for 54 yards and ran for 13 more. He threw a TD pass to Ed Dickson with six seconds left, and Nate Costa saved the point after by handling a poor snap for the kicker.
The Arizona students had left the stands and were flanking the field, ready to rush it in celebration.
But the Ducks tied it, sending the game into overtime and the students back to their seats. UO prevailed in overtime, by scoring a touchdown on both possessions.
Head coach Mike Stoops gave credit to Masoli, saying, "They've got a good QB, and that is definitely what makes the difference.
November 15, 2007: Arizona 34, Oregon 24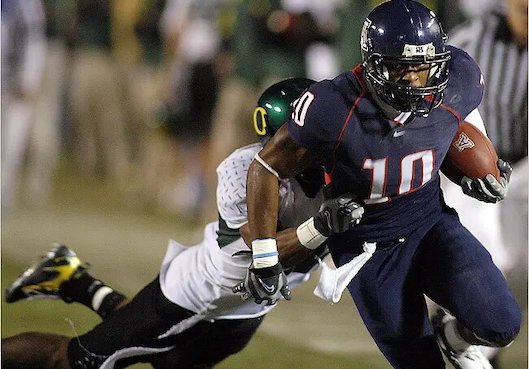 T
he second-ranked Ducks were 9-1 and riding high when they showed up in Tucson for a Thursday night showdown with an improving Arizona team.
With just three games to go, Oregon knew that if they won out, they would be in the BCS championship game.
Oregon's success was largely due to new OC Chip Kelly's dynamic offense, which was brilliantly directed by senior QB Dennis Dixon, who some deemed the leading candidate for the Heisman Trophy.
But the previous game against ASU saw Dixon get banged up late, causing him to leave the game.
Dixon looked very healthy early against Arizona, running 39 yards for the game's first score. The Ducks were still leading, 8-7, late in the first quarter and were inside the red zone, looking to build on their lead.
On an RPO, Dixon moved to his left and faked a defender in the backfield. His left knee gave out and Dixon crumbled to the ground, his season over with a serious knee injury.
Backup QB Brady Leaf came in and immediately threw a pick six. Later in the first half, Wildcat Antoine Cason returned a punt for a touchdown, putting the Cats up 31-11.
Oregon tried to come back, with Jonathan Stewart running 28 times for 131 yards, and Jaison Williams posting his best game ever, with eight receptions for 120 yards.
But fumbles, interceptions, dropped balls, penalties, injuries, and all manner of stranger things prevented a comeback.
Oregon's dream season collapsed behind poor quarterback play without Dixon (and then Leaf), as the Ducks went on to lose their last three regular season games.
September 24, 2011: Oregon 56, Arizona 31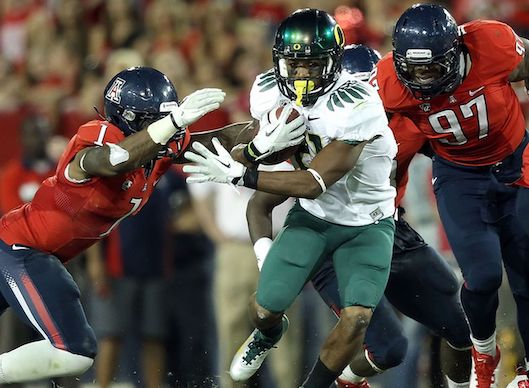 T
his late September game would be the last for the Ducks versus Mike Stoops, who would be fired after the end of the season.
It would also begin a decade of blowouts between the two teams. From 2010 to 2021 Oregon would beat Arizona by 19, 25, 49, 7, 38, 20, 28, and 22. Arizona would beat Oregon by 26 and 29.
There was only one close game out of 10.
LaMichael James was unstoppable in this game. He ran for 288 yards on 23 carries, averaging 12.5 yards per carry with two touchdowns.
Collectively, Oregon rushed for 415 yards on 47 attempts against Arizona's porous defense.
Nick Foles, who would later earn a Super Bowl ring with the Eagles, threw for three touchdowns but was sacked five times.
November 23, 2013: Arizona 42, Oregon 16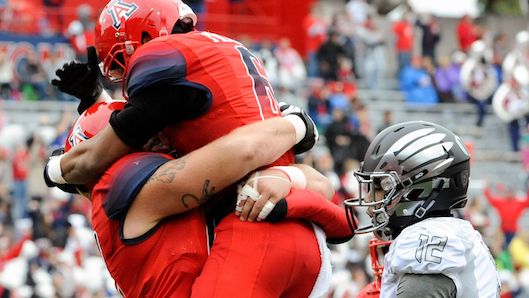 A
rizona turned the tables on the Ducks in this game, blowing Oregon out with a powerful run game.
Oregon came in as the No. 5 team in the country at 9-1, after an 8-0 start, while Arizona was coming off two home losses.
Past results meant nothing in this one. On the first play of the game, Marcus Mariota threw a pass to Bralon Addison, who couldn't bring it in, instead tipping the pass to two Arizona defenders.
The Cats scored quickly and then added another quick score, jumping out to a 14-0 lead before Duck fans got comfortable on their couches.
UA running back Ka'Deem Carey rushed for 206 yards on 48 carries, becoming Arizona's career leader. Carey also scored four touchdowns, as Arizona raced out to a 28-9 halftime lead and never looked back.
2014 Heisman winner Marcus Mariota suffered arguably his worst game as a Duck in this early afternoon contest.
"It hurts. I haven't been blown out like this in my life." He said after the game.
Against archrival Oregon State the following week, Oregon would regroup and rally late to pull off a last-second 36-35 win.
October 6, 2001: Oregon 63, Arizona 28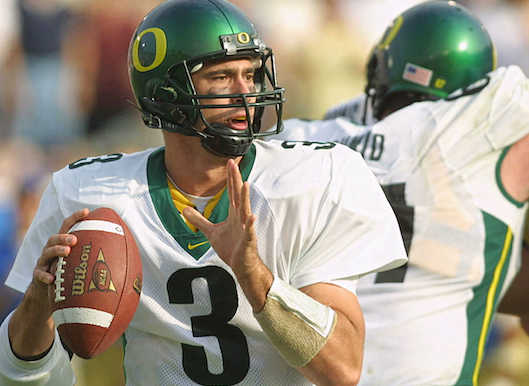 J
oey Harrington and the Ducks were 5-0 and ranked No. 7 coming into this Saturday night game in Tucson.
Harrington led a dynamic Duck offense that evening with six TDs, three rushing and three passing (going 15-24 for 279 yards).
Harrington was supported by Onterrio Smith, who gained 131 yards on 15 carries, and Maurice Morris, who added 110 yards on 21 attempts. Samie Parker had six catches for 160 yards, all in the first half.
The score was tied at 14 with 13:43 left in the second quarter when Oregon turned on the offensive surge, scoring 49 straight. Arizona, meanwhile, would suffer five turnovers, each of which led to an Oregon score.
The 2001 season was John Mackovic's first year as the Arizona head coach.
Embarrassed by the lopsided score, Mackovic told reporters that he didn't have many players and that it wouldn't get better for the Cats until they got more capable athletes.
The Ducks would finish the season 11-1—with the lone loss coming to Stanford, 49-42—and play in the Fiesta Bowl.
Rolling over the Buffaloes 38-16 in the Fiesta was ample evidence that they deserved to be in BCS Championship against Nebraska.
Fast forward to the present . . .
T
he Ducks are favored in Tucson on Saturday by 13 points. I think this game will be closer than that.
Oregon should be able to move the ball and score against the Wildcats, but, conversely, Arizona will likely be able to throw the ball with success against the Ducks.
Jayden de Laura has given Oregon problems before, and he has an outstanding crew of receivers in Tucson.
Game Prediction: Oregon 38, Arizona 35
---
—More from Steve Ritchie—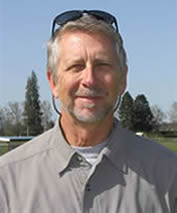 Latest posts by Steve Ritchie
(see all)