Posted on June 8, 2022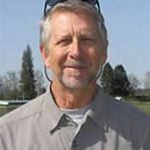 By Steve Ritchie, SuperWest Sports
A
ll signs point to a very close men's team title chase at the NCAA Outdoor Track & Field Championships beginning Wednesday at Hayward Field in Eugene, Oregon.

The favorites are clearly Florida and Texas, with North Carolina A&T and Georgia not far back.
The team race appears so close that the meet is likely to come down to the last event, the 4 x 400 relay, to decide the outcome.
There is one Pac-12 team that could crash the party, and it's not the host Oregon Ducks.
The Ducks' super sprinter Micah Williams is competing in just the 100 and the 4 x 100 relay. Williams figured to place high in the 200, but will not run that event, presumably to minimize the chance of injury right before US Nationals.
Oregon also lost 1500-meter runner Reed Brown, who has run a 3:36 but did not advance out of the qualifying round.
The USC Trojans also took a huge hit late season when their top sprinter Davonte Burnett pulled up with an injury at the finish of the Pac-12 100-meter final.
That killed whatever slim hopes USC had of a Top Four finish at NCAAs.

The Stanford Cardinal is, somewhat surprisingly, the only Pac-12 men's team with even a glimmer of hope for a national team championship this week.
Stanford has an incredibly small margin of error, though. The Cardinal has a total of eight chances to score in six events.
Oregon has the same number of chances, but only two Duck athletes figure to score high, while six of the seven Cardinal athletes (Cole Sprout is entered in two events) are good bets to do so.
If five of the events go well, the Cardinal could be in a position to steal a trophy; if one or two don't go well, their hopes will be dashed.
NCAA Men's Track & Field Championships Schedule
• Combined events start on Wednesday, June 8, at 12:30 p.m PT
• Field events start Wednesday, June 8, at 2:00 p.m PT
• Track events start Wednesday, June 8, at 4:32 p.m PT
• TV Coverage starts Wednesday, June 8, at 4:30 p.m PT on ESPN2
• Combined events continue Thursday, June 9, at 11:30 a.m PT
• Field events continue Friday, June 10, at 5:30 p.m PT
• Track events continue Friday, June 10, at 6:02 p.m PT
• TV Coverage resumes Friday, June 10, at 6:00 p.m PT on ESPN2
Here's how it breaks down for both Stanford and Oregon event by event . . .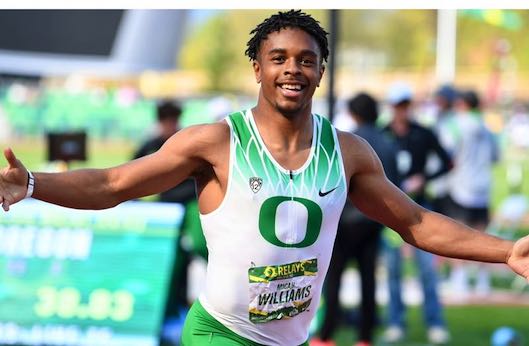 100 Meters
W
hile Williams is the clear favorite here with his wind-legal 9.86, Stanford freshman
Udodi Onwuzurike
is picked as high as second or third behind Williams.
Onwuzurike has run 10.03 twice this season, but that is a time a number of other sprinters have hit as well. Six or more points from Onwuzurike is key.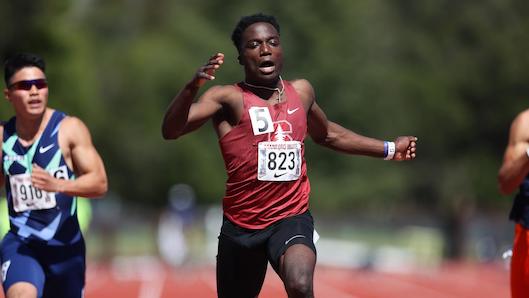 200 meters
N
o Micah Williams in this event, which really helps Onwuzurike and Stanford.
Joseph Fahnbulleh of Florida should win, as his best of 19.85 is .23 seconds ahead of the next best, which is Onwuzurike.
A second-place finish in the 200 and 14 points or more from their prize freshman in the sprints would be a massive help for Stanford.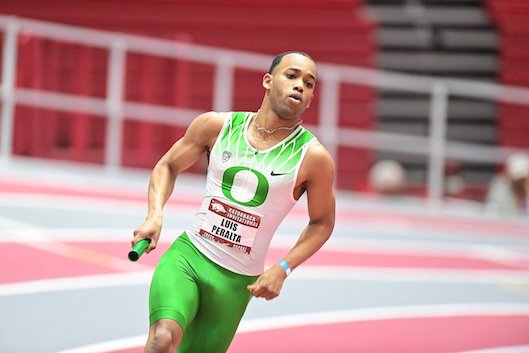 800 & 1500 Meters
S
tanford surprisingly has no runners in either event. On the other hand, the Ducks have one in each event.
The problem for Oregon is that the two runners are not Cole Hocker and Cooper Teare, but Luis Peralta and Elliott Cook.
Peralta and Cook are good young runners, but they're longshots at best to even score in their respective events.
Time for a little Hayward Magic?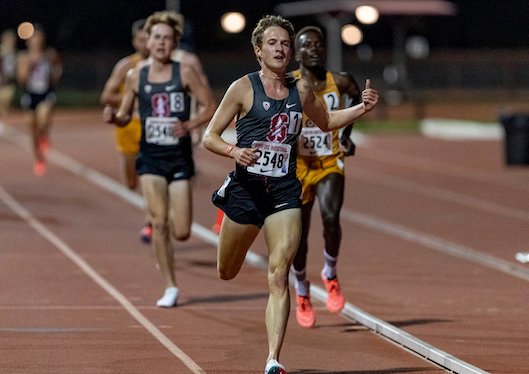 5000 & 10000 Meters
T
he distance events will be make-or-break for the Cardinal. The 10,000 final is Wednesday night, so we'll know early on how things look.
Stanford has Charles Hicks and Cole Sprout in the 10K, and the Track & Field News formchart has Hicks third and Sprout seventh, which would be eight points for Stanford.
That's an eminently respectable prediction, but Hicks has run very well in championship events in cross and track, and it would not be a shock for him to place higher.
Sprout has had a great season, too, and can't be counted out. Sprout will double back in the 5000 and will face some opponents who will skip the 10 in order to be fresh for the 5.
Brian Fay of Washington is one of those opponents, and he appears to be a popular pick for first. But Ky Robinson of Stanford will be fresh as well and should be in the lead pack late.
If the Cardinal duos in the two races can somehow score a total of at least 18 points, it will be game on for Stanford.
Oregon's Aaron Bienenfeld is entered in both races as well, and strong races from him would be a major and unexpected boost for the Ducks.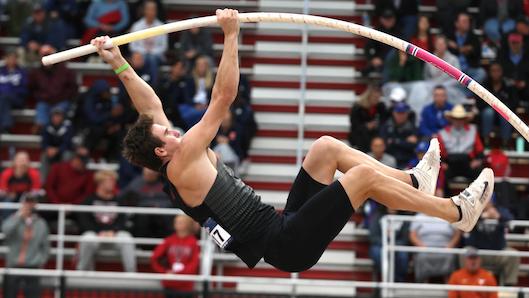 Pole Vault
M
ax Manson
is a surprise qualifier for Stanford in this event. Manson would likely have to surpass his PB of 17-5 (5.31) to place in the top eight, but weirder things have happened.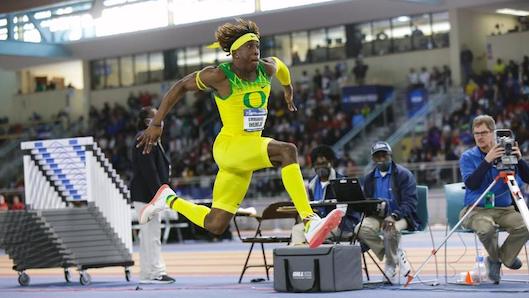 Triple Jump
K
eyshawn King
of Stanford had a lackluster season up until last weekend's regional qualifying meet where he leaped out to a 2' seasonal best of 55-0.25 (16.77), the third-best mark nationally.
This will be King's first NCAA meet, and his ability to lock down those six points for third will be crucial to Stanford's cause.
Oregon's Emmanuel Ihemeje will be defending his title from 2021, but he will be pushed by TCU's Chengetayi Mapaya, who has jumped 56-0, the best mark nationally this season.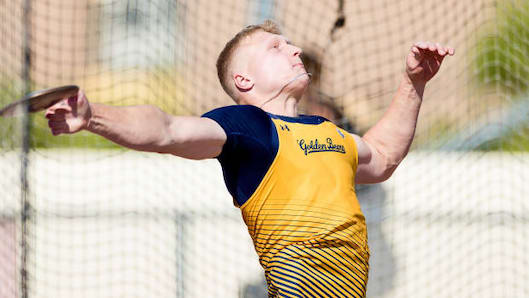 Discus Throw
T
his event won't factor in the team title race, but will be one of the few events dominated by Pac-12 athletes.
Mykolas Alekna, Cal's fabulous freshman, has 12 of the 15 best throws in the collegiate ranks this season, with his 225-6 (68.73) leading by over five feet.
ASU's Ralford Mullings, also a frosh, is ranked third nationally with 214-8 (65.39), and his Sun Devil teammate Turner Washington is also a threat if he can regain his past form.
Iffy Joyner of Cal and Elijah Mason of Washington will also be fighting for a podium spot.
4 x 400 Relay
A
ll the title contenders have a 4×4 relay except for Stanford and this race could well decide the title.
The Cardinal will need to score somewhere in the low 40s and hope their rivals stumble along the way.
If Onwuzurike can strike for 14 in the sprints, and if the Cardinal distance crew can come up with 18-20 in the 5 and 10, and if King notches 6 in the triple, Stanford would max out at 38-40 points.
That could be enough for a trophy, but probably not a championship.

Men's Entrants by School
| School | Entries |
| --- | --- |
| Washington | 10 |
| Oregon | 9 |
| USC | 9 |
| ASU | 8 |
| Stanford | 8 |
| Cal | 4 |
| WSU | 3 |
| Arizona | 2 |
| UCLA | 2 |
| Colorado | 1 |
---
—More from Steve Ritchie—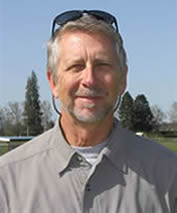 Latest posts by Steve Ritchie
(see all)