Posted on June 9, 2022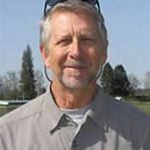 By Steve Ritchie, SuperWest Sports
F
or the first time in a while no Pac-12 women's team is expected to challenge for the NCAA title this week at Hayward Field on the University of Oregon campus.

A quick look back at the championship archives reveals that you have to go all the way back to 2003 to find a year when no Pac-12 team was in the top five at the outdoor women's championships.
Over the past 20 years, Oregon had a nine-year streak of Top 5 finishes (2009-2017), which included two titles.
As the Ducks fell back a bit, USC began its own run of four consecutive Top 5 finishes with two national championships, including in 2021.
This year is a different story.
Jack Pfeifer of Track & Field News projects Arizona State as the highest-scoring Pac-12 team in 10th place with 20 points. The T&FN formchart also lists Colorado in 12th and Cal in 13th.

The final power rankings of the U.S. Track & Field and Cross Country Coaches Association (USTFCCCA) put Oregon in 9th, Colorado in 10th, and USC way back in 17th as the Top Three Pac-12 teams.
While it would take a minor miracle for one of the Pac-12 teams to be in the conversation for a title, Pac-12 athletes will still make plenty of noise in Eugene, with a chance to win as many as eight individual championships.
NCAA Women's Track & Field Championships Schedule
• Field events start Thursday, June 9, at 3:00 p.m PT
• Track events start Thursday, June 9, at 5:32 p.m PT
• TV Coverage starts Thursday, June 9, at 5:30 p.m PT on ESPNU
• Combined events start on Friday, June 10, at 1:00 p.m PT
• Combined events continue Saturday, June 11, at 10:30 a.m PT
• Field events continue Saturday, June 11, at 2:00 p.m PT
• Track events continue Saturday, June 11, at 2:32 p.m PT
• TV Coverage resumes Saturday, June 11, at 2:30 p.m PT on ESPN
Let's take a look at those events.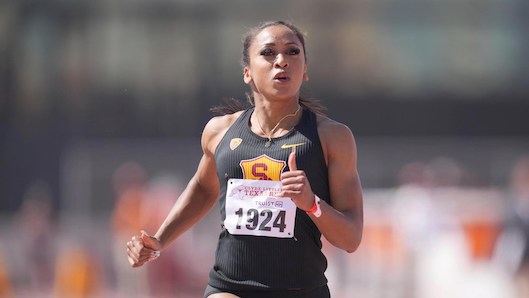 100 meters
O
regon senior
Kemba Nelson
and USC senior
Celera Barnes
have the third- and fourth-seed times, 10.85 and 10.89, respectively.
They trail Texas soph Julien Alfred and Texas Tech's Rosemary Chukwuma by a few hundredths, but the margins are very small.
Nelson will be running at home for the final time as a collegian and shouldn't be counted out.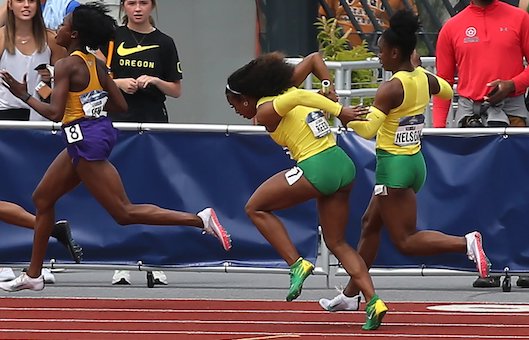 4 x 100 Relay
O
regon blazed to a 42.74 in the preliminary round at Arkansas, the top overall time of the two regional meets.
The Ducks don't seem to be clear favorites, however, as some pundits are picking Kentucky (42.95), Ohio State (42.87), LSU (42.98), or Texas (43.00).
With many teams in the hunt separated by just a few hundredths, this should be 42 seconds of utter excitement.
One sloppy handoff or poor leg will knock a team out. USC, Cal, and UCLA also qualified for the semifinals.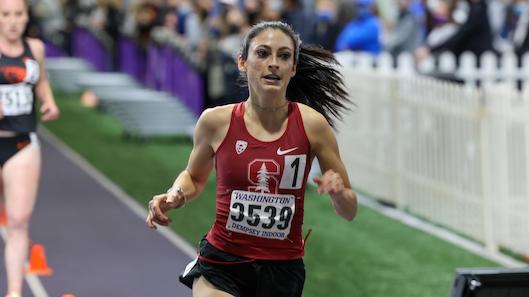 1500 Meters
S
even of the 12 qualifiers out of the West Regional are Pac-12 athletes, led by senior
Julia Heymach
of Stanford, junior
Anna Gibson
of Washington, and Pac-12 champion
Micaela Degenero
of Colorado, also a senior.
There are plenty of contenders here, but Heymach has the experience and the killer kick to win a very competitive metric mile final.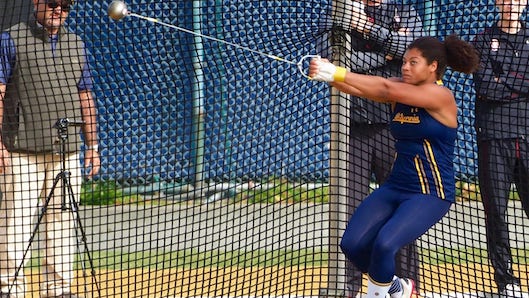 Hammer Throw
C
ollegiate and Canadian national record holder
Camryn Rogers
of Cal is the overwhelming favorite here.
Rogers broke her own records with her first throw in the preliminary round—a massive 250'-10" (76.46) heave.
She is a two-time NCAA champion and comes to Eugene with an 11′ lead over her nearest rival, Alyssa Wilson, formerly of UCLA and now competing for Texas State.
Rogers' teammate, Anna Purchase, is ranked third, giving Cal a potential of 16 points in this event.
Other Pac-12 throwers who will be in the competition are Shelby Moran and Beatrice Llano of ASU and Joy McArthur of USC.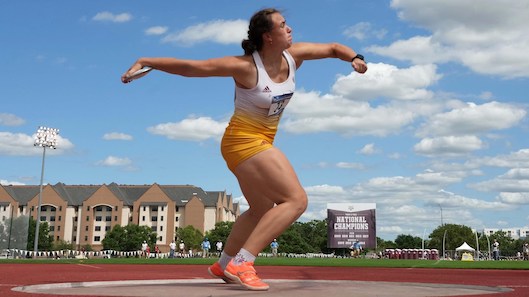 Shot Put & Discus
J
orinde Van Klinken
, ASU's superlative thrower from the Netherlands, will be the favorite in the discus.
Her throw of 208'-06" is more than 16' ahead of her nearest competitor. She is not the favorite in the shot, but Van Klinken's season-best is just a foot behind Ohio State's Adelaide Aquilla.
No one else in the field has a realistic chance, and Van Klinken might just add the shot crown along with discus.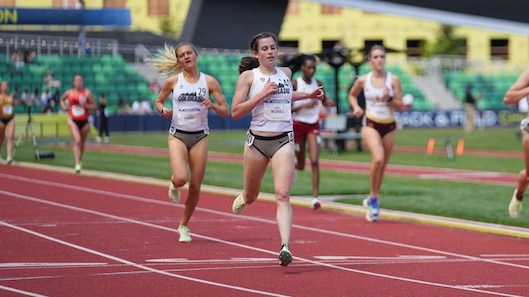 5000 meters
C
olorado's distance runners have had an awesome finish to their season.
They dominated the distance events at the Pac-12 meet and, at the regional, qualified two in the 1500, three in the 5000, two in the 10000, and two in the steeplechase.
Senior Abby Nichols has been the top-ranked 5000-runner most of the season and has a great shot to win it at NCAAs.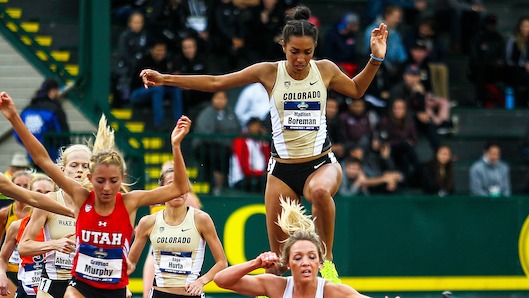 3000-Meter Steeplechase
B
YU's
Courtney Wayment
is a strong favorite to win the steeple, but five Pac-12 qualifiers may have something to say about who gets on the podium.
Colorado has Pac-12 champ Madison Boreman and Gabrielle Orie, Oregon State has Grace Fetherstonhaugh and Kaylee Mitchell, and Oregon has Malia Pivec.
Boreman, Fetherstonhaugh and Mitchell are dark horse candidates, but all three are capable of scrambling the formcharts for the event.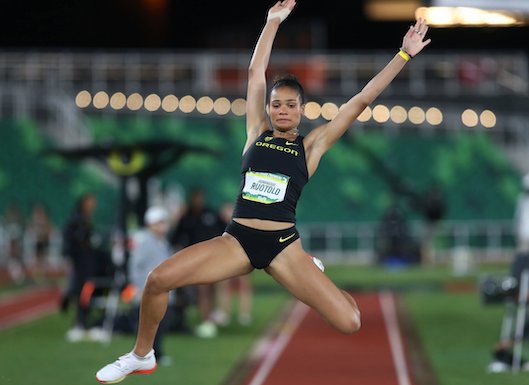 Triple Jump
O
regon juniors
Dominique Ruotolo
and
Lexi Ellis
have been peaking late season and are threats in this event.
Ruotolo finished ninth last year at NCAAs, and has the number five seed this year, with a best of 44-9.75 (13.66). Ellis won the Pac-12s for the first time this season and has a best jump of 44-6.25 (13.57).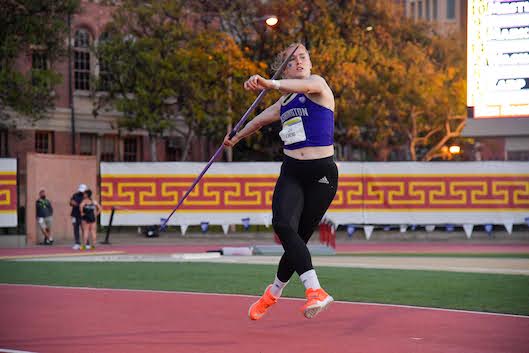 Heptathlon
W
ashington's
Ida Eikeng
did not compete at the Pac-12 multis but her mark of 5916 from earlier in the season gave her the fourth-best seed at NCAAs.
The junior from Norway is talented enough to wind up on the podium, but first place is probably out of reach, as Florida's sensational Anna Hall is in the midst of a record-breaking year.
Women's Entrants by School
| School | Entries |
| --- | --- |
| Oregon | 14 |
| Colorado | 12 |
| USC | 8 |
| Stanford | 7 |
| Washington | 6 |
| ASU | 5 |
| Cal | 5 |
| UCLA | 3 |
| WSU | 3 |
| Arizona | 2 |
| OSU | 2 |
| Utah | 2 |
---
—More from Steve Ritchie—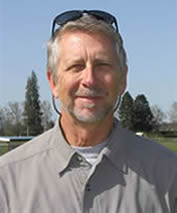 Latest posts by Steve Ritchie
(see all)