Posted on July 12, 2023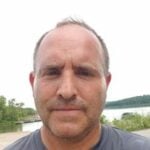 By Stephen Vilardo, SuperWest Sports
B
rent Brennan has quietly built something in San Jose.

The Spartans won just three games in his first two seasons at San Jose State, but over the last three years, the Spartans have gone 19-11.
SJSU is making strides under Brennan, but the work is not done yet.
I preview San Jose State's upcoming season below with a look back at last season and an analysis of the offense, defense, and schedule.
San Jose State Spartans Fast Facts
• 2022 Record: 7-5
• Head Coach: Brent Brennan (27-42 at SJSU)
• Offensive Coordinators: Kevin McGiven
• Defensive Coordinator: Derrick Odum
• Home Stadium: CEFCU Stadium (30,456), San Jose, CA
• Last Conference Title: 2020, Mountain West
2022 in Review
T
he Spartans have yet to knock off a ranked opponent, going 0-7 vs top-25 foes during his tenure and also looking for a bowl win having dropped their two bowls under Brennan.

San Jose State also fell to Western Michigan 41-27 in the Idaho Potato Bowl last December, but getting to a pair of bowl games in the last three seasons is certainly progress in itself.
Chevan Cordeiro will enter his sixth fall of Mountain West football after starting his career with Hawai'i prior to winning the starting QB job with San Jose State last season.
Cordeiro did it all for the Spartans in 2022, throwing for a conference-best 3,251 yards and running for an additional 265 yards.
(He actually gained 568 yards on the ground but had 303 yards on the negative side…more on that in a moment).
Cordeiro opened the season with 170 passes before throwing his first interception and topped the 300-yard passing mark four times including a season-high 366 in the bowl game.
Offense
T
he senior quarterback has a ton of experience, talent, and confidence in the offense.
The Spartans would also be in good shape with Jay Butterfield, a highly touted transfer from Oregon, but I think it's safe to say the folks in San Jose will be fine if they must wait one year to see him in full control of the offense.
Cordeiro's 265 yards on the ground were the second most for the Spartans last season, Kairee Robinson led the way with 752 yards, and he will also be back to run the football.
The Spartans will need more production on the ground and a more consistent ground attack this season.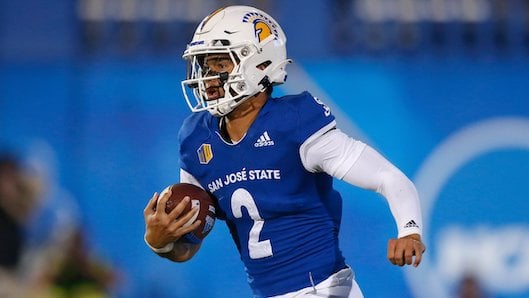 They may be able to find that in Quail Conley who rushed for 1,095 yards for Utah Tech in 2022. Conley could be the piece to the puzzle that gets the run game on track as a compliment to Robinson.
Elijah Cooks emerged as a threat on the outside last season putting up monster numbers as Cordeiro's favorite target. Cooks will be in the Jaguars camp this summer, but the Spartans have pieces in place to fill that void.
Justin Lockhart should be able to pick up most of the slack and slide right into that No. 1 spot. Lockhart averaged 16.1 yards per reception in 2022 and should see his 36 receptions almost double.
He may not stand out this year quite like Cooks did last year, but that will not be a bad thing. This is a Spartan squad that should be loaded with depth among pass catchers.
Dominick Mazotti and Sam Olson both return at TE after splitting duties last season. Mazotti could put up All-Conference-type numbers if he can stay healthy.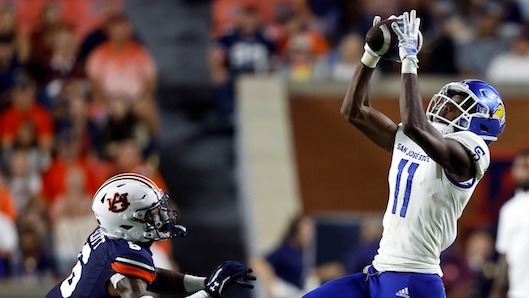 Nick Nash moves from QB to WR who along with Charles Ross and slot receiver Isaac Jernagin will combine with Lockhart to provide one of the Conference's best receiving units.
Now about those negative yards. Last year San Jose State allowed 42 sacks after giving up just 44 combined in the three seasons prior. The 3.5 sacks allowed per game was 123rd among FBS programs.
The line is loaded with experience as all five starters return. Looking even deeper, all eight players that started a game on the line in 2022 are back this season.
So good news-bad news: experience, yes, but also the same guys who allowed more sacks than all but seven teams last year.
Look for this unit to be much improved though. The chemistry and continuity of being together should pay off.
Defense
S
an Jose State has a lot of holes to fill on the defensive side of the football, as five of the front seven will be new faces.
In 2022, the Spartans had one of the best pass rushes in the Mountain West.
They led the conference and were sixth in the nation with 3.25 sacks per game and their 7.08 TFL per game ranked 16th in the country and second-best in the MW.
San Jose State will have to replace its entire D-Line. Rush ends Cade Hall and Villami Fehoko along with NG Lando Grey are all gone.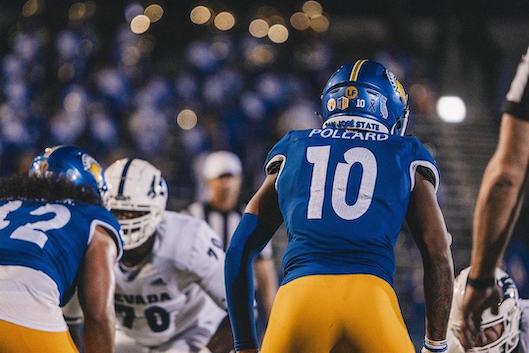 Fehoko was the MW defensive player of the year and Hall was an All-Conference First-Team performer. They obviously have some production to make up and they have gone the JUCO route to get replacements.
This unit goes from a dominant force in 2022 to inexperienced in 2023.
The linebackers return Byrun Parham and Jordan Pollard with Jordan Cobbs returning to the lineup following an ACL last season.
With Matthew Tago entering the mix from Oregon State, this has the potential to be a very solid linebacking corp. It's a group that will need to be steady and make plays, especially early in the season as the line finds its footing.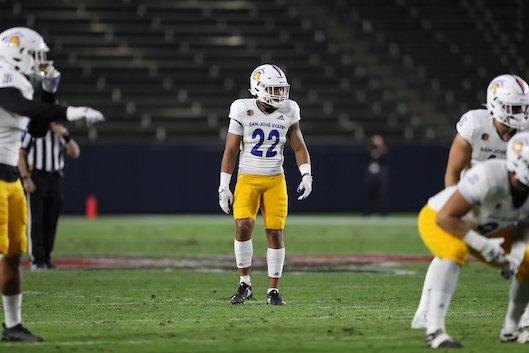 The back end of the defense could be the strength of the unit this season.
Tre Jenkins will be the leader of this group at safety. Playing alongside him will once again be former Chase Williams with Kenyon Reed back on the outside.
That gives the group four returners from a squad that was sixth in the nation in 2022 with a turnover margin of +11 for the season.
Even with the replacements up front, the Spartans could still be a solid defense.
Schedule
2023 San Jose State Football Schedule
Sept 3 vs Oregon State
Sept 9 vs Cal Poly
Sept 16 at Toledo
Sept 23 vs Air Force
Oct 7 at Boise State
Oct 14 at New Mexico
Oct 21 vs Utah State
Oct 28 at Hawai'i
Nov 11 vs Fresno State
Nov 18 vs San Diego State
Nov 25 at UNLV
T
his season, the Spartans open with a pair of Pac-12 contenders with a trip to USC to open things, followed by a visit from Oregon State.

The Spartans may not get a win in either of those games but should come out of them stronger. Cal Poly and a trip to Toledo close out the non-conference schedule.
In Mountain West play, San Jose State gets visits from Air Force, Utah State, Fresno State, and San Diego State. The only one of the big boys that the Spartans must travel to is Boise State.

They get a bye week to prepare for that one and another bye ahead of the rivalry game with Fresno State. New Mexico is the only team on SJSU's schedule that will be coming off a bye week ahead of their matchup.
There are a few holes to fill, certainly, but this team should still be able to win games. Defensively the pressure will come, it's just a matter of how quickly things can click.
Once it does, look for ball-hawking defensive backs to create plays and get the ball back once again.
How quickly that arrives, coupled with the offensive line being a cohesive unit this season will be the factors in if this team continues to play in bowl games to end the season or has a slight drop off from the 7-6 campaign of 2022.
---
—More from Stephen Vilardo—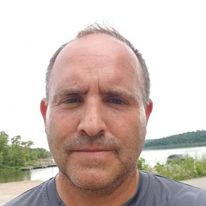 Latest posts by Stephen Vilardo
(see all)