Posted on September 26, 2023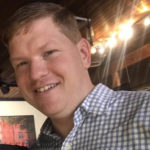 By Mark Schmor, SuperWest Sports

To celebrate the history of the Pac-12/10 Conference in the wake of its demise, I'm putting together a weekly Top 10 list of memorable players, coaches, teams, games, and plays.
For this week's rankings, we're doing a deep dive into the greatest running backs in conference history.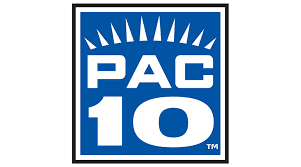 As a reminder, these are the best players at their position since the Pac-8 expanded into the Pac-10 in 1978, so we're saved the awkwardness of a conversation about where to rank O.J. Simpson.
As you will see, this ranking was incredibly difficult for me.
There were easily 25 guys that I wanted to include but only space for 10. Let's start with some Honorable Mention selections from the schools not represented in the Top 10.
Honorable Mention
Arizona State: Demario Richard
A
SU's all-time leading rusher was Woody Green who finished playing in 1973 and their second leading rusher was Freddie Williams who finished playing in 1976.

Believe me when I say it is not the norm for a school's career-rushing leaders to be a couple of guys who played in the '70s.
Their all-time leading rusher in the modern era is a guy named Demario Richard who finished with 3,202 career yards from 2014-2017.
I have no memory of Demario Richard, probably because he had the misfortune of playing for Arizona State in the Todd Graham era when ASU went 18-20.
UCLA: Johnathan Franklin, Maurice Jones-Drew, Karim Abdul-Jabbar
J
ohnathan Franklin shattered the career rushing mark for the Bruins when he ran for over 1,700 yards and 13 touchdowns as a senior in 2012.

That was the best single season of any UCLA running back but the most memorable single game was Maurice Jones-Drew's epic performance against Washington in 2005.
Jones-Drew had touchdowns of 47 yards, 62 yards, and 58 yards the first three times he carried the ball from scrimmage. All told he finished with 322 yards and five touchdowns.
UCLA also got a couple of good years from Karim Abdul-Jabbar (no relation to the other Kareem) who was terrific in 1994-95 for some otherwise forgettable Bruin teams.
With Jones-Drew and Abdul-Jabbar, no school has produced great running backs with hyphenated names at the same clip as UCLA.
Colorado: Phillip Lindsay, Rashaan Salaam, Eric Bienemy
O
f the Colorado running backs since 2011, the best was clearly Phillip Lindsay who carried the Buffs to a surprise 10-win season in 2016 with 1,7000+ yards from scrimmage.

Then he had an even better season in 2017 only for Colorado's win total to drop to five games. Sometimes life just isn't fair.
If we were including all Colorado running backs, then we'd have to find room in our top ten for Rashaan Salaam (Heisman winner in 1994) and Eric Bienemy.
(Bienemy arguably should have won the Heisman in 1990 when they gave it to Ty Detmer despite Detmer throwing 28 interceptions!)
Washington State: Reuben Mayes and Jerome Harrison
W
hen I think about Washington State's best football teams, whether they were in the Mike Price era or the Mike Leach era, I tend to think about pass-heavy offenses led by gifted quarterbacks.

Surprisingly, Washington State has had two different running backs make it into the fringe of the Heisman conversation.
Reuben Mayes finished tenth in the Heisman voting in 1984 when he set a school record with 1,637 rushing yards, highlighted by an NCAA record 357 rushing yards against Oregon.
Mayes still holds the career record for rushing yards at Washington State but Jerome Harrison put together the greatest single season in school history in 2005 when ran for 1,900 yards and finished 9th in the Heisman voting.
Utah: Devontae Booker, Zack Moss
W
hen Utah made the jump from the Mountain West to the Pac-12 in 2011, there were some growing pains. The Utes were 18-19 during their first three years in the league and just 9-18 in conference play.

Their breakthrough came about partly because of a terrific group of running backs. There were two great years of Devontae Booker (3,395 yards from scrimmage and 23 touchdowns in 2014-15), and three great years from Zack Moss (2019 Pac-12 Player of the Year).
But my favorite Utah performance from that era was in 2016 when senior Joe Williams came out nowhere to submit a brilliant 7-game stretch, highlighted by a 332-yard performance against UCLA.
Top 10 Running Backs in Pac-10/12 Era
No. 10 — J.J. Arrington, California (2003-2004)
P
ick any Cal running back from 2003 to 2008 and you can't go wrong. Marshawn Lynch had the best career. From 2004-06, he had a school-record 17 games of 100 rushing yards or more.
Lynch then passed the baton to Justin Forsett in 2007 (1,500+ rushing yards) who passed the baton to Jahvid Best in 2008 (1,500+ rushing yards).
I went with J.J. Arrington here because his 2004 season was a step above the rest.
He became just the third player in conference history to rush for 2,000 yards in a season, joining Heisman winners Charles White and Marcus Allen, and he helped lead the Bears to a rare 10-win season and top-10 ranking.
Arrington only finished 8th in the Heisman voting that year but I could make a compelling argument that he had a better season than Heisman runner-up Adrian Peterson.
Arrington finished the year with more yards (2,018 to 1,925), the same number of touchdowns (15), and a significantly higher yards per carry (7.0 to 5.7).
Ultimately, Peterson was a freshman playing on an undefeated Oklahoma team so he won the narrative.
Still, it provides some comfort to know that Peterson's Oklahoma team got waxed by USC in the national championship while Cal took USC down to the wire thanks in part to 112 rushing yards from Arrington.
No. 9 — Ken Simonton, Oregon State (1998-2001)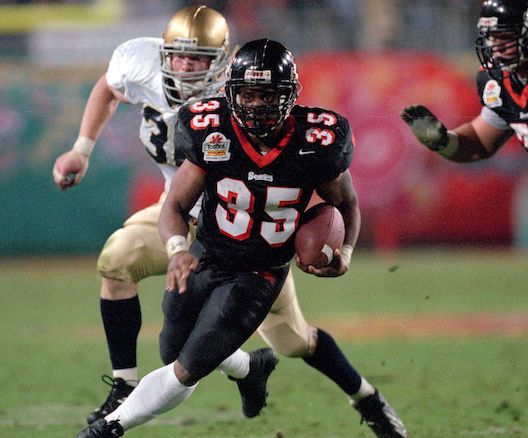 O
regon State is another one of those schools that just seemed to produce great running backs year after year during the Mike Reilly era.
Two monstrous years of Steven Jackson gave way to three solid years of Yvenson Bernard who gave way to three delightful years of Jacquizz Rodgers.
Jackson had the highest ceiling of those three (as evidenced by the success he experienced in the NFL) but Quizz was definitely the most fun.
That fun factor was in part to his small stature (he was just 5-foot-6, in part to the fact that he played alongside his brother James who was a dynamic receiver for the Beavers, and in part to the fact that Quizz was really really good.
As a freshman, he carried the ball 37 times for 186 yards and two touchdowns in an upset of the top-ranked USC Trojans that probably qualifies as the single greatest moment in Oregon State football history.
Jackson, Bernard, and Rodgers are 4-3-2 on the all-time Beaver rushing list with all of them surpassing 4,000 yards from scrimmage and 40 touchdowns for their careers.
Yet they all followed in the footsteps of Ken Simonton. Like Rodgers, Simonton was small in stature (he was just 5-7) but there was nothing small about his game.
He ran for over 100 yards in his very first game as a freshman and just kept going from there. He holds the Oregon State school record with 5,249 yards from scrimmage and 57 touchdowns.
He was also a Top 10 Heisman candidate in 2000 when the Beavers came out of nowhere to go 11-1 and finished the year ranked 4th in the nation.
No. 8 — Myles Gaskin, Washington (2015-2018)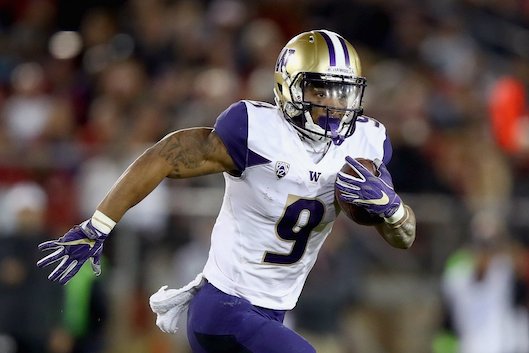 I
once asked a Husky fan who the greatest running back in school history, and here's how he broke it down.
He said Myles Gaskin had the best career, Corey Dillon had the best single season, and Napoleon Kaufman was the most exciting and the most beloved.
The numbers bear that out.
Gaskins had four straight 1,000-yard seasons during the golden age of the Chris Petersen era and finished his career with 5,788 yards from scrimmage and 62 touchdowns.
Corey Dillon was so amazing in 1996 that he had a single quarter against San Jose State in which he rushed for 222 yards and caught an 83-yard touchdown pass.
Napoleon Kaufman is the most recent Husky running back to finish in the top ten in the Heisman voting (9th in 1994) and was part of the "Whammy in Miami" in 1994 when the Huskies snapped Miami's 58-game home winning streak.
Props also need to go to Greg Lewis who was the first ever winner of the Doak Walker Award in 1990.
No. 7 — Ka'Deem Carey, Arizona (2011-2013)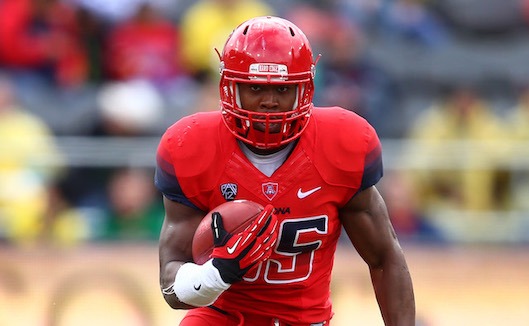 I
f we're just looking at the best two seasons of a guy's career, it's pretty hard to beat Ka'Deem Carey's 2012-13 in which he accumulated over 2,000 yards from scrimmage each season and scored a total of 44 touchdowns.
Carey is the forgotten superstar on this list.
His freshman year was the disastrous final season of the Mike Stoops era and his brilliant sophomore and junior seasons were a couple of 8-5 seasons when Rich Rodriguez was just getting things rolling.
Arizona's breakthrough 10-win season and Fiesta Bowl appearance came the year after Ka'Deem Carey left; otherwise, he probably would be a few spots higher on this list.
The fact that Carey wasn't on an elite team like most of the rest of the guys on this list means he put in some long days at the office.
In 2012, he broke Reuben Mayes' NCAA record when he ran for 366 yards in a win over Colorado. Against Utah in 2013, he toted the rock an impressive 39 times (for 232 yards).
You would think that should qualify as his heaviest workload except later that year he carried the ball a staggering 48 times (for 206 yards and 4 touchdowns) in a resounding 42-16 upset of a Top 5 Oregon team.
No. 6 — Toby Gerhart, Stanford (2006-2009)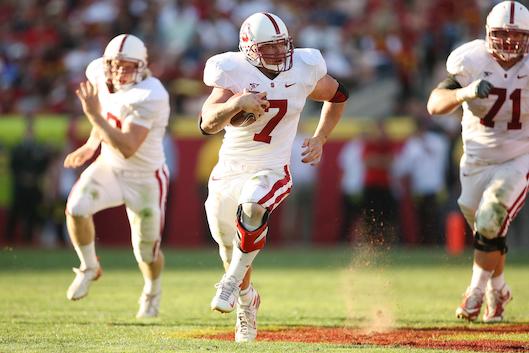 I
had four Stanford running backs that I really wanted to include, but I only found a place for two of them.
Darrin Nelson would have been very deserving of a spot on this list. A four-year starter from 1977-81, Nelson's time at Stanford coincided with the two-year coaching stint of the legendary Bill Walsh.
Before Walsh took the San Francisco 49ers job, Nelson did a lot of damage as a receiver out of the backfield. To this day, he's the only player in conference history to pile up 4,000 rushing yards and 2,000 receiving yards.
I landed on Toby Gerhart based on his brilliant 2009 season when he ran over 1,800 yards and finished as the Heisman runner-up to Mark Ingram of Alabama.
Gerhart's best work that season was a pair of back-to-back games against conference heavyweights Oregon and USC.
First, he ran for 223 yards and 3 touchdowns in a 51-42 over the Ducks, then ran for 178 yards and three touchdowns in a 55-21 win over USC.
Gerhart was so dominant that the Cardinal dropped 50+ points on the two best teams in the league while only asking freshman quarterback Andrew Luck to complete 12 passes in each game.
No. 5 — Christian McCaffery, Stanford (2014-2016)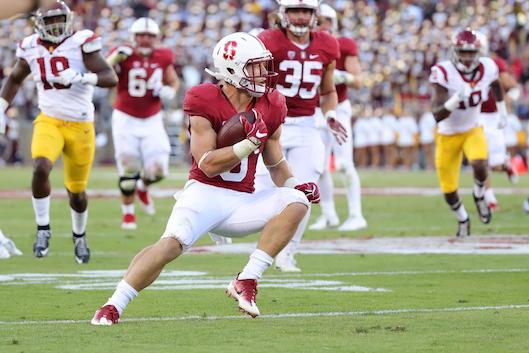 S
ix years after Toby Gerhart was a Heisman runner-up, Christian McCaffery followed in his footsteps. McCaffery lost to Derrick Henry in 2015 in a loaded year that also saw Deshaun Watson and Baker Mayfield as Heisman finalists.
McCaffery only had two great years, but those years were so great, especially 2015, which is in the running for the single greatest season for a running back in Pac-12 history.
He ran for over 2,000 yards and scored eight touchdowns on the ground, added 45 catches for 645 yards and five more touchdowns as a receiver, returning a kickoff and a punt for touchdowns as well.
The crazy thing is that after McCaffery left, there was no drop off at his position because Bryce Love stepped in and immediately rushed for over 2,000 yards.
He also finished as a Heisman runner-up, becoming the third Stanford running back to do so in the span of a decade.
Love returned to Stanford for his senior season and had an injury-marred final campaign, which was disappointing for everyone who loved watching him leave defenders in the dust.
No. 4 — LaMichael James, Oregon (2009-2011)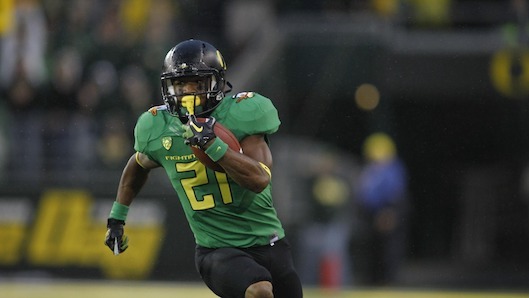 E
veryone ahead of LaMichael James on this list won a Heisman Trophy and LaMichael didn't win a Heisman. Yet, I think one could make the case that he was the best running back in conference history.
In three years at Oregon, LaMichael ran for 5,082 yards. That puts him fourth on the all-time list, behind three running backs who played for four years each—Myles Gaskin, Charles White, and LaMichael's fellow Duck Royce Freeman.
Had James played for another full season, he would have shattered the all-time conference record and probably would have challenged for the NCAA record as well.
It's a little puzzling as to why James didn't receive more Hesiman consideration. He finished third in 2010 and 10th in 2011.
Andrew Luck was the Heisman runner-up in both of those seasons but if you go back and watch the Oregon vs. Stanford games from both of those years, James jumps off the screen as the best player on the field.
My theory as to why he didn't receive more love is that he was viewed as the beneficiary of a Chip Kelly system that produced video game numbers regardless of who was getting the ball.
In Oregon's Rose Bowl-winning season of 2011, James finished with over 2,000 yards from scrimmage, but Kenjon Barner and De'Anthony Thomas also finished with over 1,000 yards from scrimmage.
When LaMichael left for the NFL, Barner just stepped forward and had his own 2,000-yard season, including a 38-carry, 321-yard, five-touchdown masterpiece against USC in the Coliseum.
One also has to wonder where Royce Freeman would be on this list if the timing were a little different. He led the Ducks in rushing as a freshman in 2014 when they made it all the way to the national championship game and his future could not have been brighter.
But then his sophomore year coincided with multiple injuries to Oregon quarterback Vernon Adams, his junior year was the 4-8 disaster that cost Mark Helfrich his job, and his senior year was the bizarre one-year tenure of Willie Taggart.
Yet through all of that dysfunction and transition, Freeman still set a Pac-12 record with 5,621 career rushing yards.
No. 3 — Charles White, USC (1976-1979)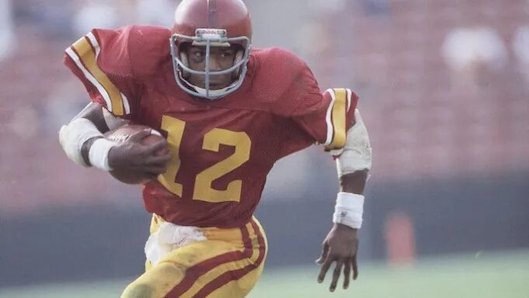 I
have to be honest, when I started this exercise I wanted to find a way to put LaMichael James or Christian McCaffery ahead of one of these guys in the top three, just to mix things up.
But then I really dug into things and I just couldn't justify those kinds of hijinks. These three are all Heisman winners, they were all magnificent at their peak, and you could order the three of them in any way you wanted.
Charles White had the best career of the three as he accumulated more than 6,000 yards from scrimmage and 49 touchdowns.
White ranks second to Royce Freeman in career yardage but that's a bit deceiving as White played in the days of 11-game seasons and bowl stats weren't included in a player's totals, much less conference champion games and College Football Playoff games.
If you just add in White's bowl game stats (like his 247 rushing yards from the 1980 Rose Bowl when he scored the game-winning touchdown in the final minute), he would be the all-time leading rusher in conference history.
No. 2 — Marcus Allen, USC (1978-1981)
M
arcus Allen had to wait for White to leave USC before becoming the featured back, so his career numbers don't match up, but his senior season in 1981 was the stuff of legends.
Allen ran for 2,342 yards and 22 touchdowns. Only three players in history have run more yards in a season and two of them (most notably Melvin Gordon who ran for 2,587 in 2014) needed 14 games to do so.
The only running back's season that was definitely better than Marcus Allen's 1981 campaign was Barry Sanders' absurd 1988 season in which he ran for 2,628 yards and 37 touchdowns in 11 games.
The fact that I'm having to pull in Barry Sanders to find a meaningful comparison tells you just how amazing Marcus Allen was.
I wouldn't object to either White or Allen being the top pick on this list because of their career brilliance, which still holds up more than 40 years later.
No. 1 — Reggie Bush, USC (2003-2005)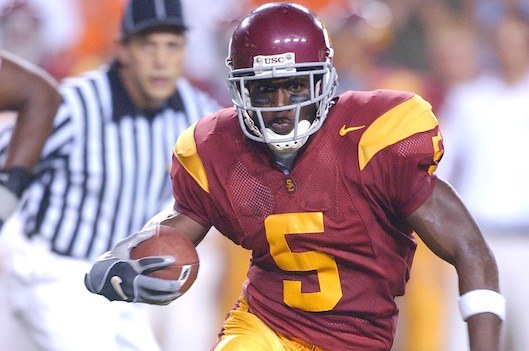 I
ultimately landed on Reggie Bush for the simple reason that he was magical.
Bush wasn't a bruising runner like many of the rest of the guys on this list. In fact, in 2004 when USC won the national title and Bush finished fifth in the Heisman (losing to teammate Matt Leinart), Bush wasn't even the leading rusher for USC.
Lendale White was. That just goes to show statistics don't tell the whole story of the Reggie Bush experience.
Don't get me wrong, the stats are there. Bush accounted for 2,218 yards from scrimmage during his Heisman-winning season in 2005. He averaged more than nine yards every single time he touched the ball.
The guy was basically a walking first down. Or more like a running, juking, twisting, twirling, first down.
Whether it was taking the ball on a pitch, catching a swing pass out of the backfield, or returning a kick, Bush was at his most electric in the open field.
He routinely made defenders look foolish for even thinking they had a chance to wrap him up. And when he turned on the jets it was over. Reggie Bush was arguably the most entertaining college football player of his generation.
---
—More from Mark Schmor—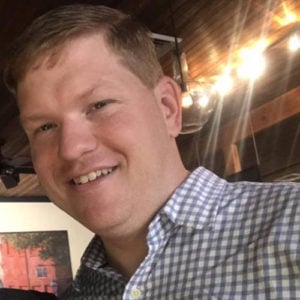 Latest posts by Mark Schmor
(see all)