Posted on September 17, 2023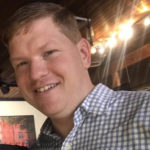 By Mark Schmor, SuperWest Sports
T
his week I'm ranking the top ten offensive linemen in Pac-12/10 history and I wanted to share an amusing story to start things off.

In 2016, Washington State guard Cody O'Connell was a unanimous All-American selection, but only gained Honorable Mention All-Conference honors.
Confusing, right?
You'll be glad to know I looked into this travesty. Here's what I found. That year, the Pac-12 named six offensive linemen to their All-Conference team but none of them were guards.
I don't know when this changed, but at some point, All-Conference voters decided they couldn't be troubled to know what position a guy actually plays.
So they just started voting in offensive linemen as a catch-all, totally unaware that playing guard requires a different skill set than playing tackle or center.
Consequently, in 2016, Pac-12 voters named four tackles and two centers as their All-Conference choices and called it a day, content to leave out a guard who was unanimously voted on to the All-American team.
That's not how we're doing things here.
To come up with the Top 10 offensive linemen in the conference, I've chosen four tackles, four guards, and two centers.
With future lists, I'll be doing a traditional countdown from 10-1, but these are offensive linemen. They function best as a unit and these rankings will honor that.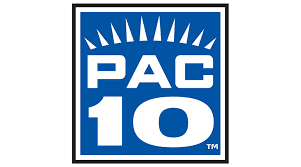 One last thing: There were some agonizing decisions here. Many All-Americans, First-Round NFL Draft picks, Outland Trophy winners, Morris Trophy winners, and four-year starters were under consideration.
It would take too much space to name them all here but know that a lot of very deserving players just missed inclusion.
Below are my Top 10 offensive linemen in Pac-12/10 Conference history, starting with the tackles, proceeding through the guards, and concluding with the centers.
[You may also be interested in Mark Schmor's Top 10 Quarterbacks of the Pac-10/12 Era]
—Tackles—
Tony Boselli, USC (1991-1994)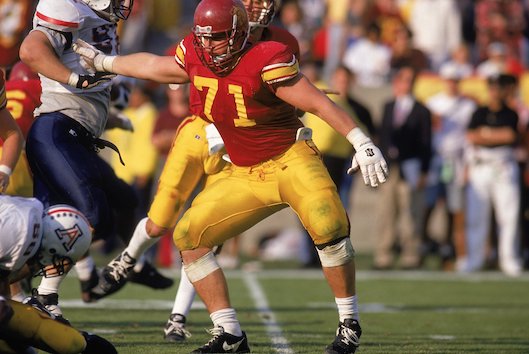 T
he best offensive lineman in college football history is pretty clearly Orlando Pace from Ohio State (1994-96).
Pace was a finalist for the Heisman Trophy in 1996, a crazy feat for an offensive lineman, before becoming the top pick in the '97 NFL draft and earning a spot in the Pro Football Hall of Fame.
Why am I referencing an Ohio State lineman in a tribute to the greatest linemen in Pac-12/10 history? Because before Orlando Pace, there was Tony Boselli.
Boselli wasn't a finalist for the Heisman Trophy, but he was a three-time All-American and I tend to think that the exposure Boselli received as a dominant offensive lineman helped to pave the way for Pace's Heisman campaign a couple of seasons later.
After graduating from USC, Boselli became the first player chosen in the entire history of the Jacksonville Jaguars.
He was so dominant for the Jags that he earned a spot in the Hall of Fame despite only being healthy for the better part of six seasons.
I'm trying not to factor NFL success into these rankings too much, but as you will see, it's especially hard to leave that context out when discussing offensive linemen.
Even if Boselli didn't play a single down in the NFL, I would still remember him as the best offensive lineman in USC history, the best offensive lineman in Conference history, and the perfect place to start this list.
Jonathan Ogden, UCLA (1992-1995)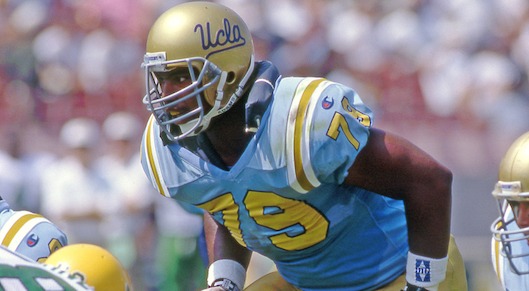 J
onathan Ogden's career overlapped with those of Tony Boselli and Orlando Pace, and like them, he also played a formidable role in shining a spotlight on the importance of offensive line play.
Ogden was a four-year starter at left tackle for the Bruins, won the Outland Trophy in 1995, and even won a national championship as a shot-putter before pursuing a Hall of Fame career in the NFL.
If the two of us were picking teams and you picked Tony Boselli first, I'd pick Jonathan Ogden second.
Lincoln Kennedy, Washington (1988-1992)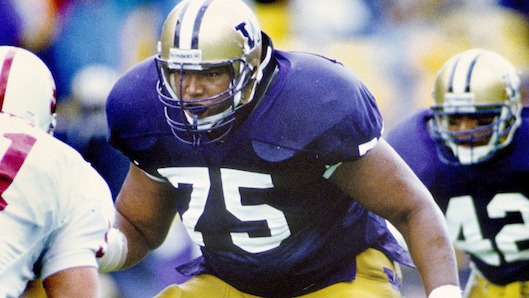 L
incoln Kennedy was a two-time All-American and a two-time winner of the Morris Trophy (voted on by fellow players and awarded to the best offensive and defensive lineman in the conference).
Not surprisingly, he is also considered by UW fans to be the best lineman in school history.
Kennedy was a major reason Washington claimed a share of the national championship with their undefeated season in 1991 as he was responsible for protecting the blindside of Billy Joe Hobert.
Also, Lincoln Kennedy is just an awesome name for a dominant offensive lineman.
Penei Sewell, Oregon (2018-2019)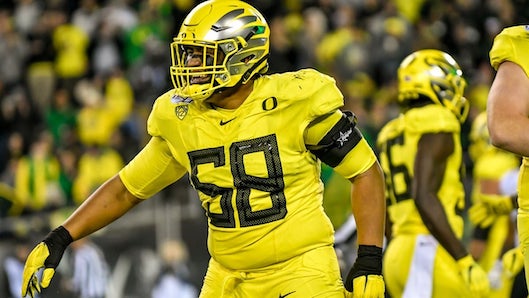 O
regon has had a number of great offensive linemen over the years, but Penei Sewell is far and away the best one.
He didn't just win the Outland Trophy in 2019, he also won the Outland Trophy two months after he turned 19 years old. You're just not supposed to be the best lineman in the country as a 19-year-old sophomore.
Of all the incredible linemen that have come through this Conference, none of them won the Outland Trophy at age that age.
As a side note, Oregon fans were deprived of one final season with Penei when he opted to sit out the weird 2020 COVID season in order to protect his draft stock.
I remember folks being very understanding of Sewell's decision at the time, but it does lead down an interesting rabbit hole.
A Special USC O-Lineman
Anthony Muñoz of USC (1976-79) might be the greatest offensive lineman to come out of the Conference.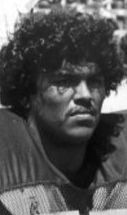 Muñoz doesn't make the cut here because he missed most of his senior year with a knee injury, but he has to be mentioned because he did something borderline heroic at the end of his senior season.
Having recovered from a serious injury, Muñoz was in line to be a high pick in the following spring's NFL Draft yet he insisted on playing in the 1980 Rose Bowl against Ohio State.
In doing so, he helped pave the way for Charles White to have 247 rushing yards in a one-point victory for the Trojans.
Thankfully, Muñoz made it through the Rose Bowl in good health and was drafted by the Cincinnati Bengals with the third pick in the draft.
How good was Muñoz in the pros? He was arguably the greatest offensive tackle in NFL history.
—Guards—
Bruce Matthews, USC (1979-1982)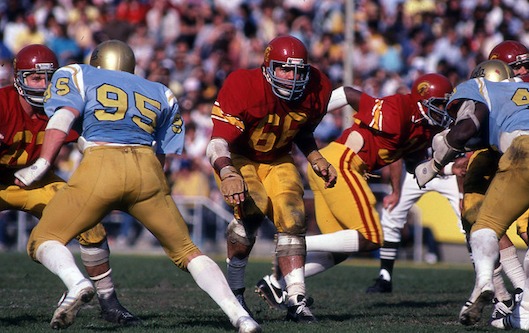 I
tend to think of Bruce Matthews as the Anthony Muñoz of guards.
That's not entirely fair to Matthews as he played all five offensive line positions during his time at USC and then played all five positions during his amazing NFL career.
I know I said NFL success wasn't going to be a factor in these rankings, but let me make an exception here in comparing Muñoz and Matthews
Anthony Muñoz was an 11-time Pro Bowler, a nine-time First-Team All-Pro selection, a member of the 1980s All-Decade Team, a member of the NFL's 100th Anniversary Team, and a winner of the Bart Starr Award for outstanding character.
Bruce Matthews was a 14-time Pro Bowler, a seven-time First-Team All-Pro selection, a member of the 1990s All-Decade Team, a member of the NFL's 100th Anniversary Team, and a winner of the Bart Starr Award.
Before all that, Matthews was an All-American guard at USC. So in a span of a couple of years, USC produced arguably the greatest tackle in pro football history then immediately followed that up by producing arguably the greatest guard in pro football history.
When Muñoz was a senior, Matthews was a freshman so USC had arguably the two greatest linemen in history on their roster at the same time.
Roy Foster, USC (1978-1981)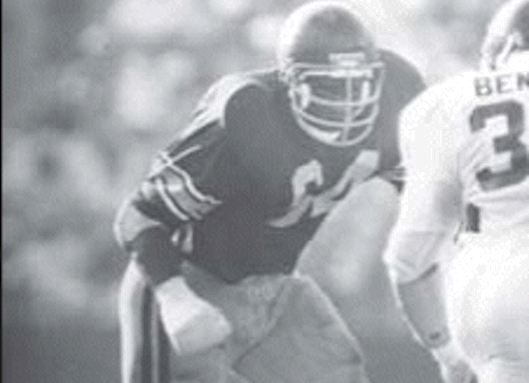 N
ow here's the crazy thing. I'm not sure that Muñoz or Matthews were even the best linemen on that particular team.
That's because that team also had Roy Foster, a two-time All-American in his own right and the first-ever winner of the Morris Trophy for best offensive and defensive lineman as voted on by Pac-10/12 players.
Foster was not only the first winner of the Morris Trophy in 1980, but he was also the second winner in 1981.
Over the next four decades, only two other offensive linemen would win this award in consecutive seasons. One of them was Lincoln Kennedy and we'll learn the identity of the other before we get to the end of this list.
Randall McDaniel, Arizona State (1984-1987)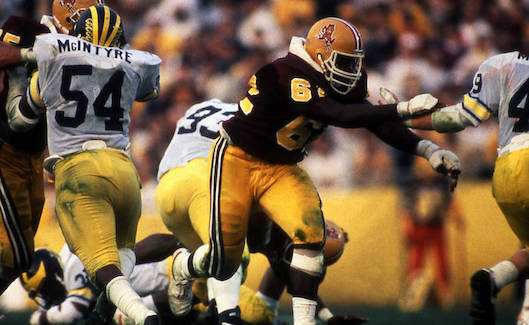 R
emember when I said that Bruce Matthews was arguably the greatest guard in NFL history? I used the word "arguably" because Randall McDaniel would like a word in that discussion.
If I were filling out an all-time starting lineup of pro football players, I think Bruce Matthews would be one guard and Randall McDaniel would be the other.
Combined with Anthony Muñoz, there's an argument that the Pac-10 produced three of the five greatest offensive linemen in the history of the game in about an eight-year stretch.
Randall McDaniel has a ton of accolades to his name but my favorite one is that he was elected to the Rose Bowl Hall of Fame for his performance in the 1987 version of the "Granddaddy of Them All."
I find it interesting that a recurring game like the Rose Bowl has a Hall of Fame attached to it and I'm especially interested to learn how an offensive lineman like Randall McDaniel gets selected.
Did the nominating committee just feel obligated to have an offensive lineman to balance out all the quarterbacks and running backs and receivers so they picked the most accomplished lineman who ever played in the Rose Bowl?
Or was there someone on the nominating committee actually dissecting tape of the '87 Rose Bowl and admiring how McDaniel pulled around the end as a lead blocker? (Sorry, I'm clearly getting sidetracked.)
Joshua Garnett, Stanford (2012-2015)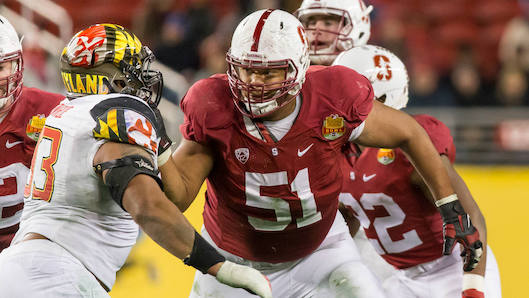 I
had to take at least one Stanford guy at the last guard spot because no school in the country produced better guards than Stanford for a five-year stretch in the 2010s.
David DeCastro was an All-American in 2011, David Yankey was an All-American in 2013, and Andrus Peat was an All-American in 2014.
I considered all three but ultimately went with Joshua Garnett because he was the only one of this foursome to be named All-American and also win the Outland Trophy, which he did in 2015.
The Outland Trophy is a really good barometer for an offensive lineman's greatness because it can be awarded to either an offensive or defensive lineman.
In general, playing on the defensive line is a bit sexier because you can accumulate stats like sacks and tackles for loss whereas offensive linemen don't have any stats that are reliably tracked.
So if an offensive lineman wins the Outland Trophy, you know he must have acquired some sort of folk hero status by straight-up mauling people.
Near Misses
The fact that three different All-American guards from Stanford alone didn't make the cut (nor WSU's unanimous All-American Cody O'Connell) illustrates what an excruciating task it was to put this list together.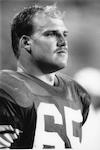 The one especially tough omission for me as a Duck fan was Oregon's Gary Zimmerman (1980-83).
Zimmerman was a UO guard before becoming a Hall of Fame tackle in the NFL and it seemed fitting to find a spot for him, mostly because he was on lousy teams.
Oregon was just 4-6-1 his senior season, which was a significant improvement from the 2-win teams he was on as a sophomore and junior.
The '83 Ducks averaged just 13.8 points per game. Their last game of that season against a terrible Oregon State team ended in a 0-0 tie.
Yet despite playing on what has to be one of the most anemic offensive units in conference history, Zimmerman was awarded the Morris Trophy by his fellow players.
How good must Gary Zimmerman have been for the rest of the guys in his conference to give him an award that prestigious while playing on a team that putrid?
—Centers—
Alex Mack, California (2004-2008)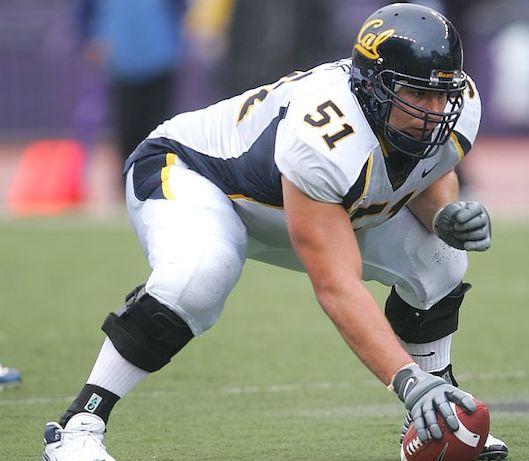 T
he Pac-12/10 has produced a number of terrific centers. Alex Mack gets this spot because was the most recent two-time winner of the Morris Trophy (joining Roy Foster and Lincoln Kennedy).
He later became a 7-time Pro Bowler in the NFL. Also in Mack's favor, he won the Draddy Trophy, an award that is also referred to as the "Academic Heisman."
To my knowledge, he is the only guy on this list who took home a Draddy Trophy so that puts his case over the top.
Hroniss Grasu, Oregon (2011-2014)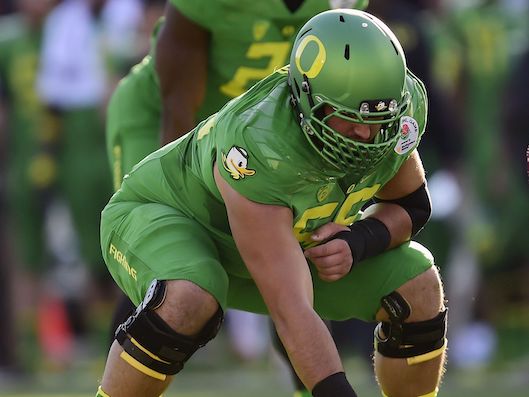 There are any number of great centers you could talk me into for this final spot (see the box below).
I finally settled on Hroniss Grasu, thinking this list should include someone from Chip Kelly's time at Oregon because those Duck teams ran the ball as well as any teams I can remember.
And their breakneck pace required their offensive linemen to be in superb physical condition.
Grassu was a four-year starter (a wonderful phrase when evaluating offensive linemen), so he began his career paving the way for LaMichael James and Kenjon Barner and he ended his career protecting Marcus Mariota.
It also doesn't hurt that Hroniss recently became engaged to Sabrina Ionescu making them the marquee couple of the Oregon sports world.
In the Running
Olin Kreutz of Washington was an All-American in 1997 and later became a 6-time Pro Bowler in the NFL.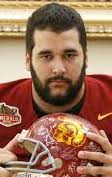 Ryan Kalil was an All-American for USC in 2006 and played a key role blocking for Matt Leinart and Reggie Bush on some dominant USC teams.
But Ryan's brother Matt Kalil was also an All-American offensive lineman for USC and the last thing I want to do is fuel a family feud amongst the Kalil brothers.
Chase Beeler was an All-American for Stanford in 2010 at the beginning of that great run of dominant interior players for the Cardinal that I mentioned earlier.
Another Oregon player, Max Unger, was an All-American in 2008 and went on to have a successful NFL career.
[You may also be interested in Jack Follman's Top Offensive Linemen for 2023]
---
—More from Mark Schmor—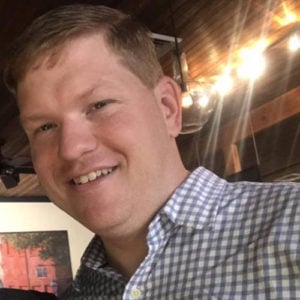 Latest posts by Mark Schmor
(see all)