Posted on October 29, 2023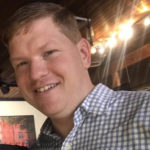 By Mark Schmor, SuperWest Sports

To celebrate the history of the Pac-12/10 Conference in the wake of its demise, I'm putting together a series of Top 10 lists of players, coaches, teams, games, and plays.
This week, I'm ranking the Top 10 defensive linemen since 1978
I briefly considered making this into two lists, one for defensive tackles and one for defensive ends, because the two positions are so different in terms of their responsibilities and how success is quantified.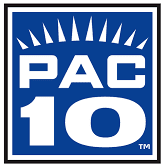 But I was guessing readers would only have so much interest in reading about defensive linemen.
If you are the type of person who would have loved a separate list for both positions, you'll be glad to know that this list is equally balanced with five defensive tackles and five defensive ends.
No. 10 — Dave Ball, UCLA (2000-2003)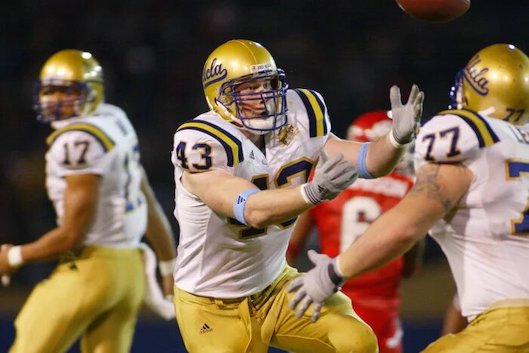 I
f you're talking about the greatest defensive lineman in UCLA history, you're talking about three guys, each of whom won Pac-10 Defensive Player of the Year.
Some might opt for Mark Walen (1985 DPOY) or Brian Price (2009 DPOY) but I went with Dave Ball because he led the nation and set a UCLA record with 16.5 sacks in 2003.
No. 9 — Shaun Cody, USC (2001-2004)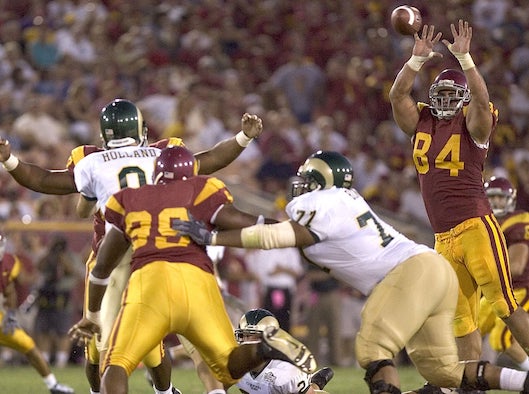 S
haun Cody was the nose tackle responsible for plugging the middle for those great USC teams of the early 2000s.
My favorite stat for Cody is that he blocked three field goals during his junior season.
I have no idea what the conference record is for blocked kicks, but three blocked field goals from a 300-pound defensive lineman who is essentially bullrushing the interior of the line?
That's impressive.
W
hile we're on the subject of USC defensive linemen, I should also mention Sedrick Ellis, who took over for Cody as the anchor of the Trojans defensive line from 2003-07.
Ellis was a terrific player on the field of course, but he was also a legend in the Trojan weight room.
He was so strong that the USC training staff had to purchase a set of 200 lb dumbbells because the 160 lb dumbbells didn't give him enough of a workout.
No. 8 — Bill Swancutt, Oregon State (2001-2004)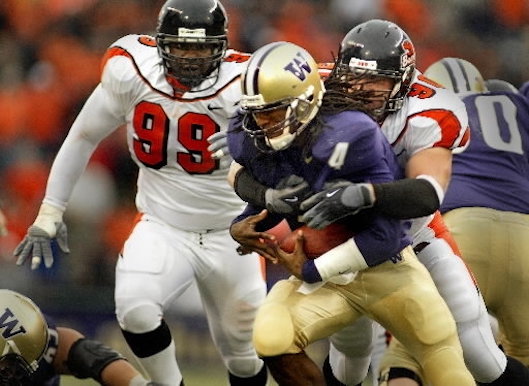 O
ne of the challenges in putting together a list like this is comparing the qualities of a pass-rushing defensive end and a run-stuffing defensive tackle.
Oregon State has had a memorably great player at each position and there isn't an overwhelming reason to pick one over the other.
Stephen Paea was a dominant force inside, winning the Pac-12 Defensive Player of the Year in 2010 and Bill Swancutt was a dominant force outside, winning the Pac-12 Defensive Player of the Year in 2004.
I ultimately went with Swancutt who still holds the Beaver career records with 37 sacks and 60 tackles for loss.
No. 7 —Haloti Ngata, Oregon (2004-2005)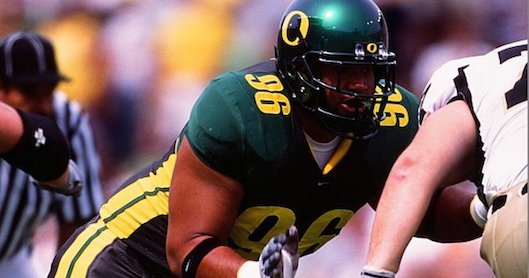 T
he best defensive linemen in Oregon school history is still Haloti Ngata, who was the first Duck to be named All-American in 43 years when he earned that designation in 2005.
Ngata is the classic example of a player who is so dominant that it undermines his statistical production.
In 2005, he only had 9 tackles for loss and 3 sacks while his fellow defensive lineman Devan Long had 14.5 tackles for loss and 4.5 sacks and outside linebacker Anthony Trucks led the team with 15.5 tackles for loss and 11 sacks.
While Trucks and Long were both great, it was commonly understood that everyone else on the Oregon front-seven was benefiting from the disproportionate attention that offenses had to give to Haloti Ngata.
D
uck fans of a certain age might be surprised that Kayvon Thibodeaux is not on this list.
He would certainly be deserving as he was an All-American in 2021 despite missing multiple games with injury.
Mention should also be given to Arik Armstead and DeForest Buckner, who created all sorts of havoc for the Ducks during their run to the national title game in 2014-15.
No. 6 — Will Sutton, Arizona State (2009-2013)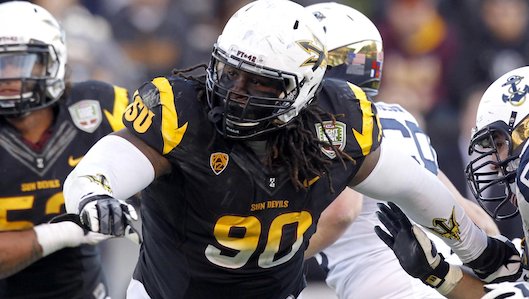 W
ill Sutton is one of only two Pac-10/12 players to be a two-time winner of the Defensive Player of the Year.
And the only reason he's not higher on this list is because I'm assuming some of these other guys would have been two-time winners if they had returned for a senior season like Sutton did.
Sutton's junior season is in the conversation for the best season of any player on this list as he had 23.5 tackles for loss and 13 sacks.
No 5 — Rien Long, Washington State (2000-2002)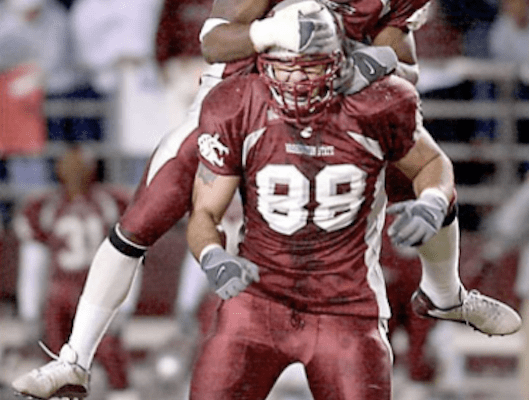 E
arlier, I mentioned how great Devan Long was playing for Oregon alongside Haloti Ngata. His older brother Rien was even better, winning the Outland Trophy (for the nation's best interior lineman) in 2002.
The Outland Trophy is kind of a strange award because sometimes it is awarded to an offensive lineman and sometimes it is awarded to a defensive lineman.
The conference hasn't produced another defensive winner of the award since Rien Long more than 20 years ago.
No. 4 — Rob Waldrop, Arizona (1990-1993)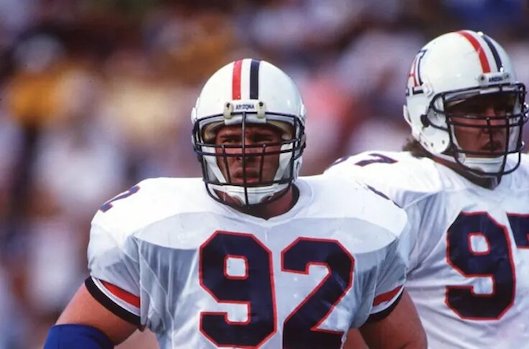 P
rior to Rien Long, the Pac-10 produced a couple of other Outland winners. One of them was Rob Waldrop, who also won the Nagurski Award (for the nation's best defensive player) in 1993.
Yet I'm not even sure he was the best player on Arizona's Desert Swarm defense.
That Desert Swarm defense was loaded, as you'll see later on this list.
No. 3 — Terrell Suggs, Arizona State (2000-2002)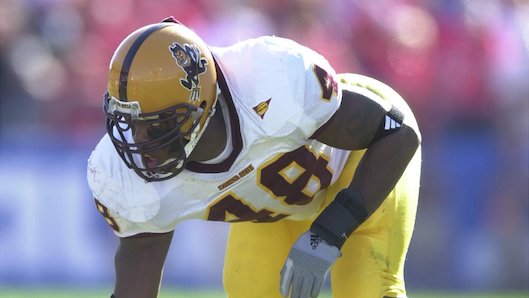 I
f we're just counting trophies now, then Terrell Suggs is hard to beat.
He won the Nagurski Award, the Lombardi Award, and the Ted Hendricks Award when he set an NCAA record with 24 sacks in 2002, and was a first-team All-Pac-10 selection and the Pac-10 Defensive Player of the Year.
Suggs was also recognized as a unanimous first-team All-American.
He finished his career with 163 tackles, including a school, career-record 65.5 tackles for losses, 44 quarterback sacks, 14 forced fumbles, three fumble recoveries, two interceptions, and nine passes deflected.
No. 2 — Tedy Bruschi, Arizona (1991-1995)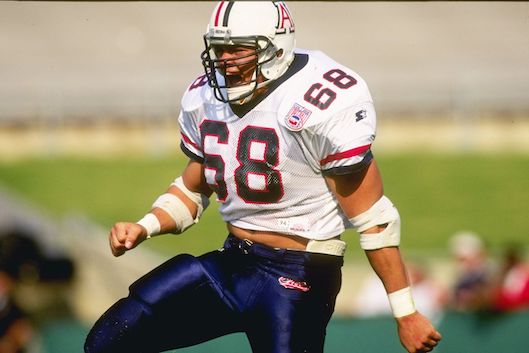 I
noted above that Rob Waldrop was arguably the best player on Arizona's Desert Swarm defense.
The same year that Waldrop won the Nagurski Award as the best defensive player in the station, sophomore defensive end Tedy Bruschi posted 19 sacks and 27.5 tackles for loss.
Bruschi played two more years after that (earning All-American honors both seasons) and finished his career with an unbelievable 74 tackles for loss and the NCAA career record for sacks with 52.
No. 1 — Steve Emtman, Washington (1990-1991)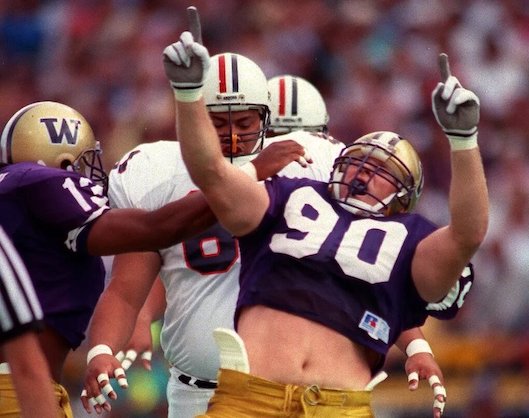 I
wouldn't argue with anyone who wanted to make a case for Suggs (the greatest single-season pass rusher in NCAA history) or Bruschi (the greatest career pass rusher in NCAA history) to have this top spot.
But Steve Emtman is legendary in a unique way. He only played at Washington for two years, but he was the Pac-10 Defensive Player of the Year in both seasons.
He also took home the Lombardi Award and the Outland Trophy in the second of those seasons when he posted 20.5 tackles for loss.
To put Emtman's production into perspective, let's compare him to another Husky legend, Vita Vea, who helped to spearhead Washington's resurgence in the Chris Petersen era and won Defensive Player of the Year in 2017.
Vita Vea posted 15 tackles for loss across three seasons, over 37 games. Steve Emtman racked up 20.5 tackles for loss in 11 games.
---
—More from Mark Schmor—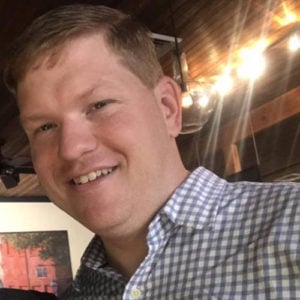 Latest posts by Mark Schmor
(see all)