Posted on April 28, 2021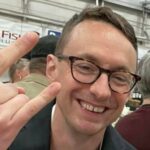 By Jack Follman, SuperWest Sports
T
he 2021 NFL Draft is almost here. Let's do one last mock draft just days before the event and check in on some of the top Pac-12 storylines as the Draft approaches. We go into three full rounds for this one.
Here are some of the top storylines for the Pac-12 to watch on Thursday:
Bengals and Sewell—a match made in heaven? The Bengals seemed like the team that was going to snag Oregon's LT Penei Sewell at the top of the Draft once their season tanked and it was clear their offensive line needed a lot of help.
Early mocks always had the Bengals taking Sewell wherever their pick landed, but after the season, it looked like the Bengals instead might snag one of the really talented receivers or Northwestern lineman, Rashawn Slater, who exploded in the off-season.
Now it seems like Sewell and the Bengals might be coming around together. Will they take the legendary Oregon OL?
Can a Husky make it into the first round? The Huskies have three players who have been labelled as wild cards to make it into the First Round—Elijah Molden, Levi Onwuzurike, and Joe Tryon.
Each player has First Round potential, and it might just be a matter of if there's a team that specifically needs a nickel corner, a versatile DL, or a DE with a huge ceiling.
Who takes Davis Mills? The Stanford QB has emerged as a likely Second or Third Round pick, and one of the top QB prospects after the first batch who are first round locks.
It seems like Mills will land with one of the teams in the back half of the draft order who need a QB, but won't be able to grab one of those top QBs, and that could be great for Mills, giving him the chance to step into a team that needs a QB, but not a savior like Chicago.
—First Round—
1. Jacksonville – Trevor Lawrence, Quarterback, Clemson
2. Jets – Zach Wilson, Quarterback, BYU
3. San Francisco – Mac Jones, Quarterback, Alabama
4. Atlanta – Kyle Pitts, Tight End, Florida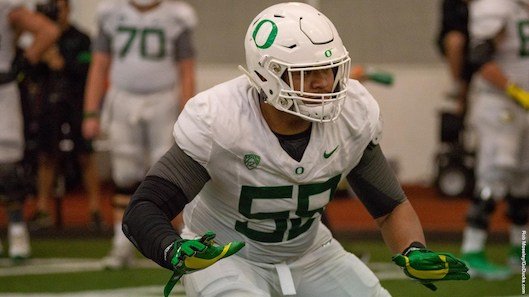 5. Cincinnati – Penei Sewell, Tackle, Oregon
I think things come full circle and the Bengals can't pass on a talent like Sewell to build up their offensive line, even if they also really need a receiver, and there's a lot of great options there too. A top lineman also feels like a safer investment than a receiver.
6. Miami – Ja'Marr Chase, Wide Receiver, LSU
7. Denver – Justin Fields, Quarterback, Ohio State
8. Carolina – Rashawn Slater, Guard, Northwestern
9. Atlanta (trade) – Jaylen Waddle, Wide Receiver, Alabama
10. New England – Trey Lance, Quarterback, North Dakota State
11. Giants – DeVonta Smith, Wide Receiver, Alabama
12. Philadelphia – Patrick Surtain II, Cornerback, Alabama
13. Chargers – Christian Darrisaw, Tackle, Virginia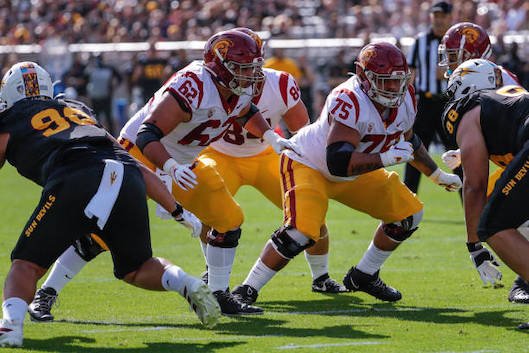 14. Minnesota – Alijah Vera-Tucker, Tackle, USC
AVT could be perfect for the Vikings as they need a guard and a tackle, but a guard a little bit more, and he might be better suited for that anyway, as he's on the shorter side. His flexibility would also allow him to step up at whichever spot he works better at or the one they need more once he gets into camp.
15. New England – Jaycee Horn, Cornerback, South Carolina
16. Arizona – Micah Parsons, Linebacker, Penn State
17. Las Vegas – Teven Jenkins, Tackle, Oklahoma State
18. Miami – Kwity Paye, Defensive End, Michigan
19. Washington – Azeez Ojulari, Linebacker, Georgia
20. Chicago – Caleb Farley, Cornerback, Virginia Tech
21. Indianapolis – Greg Newsome II, Cornerback, Northwestern
22. Tennessee – Rashod Bateman, Wide Receiver, Minnesota
23. Jets – Jaelan Phillips, Defensive End, Miami
24. Pittsburgh – Najee Harris, Running Back, Alabama
25. Jacksonville – Elijah Moore, Wide Receiver, Mississippi
26. Cleveland – Jayson Oweh, Defensive End, Penn State
27. Baltimore – Trevon Moehrig, Safety, TCU
28. New Orleans – Jeremiah Owusu-Koramoah, Linebacker, Notre Dame
29. Green Bay – Kadarius Toney, Wide Receiver, Florida
30. Buffalo – Asante Samuel Jr., Cornerback, Florida State
31. Kansas City – Carlos Basham, Defensive End, Wake Forest
32. Tampa Bay – Rondale Moore, Wide Receiver, Purdue
—Second Round—
33. Jacksonville – Sam Cosmi, Tackle, Texas
34. Jets – Ifeatu Melifonwu, Cornerback, Syracuse
35. Atlanta – Zaven Collins, Linebacker, Tulsa
36. Miami – Travis Etienne, Running Back, Clemson
37. Philadelphia – Elijah Moore, Wide Receiver, Mississippi
38. Cincinnati – Christian Barmore, Defensive Tackle, Alabama
39. Carolina – Kelvin Joseph, Cornerback, Kentucky
40. Denver – Zaven Collins, Linebacker, Tulsa
41. Detroit – Ifeatu Melifonwu, Cornerback, Syracuse
42. Giants – Greg Rousseau, Defensive End, Miami
43. San Francisco – Joseph Ossai, Linebacker, Texas
44. Dallas – Dillon Radunz, Tackle, North Dakota St.
45. Jacksonville – Richie Grant, Safety, UCF
46. New England – Nick Bolton, Linebacker, Missouri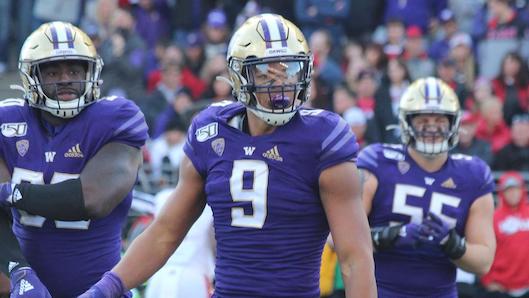 47. Chargers – Joe Tryon, Defensive End, Washington
Tryon's potential makes him one of the top DEs on the board, and a good value in the middle of the second round as a guy who can rush the passer, and still has the size and strength to hold up against the run. If he can just put it all together and get more consistent, he could easily be the best DE in this class.
48. Las Vegas – Christian Barmore, Defensive Tackle, Alabama
49. Arizona – Kevin Joseph, Cornerback, Kentucky
50. Miami – Andre Cisco, Safety, Syracuse
51. Washington – Aaron Robinson, Cornerback, UCF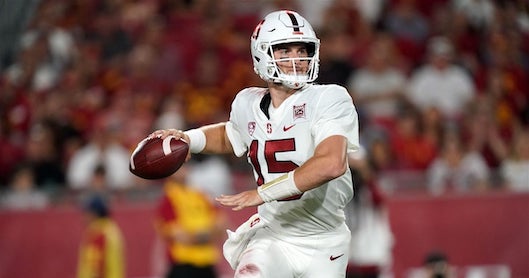 52. Chicago – Davis Mills, Quarterback, Stanford
Mills is looking like a QB who—and I wouldn't be totally shocked—may have snuck into the back of the First Round. I've been singing his praises for a really long time. He is the perfect QB to grab at this point as a guy who still hasn't fulfilled his potential, but still has the size and efficiency to likely be a solid backup if needed.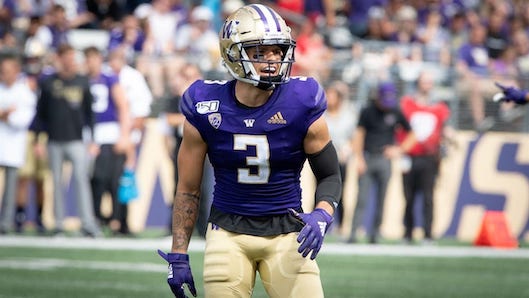 53. Tennessee – Elijah Molden, Cornerback, Washington
Molden is a great pure player who is a bit of a tweener for the NFL, given his size and need (probably) to be a nickel holds him back a bit. He could be a steal here, though, as a Honey Badger Lite kind of player who could play different positions in the secondary.
54. Indianapolis – Alex Leatherwood, Tackle, Alabama
55. Pittsburgh – Creed Humphrey, Center, Oklahoma
56. Seattle – Payton Tuner, Defensive End, Houston
57. Rams – Jalen Mayfield, Tackle, Michigan
58. Baltimore – D'Wayne Eskridge, Wide Receiver, Western Michigan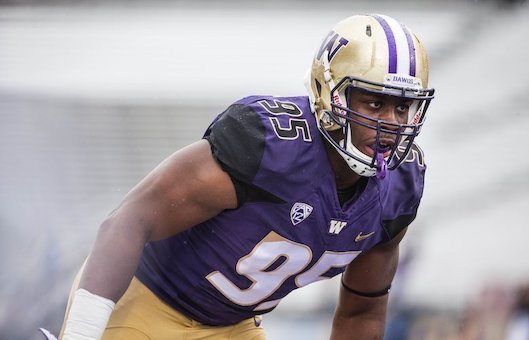 59. Cleveland – Levi Onwuzurike, Defensive Tackle, Washington
Onwuzurike is a great value here because he really only fell because of the lack of need for DTs for teams more than his skill. One thing that I think makes him a great pick is he has the ability to stop the run but can also rush the passer from the middle of passing downs.
60. New Orleans – Tylan Wallace, Wide Receiver, Oklahoma
61. Buffalo – Javante Williams, Running Back, North Carolina
62. Green Bay – Jackson Carman, Tackle, Clemson
63. Kansas City – Wyatt Davis, Guard, Ohio State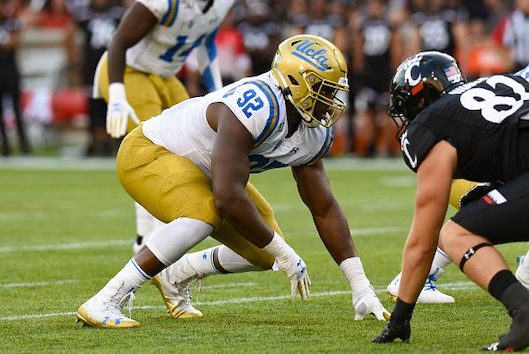 64. Tampa Bay – Osa Odighizuwa, Defensive End, UCLA
OO made himself a lot of money by playing in 2020 and having a big year. He's one of those guys who is stout with great size for a DE, but that will do him well in the  NFL, especially because he can still really move and rush the passer.
—Third Round—
65. Jacksonville – Michael Carter, Running Back, North Carolina
66. Jets – Dazz Newsome, Wide Receiver, North Carolina
67. Houston – Daviyon Nixon, Defensive Tackle, Iowa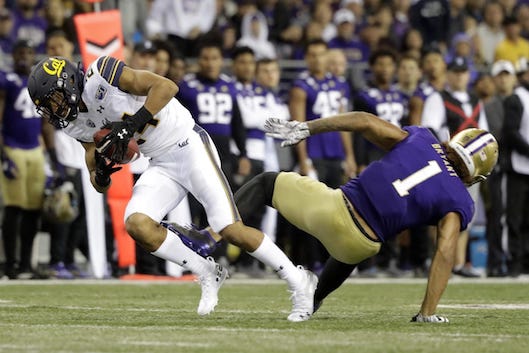 68. Atlanta – Camryn Bynum, Cornerback, Cal
I have always been really big on Bynum, and it looks like NFL is taking notice as he's climbing draft boards and could sneak into the Second Round. He's big, strong, and has great ball skills. Seems like a lock to at least be a solid NFL starter.
69. Cincinnati – Brevin Jordan, Tight End, Miami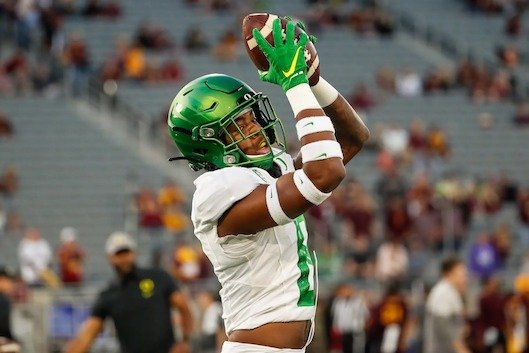 70. Philadelphia – Jevon Holland, Safety, Oregon
I still list Holland as a safety but he can play anywhere in the secondary, and that's why he goes early in the third. He's also a great athlete with solid size who is a great value here.
71. Denver – Kary Vincent Jr., Cornerback, LSU
72. Detroit – Trey  Smith, Tackle, Tennessee
73. Carolina – Baron Browning, Linebacker, Ohio State
74. Washington – Hamsah Nasirildeen, Safety, Florida
75. Dallas – Ronnie Perkins, Defensive End, Oklahoma
76. Giants – Jabril Cox, Linebacker, LSU
77. New England – Vacated
78. Chargers – Ar'Darius Washington, Safety, TCU
79. Minnesota – Rashad Weaver, Defensive End, Pitt
80. Las Vegas – Chazz Surratt, Linebacker, North Carolina
81. Las Vegas – Landon Dickerson, Center, Alabama
82. Miami – Sage Surratt, Wide Receiver, Wake Forest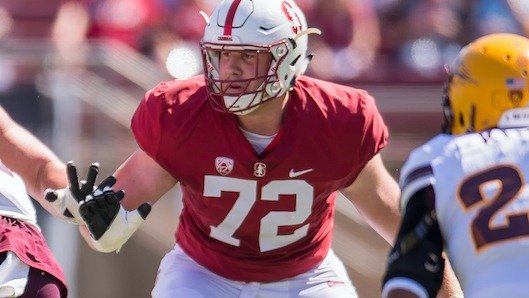 83. Washington – Walker Little, Tackle, Stanford
Little's stock has dropped as the red flags of a guy who has barely played in years scare off teams. He's a good risk at this point, though, as a guy who has Top 10 talent, but just has had Top 10 injury issues as well.
84. Chicago – Amari Rodgers, Wide Receiver, Clemson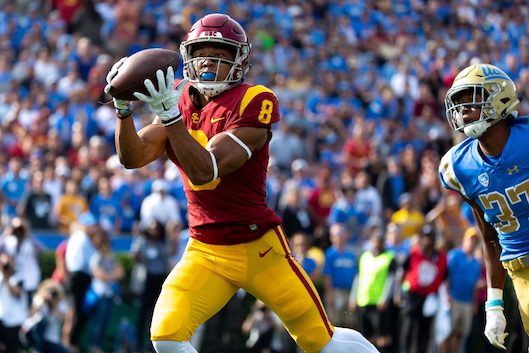 85. Philadelphia – Amon-Ra St. Brown, Wide Receiver, USC
ARSB has First Round talent and just never put it together perfectly in three years at USC. He was pretty good, though, and that will be enough to get him snagged in the Second or Third round.
86. Tennessee – James Hudson, Tackle, Cincinnati
87. Jets – Kenneeth Gainwell, Running Back, Memphis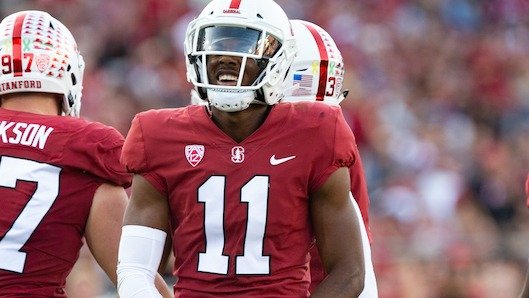 88. Pittsburgh – Paulson Adebo, Cornerback, Stanford
Adebo is the other Cardinal who lost momentum this year, mostly because he regressed in 2019, then opted out in 2020. His stellar 2018 and physical skills will make him a great CB prospect at this point.
89. Rams – Deonte Brown, Guard, Alabama
90. Cleveland – Cornell Powell, Wide Receiver, Clemson
91. Minnesota – Brenden Jaimes, Tackle, Nebraska
92. Cleveland – Tre Brown, Cornerback, Oklahoma
93. Green Bay – Alim McNeill, Defensive Tackle, NC State
94. Buffalo – Patrick Jones II, Defensive End, Pitt
95. Baltimore – Liam Eichenberg, Tackle, Notre Dame
96. Tampa Bay – Quinn Meinerz, Guard, Wisconsin-Whitewater
---
—More from Jack Follman—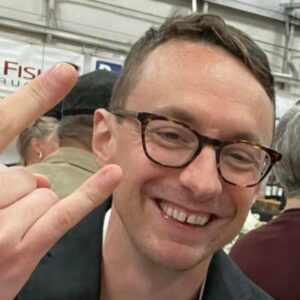 Latest posts by Jack Follman
(see all)