Posted on November 15, 2019


  By Dane Miller, SuperWest Sports
Upshot from Last Week
The Pac-12 is back. The Conference had its best opening week since the expansion in 2011, and perhaps longer, going 22-2 against teams outside the Conference of Champions. Two of those wins came against Top 25 programs on national television. The early season success will pay dividends come Selection Sunday. And if the league keeps it up, the national pundits won't be able to dump on its teams as they have over the past year or so.
Utah was the tip of the spear with a pivotal true-road win over Nevada on opening night. The Utes followed that up with an NCAA record for margin of victory, a 94-point demolition of Mississippi Valley State Delta. Larry Krystkowiak has his team primed to get back to the Big Dance.
Washington State opened the Kyle Smith Era with a resounding 31-point victory against Seattle University. CJ Elleby led the way with 27 points, showcasing his role as one of the top players in the conference. The Cougs then dropped a game to a decent Santa Clara team in a true road game that may or may not be considered a "bad loss."
Not to be outdone by the Utes, Washington notched a key victory over Baylor, ranked No. 16 at the time. The Dawgs turned a lot of heads with a statement win on national television against a quality Big 12 opponent. Jay Bilas called this game, and he came away very impressed with Jaden McDaniels—as did the rest of the nation.
Colorado did what they needed to do in Shanghai, beating an Arizona State team that was down two likely starters. McKinley Wright IV played efficient, and Tyler Bey picked up right where he left off at the end of last season. The Buffs showed why a lot of media members picked them to win the conference.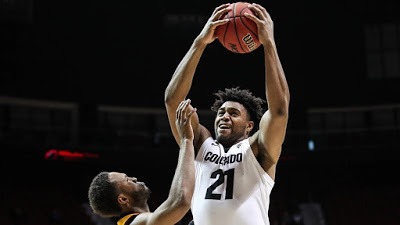 Oregon State held on for a noteworthy win over Iowa State in a game that boosted the Conference's reputation, and elevated the Beavers' confidence. The victory lost a little of its shine when OSU fell to Oklahoma in the Phil Knight Invitational a few days later. Still, the early success for Wayne Tinkle should do wonders for Oregon State's case for an at-large bid come March.
Arizona dismantled Illinois handily in an early-season test for Nico Mannion. The Wildcats looked to be in mid-season form, confident in their rotation and settled into their roles. The "Big-Three" freshman tandem of Josh Green, Zeke Nnaji, and Mannion combined for 62 points.
In the conference's biggest game of the year to date, Oregon took care of No. 13 Memphis in the Phil Knight Invitational. The Ducks exhibited their depth, scoring ability, and knack for forcing turnovers. Dana Altman appears to have UO set for another fantastic season.
Perhaps most surprising, Cal pulled their weight with an opening night win over Pepperdine and a hard-fought overtime victory over UNLV. The Bears appear to have turned a corner under first-year Head Coach Mark Fox. Matt Bradley's freshman-to-sophomore jump may be the best of any player in the conference when all is said and done.
UCLA, USC, and Stanford handled their business somewhat quietly. The Bruins had an opening-game scare against Long Beach State, but played much better against UC Santa Barbara. USC's Nick Rakocevic had a dominant performance against South Dakota State, and Onyeka Okongwu has played up to his five-star ranking with two 20-point games already this season. Daejon Davis has led the Cardinal to a 3-0 start with his 66% shooting from the field.

General Outlook: Pundits Waiting to Pounce
Almost overnight the Pac-12 has reshaped its image in the national media, and a lot of that has to do with the success of its highly touted freshmen. The key returning players have also led their teams to early-season victories, creating a solid mixture of new and returning talent. It's not an outlandish statement to say the Pac-12 is the best conference in America at this point of the season. Sure, that could change soon enough, but there isn't another conference off to a hotter start. 

To sustain that success, bad losses must be avoided. The pundits love to trash the Pac-12, which they view as an easy target, and the rebuilt image is only due to one week of success. An equally terrible week could tear it right back down, crushing the hopes of getting a handful of at-large bids to the NCAA Tournament. The minute a bad loss occurs you will see the talking heads picking apart the key victories, undermining the first week's success while making excuses for why the opposing teams didn't win.
From top to bottom, if Pac-12 teams continue to pull their weight in November, you will see a full-blown renaissance of the Conference of Champions' image in the national media. Pundits would be discussing the possibility of six or more teams making the Tournament. We don't want to jump the gun, but the possibility is there. 

Key Upcoming Games (Nov. 15 – Nov. 22)
Utah will get tested in a season-defining true home game against Minnesota. The Gophers have played two quality teams in Oklahoma and Butler, losing both. For the Utes' at-large bid hopes, and the Conference's image, this is a must-win. A loss wouldn't wreck their season or cast a fatal blow to the Pac-12's rebirth, though it would be a kink in the armor that would be noteworthy come Selection Sunday. 
UCLA has an important match-up with UNLV. The Running Rebels have close losses to Kansas State and Cal, putting a major onus on the Bruins to come away with a win. A defeat at home would likely be considered a "bad loss," and UCLA needs to come prepared for a battle. 






No. 20
Washington
plays
Tennessee
in another early-season showdown with a quality opponent. This time the game is in Toronto, Canada as part of the
James Naismith Classic
. The Volunteers are coming off a 31-win season that saw them make the
Sweet 16
, but haven't been tested so far this year through two games. A victory would ignite a wildfire in the national discussion of the Pac-12's quality.
Oregon State faces off against Wyoming in a true road game, a vital test for Tres Tinkle and the Beavs. The Cowboys are one of the worst offensive teams in the country, and the Beavers have experience against upper-tier Power-6 programs. A loss would be devastating and embarrassing to both OSU and the Conference. 


Stanford has a noteworthy battle with Santa Clara. The Broncos are a dangerous team coming off a victory over Wazzu. A defeat would likely extinguish the Cardinals' hopes of an at-large bid, though it would be a greater reflection on Santa Clara's talent than anything. 


USC
takes on a hurdle with a true road game against
Nevada
. The Trojans will be hard-pressed to play in the altitude, and the atmosphere in that stadium is one of the best on the
West Coast
. If USC comes away with a win, it would further bolster the reputation of the conference, though Nevada may be in somewhat of a down year. A loss would be noteworthy. 
No. 25 Colorado plays San Diego University and UC Irvine, two winnable games. The biggest takeaway will be the margin of victory. If the Buffs struggle it may raise some red flags, though these two teams are not considered cupcakes. 


No. 19 Arizona has a date with New Mexico State. Just last week this would have been considered a trap game, but the Aggies lost by 15 to UTEP. Barring some serious issues, the Cats should win comfortably. The margin of victory will be important for the East Coast media.


Arizona State
matches up against
Rider
in Tempe. Remy Martin should go off and the Sun Devils will get their swagger back. The crowd size will provide a good gauge of the fan base's feelings after the opening loss in China.
Cal battles No. 2 Duke in Madison Square Garden as part of the Empire Classic. The Bears will then square-off against either Georgetown or Texas. Mark Fox has a wonderful opportunity to show off his improved team, and will undoubtedly use this as a recruiting tool. Nobody expects Cal to hang around in either of these games, and if they are able to keep it remotely close it will allow the commentators to discuss the Pac-12's quality while simultaneously doing miracles for recruiting.


No. 14 Oregon plays a true home game against Houston. The Cougars are coming off a 33-win season and Sweet 16 appearance, providing the Ducks an opportunity to build their resume for a No. 1 seed in the West Bracket. Dana Altman can again show the rest of the country his team's depth and home-court advantage. 
---
—More from Dane Miller—

Latest posts by Dane Miller
(see all)