R
ankings are subjective and sure to draw criticism. Rarely does a sportswriter get to take it and dish it out in a single sitting, but that's what our senior writers do here.
We call it Serious Fun.
Listen in as we debate our respective rankings of the Pac-12 Quarterbacks for 2023 and have some fun along the way.
Nicks's Pac-12 QB Ranking for 2023
1. Caleb Williams, USC
2. Michael Penix Jr, UW
3. Cameron Rising, Utah
4. Bo Nix, Oregon
5. DJ Uiagalelei, OSU
6. Cam Ward, WSU
7. Jayden de Laura, Arizona
8. Shedeur Sanders, Colorado
9. Drew Pyne, ASU
10. Collin Schlee/Dante Moore, UCLA
11. Sam Jackson V, Cal
12. Ari Patu, Stanford
Jack's Questions for Nick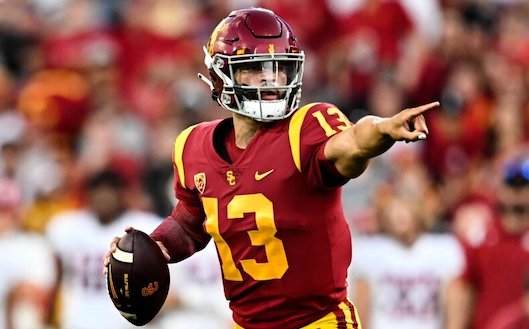 Jack: No one isn't going to put Williams Number One, but do you think there's a chance any QB could overtake him, and without Williams getting injured?
Nick: I do think there is a chance that Michael Penix Jr. overtakes Caleb Williams. Washington faces Boise State and Michigan State in their first three contests, and if the Huskies start 3-0 and Penix Jr. continues to throw for 350 plus? It's possible.
USC's first eight games are against easier opponents so a slip-up could land him into the No. 2 spot. If he stays hot from there he could sail home.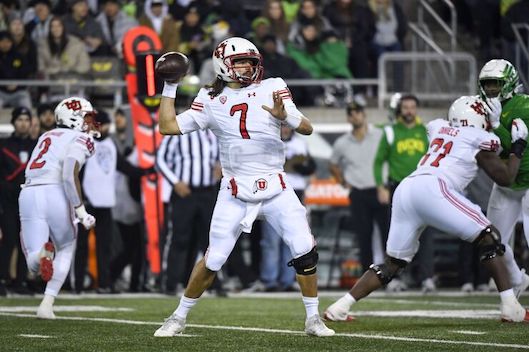 Jack: Rising over Nix is the one thing that jumps out at me with your list. I think most have Nix over Rising. Why do you have the Utah QB over the Oregon QB?
Nick: I feel that Bo Nix is a phenomenal quarterback who hasn't won anything. Nix lost to Washington and Oregon State in his first year with the Ducks, this is unacceptable.
Even though he's an elite playmaker, he's gotta get more than a Holiday Bowl win to take the No. 2 spot. For Cam Rising, it's the opposite. Rising could be considered a boring signal caller but he scraps out wins.
He already has two Pac-12 Championships under his belt, Salt Lake City had zero prior to his arrival. He's the type of ugly that girls like.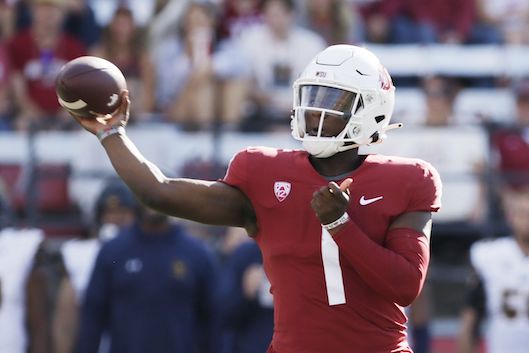 Jack: Ward and de Laura are super interesting because I agree they are like a coin flip to me and de Laura went from WSU to Arizona. If you have to choose one to win one game who do you take?
Nick: This question can only be answered in two ways.
If the game is between even teams then I want Cam Ward leading my squad. Ward threw for 3,231 yards, 23 touchdowns, and nine interceptions last season.
Nine interceptions is a respectable number for a first-year Pac-12 quarterback. He knows how to do enough and let his team win the game from there.
Jayden de Laura, on the other hand, can lose a winnable game and vice versa. de Laura's the guy I want leading my squad if we're going for an upset. Say Arizona vs UCLA for example. He threw for 3,685 yards, 25 touchdowns, and thirteen interceptions.
These stats feel comparable but it's important to remember that this is his third year of Pac-12 action and he still leads the conference in throwing to the wrong team.
He's Brett Favre.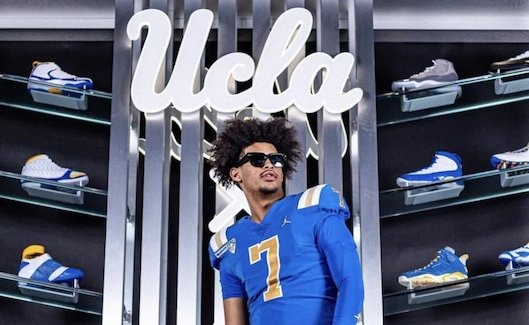 Jack: Pretty insane Dante Moore and Ari Patu are the only players on this list that aren't transfers. Do you think that's forever the new normal or do you think we'll ever see more in-house developed QBs in college football?
Nick: I feel that's the new normal because it's easier to quit on a program than look at oneself. There are exceptions to this rule, but people usually want a mansion but won't rent an apartment first.
Jack's Pac-12 QB Ranking for 2023
1. Caleb Williams, USC
2. Michael Penix Jr, UW
3. Bo Nix, Oregon
4. Cameron Rising, Utah<
5. Cam Ward, WSU
6. Jayden de Laura, Arizona
7. DJ Uiagalelei, OSU
8. Shedeur Sanders, Colorado
9. Collin Schlee/Dante Moore, UCLA
10. Drew Pyne, ASU
11. Sam Jackson V, Cal
12. Ari Patu, Stanford
Nick's Questions for Jack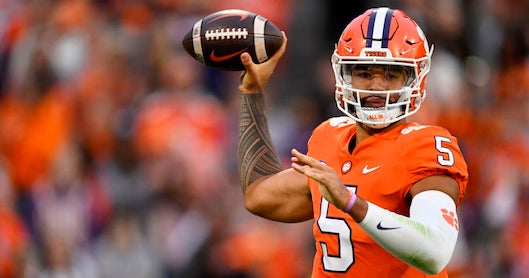 Nick: What are your thoughts on DJ Uiagalelei? Do you think Uiagalelei's transfer will provide an immediate offensive upgrade?
Or do you feel like Oregon State is overlooking Ben Gulbranson?
Jack: Uiagalelei is fine to me and an upgrade at the position for the Beavers. That's really it to me.
I'd be shocked if he's not the starter and I think his size and power running the ball will be a great wrinkle for the Beavers when they need to power and get a key first down or in the red zone.
I also factor in that he played in the ACC, with a roster that was 10 times better than just about any other team he has played and he was still kind of just a guy.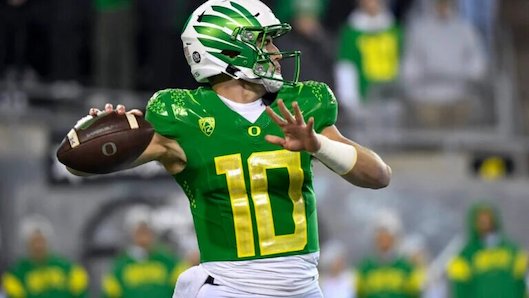 Nick: Nix over Rising is the one thing that jumps out at me with your list. I think Rising is better than Nix. Why do you have the Oregon QB over the Utah QB?
Jack: Well for starters, I don't think Rising had a great year and thought he was better down the stretch in 2021.
I also think Rising is more of a guy who makes the plays to win a game and Nix is more of a pure weapon, and in that case, I'll usually give the nod to the playmaker. Nix is also just so much more dangerous as a pure runner once he tucks.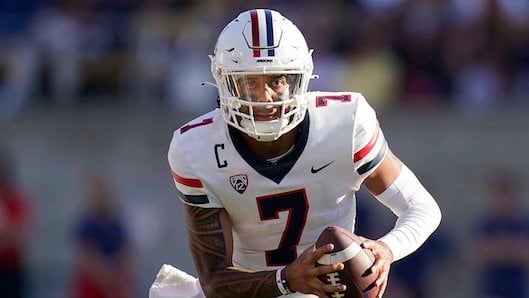 Nick: By the end of 2023 there could prove to be ten legit signal callers in the Pac-12. Do you feel this is the best preseason quarterback class in conference history?
Jack: Hard to say because I'm not going to go through every year and look at who the Conference's starters were.
I will say that there probably are some great ones given the history of the position in the Pac-12 and I feel the way the game was played back then was just so different and it's much easier to put up elite QB numbers now.
That said, it's an incredible QB class going into the season. At the top, and all the way through. I wouldn't be surprised if it's the best ever.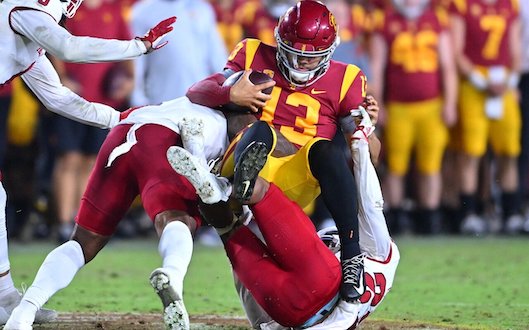 Nick: Is Caleb Williams a deity?
Jack: Williams is interesting. He won the Heisman in his second year of college football for the Pac-12's flagship program, has insane stats, and is the unquestioned top pick in the 2024 NFL Draft.
Yet, it doesn't feel like he's a deity or even the megastar all those accolades would suggest.
I think the reason why to me goes back to the point you made about Nix not winning a big game. Williams didn't play in many truly big games last year and he lost the two to Utah (I know he got hurt in the P12CG) and he lost the Cotton Bowl.
To reach god status to me, he needs to play in bigger games, and win them.
---
—More from Nick Bartlett—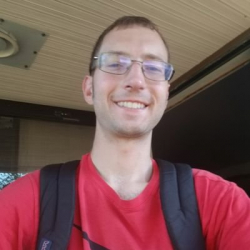 Latest posts by Nick Bartlett
(see all)