Posted on March 26, 2022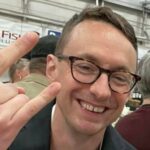 By Jack Follman, SuperWest Sports

NIL has changed everything in college football. Players can now be paid (over the table) and word is that NIL is dictating almost everything in the recruiting and transfer portal game.
The people who have to look at the NIL in the most painful way are former college football players.
Particularly the stars, and especially considering I think the name recognition of big stars in the Pac-12 was higher in past history than recent history.
I went back and looked at the most memorable players in Pac-12 football history, prior to NIL, and tried to think of how valuable they would have been had they been able to profit off their name, image and likeness.
I admit I have no scientific method for my estimates; they're just what I think with a combination of star power, charisma, marketability, market, program prestige, and the popularity of college football at the time.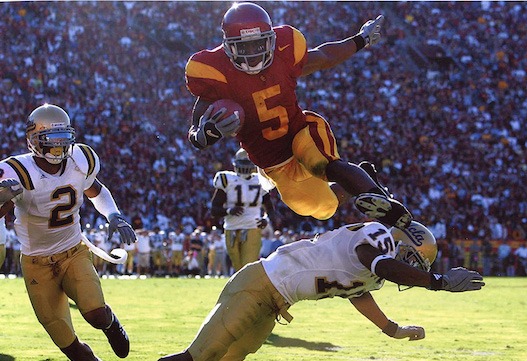 1.

Reggie Bush,

USC Running Back,

2003-05
I
t's very ironic that Bush and USC were so heavily punished for something that is now basically legal in college football.
The most-electrifying player in Pac-12 history (in my opinion) was one of those rare elite college stars who became well-known to casual sports fans.
He won national championships, a Heisman, played at USC in LA when the program was red hot, and was the most entertaining player to watch maybe ever in college football.
Oh, and he pioneered dating a Kardashian. He would have cleaned up in NIL.
2.

Matt Leinart,

USC Quarterback,

2001-05
L
einart isn't too far below Bush.
A Southern California kid starring at USC, winning national championships, and a Heisman for one of the elite programs in the country, in a huge market.
Leinart also would have had a ton of NIL opportunities if it had been around in the mid-2000s.
3.

O.J. Simpson,

USC Running Back,

1967-68
O
.J. was a pioneer in athlete endorsements before everything else that made him so much more famous. Before that, he was one of the greatest college running backs of all time and a superstar at USC.
If NIL was a thing, it's very likely he would have embraced the endorsement game in college and made a killing in LA.
4.

Marcus Mariota,

Oregon Quarterback,

2011-14
O
regon players and the NIL can be complex since the Phil Knight/Nike machine can pump more money into just about any other endorsements an athlete could gain on their own (I think).
Mariota was a superstar and a landslide Heisman winner who played for the Ducks when they were at their Chip Kelly/jersey buzz peak.
5.

Marcus Allen,

USC Running Back,

1978-81
U
SC was a premier program known for Heisman-winning running backs when Allen came around and became the next great at RB for USC.
I think he's a little short of Bush and O.J. as value but that doesn't mean he wouldn't have made a huge NIL grab in LA in the early-80s.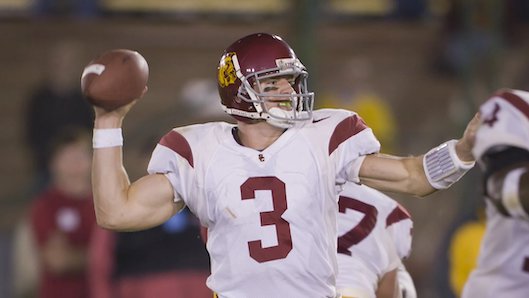 6.

Carson Palmer,

USC Quarterback,

1998-2002
P
almer set the stage for Bush and Leinart. He didn't have the star power of either of those guys or a national title.
He did win a Heisman though, and was another Southern California guy who stared at USC. His earning potential was huge.
7.

De'Anthony Thomas,

Oregon Running Back,

2011-13
O
ther than Bush, The Black Mamba might be the most exciting player to ever play in the Pac-12.
It truly felt like he could take the ball for an electrifying score any time he touched it and his small stature actually made him stand out.
Plus, he was already pretty well known coming out of high school and his connection with Snoop Dogg would have paid big dividends.
8.

Andrew Luck,

Stanford Quarterback,

2008-11
L
uck was practically a brand before he even showed up at Stanford. He was known as a blue-chip recruit with an academic pedigree described as a quarterback who had everything.
He was the rare player who fulfilled almost all his sky-high expectations. He almost won two Heismans and turned Stanford into a shocking Top 5 team.
His opportunities would have been endless, and being tied to a more academic-focused school like Stanford could have actually worked to his advantage here.
9.

Charles White,

USC Running Back,

1976-79
W
hite wasn't the personality or electrifier that say Bush or Simpson were but he followed in the strong footsteps of the USC Heisman foundation and won another.
He also ran for video game numbers and that would have made him very, very, very valuable in the LA market, starring for the Trojans.
10.

Mike Garrett,

USC Running Back,

1963-65
T
he original USC Heisman winner is the bottom of the USC Heisman winner earners.
He would have got things going, though, and had great earning opportunities as USC took off as a national power and in the LA market.
11.

Gary Beban,

UCLA Quarterback,

1965-67
B
eban quickly followed up Garrett as another LA Heisman winner.
He was a true star who racked up several awards and would have garnered a ton of NIL opportunities, especially in LA and with UCLA trying to compete against USC in the early college football clout game.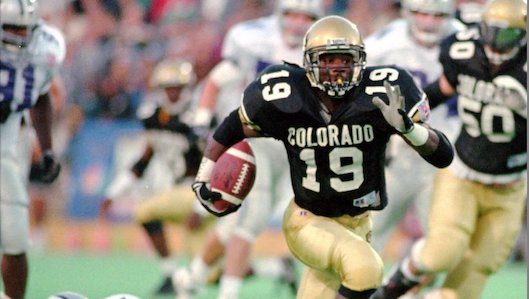 12.

Rashaan Salaam,

Colorado Running Back,

1992-94
T
he Buffs were a national power when Salaam won the Heisman in the mid-90s.
He wouldn't have had the power of a USC star but a Heisman winner at a Colorado program that was rolling in the 90s would have done very well.
13.

LaMichael James,

Oregon Running Back,

2009-12
J
ames is one of the most prolific and exciting running backs in college football history, and he was the man while Oregon was at their enthralling peak under Chip Kelly.
He would have had a ton of NIL opportunities as a multi-year Heisman candidate and not necessarily boosted just by Nike.
14.

Christian McCaffrey,

Stanford Running Back,

2014-16
M
cCaffrey should have won the Heisman and is in line with Bush and Thomas as a player who was one of the most exciting to watch to ever play in college football.
2016 would have been a massive year for McCaffrey, whose value was also helped by having name recognition from having a dad who played in the NFL.
15.

Jim Plunkett,

Stanford Quarterback,

1968-70
T
ime has somewhat lost what a big-time player Plunkett was.
He won the Heisman, but he also was a pioneer of wide-open passing offenses and dynamic quarterbacks and that would have gone a ways in NIL promotion.
And that's despite playing for Stanford, which isn't exactly a lucrative college football program, especially in the 60s/70s.
16.

John Elway,

Stanford Quarterback,

1979-82
E
lway was Luck before Luck was Luck. He was the top recruit in the nation and came to Stanford as a dual-threat star who was also a great baseball player.
All those things coming together, along with finishing second in the Heisman, means he would have done quite well with NIL even though Stanford had a losing record while he was there.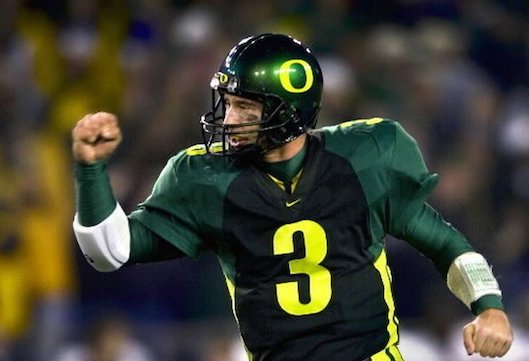 17.

Joey Harrington,

Oregon Quarterback,

1998-2001
H
arrington was the first of many Oregon superstars in the Knight Era.
Putting him on a billboard in Times Square was a major announcement for the arrival of the program.
He did a great job of being the face of the program as a local kid who excelled on the field and was a Heisman finalist while leading Oregon to new heights.
18.

Terry Baker,

Oregon State Quarterback,

1960-62
T
he first Heisman winner from out west wasn't from USC, he was a Beaver.
Baker was also a local Oregon kid who turned into a star and was a very dynamic quarterback for the era. He could have turned his career into a really nice NIL payout.
19.

Mark Sanchez,

USC Quarterback,

2006-08
Y
ou can easily make an argument to move Sanchez up or down this list.
Move up? He was a local blue-chip recruit who signed when USC when they couldn't have been hotter, and he was pre-loaded as the next great USC QB before he even started.
Oh, and he was the kind of guy who could be hired as a model.
Move down? He only started for one year, never won a Heisman, and didn't win a national title. It could go either way.
20.

Ryan Leaf,

Washington State Quarterback,

1995-97
T
he Cougar QB took the world by storm as he led the Cougars to the Rose Bowl for the first time in eons in the 1997 season.
He lit up the air in a way that not many QBs did in the 90s, finished third in the Heisman voting, and was a legitimate threat to go number one in the Draft over Peyton Manning.
All this combined with being an exciting flag bearer for the WSU program would have made him a very valuable NIL commodity in college.
21.

Steve Emtman,

Washington Defensive Tackle,

1989-91
I
t's really hard for defensive players to be marketable in college football.
As a serious Heisman candidate who led a team to a national title and went number one in the Draft, Emtman is about as valuable as a defensive player in Pac-12 history as there is.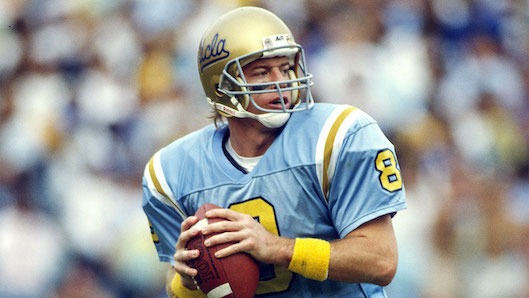 22.

Troy Aikman,

UCLA Quarterback,

1986-88
A
pioneer of college football, Aikman was an Oklahoma transfer who went on to star at UCLA.
Like a lot of the players on this list, he was a prolific quarterback at a time when offenses were more limited.
He was a multi-year Pac-10 star and a Heisman finalist who went number one overall in the Draft. Certainly a valuable player in college.
23.

Darian Hagan,

Colorado Quarterback,

1988-91
A
three-year starter who was deadly in Bill McCartney's offense and lost only a handful of games, he was also a Heisman candidate and won a national championship.
He was a player who would have had great NIL options, especially in 1991, coming off a national title.
24.

Eric Bieniemy,

Colorado Running Back,

1988-90
A
nother early-90s Buff who would have had great opportunities as a guy who led them to a national title and was a Heisman finalist.
He put up great rushing numbers and put up later-era numbers as a rusher.
25.

Todd Marinovich,

USC Quarterback,

1987-90
M
ariniovich's USC career wasn't what it was supposed to be.
However, I think he would have been an all-timer in pre-college success NIL heat.
There's no doubt in my mind he would have been a guy who got a ton of cash before he did anything on the field.
Others to Consider
Rodney Peete, USC Quarterback
Jake Plummer, Arizona State Quarterback
Cade McNown, UCLA Quarterback
Alex Smith, Utah Quarterback
Josh Rosen, UCLA Quarterback
---
—More from Jack Follman—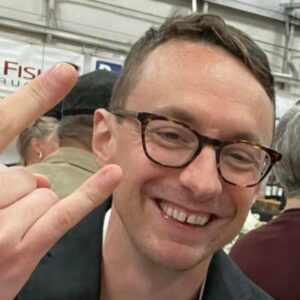 Latest posts by Jack Follman
(see all)