Posted on March 9, 2022


  By Dane Miller, SuperWest Sports

The Pac-12 Tournament in Las Vegas is one of the premier postseason events in the country.
Four days of wall-to-wall basketball is played in the midst of several other conference tournaments in the city, where fan bases from all over the West can be seen walking the streets and enjoying the atmosphere.
The Conference puts on pep rallies for each school, alumni associations for each program host events, and every matchup is an elimination game.
The move to T-Mobile Arena has taken away some of the intimate charm that MGM Arena had, but the atmosphere on game day is unmatched.
Last year, the Pac-12 proved it could produce a Cinderella in the NCAA Tournament, and every team playing today must feel they can be this year's version.
I preview all four matchups here, and my picks along with Stephen Vilardo's appear at the bottom.
No. 9 Stanford v. No. 8 Arizona State
T-Mobile Arena, Las Vegas, NV
Wednesday, March 9
Noon PT, Pac-12 Network
S
tanford and Arizona State face off for the second time in four days.
Splitting the regular-season series, the two programs enter Las Vegas with juxtaposed momentum. The Cardinal have lost seven of their last eight, while the Sun Devils are 7-1 since February 12th.
But the accomplishments of the regular season are thrown out of the window in March, where elimination games determine legacies.
This matchup figures to come down to one simple factor: turnovers.
Stanford has dealt with the turnover bug throughout the season, averaging 15.2 per night (333rd in the country).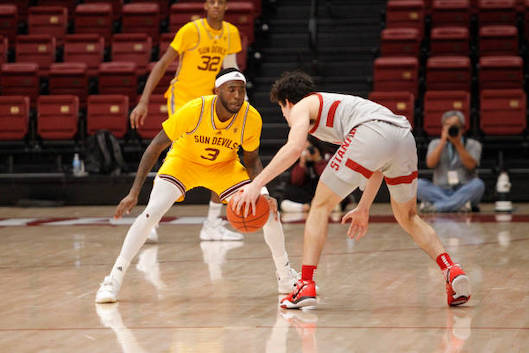 In the loss to ASU, the Tree coughed it up 21 times, while in their wins over USC, Oregon, and Wyoming, Jerod Haase's team averaged just 11.25 per game.
In the biggest game of the year for both teams, minimizing mistakes and capitalizing on the opponent's TO's becomes key.
For the Sun Devils, Marreon Jackson takes the court at T-Mobile Arena as one of the hottest players in the league.
Averaging 14.1 points per game since February 5th, the graduate transfer is shooting 55-of-127 (43.3 percent) from the field while putting up 4.7 assists per night.
History is made in March and the Toledo transfer might carry ASU on his back.
No. 12 Oregon State v. No. 5 Oregon
T-Mobile Arena, Las Vegas, NV
Wednesday, March 9
2:30 pm PT, Pac-12 Network
T
he Ducks stumble into Vegas without Will Richardson, who has been declared out for the Tournamennt.
Despite being held out of the Washington State game and performing poorly against Washington, the senior leader's absence figures to be highly damaging to Oregon's NCAA Tournament aspirations.
Needing to win the Pac-12 Tournament to feel safe, Dana Altman faces one of his most daunting tasks since arriving in Eugene.
The chemistry of his roster never quite jelled this season, with transfers Jacob Young, Quincy Guerrier, and Rivaldo Soares not meshing well in Altman's offense.
Averaging just 11.9 assists per game as a team (260th in the nation and ninth in the Conference), UO's 72.1 points per game is the fourth-lowest in Altman's 12 seasons in Eugene.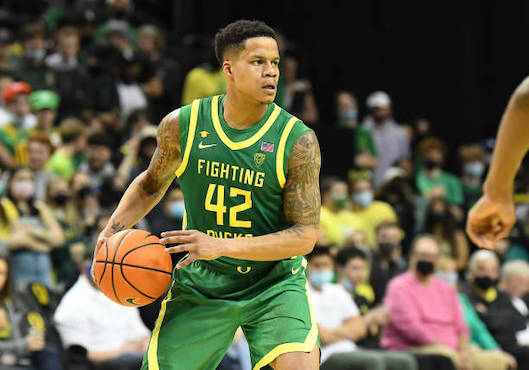 Normally known as the Transfer Whisperer, the mismatch of playing styles hasn't worked for this year's squad.
But, the Conference Tournament is a new season in itself.
The Beavers play with heart and haven't given up on their coach, yet don't have the depth to compete for a full 40 minutes.
Still, OSU is playing its best basketball of the year and will leave it all on the floor against the Ducks.
Defending the perimeter is probably high on Oregon's defensive game plan, while exploiting the Beavs' lack of depth with a fast pace is likely a key component of its offensive strategy.
As long as UO contains Jarod Lucas, the Ducks should advance to face CU.
No. 10 California v. No. 7 Washington State
T-Mobile Arena, Las Vegas, NV
Wednesday, March 9
6:00 pm PT, Pac-12 Network
M
ark Fox is an enigma.
The coach in his third season in Berkeley has brought the program out of the depths of the Wyking Jones era, but patience appears to be wearing thin among the Cal media.
The Bears' 12 wins are their second-most over the last five years.
Yet, California hasn't had a winning season since 2016-17, when it capped a 10-year stretch that saw the Bears achieve five NCAA Tournament appearances and secure a winning record each year.
Somewhat comparatively, Kyle Smith has led Washington State to its most conference wins (11) and its highest conference winning percentage (55.0%) since 2007-08.
Built with historic recruiting classes, Smith has led WSU to its best conference finish (6th) since 2010-11.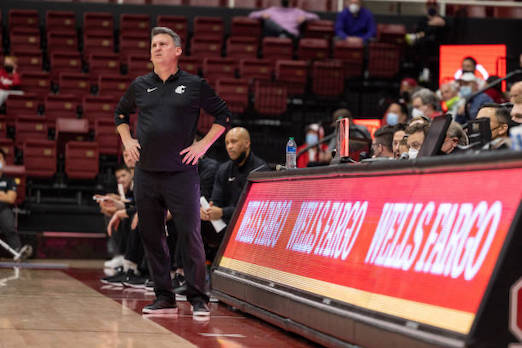 But it still feels like the Cougs fell short of expectations.
The defeats in November and December to Eastern Washington, South Dakota State, New Mexico State, and Boise State remain confounding and are the reason why WSU is not an At-Large candidate.
With arguably something to be desired within both programs, the two square off in the second session of the first day in Las Vegas.
The Cougs swept the season series and outmatch the Bears on paper, but two keys could sway the third battle: Cal's three-point defense and field goal percentage.
Washington State hit 15 threes on Saturday, and figure to swing for the fences at T-Mobile Arena.
If Cal can defend the perimeter effectively and keep WSU below its 34.3 percent season average, it might be able to utilize its slightly higher shooting efficiency to pull off the upset.
No. 11 Utah v. No. 6 Washington
T-Mobile Arena, Las Vegas, NV
Wednesday, March 9
8:30 pm PT, Pac-12 Network
T
his game has Upset Alert written all over it.
The Utes collapsed in Salt Lake City two months ago when UW engineered a second-half comeback, and fell just short in Seattle later that month.
Since then, Utah has played inconsistently and looks like a different team every other night.
Does Craig Smith get the squad that swept the Bay Area schools on the road, battled Oregon to a one-possession game, and throttled Oregon State?
Or does Smith get the team that was blown out by WSU, Arizona, and USC?
On paper, Utah continues to match up well.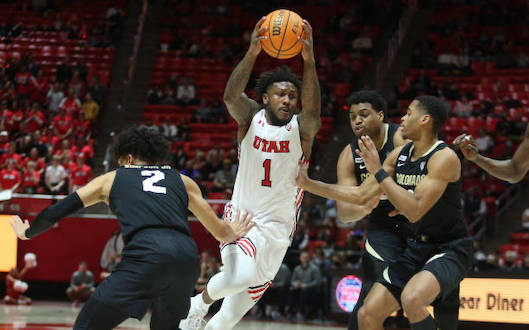 The Utes score more points per game than UW, have higher field goal and free throw percentages, shoot the three at a more efficient clip, secure more rebounds per game, and post more assists per night.
Normally, that would signal a strong likelihood of a victory, yet Utah has never put it all together in one game. Its best win is arguably against the 18-12 Fresno State Bulldogs at home, or a road win over the 15-15 Stanford Cardinal.
That's not going to cut it in an elimination game, where one loss ends your season. But all it takes is for one player to go off.
Enter David Jenkins Jr.
The senior is averaging 11.6 points per game over his last three, shooting 11-of-23 (47.8 percent) from the field while notching 4.6 rebounds per game. If the three-point specialist gets going, Utah could be tough to beat.
Still, to solve the Washington Zone, Smith and his staff must implement the tried and true method to break down Hopkins' defense: Quick ball movement along the perimeter and into the paint, followed by rapid shots, and offensive rebounding.
Round 1 Pac-12 Tournament Game Picks
---
—More from Dane Miller—

Latest posts by Dane Miller
(see all)