Posted on December 12, 2022


  By Dane Miller, SuperWest Sports
A
s a voter for the Pac-12 Players of the Week, my choices may occasionally differ from the official selections.

Either way, I want to share my picks and give brief explanations of why I voted the way I did for the Freshman and Player of the Week.
My tweeted picks and summaries appear below.
I voted for Oregon's Will Richardson as the Pac-12 Player of the Week and UCLA's Dylan Andrews as the Pac-12 Freshman of the Week.

— Dane Miller (@DaneMiller_SWS) December 12, 2022
Player of the Week — Will Richardson, Oregon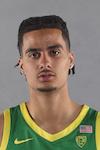 Playing all 40 minutes against Nevada, Will Richardson posted Oregon's first triple-double since 2002. With 19 points, 11 assists, and 10 rebounds it's hard to vote for anyone but the Duck guard.
Arizona's Azuolas Tubelis and Arizona State's DJ Horne were my other finalists, but the historic accomplishment in Eugene was my deciding factor.
Freshman Player of the Week — Dylan Andrews, UCLA

UCLA's Dylan Andrews scored 11 points with six assists and no turnovers in the 87-64 win over Denver. The turnover ratio was the deciding factor in my vote, while the 5-for-10 shooting helped as well.
The other two players nominated where Cal's Grant Newell and Arizona's Henri Veesaar. I tend to shy away from voting for players on a team that lost, although Newell did post 17 points in the game against Butler.
The Wildcats' Veesaar only scored five points in 12 minutes, essentially making Dylan Andrews the top option in my mind.
---
—More from Dane Miller—

Latest posts by Dane Miller
(see all)