Posted on February 15, 2023


  By Dane Miller, SuperWest Sports

The Ducks face the Huskies in a proverbial "Can't Lose" matchup for their at-large bid aspirations.
The old rivals are the standalone game in the Pac-12 tonight and set the table for what's expected to be a pivotal week for several teams.
I preview the game here and my pick, along with that of Stephen Vilardo, appears at the bottom.
Oregon at Washington
Wednesday, February 15th
8:00pm PT, ESPNU
T
ied for third in the Pac-12 with three Quad 1 wins, Oregon takes the court in Seattle squarely on the Bubble.
The showdown with the Dawgs is currently a Quad 2 game with Mike Hopkins' team sitting 122nd in the NET. But the Huskies could slip by the end of the year, potentially changing the designation of the game to Quad 3.
In other words, the Ducks can't falter at Hec Ed.
Hopkins runs a unique zone that can frustrate opponents that fall into its traps. The scheme invites midrange shots, goads opponents into threes, and attempts to limit ball movement with active hands along the perimeter.
The system is at its most efficient when opponents rely on dribbling instead of quick passes and midrange shots aren't falling.
It puts a substantial burden on opposing guards to make the correct decisions when handling the ball and forces bigs out of their comfort zone.
But, its weakness is the amount of rebounds it allows and the variable effort levels of its personnel.
Fortunately for Dana Altman, the Ducks have the right type of players to adequately negate its strengths.
N'Faly Dante, Nate Bittle, and Kel'el Ware can all hit shots outside of the paint. On that basis alone, one of the key schematic advantages is negated.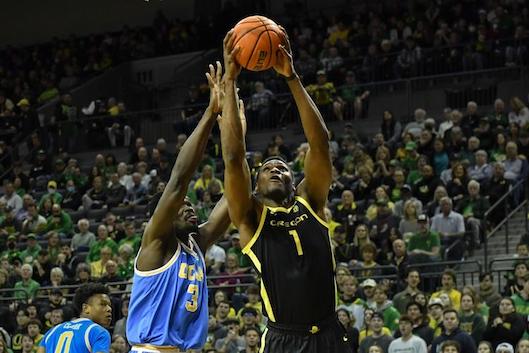 Combined with Will Richardson's willingness to pass and skill running the point, Oregon is in a good position.
The X-Factor, though, is the shooting efficiency of Jermaine Couisnard, Quincy Guerrier, and Rivaldo Soares. The three wings have the power to single-handedly change the game from a couple-possession margin to a double-digit lead.
The Husky zone will invariably give up open looks from three and will consistently allow second-chance opportunities from beyond the arc.
If the Oregon trio is knocking down those opportunities, Altman's team should find a way to win.
Washington's Keion Brooks Jr. is a mismatch nightmare that could drop 20 points or more. But the Ducks have the personnel to slow down Braxton Meah and make the Dawgs relatively one-dimensional with Brooks as the primary threat.
Unless Noah Williams, Cole Bajema, or Keyon Menifield are getting buckets, the Huskies could struggle to pull off the upset.
Our Senior Writers' Game Picks
---
—More from Dane Miller—

Latest posts by Dane Miller
(see all)