Posted on November 20, 2022


  By Dane Miller, SuperWest Sports
T
he Conference of Champions has struggled through the early part of the season.
Colorado has some respectable wins over ranked opponents, but the Buffs have also dropped shockers to mid-majors. UCLA lost its first marquee matchup of the season on Friday, and Stanford went down to Wisconsin.
On top of that, USC lost to Florida Gulf Coast and Arizona has yet to play a relevant opponent. Combine it all together and the Pac-12's national reputation is in a treacherous spot.
Still, there are three games on tap today that could begin to change the perception. I preview all three here and my picks appear at the bottom.
No. 5 Baylor v. No. 8 UCLA
Sunday, November 20
2:30 pm PT, ESPN
T
he Bruins highly touted freshmen struggled against Illinois. Amari Bailey went 0-for-5 from the field and Adem Bona only snagged two rebounds in 21 minutes of playing time.
It was a harsh learning experience for the group, but one that will make them a better team in the long run.
Facing No. 5 Baylor today, UCLA might once again struggle. The Bears could employ the full-court press that the Illini used.
If they do, Tyger Campbell must rise to the occasion and the Bruins can't be over-reliant on the guard taking the ball up the court.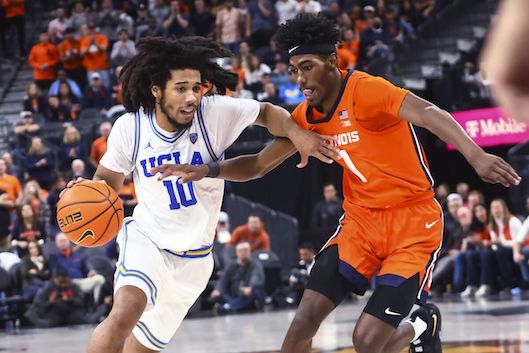 Players like Jaylen Clark and Jaime Jaquez have to help advance the ball from the backcourt, too. Otherwise, the turnovers and stalled offense from Friday night could be repeated.
Apart from handling the press, the keys to the game figure to be defensive rebounding and limiting turnovers.
Baylor has a high-scoring offense that shares the ball among the nation's elite. The Bears may have lost to Virginia two days ago, but Scott Drew's team is arguably a stronger opponent than Illinois.
A Bruin win would all but put the second-half disaster to Illinois behind them.
Colorado v. Boise State
Sunday, November 20
4:00 pm PT, ESPN News
T
here isn't a team in America more inconsistent than Colorado.
Swinging from upset victories over ranked SEC opponents to dropping horrible games to low mid-majors, the Buffs are entirely unpredictable.
Matched up with Boise State, Tad Boyle's team has several analytical advantages. Colorado scores more points per game, shoots the ball from the field, three, and free throw line better, and has higher rebounds per game.
If CU was consistent, those advantages would indicate a double-digit victory. But Boyle's team is so wildly up and down that it's anyone's guess which version shows up today.
The Broncos do take care of the ball substantially better, yet don't share the rock whatsoever.
With a heavy dose of one-on-one action expected, the Colorado defense will probably be the deciding factor. If the Buffs can win the head-to-head defensive battles, their offense should do enough to secure the win.
No. 3 Houston at Oregon
Sunday, November 20
6:30 pm PT, ESPN
I
n what might be the top nonconference matchup in Matthew Knight Arena's history, No. 3 Houston comes to Eugene.
Injury issues on Dana Altman's squad take some of the shine away from the matchup, but the game still presents a substantial opportunity for the Ducks.
The Pac-12 has not looked strong this season and the number of at-large bids to the NCAA Tournament could be slim. Oregon needs a resume victory.
The Cougars have yet to be tested this season, although that might not matter.
Fresh off an Elite 8 appearance, Kelvin Sampson's squad plays a physical style of basketball. While not extraordinarily tall, his roster is beefy with respectable height.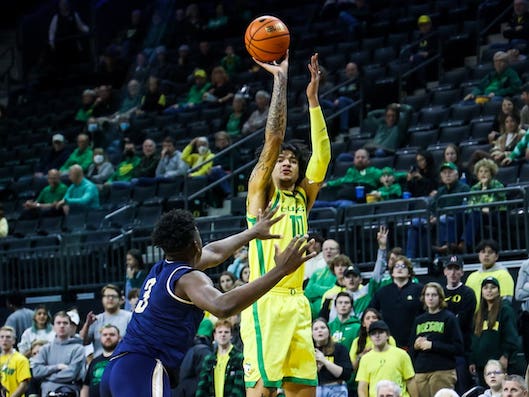 Expected to be aggressive on both the offensive and defensive glass, Houston is a tough matchup.
N'Faly Dante and Kel'el Ware are arguably the keys to an Oregon victory. Each must have strong rebounding games while shooting efficiently on offense. If either struggles, the Ducks could be in for a long day.
Outside shooting could be an X-Factor, though. If Will Richardson and Keeshawn Barthelemy get hot from deep, Oregon's chances of winning rise significantly.
Regardless, Houston will play physical and the Ducks must be ready to get punched in the mouth.
Our Senior Writers' Game Picks
---
—More from Dane Miller—

Latest posts by Dane Miller
(see all)