Posted on November 10, 2023


  By Dane Miller, SuperWest Sports
N
ine Pac-12 games are on the docket for Friday night, including one of the most anticipated nonconference matchups of the season.
No. 12 Arizona faces No. 2 Duke in a true road contest that could dramatically shape the perception of the league on a national level.
I preview that game below, along with Colorado's matchup with SWAC power Grambling State and UCLA's contest against Lafayette. (You can view all Friday Pac-12 games here.)
My picks appear at the bottom.
No. 12 Arizona at No. 2 Duke
Friday, November 10
4:00 pm PT, ESPN2
Cameron Indoor Stadium, Durham, NC
A
rizona travels to Durham, North Carolina, for one of its biggest nonconference regular season games in program history.
Duke lost in the Round of 32 in last year's NCAA Tournament and returns three starters from that squad.
Center Kyle Filipowski, guard Jeremy Roach, and guard Tyrese Proctor averaged a combined 38.1 points per game.
Second-year head coach Jon Scheyer brought in the nation's No. 2 recruiting class, per 247Sports, highlighted by Caleb Foster who scored 15 points in the Blue Devils' opener.
But Duke is relatively young.
Filipowski and Proctor are sophomores while Roach is the primary senior that contributes meaningful points.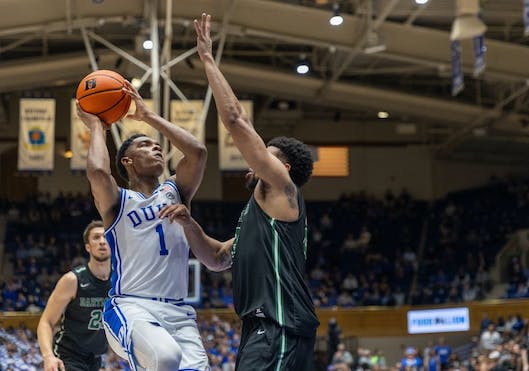 The relative inexperience could be a problem facing an Arizona team that starts four seniors.
Oumar Ballo, Pelle Larsson, Keshad Johnson, and Caleb Love have all gained valuable experience over their years and won't be phased by the gravity of the game.
One of the keys to watch is the Ballo-Filipowski battle in the paint. Ballo is bulkier and should use his strength to win the battle on the defensive side.
Whether or not the Arizona big is efficient on offense, however, remains to be seen.
But, if Ballo has no trouble scoring, Arizona will be in a strong position. At the same time, backup UA freshman center Motiejus Krivas must play just as physical on both sides of the court when he spells Ballo.
Yet, this isn't the Wildcat team of last season that was entirely dependent on the efficiency of its bigs. This year's version of Arizona is much more guard/wing-based.
Caleb Love, in particular, is the engine of the offense. And not necessarily solely as a shooter.
With all the attention drawn to him, his passing is what makes Arizona so dangerous. Love is tied for first on the roster with 4.0 assists per game and willingly gives it up because of Tommy Lloyd's system.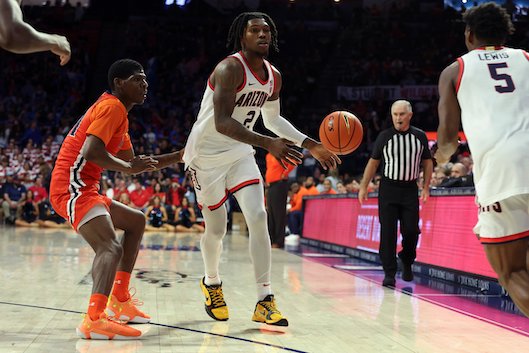 With so much emphasis on sharing the ball and ball movement, Love knows that if he moves the rock he is highly likely to get the ball back on the same possession with an open shot.
Advantage Arizona.
And that's all without mentioning the Wildcats' depth. Alabama transfer Jaden Bradley comes off the bench with a pass-first mentality while true freshman KJ Lewis brings high defensive intensity.
For perhaps the first time in the Lloyd era, the team has an identity on defense. It's no longer a European-style soft defensive mindset.
Instead, it's a hard-nosed American defensive philosophy that doesn't accept easy looks from the field.
Look for Arizona to be aggressive and create turnovers that lead to transition buckets. At the same time, watch for the Wildcats to heavily use their motion-based offense and cutting to generate open looks at the rim and perimeter.
Duke leans toward a guard-based offense and Arizona has a general height advantage among the primary contributors that should show on the defensive side of the court.
For all the accolades Lloyd's offense rightfully gets, it's the Arizona defense that will win this game for the Cats.
Grambling State at Colorado
Friday, November 10
5:00 pm PT, Pac-12 Network
CU Events Center, Boulder, CO
T
he Pac-12's scheduling agreement with the SWAC continues in Boulder.
Grambling State won its season opener and is projected to finish second in the Conference's Preseason Poll. Led by four guards/wings, the Tigers aren't a pushover by any means.
They received four first-place votes in the SWAC poll and keep a relatively tight rotation. Four of the Tigers averaged 25 minutes or more in the opener while second-leading scorer Jourdan Smith played 22 minutes.
Colorado has an even shorter bench, though.
Seven players got the super-majority of the time in the opener, which could be an indication that Tad Boyle intends to be selective with his lineups.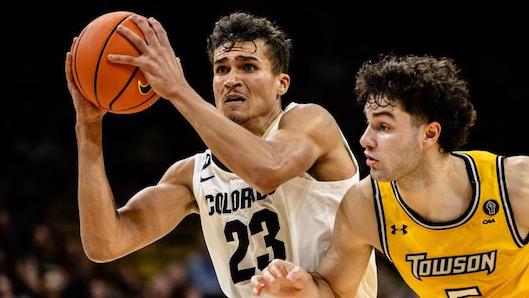 To advance to 2-0, CU must take care of the ball. The Buffs coughed it up 15 times against Towson and can't have a similar performance. At the same time, Colorado needs more balanced scoring.
KJ Simpson took nine shots, just two more than the average of the rest of the CU contributors. Yet, Simpson scored 22 points while the next closest Buff scored 13.
Eddie Lampkin Jr. and Cody Williams, in particular, have to play better. The duo only combined for eight points which is not going to get the job done against quality opponents.
Grambling is not a bad team and the game could be closer than expected if Lampkin and Williams aren't productive.
Lafayette at UCLA
Friday, November 10
8:00 pm PT, Pac-12 Network
Pauley Pavilion, Los Angeles, CA
M
ick Cronin's minute distribution was the primary storyline coming out of Westwood from the opener. Aday Mara hardly played and the entire offense ran through Adem Bona.
All offseason, the storyline coming from the L.A. media was that the Bruins had a crew of international freshmen that made UCLA one of the top teams in the nation.
But Mara played just six minutes and Jan Vide played just four.
For what it's worth, Ilane Fibleuil was held out after hurting himself riding a scooter and Turkish forward Berke Buyuktuncel hadn't been cleared by the NCAA.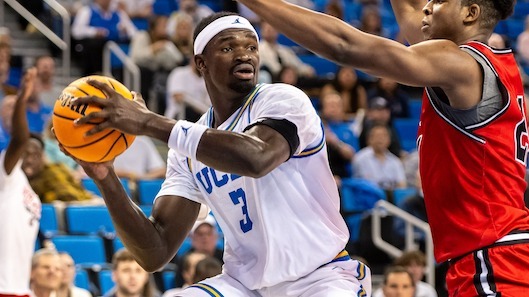 Still, it was an odd distribution of minutes. Even for a Cronin-coached team.
Matched up with a Lafayette roster that has just one player averaging in double-digits, the Bruin defense should have a field day.
There are zero reasons the Leopards should eclipse the 50-point mark and it wouldn't be surprising if UCLA held them below 40.
Picked to finish seventh in the 10-team Patriot League, the game should never be in doubt.
But all eyes will be on Cronin's minute distribution considering the hype surrounding Mara throughout the offseason.
Dane Miller's Game Picks
---
—More from Dane Miller—

Latest posts by Dane Miller
(see all)