Posted on January 28, 2023


  By Dane Miller, SuperWest Sports

The race in the Pac-12 has tightened after UCLA lost its second-straight game in conference play.
With four teams within a game of first place, today's matchups have taken on new meaning.
Utah faces a pivotal test in Eugene while Arizona battles Washington in Seattle.
Arizona State remains within striking distance of the pivotal First Round bye in the Pac-12 Tournament, too, raising the stakes in its matchup with Washington State in Pullman.
I preview all five Conference games here and my picks, along with those of Stephen Vilardo, appear at the bottom.
No. 6 Arizona at Washington
Saturday, January 28
2:30 pm PT, FOX
S
eeking their eighth road sweep of the Washington schools since the Pac-12 expanded, the Wildcats face Mike Hopkins' difficult zone.
The Huskies outplayed Arizona in Tucson and should enter the matchup with confidence. But the UW defense consistently gives up too many rebounds and open looks from three.
That's a problem facing a UA team that is No. 9 in the nation in rebounds per game and No. 104 in three-point shooting percentage.
A strong start from Hopkins' group tends to result in higher effort levels on "D," yet the second chance opportunities allowed could be too much to overcome.
Still, ball movement is pivotal to breaking down UW's scheme. Over-dribbling falls right into the hands of the defense, along with minimal player movement without the ball.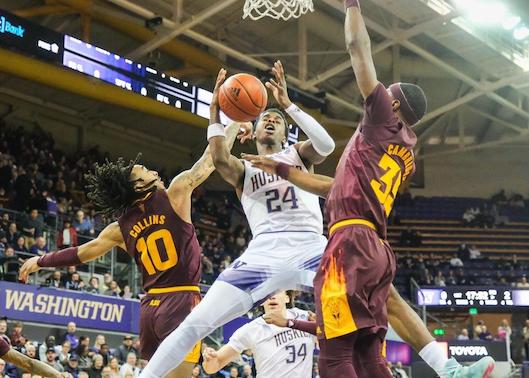 The system is ineffective, though, against quick ball movement and consistent cutting from players without the ball.
It's not easy to do, but if executed properly it gets the Washington defenders out of position resulting in an easier shot.
In that sense, Kerr Kriisa's passing and ball-handling will play a pivotal role. The junior guard is the heart and soul of Arizona's offense and his assist-to-turnover ratio could determine the game.
Azuolas Tubelis and Oumar Ballo must hit their open looks from the midrange, too.
But if the Arizona bigs have inefficient games from the field, Washington has the firepower to beat the Cats at Alaska Airlines Arena.
Utah at Oregon
Saturday, January 28
5:00 pm PT, Pac-12 Network
I
n the Game of the Day in the Pac-12, the Utes look to maintain their hold on second place with an elusive victory at Matthew Knight Arena.
Utah has just one road sweep of the Oregon schools since joining the Conference and is 1-8 in Eugene since 2011-12.
But with the status of N'Faly Dante in question, Craig Smith's team might be in position to secure the win. Nate Bittle stepped up in Dante's absence, though, taking full advantage of the opportunity.
Without a serviceable backup center to threaten Bittle's playing time, the sophomore played loose in arguably the top performance of his career.
With the body type and speed to genuinely match up with Branden Carlson, the Ducks might not miss Dante as much as they would against other opponents.
Carlson, however, is not Oregon's biggest problem.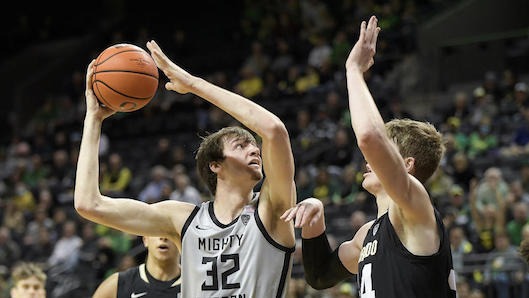 Utah's defense is No. 21 in KenPom and No. 3 in field goal percentage defense. With elite fundamentals attributable to Smith's coaching, the Utes are disciplined and highly efficient on that side of the court.
Defensive breakdowns rarely occur and most shots are contested.
That's a worrying sign for a UO team that has struggled to shoot the ball this season. The Ducks are No. 314 in three-point shooting percentage and have failed to score 60 points or more in four of their nine losses.
In other words, if Oregon's shots aren't falling it struggles to win games, and Utah has the third-best defense in the country at forcing opponents to miss shots.
Rebounding could help tip the scales, but the Utes are the No. 10 rebounding team while the Ducks are No. 93.
From a pure analytics angle, the Utes should walk away with the win.
Arizona State at Washington State
Saturday, January 28
5:00 pm PT, ESPNU
E
ach seeking to avoid getting swept, the Sun Devils and Cougs do battle on ESPNU.
Mouhamed Gueye is not 100 percent but battled through his hamstring injury on Thursday. Warren Washington is a different type of frontcourt player, though, who presents a separate set of challenges.
More willing to play physical, Washington could hamper WSU's leading scorer with more efficiency than Arizona's frontcourt was able to.
That could make the deciding battle come down to the matchup between the guards. With rosters that are mirrored in many ways, Arizona State and Washington State both have capable scorers that can independently create shots.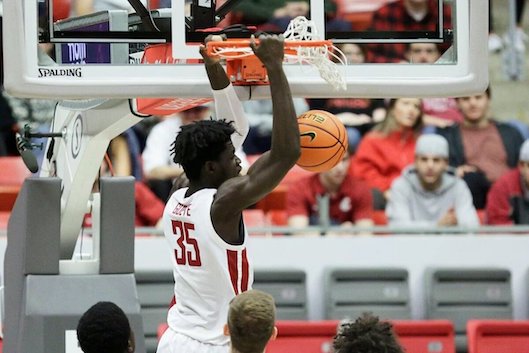 Desmond Cambridge Jr. scored 26 points against the Huskies on Thursday and Bobby Hurley has additional threats in DJ Horne and Frankie Collins.
The trio can sometimes go cold, yet are a potent group when their shots are falling.
On the other bench, Kyle Smith has TJ Bamba, Jabe Mullins, and Justin Powell running the show. The three guards all average in double-figures and probably won't have back-to-back poor shooting nights from the perimeter.
Matched up against such a similar opponent, the role players on each roster might tip the scales. DJ Rodman and Andrej Jakimovski are pivotal for WSU while Alonzo Gaffney and Austin Nunez are similarly important for ASU.
Schematically, Arizona State's defense gives up relatively too many looks from three, and Washington State is one of the top three-point shooting teams in the nation.
If Wazzu takes advantage of those opportunities and the Sun Devils don't have their own answers from deep, Smith's team should find a way to win.
California at Stanford
Saturday, January 28
7:00 pm PT, ESPNU
D
espite the struggles during his four years in Berkeley, Mark Fox is 5-4 against Stanford as the head coach of the Bears.
None of those five wins, however, have come at Maples Pavilion. Winless in the arena since 2019, the Bears face a Cardinal roster with increased confidence.
The scare against Chicago State was probably turned into a positive by Jerod Haase.
The coach in his seventh year on the Farm likely pointed to his team's comeback win as a sign of chemistry and maturity that not every roster could have accomplished.
Still, the Tree will need a stronger start against California to avoid a third-straight loss to their rival.
The status of DeJuan Clayton is questionable and Devin Askew might not yet be back to full strength.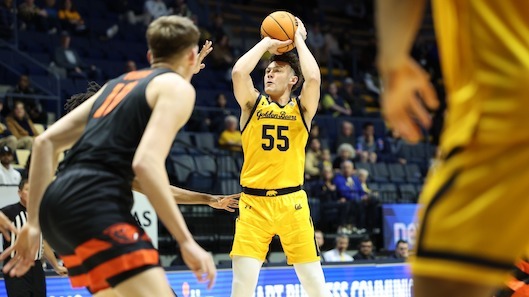 With the health of his two star players in doubt, Fox will need Kuany Kuany, Lars Thiemann, and Grant Newell to step up. The three starters might each need to have strong games for the Bears to topple Stanford at home.
On the other end of the floor, taking care of the ball might be all Stanford needs to secure the win. The Tree have superior players at every position and a deeper bench.
But turnovers negate much of Stanford's talent advantages and keep games close against perceived inferior competition.
Combined with the extra gear that Cal always plays with against the Cardinal, any amount of turnovers above the Tree's 13.2 average will keep the Bears within striking distance.
And if Fox's group is hot from three again, they have enough talent to win at Maples.
Colorado at Oregon State
Saturday, January 28
7:30 pm PT, Pac-12 Network
K
J Simpson had one of the worst games of his career on Thursday in Eugene. Scoring just eight points on 2-for-13 shooting, Colorado's leading scorer was mostly ineffective.
That's a frightening set of circumstances for Wayne Tinkle and his young roster. It's highly unlikely that Simpson has back-to-back poor games and the sophomore could realistically drop 30 on the Beavers.
If that happens, Jordan Pope and Glenn Taylor Jr. must have a strong response.
The two Oregon State guards only combined for 17 points against Utah and will need to shoot the ball from the perimeter with more efficiency after going 1-for-8 from three.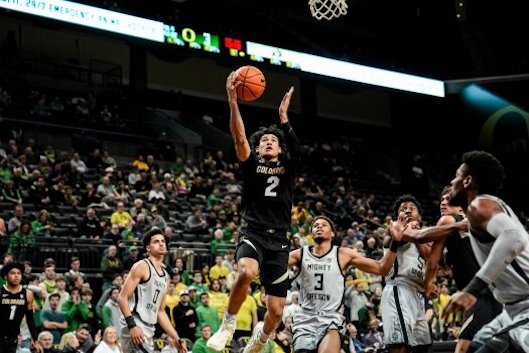 Apart from the production of the guards, Tinkle's frontcourt must step up against Colorado. The Buffs have very little interior presence and Lawson Lovering could struggle to defend OSU's bigs outside of the paint.
That provides a substantial opportunity for Michael Rataj, Tyler Bilodeau, and Dzmitry Ryuny to take advantage.
Tad Boyle can effectively put Tristan da Silva on one them, but that should leave an OSU wing/big hybrid with a mismatch.
The trio will need to knock down their midrange and perimeter shots yet should get decent looks against CU's roster.
Still, the Buffs are a far superior rebounding team and share the ball at a higher clip. Second-chance opportunities could be gained from offensive rebounds and an extra pass in those situations could produce open threes.
With enough shooters to take advantage, Colorado could leave with a victory at Gill Coliseum.
Our Senior Writers' Game Picks
---
—More from Dane Miller—

Latest posts by Dane Miller
(see all)