Posted on February 19, 2023


  By Dane Miller, SuperWest Sports
T
he Pac-12's two sure-fire men's basketball NCAA Tournament teams took care of business on Saturday with Arizona and UCLA logging wins over Colorado and Cal, respectively.
Utah's slim hopes of landing an at-large bid took a hit with its loss to Arizona State, which kept its equally slim prospects alive.
Oregon, meanwhile, looks to stay in contention for a First-Round bye in the Pac-12 Tournament with a win today over Washington State.
I preview the game here and my pick, along with that of Stephen Vilardo, appears at the bottom.
Oregon at Washington State
Saturday, February 18
4:00 pm PT, FS1
I
n the Pac-12's lone game on Sunday, Oregon faces another pivotal test for its at-large hopes.
The battle between Mouhamed Gueye and N'Faly Dante is one for the ages.
The two bigs are among the top players in the Pac-12 and have similar styles of play. Dante has more of a power game to him, but Gueye is arguably more rounded and has a finesse advantage.
One of the X-Factors in the game is the production of Nate Bittle.
The second Oregon big can score from the perimeter as well as inside, and WSU doesn't have a player to defend him at the power forward position.
Adrame Diongue might be the answer, but he hasn't played much lately. If Bittle has a strong game, the Ducks will be tough to beat.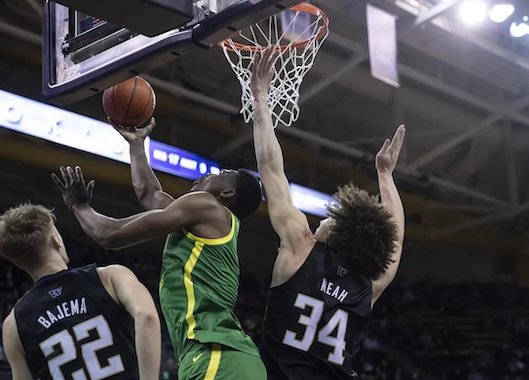 Still, Dana Altman must get a productive night from Will Richardson. The senior guard distributed the ball well against the Huskies but went scoreless in Seattle. That can't happen again or Oregon will likely lose.
On the other side of the court, the key to beating the Cougars is defending the perimeter. Kyle Smith has numerous shooters that consistently knock down shots from deep.
If Altman's squad allows open looks from three, Wazzu figures to make them pay.
But Washington State's primary flaw is its lack of emphasis on passing. The Cougars are among the bottom of College Basketball in assists per game and too often rely on one-on-one action.
However, they take care of the ball better than average. Combined with their three-point shooting, the offensive system is respectfully effective when their shots are falling.
In that sense, creating turnovers is one of the keys to an Oregon win. If the Ducks don't force mistakes with their zone press, WSU should defend its home court.
Our Senior Writers' Game Picks
---
—More from Dane Miller—

Latest posts by Dane Miller
(see all)