Posted on November 12, 2021


  By Dane Miller, SuperWest Sports
T
he Pac-12 encounters its first major hurdles of the burgeoning 2021-22 season with some pivotal nonconference matchups on tap tonight.

Oregon State travels to Ames, Iowa to face Iowa State, Oregon hosts SMU, Stanford goes on the road to face Santa Clara, and No. 2 UCLA hosts No. 4 Villanova.
The Conference has weathered three embarrassing losses to start the year, after UC San Diego beat California in Berkeley, Northern Illinois toppled Washington in Seattle, and Arizona State lost to UC Riverside.
And Colorado needed overtime to beat Montana State in Boulder.
The Midwest and East Coast media seems to love it when the Pac-12 stumbles, making today a pivotal day of the young season.
I preview all four matchups here and my picks for all the games, and those of Stephen Vilardo, appear at the bottom.
Oregon State at Iowa State
5:00pm PT, ESPN 3

T
he Beavers have struggled without Ethan Thompson leading the way, needing to come from behind to beat Portland State to start the year and DII St. Martin's in an exhibition.
Warith Alatishe led the way against the Vikings with 21 points, while Jarod Lucas and Maurice Calloo added 16 each.
But the Beavs need a strong game from Gianni Hunt in order to beat Iowa State. The Cyclones have highly-touted freshman point guard Tyrese Hunter, Minnesota transfer Gabe Kalscheur, and Penn State transfer Izaiah Brockington.
The trio combined for 48 points in ISU's opener, and will challenge the Oregon State defense.
SMU at No. 13 Oregon
8:00pm PT, Pac-12 Network
D
ana Altman once again has a roster of transfers, returning starters, and highly regarded freshmen.

Will Richardson put up 20 points against Texas Southern and Oklahoma transfer De'Vion Harmon added 15. The backcourt duo figure to lead the way for the Ducks this year, and both must have efficient nights from the field against SMU.
The Mustangs have nine new players on their roster, including five transfers. Baylor transfer Tristan Clark and Sam Houston State transfer Zach Nutall combined for 26 points in the opener.
But SMU is led by senior guard Kendric Davis, who put up 18 against McNeese and averaged 19 points last year.
Altman's zone press figures to frustrate Davis and generate turnovers, allowing the Ducks to score in transition and pull away in the second half.
Stanford at Santa Clara
8:00pm PT, CBS Sports Network
T
he Cardinal face a challenge on the road against Santa Clara. The WCC opponent is no pushover, and will be gunning to take down a high-major program.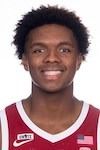 Stanford freshman Harrison Ingram scored 16 points against Tarleton and fellow freshman Isael Silva had four assists, but Michael O'Connell struggled in his 21 minutes played.
Jerod Haase needs a strong night from all three, along with upper-classmen leaders Jaiden Delaire, Lukas Kisunas, and Spencer Jones.
The Broncos are led by senior forward Josip Vrankic, who put up 29 points in the first game of the year. Santa Clara has a starting five that play most of the minutes, potentially opening it up to foul trouble in the later stages of the matchup.
A road loss wouldn't derail Stanford's season, but it would be noted by the Selection Committee in March.
No. 4 Villanova at No. 2 UCLA
8:30pm PT, ESPN2
I
n one of the top marquee nonconference matchups since the Pac-12 expanded in 2011, the Bruins host No. 4 Villanova at Pauley Pavilion.

Mik Cronin will be without Cody Riley for the matchup, after the big man sprained an MCL in the opener on Tuesday. Kenneth Nwuba will need to step up in his absence, and the redshirt-junior is ready for the spotlight.
Nwuba's contribution in the 2021 NCAA Tournament may not jump out on paper, but the minutes he played in the BYU and Michigan matchups were an unheralded key in UCLA's success.
Cronin's defense must find a way to slow down Wildcats' guard Justin Moore, as the junior dropped 27 against Mount St. Mary's.
But with four players scoring 13 or more points against the Mountaineers, the Bruins will have their hands full defending Villanova's various weapons.
The home crowd at Pauley should play a role, with Johnny Juzang leading the way for Cronin.
SportsPac12 Week 1 Basketball Writers Game Picks
---
—More from Dane Miller—

Latest posts by Dane Miller
(see all)