Posted on February 3, 2022


  By Dane Miller, SuperWest Sports

The first Thursday in February brings six matchups in the Conference of Champions.
No. 3 UCLA and No. 7 Arizona do battle on ESPN in a rematch from just nine days ago, while Washington State and Stanford square up for what might be the Pac-12's final At-Large bid come Selection Sunday.
Later in the night, Utah and California have golden opportunities to break their losing streaks, while Oregon and USC travel to arenas they have historically struggled in.
I preview all six games here, and my picks along with Stephen Vilardo's appear at the bottom.
No. 3 UCLA at No. 7 Arizona
McKale Center, Tucson, AZ
Thursday, February 3
5:00 pm PT, ESPN
I
n the top game of the day in College Basketball, UCLA seeks its fifth-straight win in Tucson.
The Bruins' defense held Arizona to its lowest scoring output of the year just nine days ago, as the Wildcat starters went 14-of-57 from the field.
That probably won't happen again at McKale Center, but UA remains in its shooting slump after Arizona State held the Cats to their second-lowest point total on Saturday.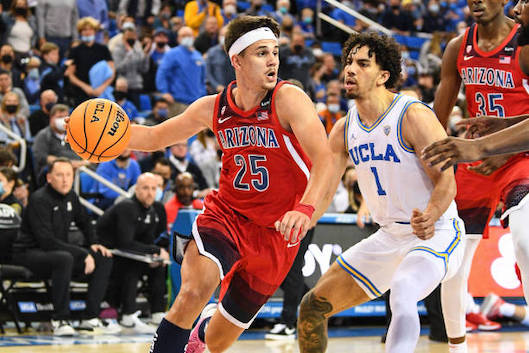 With offensive question marks denting optimism in the desert, Kerr Kriisa and Bennedict Mathurin are arguably the canaries in the coal mine that will determine Arizona's success.
Kriisa missed all 12 of his shots at Pauley Pavilion, while Mathurin missed 17 in the loss.
If the duo are hitting their shots and the Wildcats limit their turnovers, the home crowd in Tucson might provide the X-Factor to topple the Bruins.
Oregon State at Utah
Jon M. Huntsman Center, Salt Lake City, UT
Thursday, February 3
6:00 pm PT, ESPNU
I
n one of the few Conference games that Utah is expected to win, Craig Smith's team has an opportunity to get their season back on track.
The Utes have yet to win a game in 2022, but have advantages over Oregon State in points per game, free throw percentage, three point percentage, rebounds per night, and assists per contest.
Dusan Mahorcic remains suspended, depleting an already vulnerable frontcourt, yet Branden Carlson is back to form after missing several games in January.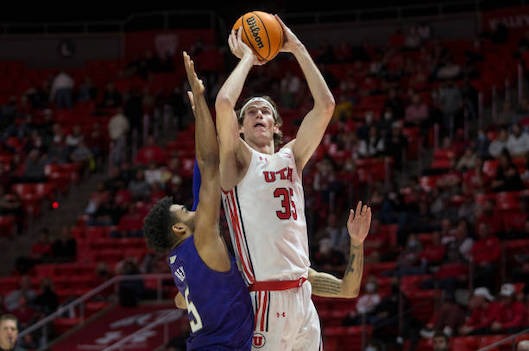 And playing in the altitude in Salt Lake City, Utah has both a physical and psychological advantage.
The Beavers are 2-1 at the Huntsman Center since 2019, but lost every game they played in the arena between 2013 and 2017.
Keeping OSU's Jarod Lucas in check with effective switching on screen plays figures to be one of the keys for Utah to end its 10-game losing streak.
Washington State at Stanford
Maples Pavilion, Stanford, CA
Thursday, February 3
6:00 pm PT, Pac-12 Network
I
n what might be a game that helps decide the Pac-12's final At-Large bid, Washington State and Stanford face off in Palo Alto.
Both programs are making noise on the national stage, as WSU has the Conference's fourth-highest NET ranking and the Tree lead the league with four Quad 1 victories.
Yet, neither are currently projected to make the Big Dance, setting up a pivotal matchup for each squad.
Andrej Jakimovski has emerged as one of the top players on the Cougars' roster.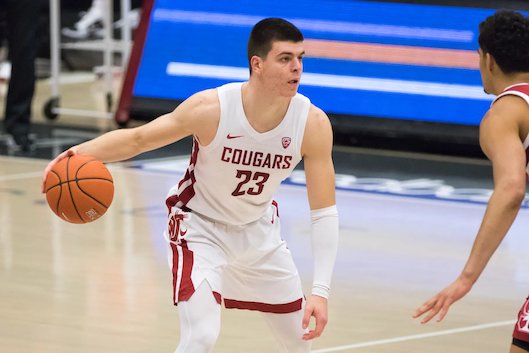 His three point shooting changes the game, opening up the floor by providing another scoring threat on top of Noah Williams, Michael Flowers, and Tyrell Roberts.
Mix in WSU bigs Efe Abogidi and Mouhamed Gueye, and Kyle Smith has a team that passes the eye test.
Yet, Washington State faces a substantial challenge in Stanford. Forcing the Cardinal into turnovers is the key to a victory on the Farm, and the Cougars are third in the Pac-12 with 14.4 forced per game.
Oregon at Colorado
CU Events Center, Boulder, CO
Thursday, February 3
7:00 pm PT, FS1
D
ana Altman's Ducks have never won in Boulder.
Despite Oregon's success during the Pac-12 era, UO is 0-8 in the Colorado Rockies since 2011 and 0-10 all-time dating back to 1960.
But that could change this year, as CU's Tad Boyle will miss the matchup due to COVID protocols.
That leaves a young and inexperienced Colorado squad to deal with Altman's press-zone on their own. And Oregon is seeking revenge.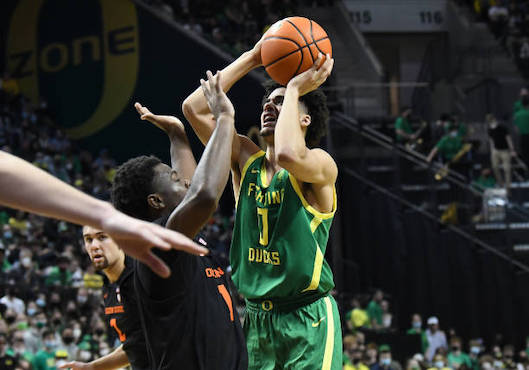 The defeat in Eugene figures to motivate the UO players to accomplish something the program has never achieved. To get the job done, rebounding and forcing turnovers might be the focus of Altman's game plan.
If Oregon is able to win the margin in both categories, the Ducks should like their chances of securing the win.
But if Colorado takes care of the ball and gets second chance opportunities on the offensive glass, the Buffs might continue the streak without Boyle on the bench.
No. 19 USC at Arizona State
Desert Financial Arena, Tempe, AZ
Thursday, February 3
8:00 pm PT, ESPN2
T
he Sun Devils have had the Trojans' number in Tempe since the Pac-12 expanded.
Arizona State is 7-1 against USC during the last decade, but five of those matchups were decided by two possessions or fewer.
Substantially outmatched on paper, Bobby Hurley's team must find an extra gear to pull off the upset.
Effort plays on the defensive side of the ball should lead to transition baskets, and offensive rebounding could result in second-chance points.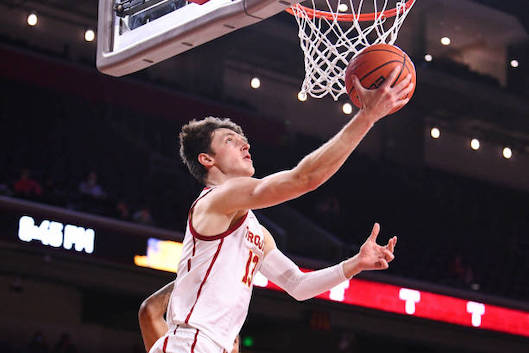 But that might not matter if USC is hitting its outside shots. Isaiah Mobley is a mismatch on the perimeter, and Drew Peterson is shooting 45.8 percent from beyond the arc.
Add in Boogie Ellis running the point, and SC has the offensive might to win their second-straight at The Bank.
Still, the Trojans must avoid the slow starts that have hampered them all season, or ASU could come away with a surprise upset.
Washington at California
Haas Pavilion, Berkeley, CA
Thursday, February 3
8:00 pm PT, Pac-12 Network
I
n the midst of an eight-game losing streak, California has opportunity knocking on its door.
The status of Andre Kelly is questionable, but the Bears have the firepower to handle Washington at Haas Pavilion.
Holding UW's Tyrell Brown Jr. in check is Priority Number One, but Mark Fox's team must also contend with Emmitt Matthews Jr., who has scored in double figures four out of the last five games.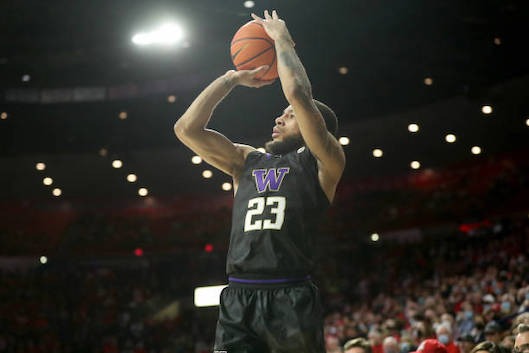 The key for California arguably comes down to defense.
In seven of Cal's nine wins, it has held opponents to 61 points or fewer. While in 10 of its 13 defeats, the Bears have allowed opponents to breach the 61-point mark.
Washington averages just 66.0 points per night, hovering right around the Goldilocks Zone for a Bear upset.
But even if Fox's team holds UW below their average, Jordan Shepherd might need to score 20 points or more to break California's losing streak.
February 3 Game Picks
---
—More from Dane Miller—

Latest posts by Dane Miller
(see all)