Posted on February 23, 2022


  By Dane Miller, SuperWest Sports

The Conference's lone matchup tonight is the first showdown in the basketball version of the Apple Cup.
Featured on ESPNU, the late start provides an opportunity for both teams to showcase their talents on a national stage.
For 75 percent of the matchup, the WSU-UW rivalry will be the only college basketball game being broadcast in the country.
That should draw in a few extra eyes, and figures to contribute to the drama in Pullman.
I preview the matchup here, and my pick along with Stephen Vilardo's appear at the bottom.
Washington at Washington State
Friel Court at Beasley Coliseum, Pullman, WA
Wednesday, February 23
8:00 pm PT, ESPNU
I
t's Noah Williams Time on the Palouse.
The junior hasn't had the year many were expecting from him, but the Seattle-native is trending up over the last three games.
Williams is 5-of-10 from deep over the stretch, while snagging five steals and turning the ball over an average of one time per night.
His minutes in the Oregon, UCLA, and USC matchups were above his average, along with his scoring and free throw percentage.
Those are good signs for Washington State heading into the Washington game. Williams always turns it up for the rivalry, and could approach the 30-point mark if he gets hot.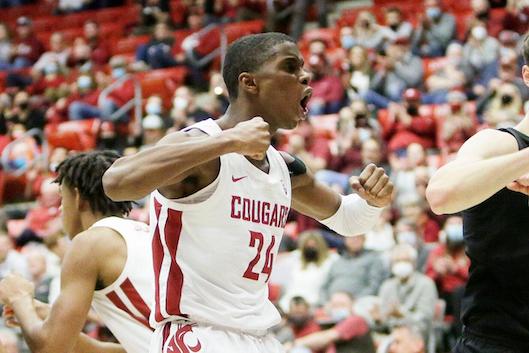 To dissect the Dawgs' defense, Kyle Smith must watch their game film and copy the strategies that have worked against the zone.
The secret sauce is to move the ball quickly around the perimeter, followed by swift passes inside, and finishing with a rapid shot.
The fast ball movement gets the UW defenders out of position and the quick shot doesn't allow them to rotate back into position to effectively contest the opportunities.
But the key is offensive rebounding.
The defense isn't assigned a specific person to box out, which invariably leads to an offensive player getting left alone.
As long as Smith harps on his team to keep the ball moving and crash the boards after every offensive shot, the Cougs should put up enough points to win the game.
February 23 Game Pick
---
—More from Dane Miller—

Latest posts by Dane Miller
(see all)