Posted on February 19, 2022


  By Dane Miller, SuperWest Sports

The Conference of Champions is featured heavily over the ESPN family of networks today.
College GameDay is in Tucson for the showdown between No. 3 Arizona and Oregon, while Arizona State and Stanford host matchups broadcast on ESPN2 and ESPNU.
FS1 is getting in on the action, too, televising Washington at No. 13 UCLA on Saturday and Washington State at No. 17 USC on Sunday.
With only one game on the Pac-12 Network this weekend, the Conference has a chance to show off its top teams.
I preview all six games here, and my picks along with Stephen Vilardo's appear at the bottom.
Utah at California
Haas Pavilion, Berkeley, CA
Saturday, February 19
3:00 pm PT, Pac-12 Network
S
eeking its second sweep of the Bay Area programs since joining the Pac-12, Utah squares off with California to start Saturday's action.
No other Conference games compete with this matchup, putting a spotlight on the two schools.
Utah could secure its most successful road swing in several seasons with a win, while Cal could be set back to Square One with another loss.
Turnovers and rebounding figure to be the storylines.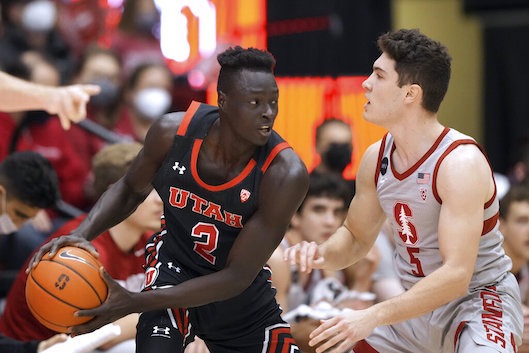 The Utes limited their mistakes to just eight on Thursday, and the Bears are among the worst teams in the nation at forcing TO's.
Mark Fox's group generates so few that they must have strong nights on the glass to make up for it.
That didn't happen against Colorado, when the Buffs out-rebounded Cal by 15, with a plus-three advantage in offensive boards. And unfortunately, Utah is one of the better rebounding teams in Division I.
But if California can win both the rebounding and turnover margins, it should like its chances against the confident Utes.


Oregon State at Arizona State
Desert Financial Arena, Tempe, AZ
Saturday, February 19
5:00 pm PT, ESPN2
T
he Sun Devils had their best game of the year on Thursday.
Arizona State's efficiency shooting the ball (57.4 percent) was its third-highest in the Bobby Hurley era, and its defense held Oregon to just 34.5 percent from the field.
But it was the intensity and effort that stood out the most.
Hurley's squad has turned a corner this season and may be a Dark Horse in the Pac-12 Tournament.
Yet, the new-found momentum could tumble if ASU doesn't take care of Oregon State.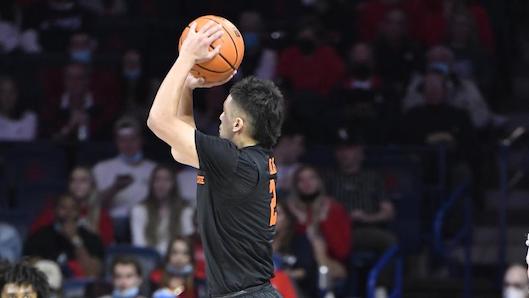 The Beavers play hard and haven't given up, but they just don't have the depth to compete for a full 40 minutes.
Injuries and Gianni Hunt's absence have limited Wayne Tinkle's team to a seven-man rotation. And that's with guys playing hobbled.
Yet, outside shooting will always be a wild card when Jarod Lucas steps on the floor. The junior guard could arguably single-handedly beat the Sun Devils with a hot night from three.
But if ASU defends the perimeter like it did on Thursday, the rest should take care of itself.
Colorado at Stanford
Maples Pavilion, Stanford, CA
Saturday, February 19
7:00 pm PT, ESPNU
W
ith a win at Maples Pavilion, Colorado would secure its first-ever sweep of the Bay Area schools. And at 5-3 in the building since 2011, the Buffs have to like their chances.
KJ Simpson proved why he was such a highly-touted recruit on Thursday, dropping 19 points on California with an 8-of-10 night from the free throw line.
Tad Boyle will need his production against a Cardinal roster that seems to be flailing in the wind. Once thought of as a potential NCAA Tournament team, Stanford has regressed, losing five of their last eight.
The nine or 10-man rotation Jerod Haase utilizes might be partially to blame, as players aren't able to develop as much over the year when they share that much playing time.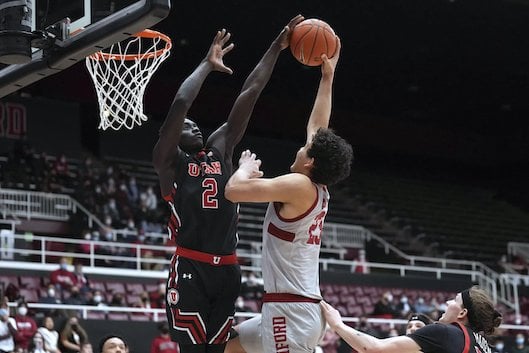 But the injury to Noah Taitz and his absence over the last 11 games might have a greater impact than anticipated.
The Tree match up fairly evenly with CU, except for blocked shots and three-point percentage.
Defending the Buffs' outside shooters with effort plays and disciplined switching could negate their strength. And using the Cardinal's depth to produce foul trouble for Colorado's bigs could be a winning strategy.
With such an equal matchup, this game could come down to the last shot.
Oregon at No. 3 Arizona
McKale Center, Tucson, AZ
Saturday, February 19
7:00 pm PT, ESPN
C
ollege GameDay returns to Arizona amongst a storm of controversy.
The UA fanbase hasn't forgotten the comments Seth Greenberg and Jay Bilas made after the false Deandre Ayton story was published in 2019.
Nor have they forgotten the years of selective attacks from fellow ESPN employee Dick Vitale.
The effects of the false reporting and corresponding attempts to destroy the reputations of Sean Miller, Deandre Ayton, and the Arizona program are still being felt to this day.
And after Greenberg doubled down on his comments on Friday, the Wildcat faithful are ready to explode.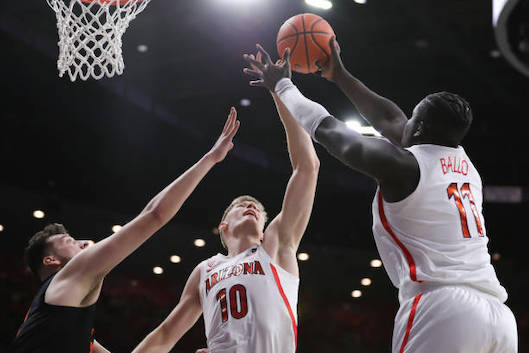 With such a galvanized crowd, McKale Center promises to be at peak hostility. The result could be one or two deadly runs from the Cats that put this game out of reach.
Advanced analytics show that Arizona is one of the top teams in the country at producing runs and limiting the runs of its opponents.
Utilizing timeouts could be one of the ways Dana Altman counteracts UA's strength. But it can also be organically accomplished through timely threes.
To win their eighth-straight against the Wildcats, the Ducks must knock down their outside shots and use their press-zone to force Arizona into turnovers.
If neither are working, Franck Kepnang and N'Faly Dante must defend Azuolas Tubelis, Christian Koloko, and Oumar Ballo effectively to keep the game low-scoring.
But if the pace of this matchup turns into a run-and-gun track meet, Oregon could find itself in a lopsided defeat.
Washington at No. 13 UCLA
Pauley Pavilion, Los Angeles, CA
Saturday, February 19
7:00 pm PT, FS1
M
ick Cronin held Tyger Campbell out of the Washington State game on Thursday, but the Bruins didn't miss a beat.
Sophomore Jaylen Clark had a career night in his absence, scoring 18 points on 7-of-11 shooting. The explosion shows how deep UCLA is, and arguably signals another Tournament run is in the cards.
But the Cougars' man defense is a different animal than what the Bruins will face tonight. Mike Hopkins zone is susceptible to quick ball movement around the perimeter and sharp passes inside, followed by quick shots.
The rapid passing gets the UW defenders out of position and the quick shots don't allow them to rotate back to effectively contest.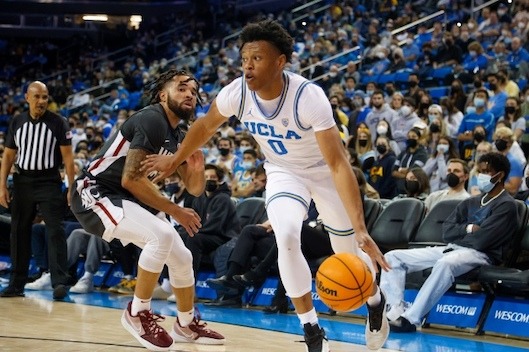 Mixed in with instructions to crash the offensive boards, the blueprint is there for the taking. And it's all on film.
But the Huskies played long stretches of man against USC two nights ago, slightly complicating UCLA's preparation.
The results were somewhat mixed, with the Dawgs initially finding success but then giving up short runs that destroyed the momentum.
To pull of the upset, Hopkins' squad will need to play a complete game from start to finish.
Any lulls in defensive effort will likely result in UCLA explosions, while stretches of missed shots on offense will probably be too much to overcome.
Washington State at No. 17 USC
Galen Center, Los Angeles, CA
Sunday, February 20
4:30 pm PT, FS1
T
he Trojans are built to make a deep run in March.
Chavez Goodwin went off on Thursday night, scoring 24 points with his father in attendance.
But the main storyline was Isaiah Mobley's return. The junior played with a protective mask and posted eight assists to go along with 12 points.
And Drew Peterson added another seven assists, as USC matched its second-highest scoring output in Conference play.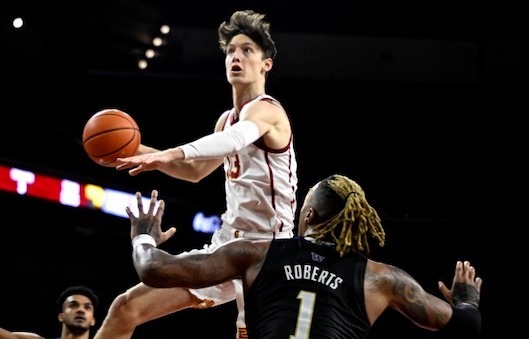 Yet, Washington State has a higher caliber defense than the Huskies. The Cougs are No. 1 in the Pac-12 in scoring defense, allowing just 63 points per game.
To counteract that strength, Andy Enfield must utilize the size advantage his guards have to generate offense from defense.
Washington State is enamored with the three ball, requiring the Trojan guards to extend their pressure beyond the perimeter.
Forcing WSU into poor shots figures to generate long rebounds that could lead to fast break and transition buckets. Regardless of who is on the floor, Enfield probably emphasizes defense first against the Cougars.
Still, if Wazzu gets hot from three, it could pull off the shocking upset.
February 19-20 Game Picks
---
—More from Dane Miller—

Latest posts by Dane Miller
(see all)