Posted on February 17, 2022


  By Dane Miller, SuperWest Sports

All 12 teams in the Conference of Champions are in action today.
No. 3 Arizona starts off the night with an early 4:30 tip, and No. 17 USC finishes the slate with an 8:30 start time.
But the Game of the Night is at Pauley Pavilion where No. 13 UCLA hosts Washington State.
I preview all six games here, and my picks along with Stephen Vilardo's appear at the bottom.
Oregon State at No. 3 Arizona
McKale Center, Tucson, AZ
Thursday, February 17
4:30 pm PT, Pac-12 Network
T
he top team in the Pac-12 faces the worst team in the league to kick off tonight's action.
The 5:30 pm local start is almost unheard of for a Conference matchup, and the consistently late-arriving McKale Center crowd could show up even later.
Traffic in Tucson is notoriously bad around rush hour, and it's doubly compounded during winter due to the influx of temporary residents.
The lack of energy in the building at the tip could produce a slow start from Arizona.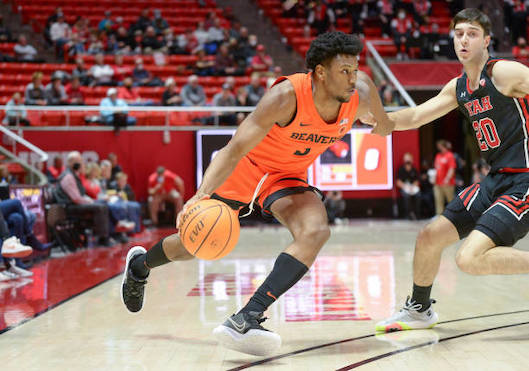 The Beavers shoot the ball at a surprising rate (44.2 percent), and OSU is just outside the top third in the country (122nd) in turnovers committed at 12.2 per game.
A strong start from Wayne Tinkle's team wouldn't be a shock, nor would yet another trolling tweet from Seth Davis.
But Arizona should pull away by the middle of the first half with strong defense that leads to transition scores.
The trio of Azuolas Tubelis, Bennedict Mathurin, and Christian Koloko could combine for 60 points with UA scoring in the upper 80s.
Oregon at Arizona State
Desert Financial Arena, Tempe, AZ
Thursday, February 17
6:00 pm PT, ESPN
I
n a regular year, this matchup would probably be considered a trap game for Oregon. But UO lost to Arizona State earlier this season and the Ducks should be focused on taking care of business.
Bobby Hurley's team has regained confidence in the latter half of the year, taking down Washington State in Pullman and upsetting UCLA in Tempe.
Marreon Jackson's offensive production has been vital over the last four games. The redshirt senior is averaging 16.5 points and 5.2 assists per game during the stretch.
His scoring will be needed at the Bank against Dana Altman's defense.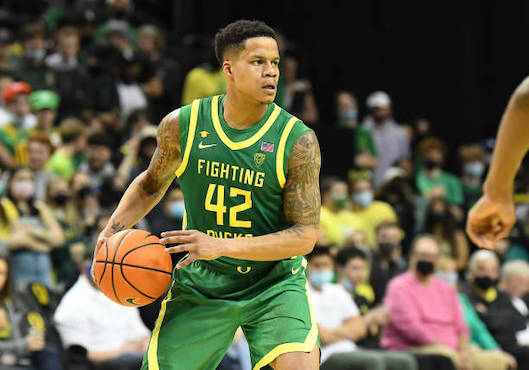 Yet, the battle that could decide the game is UO's offensive sets against ASU's defensive scheme. The Ducks score 72.7 points per game while the Sun Devils allow 70.0, tipping the analytic scale in favor of Oregon.
Hurley's team will need to keep Altman's guards in check with disciplined perimeter defense while limiting N'Faly Dante and Franck Kepnang down low.
Oregon prefers to score with its guards, and forcing it to get the job done with its bigs might be a winning strategy.
But even if the Sun Devils slow down the UO offense, it might not be enough if their shots aren't falling.
Colorado at California
Haas Pavilion, Berkeley, CA
Thursday, February 17
6:30 pm PT, Pac-12 Network
I
t took a few games, but California has adjusted to playing without Andre Kelly.
Lars Thiemann has stepped up in his absence, becoming a force down low that opponents have to prepare for.
Thiemann doesn't have the offensive numbers to accurately reflect his impact on the game, but at 7-foot-1 and 255 pounds, his presence alone fills the gap that Kelly left.
Jordan Shepherd, on the other hand, went off in The Beaver State. The redshirt-senior leader dropped 33 on the Ducks and shot 16-of-32 from the field during the two-game swing in Oregon.
Facing a young and turnover-prone Colorado roster, the Bears have a chance to solidify their momentum.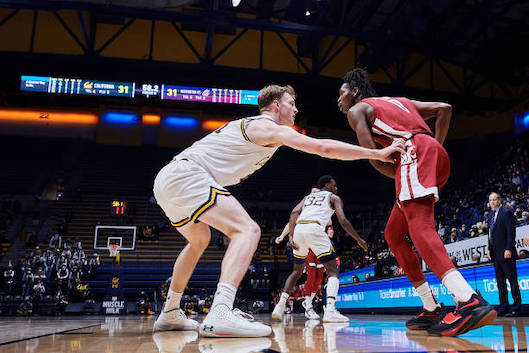 Outmatched across the board in nearly every major analytical category, the lone advantage Mark Fox's team has is turnovers committed.
The Buffs commit 14.3 per game (297th in the country), compared to Cal's 11.4 (62nd in the nation).
And at home, the turnover margin and points off turnovers could be the difference.
Fox's team struggles to produce TO's with just 9.65 per game (345th out of 350 D1 teams), yet the confidence within his roster is at its highest point in years.
With the circumstances as they are, a victory over CU wouldn't be surprising and might not even be considered an "upset."
Utah at Stanford
Maples Pavilion, Stanford, CA
Thursday, February 17
8:00 pm PT, ESPNU
T
he Utes appear to have found themselves after a string of inconsistent performances in January.
Craig Smith and his roster have weathered the storm, as their last three defeats have each come by two possessions or less.
Within striking distance of righting the ship, winning on the road remains the elephant in room.
Like a broken record, the bugaboo of the program just won't leave. Utah is 4-26 in true road games since the start of the 2019-20 season and faces a Stanford program that's 10-3 at Maples Pavilion this year.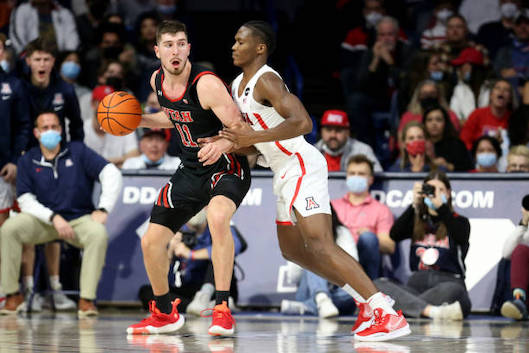 Despite its poor record, Utah consistently matches up well with Pac-12 opponents. At least on paper.
Utah has advantages in points per game, free throw percentage, three-point percentage, turnovers committed per game, and blocked shots per night.
But the Tree have a higher field goal percentage and a slim rebounding advantage. That's an indication that second-chance points could be the deciding factor in this matchup.
If Utah limits the second-chance opportunities for the Cardinal and secures its own with consistent offensive rebounding, Smith's team might pull off the upset.
Washington State at No. 13 UCLA
Pauley Pavilion, Los Angeles, CA
Thursday, February 17
8:00 pm PT, FS1
I
n the Game of the Night in the Conference of Champions, Washington State has one of its few remaining opportunities to get back into the At-Large conversation.
The NET rankings may like the Cougars' resume, but the lack of a noteworthy win is a fatal flaw that Kyle Smith's team has yet to fix.
WSU's top nonconference win is arguably Winthrop, while its best conference victory is at Stanford.
That doesn't inspire confidence in a Selection Committee considering hot Power 6 programs and Mid-Majors that deserve a shot.
But a win at Pauley Pavilion would change all that.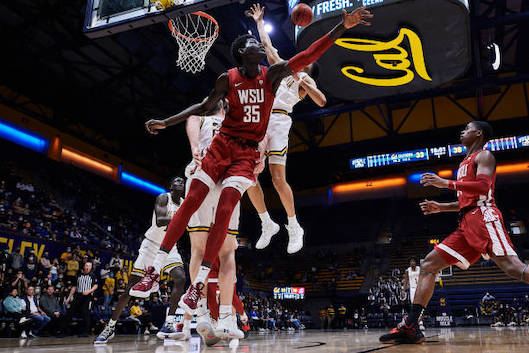 The Cougs are winless in the building since the Pac-12 expanded, dropping eight in a row since 2011. In fact, the last Wazzu victory in Westwood came in 2009, and WSU is 2-27 at Pauley since the 1990-91 season.
That doesn't bode well for Smith's team.
To topple the Bruins, Washington State's defense must slow down the trio of Johnny Juzang, Jules Bernard, and Jaime Jaquez Jr.
The three combined for just 19 points and 7-of-36 from the field against USC, after struggling to handle the length the Trojans threw at them.
The Cougars don't have the same size as Andy Enfield's team but lead the Conference in scoring defense at 62.5 points allowed per game. To pull off the upset, WSU might need to play its best defensive game of the year.
Washington at No. 17 USC
Galen Center, Los Angeles, CA
Thursday, February 17
8:30 pm PT, Pac-12 Network
T
his game deserves a broader reach.
The Pac-12 Network will do an excellent job covering the matchup, but the network's limited distribution will prevent many from watching what promises to be a top-level showdown.
The Huskies were thumped by Arizona last weekend, squandering an opportunity to jump in the NET rankings. Yet, it's water under the bridge, and Terrell Brown Jr. has another chance to carry his team to a win.
Andy Enfield figures to have multiple gameplans to slow down the Conference's leading scorer, and each likely begins with a tall guard defending him.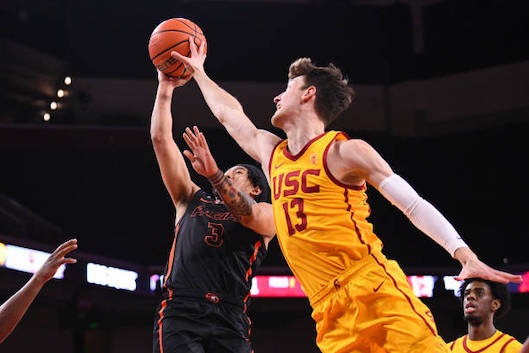 Drew Peterson or Max Agbonkpolo seem to be the natural fits to match up with Brown, and Enfield may alter between the two.
However, Brown could eat if Ethan Anderson or Boogie Ellis are assigned to him. The smaller USC guards have their own strengths but don't have the length to frustrate the redshirt senior's game.
Washington's entire offense is reliant on Brown's scoring, but the Trojans must also be mindful of Emmitt Matthews Jr., Jamal Bey, and Cole Bajema.
If the three role players exceed their averages and Brown hits his 22-point mark, the Dawgs might have a chance.
February 17 Game Picks
---
—More from Dane Miller—

Latest posts by Dane Miller
(see all)