Posted on February 15, 2022


  By Dane Miller, SuperWest Sports

The Pac-12's NCAA Tournament hopes took a nosedive over the weekend.
California shocked Oregon at Matthew Knight Arena, while Arizona State upset Washington State in Pullman.
The two defeats damaged the perception of the league, potentially limiting it to just three bids to the Big Dance.
Fortunately, memories are short in the College Basketball world and the rescheduled matchup between WSU and UO could be a springboard to regain standing in the eyes of the Committee.
Oregon held on to defeat WSU on Monday. I preview today's Colorado at Oregon state matchup here, and my picks along with Stephen Vilardo's appear at the bottom.
Colorado at Oregon State
Gill Coliseum, Corvallis, OR
Tuesday, February 15
6:00 pm PT, Pac-12 Networks
T
ad Boyle's team ran Oregon State out of the gym less than 10 days ago, out-rebounding OSU by 17 and limiting it to just four assists on 23 field goals.
The defensive effort displayed at home must travel with the Buffs to Corvallis, where they have won two straight.
But OSU is a different team at Gill Coliseum. Jarod Lucas scored 17 against Stanford on Saturday, and is 10-of-21 from the field during the two-game homestand.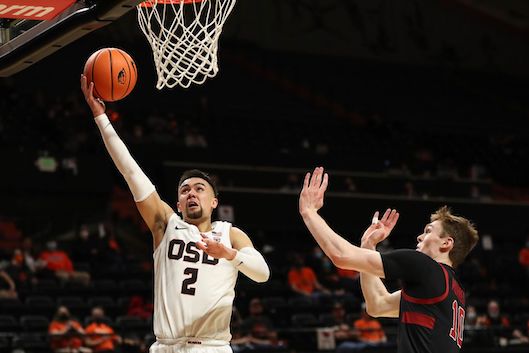 A hot night from the junior could keep the game close, but Wayne Tinkle will still need his defense to step up. Opponents have scored 70 points or more in 16 of OSU's 22 games, and the Beavers are 1-15 in those matchups.
But when Oregon State holds opponents below 70, it's 2-4 with both wins coming in Corvallis.
Forcing Colorado to commit turnovers by applying pressure to its young ball-handlers figures to be a priority in Tinkle's game plan.
If OSU can frustrate Keeshawn Barthelemy and KJ Simpson, it may be able to hold CU under 70 and give its offense a chance to win the game.
Monday's Preview
Washington State at Oregon
Matthew Knight Arena, Eugene, OR
Monday, February 14
6:00 pm PT, ESPNU
O
regon sits in a precarious position after stumbling against California on Saturday.
The defeat knocked UO out of some tournament projections, creating a vital game against Washington State. Another loss in Eugene would all but end the Ducks' At-Large dreams.
Yet, the picture is even bleaker for the Cougars.
The loss to Arizona State torpedoed the buzz around the program, sinking Kyle Smith's team into a deep hole.
Taking care of Oregon on the road would be the first step in digging out, but much work would still need to be done.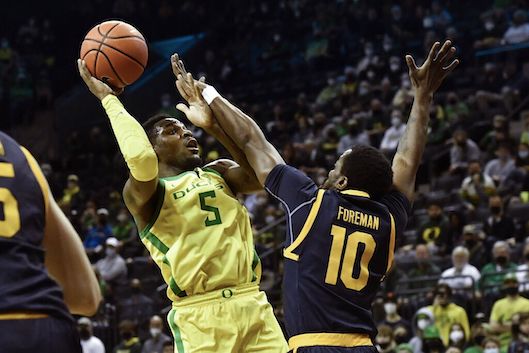 Roughly even on paper, the two teams have separate and distinct advantages over each other.
The Cougs block more shots per game, rebound at a higher clip, and have a higher free throw percentage.
But the Ducks score more points per game, have a higher field goal percentage, and are slightly more efficient from three.
The result is a wash, with each roster able to go toe-to-toe with the other.
The difference in such a tight matchup could be turnovers. WSU and UO both average 12 committed per game, with the Cougars force 14.7 per night and the Ducks forcing 14.5.
There won't be any margin for error at Matthew Knight Arena, where the team that scores more points off TO's should come out on top.
February 14-15 Game Picks
---
—More from Dane Miller—

Latest posts by Dane Miller
(see all)