Posted on December 28, 2022


  By Dane Miller, SuperWest Sports

The traditional period for conference play has arrived and with it comes a handful of pivotal road tests for the teams at the top of the Pac-12.
Utah heads to Berkeley to face California, the Trojans travel to Seattle to take on the Huskies, and UCLA goes to the Palouse to battle Washington State.
I preview all four games over Thursday and Friday here. My picks for each game will appear at the bottom once the odds become officially set.
Utah at California
Thursday, December 29
7:00 pm PT, Pac-12 Network
T
he Utes head to Berkeley for a proverbial "can't lose" matchup.
The win over Arizona has kept Utah in contention for an At-Large bid to the NCAA Tournament, but a loss to the 1-12 Bears would effectively remove Craig Smith's team from the conversation.
The key to shutting down California begins and ends with Devin Askew.
The offense runs through the junior guard and he is averaging 16.9 points per game. It will be challenging to prevent him from reaching his average, but the deciding-factor figures to come down to how many shots it takes him to get there.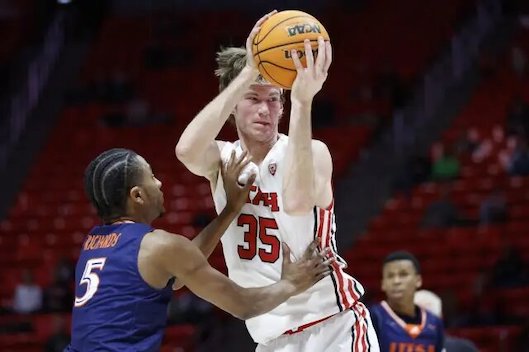 If the Utah defense forces an inefficient night from the guard, where it takes Askew 15 to 20 shots to reach 16 points, Smith's team should be in a comfortable spot.
On the other end of the floor, Mark Fox's team has a matchup problem with Branden Carlson. Lars Thiemann isn't used to defending an opposing center on the perimeter, and Carlson is shooting 45.0 percent from three.
If Fox has Kuany Kuany guard the Utah big, Carlson figures to use his height advantage in the paint to get easy buckets.
There are no easy answers for Carlson and the Utes' leading scorer could put up 20 or more.
Colorado at Stanford
Thursday, December 29
8:00 pm PT, ESPN
I
n a matchup that could shape the first half of Pac-12 play for both teams, Stanford hosts Colorado at Maples Pavilion.
The Tree have once again fallen below their preseason expectations. Picked to finish fifth in the Conference, Jerod Haase's group has yet to get a signature win. Stanford has played a tough schedule, though, and is fully prepared for league play.
Containing KJ Simpson and Tristan da Silva figures to be high on Haase's game plan. Those two are the only CU players averaging in double-digits and both can single-handedly win the game for the Buffs.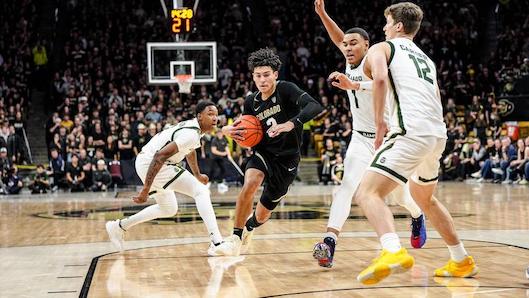 On offense, Harrison Ingram must get into double figures and Spencer Jones can't have an off night.
Despite talent up and down the roster, the Tree need a complete game from all of their contributors in order to beat quality opponents.
Role players such as Maxime Raynaud and Brandon Angel will need efficient days from the field, or the Cardinal could struggle.
As for Tad Boyle, there are two keys he figures to emphasize: forcing turnovers and rebounding. The Tree hemorrhage turnovers and are just average at securing boards. So long as Colorado wins both margins, his team should be in position to win.
USC at Washington
Friday, December 30
7:00 pm PT, ESPN2
Andy Enfield and the Trojans face a critical test on the road against Washington.
The Huskies are still reeling from the loss of Frank Kepnang, but Mike Hopkins' zone is always a challenge to deal with. It can be broken, however, with quick passes around the perimeter and into the paint followed by a fast shot.
But if any hesitancy occurs, the Husky defenders effectively rotate and have the height to block shots all game. Generally, the more dribbling that occurs the better UW's zone performs.
Shot selection will be pivotal, too, and the more threes USC settles for the more likely Washington gets the win. It takes discipline, patience, and above all else execution, but there are hours of film where teams get the job done.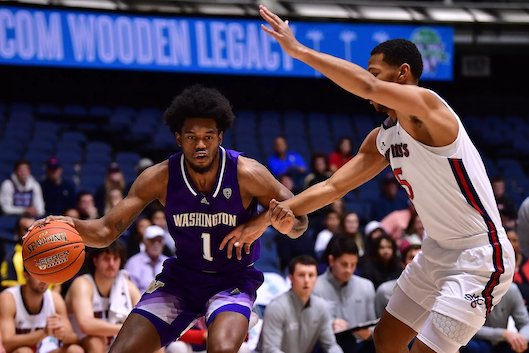 Whether or not the Trojans can emulate those game plans is another question.
Without a dominant big, this year's version of USC is more guard-oriented than the last few seasons. Boogie Ellis and Drew Peterson will need to facilitate ball movement and can't get lulled into the trap of over-dribbling.
On the other end, slowing down Keion Brooks Jr. and Braxton Meah are the keys to beating the Huskies. Brooks thrives in the midrange game while Meah is a force in the paint.
As long as the Trojans make life difficult for the duo by contesting shots and jumping passing lanes when they are fed, Enfield's team should find a way to win.
No. 11 UCLA v. Washington State
Friday, December 30
8:00 pm PT, Pac-12 Network
L
ooking to extend their eight-game win streak, the Bruins head to the Palouse for a matchup with Washington State.
The Cougs went 1-2 on their trip to Hawaii and return home for another tough game. Without Dishon Jackson who has yet to play this season, Wazzu doesn't have the pieces it needs to beat quality teams.
Kyle Smith's rosters at WSU have never shared the ball at a high rate and the Cougs are once again near the bottom of college basketball in assists per game.
Only Justin Powell averages more than one assist per night, making WSU easier to defend when it's on offense.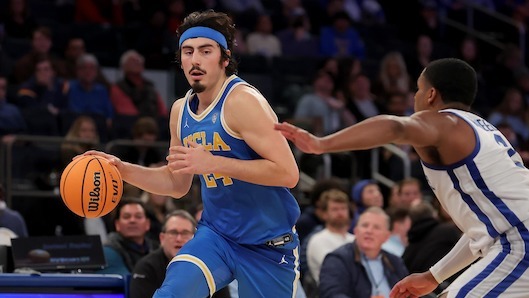 But it's never easy to win on the road and UCLA will need to stick to its tested methods: strong defense and limiting turnovers.
Mick Cronin's group takes care of the ball better than almost every team in America while simultaneously sharing the ball at an elite level. With multiple weapons to get buckets, the team-first attitude of the UCLA offense is tough to defend.
Four players average in double-digits and only one of them shoots below 50% percent from the field. That means the Bruins are taking excellent shots and aren't settling for the first opportunity that arises.
To pull off the upset, Washington State must find a way to generate turnovers and turn those mistakes into points.
Even if the Cougs manage to do that, they will still need to out-rebound UCLA and defend the perimeter effectively to prevent David Singleton and Company from getting hot from deep.
Our Senior Writers' Game Picks
---
—More from Dane Miller—

Latest posts by Dane Miller
(see all)