Posted on March 21, 2023


  By Dane Miller, SuperWest Sports
T
he NIT enters its Quarterfinal stage with one Pac-12 team left standing.

The Ducks have been reborn in the postseason tournament in large part due to their role players successfully transitioning to increased roles.
The newfound momentum is a positive sign heading into next season, yet a championship remains up for grabs this year.
I preview Oregon's mathcup with Wisconsin here and my pick, along with that of Stephen Vilardo, appears at the bottom.
3-seed Wisconsin v. 1-seed Oregon
Tuesday, March 21
6:00 pm PT, ESPN
O
ne win away from the Semifinals in Las Vegas, the Ducks host 3-seed Wisconsin in Eugene.
Oregon has been a different team without Will Richardson, N'Faly Dante, and Jermaine Couisnard available to play. For curious reasons, Dana Altman's group has taken a step forward without the three talented players.
Nate Bittle, in particular, has thrived in his new role. The sophomore is averaging 19 points and eight rebounds in the NIT.
The lack of a threat to his playing time arguably increases his confidence and loosens the pressure on him to produce. The result is a different player that's more willing to take shots.
At the same time, Rivaldo Soares is embracing his increased playing time. The senior is averaging 14.5 points in the Tournament with 7.5 rebounds, effectively doubling his season averages.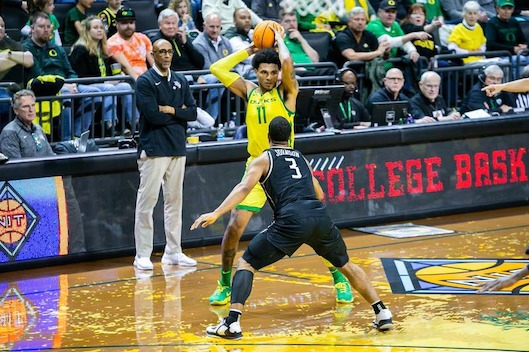 Freshman big Kel'El Ware is playing stronger, too, averaging nine points per game with five rebounds, which is an improvement on his 6.8 ppg and 4.0 rpg stat line.
Add in the consistency of Quincy Guerrier and Keeshawn Barthelemy's improved assist numbers, and suddenly Oregon looks like the team they should have been all year.
Some of the perceived improvement could be attributable to the quality of the competition, but there appears to be something brewing in Eugene that was not expected at the start of the NIT.
Matched up against Wisconsin, the Ducks have analytical advantages in several key categories.
UO scores more points per game, has a higher field goal percentage offense, rebounds the ball substantially better, has more assists per game, and blocks far more shots per night.
That's generally a recipe for success, especially considering the Badgers are just an average three-point shooting team.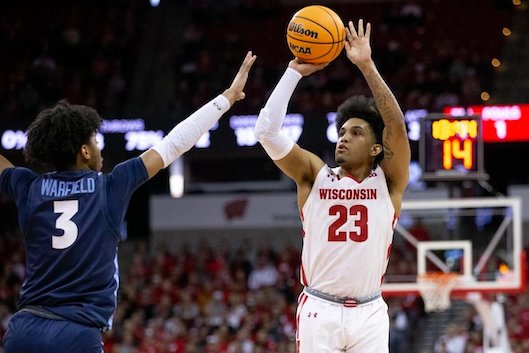 The Big Ten program does take care of the ball extremely well, however. Coming into the Quarterfinal ranked No. 1 in turnovers committed per game, Wisconsin is dangerously careful with its possessions.
Running one of the slowest tempo's in the country, the Ducks will need to speed the game up and force the Badgers into mistakes. If the game is played at a slow pace it favors Wisconsin.
But, if Altman can successfully execute his press-zone defense to create turnovers and transition buckets, Oregon will be in a substantially stronger position.
As long as UO dominates the glass, consistently blocks shots when Wisconsin goes inside, and defends the perimeter adequately, Oregon should advance to the Semifinals.
Our Senior Writers' Game Picks
---
—More from Dane Miller—

Latest posts by Dane Miller
(see all)