Posted on October 7, 2022


  By Dane Miller, SuperWest Sports
T
he SuperWest slate features three games on national television, including back-to-back Pac-12 matchups on Fox.
The day begins in Pasadena when No. 11 Utah battles No. 18 UCLA and ends with a late-night showdown between Oregon State and Stanford.
With eight games from noon until midnight, there are plenty of options to choose from.
But with kickoff times clustered in the late afternoon and early evening, the most-watched game figures to be the Utes against the Bruins.
I preview all the weekend's games below, and the picks of our Senior Writers and Broadcasters appear at the bottom.
No. 11 Utah at No. 18 UCLA
Saturday, October 8
12:30 p.m., PT, FOX
I
n what might be the Game of the Day across all of College Football, Kyle Whittingham and the Utes face off against UCLA for Big Noon Saturday.
The game on Fox presents an opportunity for Utah to regain national respect after the defeat to Florida earlier this season.
Dorian Thompson-Robinson and the Bruin offense have been unstoppable this year, scoring 41.4 points per game. Thriving within Chip Kelly's system, DTR has thrown just one interception and is averaging 7.2 yards per carry.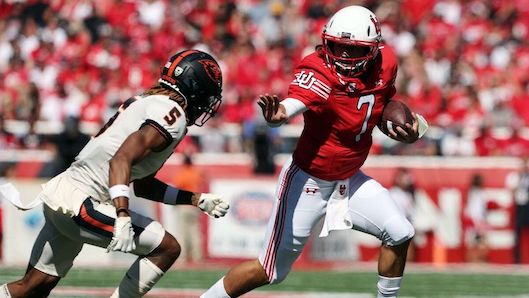 But UCLA has yet to face a defense the caliber of Utah.
Morgan Scalley's group is No. 10 in the nation in points allowed per game, holding opponents to 14.0 per night. The Utes are stacked from the defensive line through the secondary and could have enough strength to hamper the Bruin offense.
The deciding factor might then come down to Bill McGovern's defense. The coordinator produced the blueprint for stopping Washington's scheme, indicating his skill in schematic preparation.
Yet, Utah operates a balanced system that moves the ball on the ground to open up its passing attack. And Cam Rising is a significantly more dangerous running quarterback than Michael Penix Jr.
A shootout favors UCLA, but if the game is low-scoring then Utah should hold the edge.
No. 21 Washington at Arizona State
Saturday, October 8
1:00 p.m., PT, Pac-12
T
he desert has not been friendly to Washington. The last Husky victory at Sun Devil Stadium came in 2001 and UW has lost seven straight to ASU in Tempe.
The winless streak figures to be snapped on Saturday, though, with Kalen DeBoer's offense pitted against an average Arizona State passing defense.
The Sun Devils shed a plethora of talent from the secondary this offseason and are 87th in the FBS in points allowed per game (28.6).
Contrasted with Washington's No. 12 scoring offense that puts up 41.6 points per night, the analytics don't pan out well for ASU. But UCLA provided the blueprint to slowing down DeBoer's scheme and defensive coordinator Donnie Henderson figures to try and mirror it.
The midday kickoff favors the Sun Devils, too, with the Arizona sun at peak intensity during the game.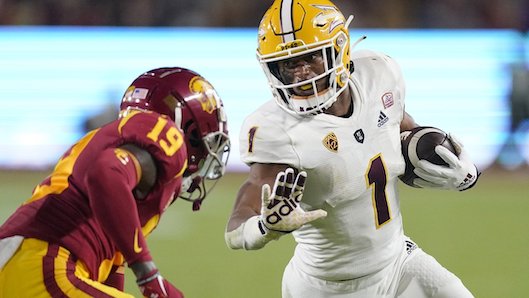 One of the matchups to watch is Washington's run defense against Xazavian Valladay. The Huskies are allowing just 108 yards rushing per game and ASU's offense is more effective when it's able to establish the run.
If Valladay and Daniyel Ngata are able to generate movement on the ground, Emory Jones and the Sun Devil passing game should benefit. The result could create a snowball effect and put Washington on legitimate upset alert.
Washington State at No.6 USC
Saturday, October 8
4:30 p.m., PT, FOX
I
n a battle of two masterminds, Lincoln Riley and Jake Dickert face off in a strength-on-strength matchup.
Riley's innovative offensive scheme has proven effective for years at the highest levels of College Football while Dickert is a relative newcomer still making a name for himself.
Taking cues from Oregon State's strategy against Caleb Williams, Dickert has made public statements that his plan is to contain Williams in the pocket.
That could indicate blitzing will be kept to a relative minimum, forcing Williams to stay in the pocket and play a traditional style of quarterback. It's foolish to question Dickert's ways, but he must feel highly confident in his secondary if that's his gameplan.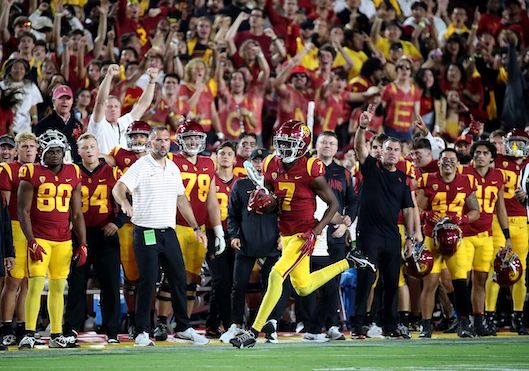 The Cougars are No. 39 in the country in interceptions forced with five, and will probably need to generate at least one to secure the upset.
Regardless, Dickert is sure to have studied OSU's defensive philosophy inside and out, identifying the strengths and weaknesses to make his version a better product.
Assuming the Riley v. Dickert battle is a relative wash, the game could come down to Wazzu's offense against Alex Grinch's defense.
The Coug Raid has turned the ball over far too often this season and Grinch's unit is leading the country in turnovers forced. It's an ugly analytical matchup for Washington State, and Cam Ward will need to play flawlessly to secure the upset.
No. 16 BYU at Notre Dame
Saturday, October 8
4:30 p.m., PT, NBC
A
rguably facing a must-win for its New Year's Six hopes, BYU faces the weakest Notre Dame team the Irish have fielded in years.
Entering the game at Allegiant Stadium in Las Vegas unranked and 2-2, Notre Dame is playing a backup quarterback starting just the third game of his career.
Drew Pyne did not play well against California three weeks ago but got it together against North Carolina the following week.
Coming off a bye, the Irish have utilized the additional time to prepare for Jaren Hall. The BYU quarterback is playing at an elite level, with a 12-to-1 touchdown to interception ratio while completing 70.2 percent of his passes.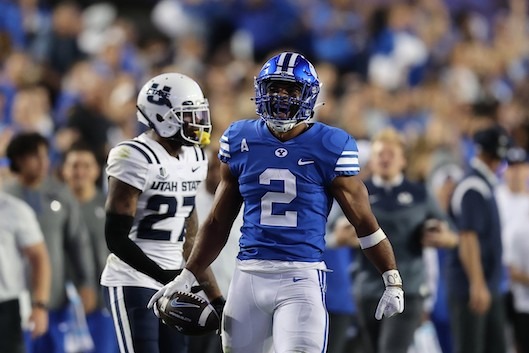 But the junior quarterback can't do it on his own and will need an effective run game to topple Notre Dame. Running back Miles Davis has been questionably underutilized, as Kalani Sitake has given Christopher Brooks the lion's share of the carries.
The Irish do not have a statistically strong run defense, allowing 142.2 yards rushing per game which is rated No. 68 in the FBS. If Brooks is unable to get it going early, Sitake should give Davis more opportunities.
Regardless, BYU could struggle to come away with the win if it can't run the ball effectively.
No. 12 Oregon at Arizona
Saturday, October 8
6:00 p.m., PT, Pac-12
W
inless in Tucson since 2011, Oregon pits its effective rushing offense against one of the worst run defenses in the country.
The Duck ground game is No. 10 in the nation, averaging 228.8 yards per game, while the Wildcats rushing defense is No. 125, giving up 213.4 yards per night. If games were purely won on analytics, that matchup would seal the deal.
But UO has problems defending the pass and Arizona has one of the top passing offenses in the FBS. Jayden de Laura leads the country's No. 9 passing attack, bolstered by a talented receiving corps that is among the elite in College Football.
Jacob Cowing has tremendous speed that's utilized in the slot, Dorian Singer is a do-everything option on the edge, while Tetairoa McMillan has freakish size that allows him to make plays all over the field.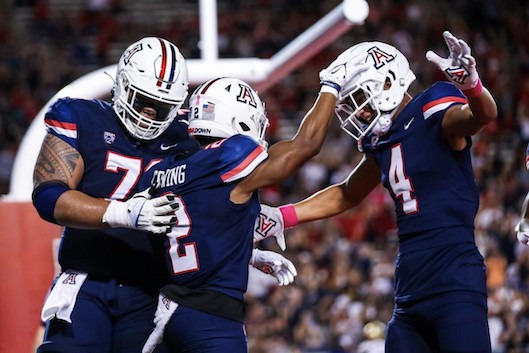 The Duck defense, on the other hand, is No. 119 at defending the pass, allowing 282.2 yards per game.
In a matchup where statistical strength clashes with statistical weakness, turnovers could tip the scales in either direction. The teams are tied in turnover margin, each breaking even at 0.00. But the Cats have committed more mistakes (8) than the Ducks (5).
With rumblings of a potential sellout crowd on hand, a strong start from Arizona on the back of forced turnovers could lead to a surprise upset.
Boise State at Fresno State
Saturday, October 8
6:45 p.m., PT, FS1
W
ithout Jake Haener for another game, Fresno State heads to Boise to take on an invigorated Bronco squad.
Taylen Green was finally given the keys to the car last week and showed why he should have secured the starting job after the opening week loss to Oregon State.
Moving the ball primarily on the ground, Green's run-first tendencies drastically open up the field for BSU's traditional ground game.
Defenses are forced to hesitate to determine if Green is keeping the ball, which creates more space and lanes for Boise State's running backs to exploit.
New offensive coordinator Dirk Koetter let Green do what he does best in the second half against San Diego State, and should continue the same line of play calling against the Bulldogs.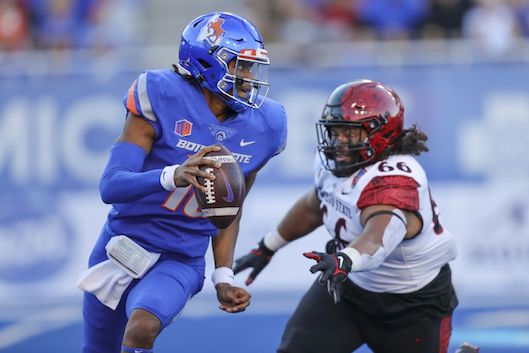 Koetter admitted he stuck to around five plays that were continually working, which is fairly typical for an offense with an effective run-first quarterback. Only needing to keep defenses honest a handful of times a game through the air, the same five option-run looks are all that's needed.
If it isn't broke don't fix it, the saying goes, and the 35-point second half doesn't need fixing.
Look for BSU to run up the score against a Fresno State team that is depleted and rudderless with a freshman quarterback making just the second start of his career.
Hawai'i at San Diego State
Saturday, October 8
7:30 p.m., PT, CBS Sports
T
he Aztecs are handed a perceived "get right" game against Hawaii at Snapdragon Stadium.
The program is in a state of turmoil after starting the year 2-3, with coaching changes and transfers dominating the off-field headlines. But the matchup with the Warriors should help turn momentum back in the right direction.
Hawaii has the second-worst run defense in the nation, allowing 260.8 yards rushing per game. Juxtaposed with SDSU's No. 33 rushing offense, the matchup is substantially analytically favorable.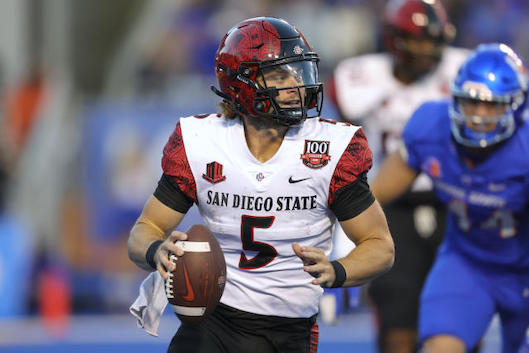 In such an overmatched game, the storylines to watch are nuanced. Braxton Burmeister's efficiency passing the ball, however, is one of the top themes to look for. The Virginia Tech transfer has struggled through the air, failing to break the 100-yard passing mark in all but one game this season.
The inability to pass the ball effectively has hindered the Aztec offense, and any improvement in that aspect would be welcomed. Until opponents are concerned about Burmeister passing, the SDSU offense could continue to be rendered ineffective.
On the other side of the ball, it's fair to expect the San Diego State defense to hold Hawaii to two touchdowns or less while generating multiple turnovers.
Oregon State at Stanford
Saturday, October 8
8:00 p.m., PT, ESPN
C
hance Nolan's status is up in the air and arguably Oregon State's chances along with it. The Tree have substantial issues along its offensive line but have a capable quarterback and deadly pass-catchers.
The Beavers will need to be at their best to come away with the victory on the Farm, and Nolan's absence could damage their chances.
Despite the heat taken from throwing interceptions against USC and Utah, Nolan gives OSU its strongest opportunity to win football games.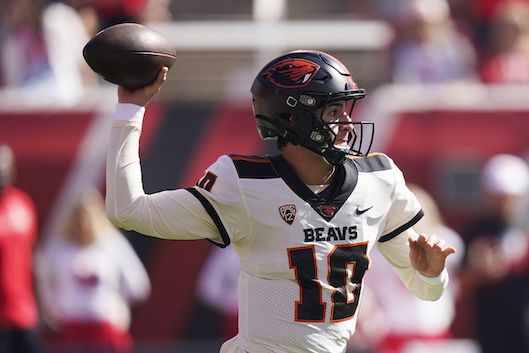 Backup Ben Gulbranson doesn't have the same running prowess, limiting Jonathan Smith's offense in multiple facets. The field gets condensed without a quarterback threatening to run, gumming up both the passing game and traditional ground attack.
But even with the issues under center, Oregon State's defense matches up well with Stanford's offense.
The Cardinal lost their primary running back due to injury, but backup Casey Filkins has taken advantage. Still, David Shaw's group is primarily a passing offense that scores through the air.
And with one of the top secondaries in the nation, the Beavers should keep Stanford in check.
If Nolan can't go, look for a low-scoring game that isn't decided until late into the second half.
Game Picks from our Senior Writers and Broadcasters
---
—More from Dane Miller—

Latest posts by Dane Miller
(see all)