Posted on August 27, 2022


  By Dane Miller, SuperWest Sports
T
he 2022 Pac-12 football season is right around the corner, which means the time is ripe for previews and prognostications.

Nobody has a crystal ball, but I spent the last 12 weeks doing a deep analysis of each program and have a good feel for the flaws of every team.
No roster is perfect, yet some have limited weaknesses.
Admittedly, I have a slightly more pessimistic view of USC this season than most, and I may be overvaluing Washington State.
Yet, I'm fairly confident in projecting California to become bowl eligible and Oregon to exceed expectations.
Arizona, Colorado, and Stanford may all end up better than my projection. And if I were to pick any team to flop, it would probably be Washington.
Still, I think these projections are fair expectations for each team as they stand before the season starts.
Be sure to follow us each week throughout the season as I preview all Pac-12 games and our senior writers give their picks.

1. Oregon
Projected Overall and Conference Record: 10-2, 8-1
Probable Losses:
vs Georgia (in Atlanta)
at Washington State
Key Wins: BYU, UCLA, Utah
O
regon is playing for something bigger than itself this season.There's something special about a roster that comes together to honor one of their brothers, and the spirit of Spencer Webb promises to flow through the Ducks in every game this year.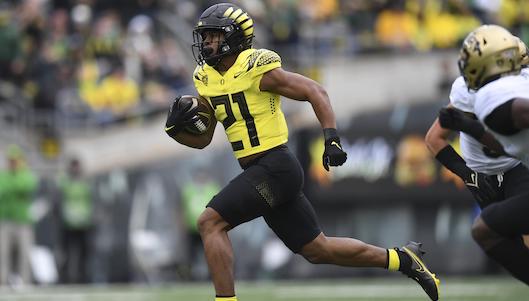 Mix the divine motivation with a new offensive scheme that takes more shots downfield, along with a Top 25 transfer class, and Oregon seems destined for 10 wins.
Yet, there's always a stumble and Washington State is a likely candidate.

2. Utah
Projected Overall and Conference Record: 10-2, 7-2
Probable Losses:
at Oregon
at Washington State
Key Wins: at Florida, USC
U
ntil proven otherwise, the Conference of Champions runs through Salt Lake City.
Cameron Rising returns under center to lead the way and is bolstered by All-Conference running back Tavion Thomas.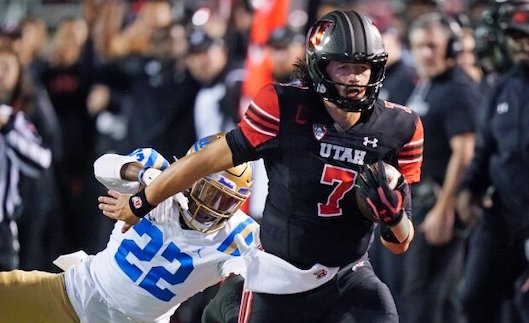 The Utes have a dominant offensive line highlighted by Braedon Daniels and Sataoa Laumea, and are equally strong along the defensive front.
Defensive linemen Junior Tafuna and Van Fillinger headline Morgan Scalley's front seven, while corner Clark Phillips III is one of the best at his position in the entire country.
But no season is perfect and the Utes could stumble on the road to Oregon and Washington State.

3. USC
Projected Overall and Conference Record: 9-3, 7-2
Probable Losses:
at Utah
at UCLA
Notre Dame
Key Wins: at Stanford, at Oregon State
T
he front lines on both sides of the ball can't be ignored, and the Trojans have problems.Yes, USC has substantial weapons on offense thanks to the transfer portal. And yes, defensive coordinator Alex Grinch should help revitalize the defense.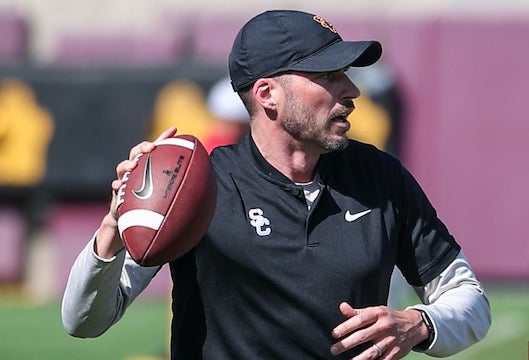 But there's no ignoring the fact that SC lost three of its four leading tacklers and was already one of the worst teams in the nation at securing tackles for loss.
For all the hype surrounding the skill position transfers, there was little to no attention paid to shoring up the front lines.
Caleb Williams and Company may win plenty of games, but eight wins feels more likely than 10.

4. UCLA
Projected Overall and Conference Record: 9-3, 6-3
Probable Losses:
at Oregon
Utah
at California
Key Wins: Washington; USC
D
orian Thompson-Robinson returns for his final year and has one of the top running backs in the country behind him in Zach Charbonnet.The duo are well-versed in Chip Kelly's offense, promising to lead UCLA to its best season in almost a decade.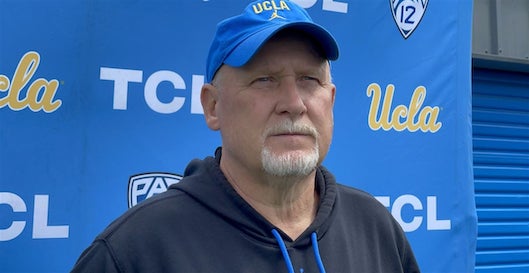 But more importantly, the Bruins finally moved on from defensive coordinator Jerry Azzinaro. His porous scheme is out and new coordinator Bill McGovern is taking over the reins.
The defense could be focused around Hawaii linebacker transfer Darius Muasau and Bo Calvert, producing a dangerous combination of strong offense and improved defense.

5. Washington State
Projected Overall and Conference Record: 7-5, 5-4
Probable Losses:
at Wisconsin
at USC
at Oregon State
at Stanford
at Arizona
Key Wins: Oregon, Utah
T
he true wildcard in the Pac-12, Washington State is a question mark.Jake Dickert is a defensive genius who promises to maintain Wazzu's ability to force turnovers, and he's brought in a transfer quarterback that might be a dark horse Heisman candidate.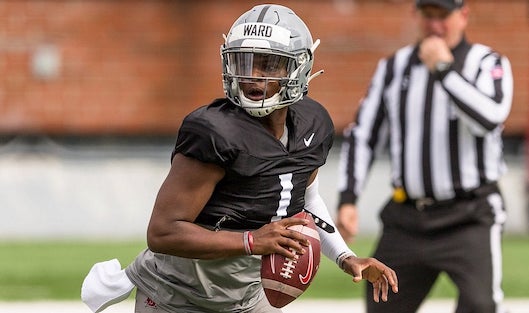 Cam Ward followed his head coach from Incarnate Word to the Palouse, bringing with them a variation of the Air Raid that should put up plenty of points.
Yet, the running backs are unproven and the linebacking corps was decimated by graduation.
Look for WSU to have an inconsistent season, putting together shocking upsets at home and head-scratching losses on the road.

6. Washington
Projected Overall and Conference Record: 7-5, 5-4
Probable Losses:
Michigan State
at UCLA
at Arizona State
at Oregon
at Washington State
Key Wins: at California, Oregon State
K
alen DeBoer is tasked with implementing his offensive scheme in a single offseason.Indiana transfer quarterback Michael Penix Jr. has been named the starter, likely due to his familiarity running the offense when DeBoer was the coordinator for the Hoosiers in 2019.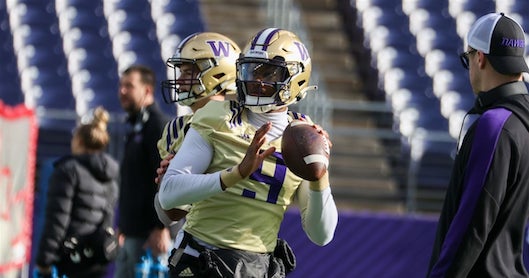 With a deadly wide receiving corps to throw to and New Mexico transfer running back Aaron Dumas to hand it off to, the revamped Washington offense should thrive.
Yet, the production lost on defense, particularly in the secondary, and the inability to stop the run could combine for several frustrating losses.

7. California
Projected Overall and Conference Record: 6-6, 4-5
Probable Losses:
Notre Dame
at Washington State
Washington
Oregon
USC
at Oregon State
Key Wins: Stanford, UCLA
T
he Bears have plenty of young talent ready to emerge on the scene.Lu-Magia Hearns III is one of the top corners in the Pac-12, and Purdue transfer quarterback Jack Plummer has been brought in to lead the offense.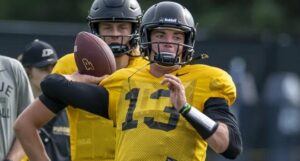 Former Washington linebacker Jackson Sirmon transferred in too, along with former Utah defensive lineman Xavier Carlton.
The Bears have a substantial question mark at wide receiver, but its secondary and linebacking corps should lead it to a bowl game.
Look for Cal to upset UCLA in Berkeley at the end of the year.

8. Oregon State
Projected Overall and Conference Record: 6-6, 3-6
Probable Losses:
USC
Utah
at Stanford
at Washington
at Arizona State
Oregon
Key Wins: Boise State, Fresno State
T
rue freshman running back Damien Martinez could be the real deal.His first year in Corvallis should be bolstered by a run-first offensive system executed by a veteran quarterback. Chance Nolan has the experience needed to propel OSU back to a bowl game.
And with one of the top defensive secondaries in the Pac-12, Oregon State shouldn't miss a beat after losing BJ Baylor and Avery Roberts.
Watch for the Beavs to have a strong nonconference season followed by a series of tough road losses in conference and close defeats at home to the top teams in the league.

9. Arizona
Projected Overall and Conference Record: 4-8, 3-6
Probable Losses:
at San Diego State
Mississippi State
at California
Oregon
at Washington
USC
at Utah
at UCLA
Key Wins: Washington State, Arizona State
T
he Wildcats may very well end up with more than four wins.Jayden de Laura has numerous weapons to pass to in Jacob Cowing, Tetairoa McMillan, Dorian Singer, and Anthony Simpson.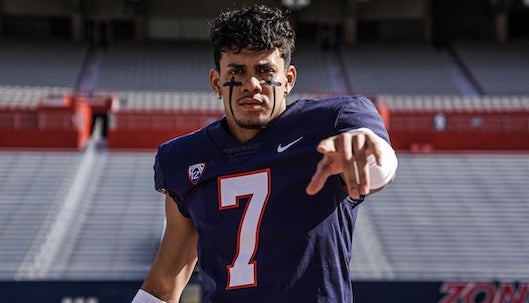 Add in a running back room that might go four deep, and Arizona's offense should be much improved. Still, Jedd Fisch's offensive line remains concerning and his linebacking corps is worryingly unproven.
Look for UA to take down Wazzu and beat Arizona State for the first time since 2016.

10. Arizona State
Projected Overall and Conference Record: 5-7, 3-6
Probable Losses:
at Oklahoma State
Utah
at USC
at Colorado
UCLA
at Washington State
at Arizona
Key Wins: Washington, Oregon State
H
erm Edwards remains embroiled in the recruiting scandal, arguably resulting in the departure of several key players to the transfer portal.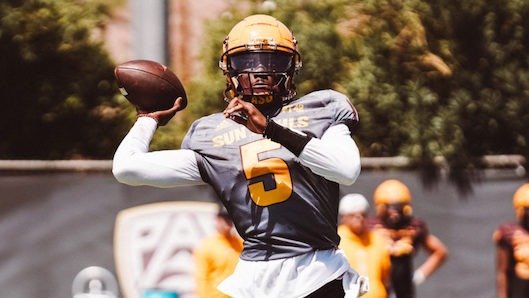 Florida transfer quarterback Emory Jones has been brought in along with Wyoming running back Xazavian Valladay, but there are glaring questions in the wide receiver group and defensive secondary.
Yet, ASU has one of the top linebacking corps in the Pac-12 and should hold steady at home against the Pacific Northwest schools.

11. Stanford
Projected Overall and Conference Record: 4-8, 2-7
Probable Losses:
USC
at Washington
at Oregon
Notre Dame
at UCLA
at Utah
Arizona State
at California
Key Wins: Washington State, Oregon State, BYU
D
avid Shaw has one of the top wide receiving corps in the Pac-12. Elijah Higgins, John Humphreys, Brycen Tremayne, and Michael Wilson combine to rival the best the Conference has to offer.
Add in tight end Benjamin Yurosek and quarterback Tanner McKee, and the Cardinal are dripping with potential.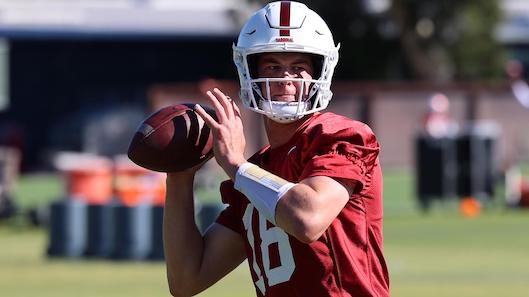 The problem, arguably, is an archaic offensive system and play calling that limits the firepower of the offense.
Combined with a defense that, frankly, doesn't scare opposing coordinators, along with a nonexistent run game, and it's easy to see Stanford failing to reach bowl eligibility.

12. Colorado
Projected Overall and Conference Record:: 3-9, 1-8
Probable Losses:
at Minnesota
UCLA
at Arizona
California
at Oregon State
Oregon
at USC
at Washington
Utah
Key Wins: TCU, Arizona State
T
here's one factor that's certain about Colorado: Its players are angry and motivated by the media expectations.
Linebacker Robert Barnes should be the emotional leader of the defense and combine well with West Virginia LB transfer Josh Chandler-Semedo.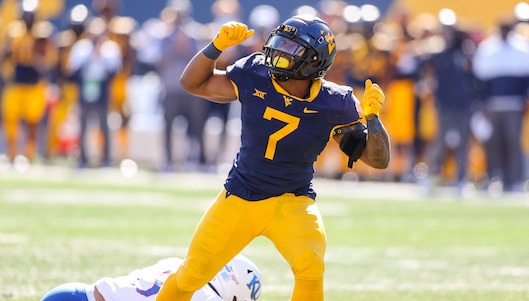 On the other side of the ball, Karl Dorrell is installing a new offense and quarterback Brendon Lewis promises to be improved.
If there's a team in the Pac-12 that might shatter outside expectations, it's the Buffs. Expect CU to upset TCU in the opener and topple Arizona State in Boulder later in the season.
2022 Pac-12 Champion: Utah
M
atched up with Oregon in the Championship Game for the third time in the last four seasons, the Utes secure their second-straight title.

Utah fans travel en masse to Allegiant Stadium, making the matchup feel like a home game rather than a neutral site.

Despite losing to the Ducks in Eugene, Utah gets its revenge in the game that matters. At the end of the day, it's a battle between the offensive line of Utah and the defensive line of Oregon.
With the superior front, Kyle Whittingham's team wins the battle in the trenches to take the victory.
---
—More from Dane Miller—

Latest posts by Dane Miller
(see all)