Posted on December 30, 2021


  By Dane Miller, SuperWest Sports
T
he Sun Bowl appeared to be in jeopardy after Miami withdrew earlier in the week. But the Bowl's executives caught a bit of luck when Boise State had to back out of the Arizona Bowl.
With Central Michigan available, it was just a matter of contract negotiations to get the Chippewas four hours down I-10 to El Paso.
I preview the matchup here, and the picks of our football writers appear at the bottom.

Washington State v. Central Michigan 
Sun Bowl, El Paso, TX
Friday, December 31
9:00 am PT, CBS
O
ne bowl's loss is another bowl's gain.
Central Michigan arrived in Tucson, Arizona, earlier in the week for what they thought was an Arizona Bowl showdown against Boise State. But COVID issues forced the Broncos out, and the Chippewas now find themselves in El Paso, Texas.
Central Michigan utilizes a somewhat balanced offensive attack, averaging 268.2 yards passing per game and 183.8 yards rushing. The roughly 60/40 split between the pass and run has produced 33.0 points per game and an 8-4 record.
Led by quarterback Daniel Richardson and running back Lew Nichols III, the duo have combined for over 4,000 yards of offense and 38 touchdowns.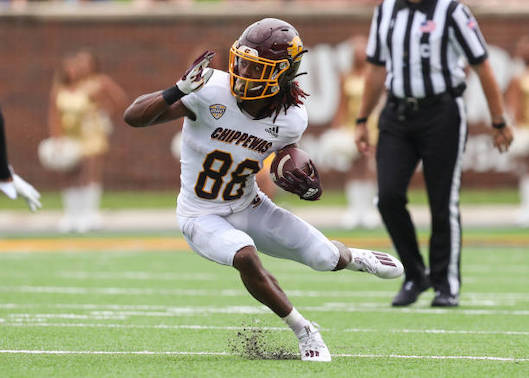 Wide receiver Kalil Pimpleton is Richardson's favorite target, but JaCorey Sullivan leads the way with 10 touchdowns on the year.
On defense, the Chippewas hold opponents to 26.1 points per game.
In a matchup against two productive skill players responsible for the lion's share of the offense, Jake Dickert's 4-2-5 scheme is in its element.
The defensive specialist only has a few days to scheme up a game plan and watch film, but his system figures to give CMU fits.
Proven effective against the Pac-12, the scheme goads opponents out of their strengths and forces offensive coordinators away from their game plan.
At the Sun Bowl, WSU's play-calling could be designed to limit Nichols III and force the Chippewas to get it done through the air.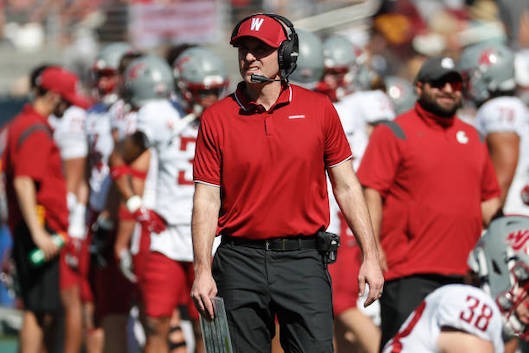 Washington State's defense is sixth in the Pac-12 at defending the pass, and Dickert figures to feel confident in containing Richardson and CMU's receivers.
That could allow Wazzu's defense to give pre-snap looks that appear favorable to a pass call, baiting Central Michigan's coaches to change the play away from a run.
It's a mind game that Dickert has exploited all season. And one that arguably landed him the permanent head coaching role at WSU.
On offense, the Cougars' Run-and-Shoot has the potential to light up the Mid-American Conference defense.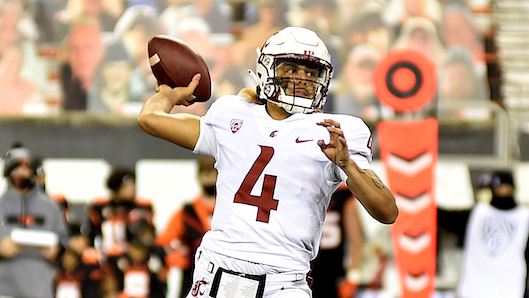 Reliant on decision-making from Jayden de Laura, the scheme might keep CMU off balance with an effective mix of Run-Pass options and handoffs designed to look like passing plays.
Central Michigan is 31st in the nation at defending the run, but 117th at stopping the pass. That should lead Wazzu to lean more on de Laura's arm, and the Cougs might end the game with a 70/30 pass-to-run ratio.
With what appears be a clear offensive game plan based on the analytics, the X-Factor that might prevent a WSU victory is interceptions.
Any turnovers from de Laura would electrify the Central Michigan defense and could turn into points for its offense, keeping the game close into the second half.
But if de Laura is sharp and accurate, Washington State should leave El Paso with a Sun Bowl victory.
SportsPac12 Bowl Game Picks
Up Next

Jan 1, Rose Bowl: Utah vs. Ohio State
---
—More from Dane Miller—

Latest posts by Dane Miller
(see all)