Posted on April 19, 2020


  By Dane Miller, SuperWest Sports
In this second mailbag column, I answer questions ranging from comparative conference performances after championship game losses to reasons for teams being more or less selective in their recruiting offers. As always, we appreciate hearing from you.
***
The Pac-12 Championship game loser has gone on to lose their bowl game every year. How does that compare to the other conferences?

—Dale in Washington, D.C.
It's not as uncommon as you would think, though the Pac-12 stands alone in its winless streak. Of the four other major conferences, the loser of each championship game is 15-15 in its bowl game dating back to 2011. 
That's a dead even split, but the ACC provides a comparable record. The runner-up in the east coast league is 3-6 in its bowl game, with the last victory coming from Virginia Tech in the 2016 Belk Bowl over Arkansas. 
Looking at the bigger picture, that record makes sense because Clemson dominates the league and there isn't a consistent second-fiddle. In fact, over the last nine years there have been seven different second-place teams that made the ACC championship game, and only Georgia Tech and Virginia Tech managed to win their following game. 

Even more telling, there has been a different second-place team each following season—the runner-up has never made it back to the championship the next year. When it comes down to it, that league's strength is Clemson and that's about it.
Unsurprisingly, the SEC and Big 10 performed the best. Each of the powerhouse conference's second-place team is 5-4 in its bowl game, though the SEC is 2-3 since 2015. However, the SEC tends to produce back-to-back runner-ups, which arguably is a sign of its strength. 
To put it in perspective, since 2011, four SEC teams have a repeat loss in the championship game the following year. Georgia has done it on two separate occasions (2011-2012 and 2018-2019), while Missouri (2013-2014) and Florida (2015-2016) have each managed the feat once. 

For what it's worth, each went 1-1 in their bowl games, except for Missouri which won both. Objectively, that consistency in the second-fiddle is a unique aspect of the conference, and is part of why it has developed such a strong reputation.

Over in the Midwest, another stat jumps off the page. While the Big 10's runner-up is 5-4 in its following bowl game, that is mostly due to Wisconsin, which holds a 3-1 record after coming off a championship game defeat. 
Fortunately for Oregon fans, that single loss came to the Ducks last season in the Rose Bowl. Other than that, only Northwestern (2018) and Michigan State (2011) have won its bowl game. On some levels, it could be argued that Wisconsin's consistency anchors that league, and without the Badgers' victorious ways its perception may not be as esteemed. 

In oil country, the Big-12's second place team is 2-1, but the Conference didn't reintroduce its championship game until 2017, making their record incomparable to the Pac-12. Still, both TCU and Texas won their following game, though Baylor lost in the Sugar Bowl last season. 
Taking things as a whole, while the Pac-12's losing streak is not good, it's not that far from the ACC. That being said, it's certainly not a stat the Conference wants hanging over its head. Ideally, the league would be .500 or better. As it stands, it would take a nine-year winning streak to get to that point. 
If that doesn't let you know where the Conference of Champions stands, I don't know what will.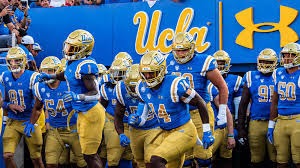 Some are predicting a breakthrough for UCLA in Year Three. | uclabruins.com
Why are some of the preseason predictions so high on UCLA football? What's going to be different to make them better than the last two years?

—Andy, Fresno
There are two main reasons for optimism in Westwood. 
First, Dorian Thompson-Robinson is back for his junior season. He is an explosive runner who also threw for 2,701 yards passing last season, despite dealing with injuries which forced him out of a few games. With a track record of year-over-year improvements, and in his third year in Chip Kelly's system, DTR appears to be destined to take another significant step forward.

Which brings me to the second reason, Chip Kelly. Now in his third season in Westwood, Kelly has had some time to bring in the players he needs to run his system. And while DTR is the ideal quarterback, Kelly hasn't truly had the supporting pieces around him to properly run the offense. 

Importantly, the Bruins' recruiting class was the 32nd-best in the nation and sixth in the Pac-12, including four 4-star rated recruits. In particular, Damian Sellers and Jonathan Vaughns are two well-regarded linebackers who have the potential to make an immediate impact on defense.

In addition, UCLA's schedule is favorable. In the non-conference, the Bruins face New Mexico State, Hawaii, and San Diego State. The game in Honolulu is an interesting matchup, but without Nick Rolovich it's unclear how good the Warriors will be. 
The real test is the game at San Diego State, which will be the proverbial canary in the coal mine for UCLA's season, and perhaps Kelly's career in L.A. However, even if the Bruins only managed to win two of those three, they host Stanford, Arizona, Washington State, and California, while going on the road to Oregon State and Colorado. It's not unthinkable to imagine Kelly walking away with a 7-2 record from those games alone. 
But putting aside the facts and analysis, pre-season hype has everything to do with reputation, clout, expectations, and the media. UCLA is receiving those predictions because it's located in Los Angeles, is coached by Chip Kelly, and has a respected quarterback. The potential is there, even if the reality may end up painting a different picture. At the end of the day, the hype means nothing.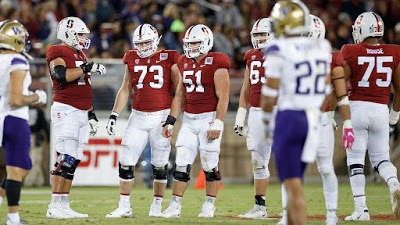 Academics at Stanford & UW make recruiting challenging. | gostanford.com
There was a debate a while ago about some teams like Washington and Stanford being selective with their recruiting offers and Oregon giving them away like candy. If it works for the Ducks and the SEC, why doesn't the rest of the conference just offer more themselves instead of crying about it?

—Mike, Portland
Some schools are more selective because of their academics. Both Washington and Stanford are elite, world-renowned institutions that have rigorous expectations for their students, regardless of whether or not they play a sport. The head coaches at those programs understand that, and use it to their advantage in recruiting. However, the practical result is that they can't offer everyone, and must exercise diligence with the type of players they recruit.  
The NCAA uses a statistical measuring tool to determine a school's academic success for its athletes, formally known as the Academic Progress Rate. The APR holds institutions accountable by requiring each program to have a score of 930 or higher over a four-year average to be eligible to compete. The score is calculated by giving points to each student-athlete that stays in school and maintains academic eligibility. 
The NCAA last released its APR numbers in May of 2019. Unsurprisingly, Washington's football program led the conference, while Kyle Whittinham's Utes finished second, and Stanford came in third. Not unexpectedly, the Ducks were in the bottom-third of the Pac-12, landing in eighth. If you're curious, UCLA had the worst APR, though Arizona finished just above them in 11th. 
As a comparison, both Georgia and LSU had a lower APR than nearly every Pac-12 program, and would have finished ninth and eleventh in the Conference of Champions, respectively. On the other hand, Alabama and Auburn would have finished fourth and fifth in the Pac-12.
The bottom line is, what works in Eugene doesn't necessarily work in Palo Alto and Seattle. It's not that one system is better than the other, instead it's about doing what works for each program. That being said, most schools in the Conference of Champions offer as many players as possible, or what you might call the "Oregon method." But until a Pac-12 program finally returns to the Playoffs, who's to say which philosophy is best?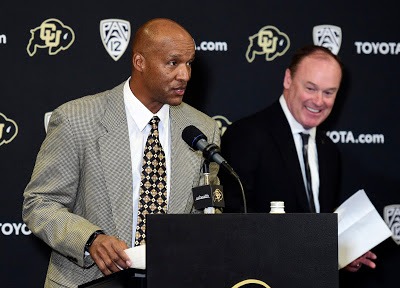 Karl Dorrell took UCLA to five-straight bowls. | CU Athletics
I'm a CU Buffs fan and, to be honest, I was disappointed when we hired Karl Dorrell. I'm trying to be positive about it, but I didn't like what he did at UCLA. Maybe he's a better coach now… I don't know. What can you tell me about him to make me feel better about the future? I don't want to be hiring a new coach again in four years.

—Stefan in Grand Junction, Colorado
There's no question that the loss of Mel Tucker was a devastating and unexpected blow to CU's football program in the off-season. Most importantly, Tucker had managed to compile a strong recruiting class, which arguably was a substantial factor in Michigan State poaching him. 
Fortunately, most of that recruiting class has stuck together, which should give you hope. In particular, Jason Harris, a four-star linebacker out of Arizona, has the potential to play a significant role in the upcoming season.
As for Dorrell, he made a wise decision to retain four assistants from Tucker's staff, including the offensive and defensive coordinators. When it comes down to it, there may not be much of a strategy change in how Colorado plays the game. 

On top of that, it's probably not fair to say Dorrell didn't do well at UCLA—he led them to five-straight bowl games. In fact, in the 2005 season, Dorrell led the Bruins to a 10-2 record and a Sun Bowl victory. He may not have a flashy name, but he was a good choice. To cap it off, after spending 14 years coaching in the NFL, he has a superb understanding of how to actually teach football, as opposed to just recruiting and managing his assistants. 

But that brings me to the elephant in the room: Can he recruit? Dorrell has only held one head coaching job, and that was in the mid 2000s, when recruiting was much different. Fortunately, his pitch revolves around that NFL experience, as well as—of course—the scenery and academics in Boulder. 
Think of it like this: If in four years Colorado has to hire a new coach, it could well be because Dorrell did so well that another Big 10 or SEC school has offered double or triple what CU can pay. But that's a problem of another sort. 
Such is life in the Conference of Champions these days. Even if your athletic director makes exactly the right hire, you can lose your coach at the snap of a finger.  
Have a question? Submit it in the form on our Mailbag Page.
---
—More from Dane Miller—

Latest posts by Dane Miller
(see all)