In this series of updates on the history of each Pac-12 men's hoops program, we provide a brief coaching summary, list of the current coaches, along with postseason results, conference titles, award winners, and all-time coaching records.
T
he Colorado Men's Basketball team, initially known as the Silver and Gold, began play on January 10, 1901, and became the Buffaloes in 1934.

The Buffs have competed in 14 NCAA Tournaments, making the Final Four twice. Colorado has also played in nine National Invitation Tournaments, winning the tournament once, and making the semi-finals twice.
Colorado basketball picked up steam in 1935 with the hiring of Frosty Cox, who led the Buffs to three NCAA Tournaments, including the 1942 Final Four, and two NITs, winning the NIT title in 1940.
Altogether, Cox won five conference titles, posting a career record of 147-89.
Sox Walseth was hired in 1956, coaching the Buff men for 20 years before coaching the women's team for three, becoming the first to coach both the men and women at the same school.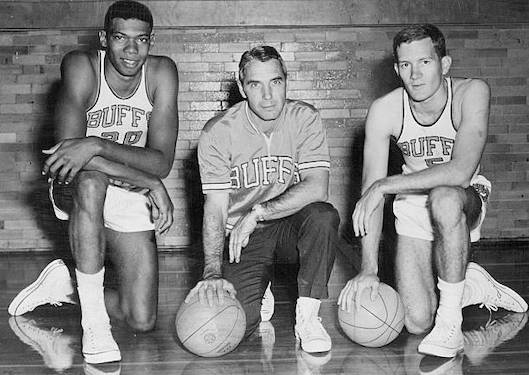 A former Buff player, Walseth led his teams to three Big-8 Conference championships and made three NCAA Tournament appearances. He won conference Coach of the Year Four times, compiling a record of 260-246.
Ricardo Patton coached Colorado from 1996 to 2007, guiding the Buffs to the postseason six times, including two NCAA Tournaments, finishing with a career record of 184-160.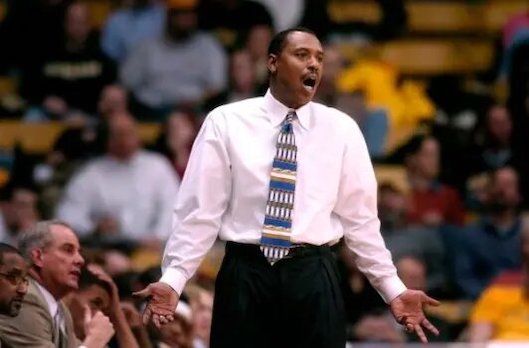 Tad Boyle, who took the reins of the program in 2010, one year before the Buffs joined the Pac-12, led Colorado to the Conference's first Tournament title in 2012, winning four straight games as the No. 6 seed.
Boyle has directed the Buffs to five NCAA Tournaments, the most of any Colorado coach, as well four NITs. His seven-straight postseason appearances are a school record, as are his three-straight trips to the Big Dance.
Having posted a record of 254-155 in 12 seasons in Boulder, including four straight with 20+ wins, Boyle has earned several extensions in the courses of his perpetual five-year contract, currently worth $2.4 million annually.
University of Colorado (Boulder, CO)
CU Events Center
Current Head Coach:
Tad Boyle
(2010-present)
Associate Head Coach:
Mike Rohn
(2010-present)
Assistant:
Bill Grier
(2016-present)
Assistant:
Rick Ray
(2020-present)
Director of Basketball Operations:
Bill Cartun
(2012-present)
Director of Player Development:
Zach Ruebesam
(2021-present)
Assistant to the Head Coach:
Marge Marcy
(2010-present)
Postseason Results
National Championships:
0
Final Four Appearances:
2
(1942, 1955)
Sweet Sixteen Appearances:
5
(1954, 1955, 1962, 1963, 1969)
NCAA Tournament Appearances:
15
(1940, 1942, 1946, 1954, 1955, 1962, 1963, 1969, 1997, 2003, 2012, 2013, 2014, 2016, 2021)
NCAA Tournament Overall Record:
11-17
NIT Championships:
1
(1940)
NIT Appearances:
12
(1938, 1940, 1991, 1995, 1999, 2000, 2004, 2006, 2011, 2017, 2019, 2022)
NIT Overall Record:
13-11
CBI Appearances:
1
(2015)
CBI Overall Record:
1-1
Conf. Titles (MSC/Skyline, Rocky Mtn, Big Eight, Big 12, Pac-12)
Pac-12 Regular Season Championships:
0
Big Eight Regular Season Championships:
5
(1954, 1955, 1962, 1963, 1969)
MSC/Skyline Regular Season Championships:
14
(1913, 1914, 1916, 1918, 1919, 1920, 1921, 1929, 1930, 1937, 1938, 1939, 1940, 1942)
Rocky Mountain Regular Season Championships:
7
(1910, 1916, 1918, 1919, 1920, 1921, 1930)
Pac-12 Tournament Championships:
1
(2012)
Annual Award Winners
Naismith Player of the Year:
0
John R. Wooden Award:
0
Oscar Robertson Trophy:
0
AP All-Americans:
2
(Chauncey Billups, 1997; Cliff Meely, 1971)
Pac-12 Player of the Year:
0
Big Eight Player of the Year:
2
(Cliff Meely, 1969 & 1971)
Colorado Head Coaches Records
Coach
Tenure
Record
Conf
Titles
NCAA
Trips
NCAA
Titles
Tad Boyle
2010-Present
254-155
0
5
0
Jeff Bzdelik
2007-2010
36-58
0
0
0
Ricardo Patton
1996-2007
184-160
0
2
0
Joe Harrington
1990-1996
72-85
0
0
0
Tom Miller
1986-1990
35-79
0
0
0
Tom Apke
1981-1986
59-81
0
0
0
Bill Blair
1976-1981
67-69
0
0
0
Sox Walseth
1956-1976
260-246
3
3
0
Bebe Lee
1950-1956
63-74
2
2
0
Frosty Cox
1935-1950
147-89
5
3
0
Dutch Clark
1934-1935
3-9
0
—
—
Henry Iba
1933-1934
9-8
0
—
—
Howard Beresford
1924-1933
76-51
2
—
—
Joe Mills
1918-1924
30-24
3
—
—
Melbourne Evans
1917-1918
9-2
1
—
—
Jimmy Ashmore
1914-1917
16-10
2
—
—
John McFadden
1912-1914
12-7
2
—
—
Frank Castleman
1906-1912
32-22
—
—
—
---
—More from Staff—