Posted on June 11, 2022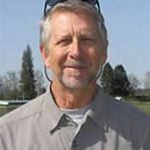 By Steve Ritchie, SuperWest Sports
O
ver the first two days of the NCAA Outdoor Track & Field Championships in Eugene, the narrative was that this is a down year for the Pac-12.

Traditional powerhouses like Oregon and Southern Cal, each with two NCAA outdoor team titles in the past six years, will likely finish outside the top ten teams in both genders.
However, Pac-12 athletes are making their presence felt in the throwing events that have been held so far.
ASU's Jorinde van Klinken and Oregon's Jaida Ross placed second and fifth, respectively, in the women's shot put on Thursday.

Stanford's Virginia Miller was seventh and WSU's Valentina Barrios Born was eighth in the javelin.
The hammer throw was on a whole other level, though. The event was easily the best hammer competition in NCAA history, and athletes from Pac-12 schools took four of the top eight spots.
The top six finishers all set personal bests.
Beatrice Llano and Shelby Moran of ASU took third and fifth, respectively, and Anna Purchase of Cal was seventh.
Runner-up Alyssa Wilson spent four years at UCLA before transferring to Texas State for grad studies.

But the biggest story was the incomparable Camryn Rogers of Cal ending her collegiate career with a third consecutive NCAA hammer title, as well as setting Canadian and College records with the ninth-best throw in history, 254-10 (77.67).
It was the fifth time Rogers has set the collegiate record, and she now owns the 11 best marks in NCAA history.
Her record-setting throw on Thursday would have taken the gold medal at the Tokyo Olympics last summer.
All six of Rogers' throws exceeded 245' and they were delivered with a precision that might have made Tiger Woods jealous.
Rogers said that her amazing performance was years in the making.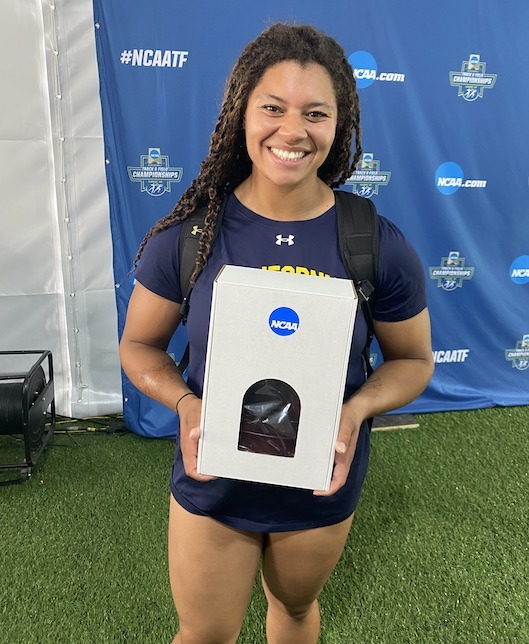 "We've been preparing for NCAAs the whole year and even before this," she said. "Everything today is the culmination of all the work we've put in not just this year but all five years I've been at Cal.
"This is just really incredible I'm so proud to be bringing the title home to Cal and to Coach Mo (Saatara). It was a really tough competition with the (best marks) for places sixth place all the way up through first place . . . maybe the best in NCAA history. Insane but really awesome."
Rogers credited Saatara for her record-setting throw.
"Coach always says if you keep it consistent, you're going to have one that just goes. So, it was just finding the rhythm and the power for that one throw and get it out there when it counted."
Early in the competition, Alyssa Wilson got one out there, too. Wilson sent her second throw out to 245-4 (74.78), just five inches short of Rogers' best at that point of the competition.
It was a huge personal best for Wilson, who has competed against Rogers throughout her collegiate career, and Rogers paid tribute to her rival.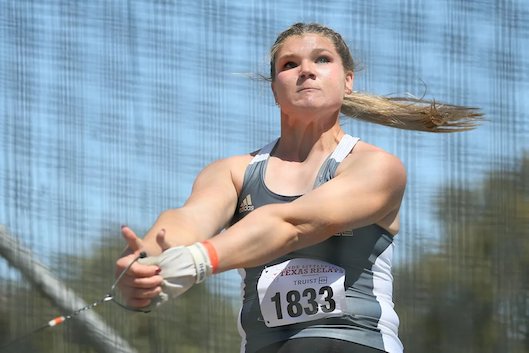 "She's an incredible athlete, she truly is. As a three-event (hammer, shot, discus) athlete and doing so well in all of them, it's always exciting competing against her because she is so competitive and so fierce, as is the whole field. Everyone is fighting to do the best they can and it definitely elevates you and makes you want to continue to do better."
Rogers has definitely elevated the event she started at age 15. When told by her coach to "throw that," Rogers said the iron ball and chain he pointed to looked like a "murder weapon."
While she has been unbeatable with that "weapon" in her hands in recent seasons, Rogers remembers when she was not the best thrower and recognizes the debt she owes to those who came before her.
"It has been incredible to witness history being made by all of (these women), and, as I have gotten older, to be a part of that history," Rogers said. "You're able to learn so much from every single person and every single experience. Whether it is a good day or not such a great day, there's always something to take away. All of those little lessons make moments like this even more special."
The 23-year-old from Richmond, British Columbia, said she would be heading home in a couple of weeks.

She plans to participate in the Canadian trials to select the team for the World Championships, which will be held at Hayward Field July 15-24.
"I look forward, fingers crossed, to being named to the (Canadian) team and to come back here to Hayward Field. I've been coming here to Hayward since high school, since I was 15 (or) 16. The magic never ever lessens. Hayward is a very special place. It always has been. It carries an energy with it that really gets you going when you are out there on the track, on the runup, and in the (throwing) circle."
As Rogers started to leave the interview tent, she paused and asked the reporters present if they were aware that the first Cal athlete to win an event at the NCAAs was a hammer thrower.
"It was John Merchant," she added, as a reporter with an excellent memory responded, "he won in 1922—a hundred years ago."
And it may be another hundred years before Cal has another athlete like Camryn Rogers.
---
—More from Steve Ritchie—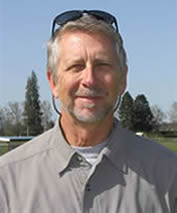 Latest posts by Steve Ritchie
(see all)