In this series of updates on the history of each Pac-12 men's hoops program, we provide a brief coaching summary, list of the current coaches, along with postseason results, conference titles, award winners, and all-time coaching records.
A
rizona began playing men's basketball in 1904–05 with Orin Albert Kates coaching against opponents from local YMCAs.

Since then, the Wildcats have reached the Final Four on four occasions (1988, 1994, 1997, and 2001), and have made two appearances in the National Championship, winning it all against the Kentucky Wildcats in 1997.
The father of modern-day Arizona basketball was James "Pop" McKale, who was hired in 1914 and coached for seven years, compiling a record of 49-12, while going undefeated in 1914-15, 1915-16, and 1920-21.
McKale, the namesake of UA's home arena, also served as the school's Athletic Director and coached football, track & field, and baseball. The famous phrase "Bear Down" derives from an athlete he coached.
Fred Enke took the reins in 1925, coaching the Wildcats for 26 years. Under his guidance, Arizona won nine conference titles and made a trip to the NCAA Tournament, posting a record of 509-324.
The program rose to national prominence under Lute Olson, who was hired away from Iowa in 1983.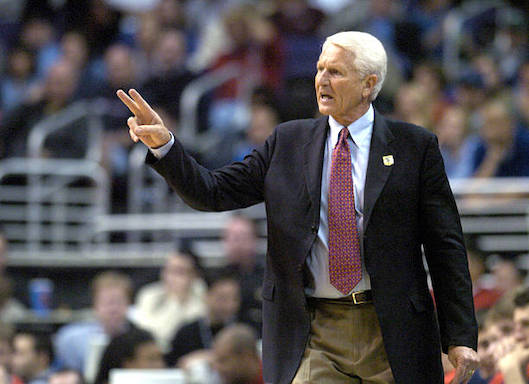 In just his second year, Olson led the Wildcats to their first winning season in six years, making the first of 23-straight NCAA Tournaments.
Olson's teams won 11 conference titles, earning him Pac-10 Coach of the Year honors seven times, while also making four Final Four appearances and winning the 1997 NCAA Championship by defeating three No. 1 seeds.
He retired in 2007 as the winningest coach in Arizona history with an overall record of 589-187.
Following two unsuccessful short-term coaches, Sean Miller was hired in 2009. He guided the Wildcats to their first undefeated home season in 14 years, winning Pac-10 Coach of the Year honors in 2010-11.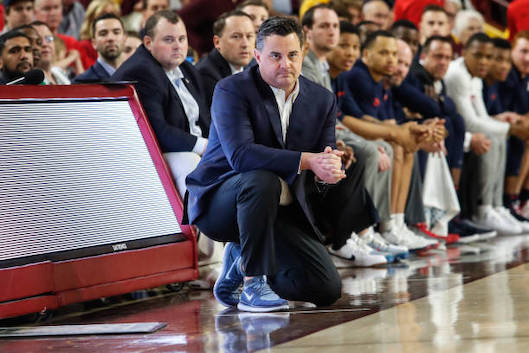 In the course of his 12-year tenure, Miller won five conference championships, leading Arizona to seven NCAA Tournament Appearances and three Elite Eights.
Miller was fired in 2021 after he and an assistant come under investigation in relation to the 2017 NCAA basketball corruption scandal.
Arizona hired former Gonzaga assistant Tommy Lloyd in 2021, giving him a five-year contract worth $15.5 million. The results were as immediate as they were remarkable.
In his first season, Lloyd led the Wildcats to a 33-4 overall record, going undefeated at home, and earning them a No. 1 seed in the NCAA Tournament, where they advanced to the Sweet 16.
Lloyd's numerous honors included being named Coach of the Year by the Pac-12, AP, NABC, and USBWA.
University of Arizona (Tucson, AZ)
McKale Memorial Center
Current Coaching Staff
Current Head Coach:
Tommy Lloyd
(2021-present)
Associate Head Coach:
Jack Murphy
(2019-present)
Assistant:
Steve Robinson
(2021-present)
Assistant:
Riccardo Fois
(2021-present)
Special Assistant/Recruiting:
TJ Benson
(2021-present)
Director of Player Relations:
Jason Gardner
(2021-present)
Scouting:
Ken Nakagawa
(2021-present)
Director of Player Development:
Rem Bakamus
(2021-present)
Postseason Results
National Championships:
1
(1997)
Final Four Appearances:
4
(1988, 1994, 1997, 2001)
Sweet Sixteen Appearances:
19
(1976, 1988, 1989, 1991, 1994, 1996, 1997, 1998, 2001, 2002, 2003, 2005, 2009, 2011, 2013, 2014, 2015, 2017, 2022)
NCAA Tournament Appearances:
34
(1951, 1976, 1977, 1985, 1986, 1987, 1988, 1989, 1990, 1991, 1992, 1993, 1994, 1995, 1996, 1997, 1998, 2000, 2001, 2002, 2003, 2004, 2005, 2006, 2007, 2009, 2011, 2013, 2014, 2015, 2016, 2017, 2018, 2022) **
NCAA Tournament Overall Record:
58-33 **
NIT Championships:
0
NIT Appearances:
4
(1946, 1950, 1951, 2012)
NIT Overall Record:
0-4
Conference Titles (BIAA, WAC, Pac-12)
Pac-12 Regular Season Championships:
17
(1986, 1988, 1989, 1990, 1991, 1993, 1994, 1998, 2000, 2003, 2005, 2011, 2014, 2015, 2017, 2018, 2022)
WAC Regular Season Championships:
1
(1976)
Border Regular Season Championships:
9
(1932, 1936, 1946, 1947, 1948, 1949, 1950, 1951, 1953)
Pac-12 Tournament Championships:
8
(1988, 1989, 1990, 2002, 2015, 2017, 2018, 2022)
Annual Award Winners
Naismith Player of the Year:
0
John R. Wooden Award:
1
(Sean Elliott, 1989)
Oscar Robertson Trophy:
0
AP Player of the Year:
1
(Sean Elliott, 1989)
NABC Player of the Year:
1
(Sean Elliott, 1989)
AP All-Americans:
19
(Bennedict Mathurin, 2022; Deandre Ayton, 2018; Lauri Markkanen, 2017; Nick Johnson, 2014; Derrick Williams, 2011; Salim Stoudamire, 2005; Jason Gardner, 2003 & 2002; Michael Wright, 2001; Jason Terry, 1999; Miles Simon, 1998; Mike Bibby, 1998; Michael Dickerson, 1998; Damon Stoudamire, 1995; Khalid Reeves, 1994; Chris Mills, 1993; Sean Elliott, 1989 & 1988; Steve Kerr, 1988)
Pac-12 Player of the Year:
10
(Bennedict Mathurin, 2022; Deandre Ayton, 2018; Nick Johnson, 2014; Derrick Williams, 2011; Jason Terry, 1999; Mike Bibby, 1998; Damon Stoudamire, 1995; Chris Mill, 1993; Sesan Elliott, 1989 & 1988)
Arizona Head Coaching Records
Coach
Tenure
Record
Conf
Titles
NCAA
Trips
NCAA
Titles
Tommy Lloyd
2021-Present
33-4
1
1
0
Sean Miller
2009-2021
302-109
5
7
0
Russ Pennell
2008-2009
21-14
0
1
0
Kevin O'Neill**
2007-2008
0-14
0
0
0
Lute Olson
1983-2007
589-187
11
23
1
Jim Rosborough (int)
2001
3-2
0
0
0
Ben Lindsey
1982-1983
4-24
0
0
0
Fred Snowden
1972-1982
167-108
1
2
0
Bruce Larson
1961-1972
136-148
0
0
0
Fred Enke
1925-1961
509-324
9
1
0
Walter Davis
1924-1925
7-4
—
0
0
Basil Stanley
1922-1924
31-6
—
0
0
James Pierce
1921-1922
10-2
—
—
—
Pop McKale
1914-1921
49-12
—
—
—
Raymond Quigley
1912-1914
10-4
—
—
—
Frank Kleeberger
1911-1912
2-2
—
—
—
George Spaulding
1910-1911
3-0
—
—
—
Orin Kates
1904-1905
1-0
—
—
—
---
—More from Staff—