Posted on February 1, 2023

  By Aidin Ebrahimi, SuperWest Sports
N
BA fans, trade season is upon us!
Many teams are trying to salvage their season, or strengthen their core. While some other teams are looking to blow things up and move in a new direction.
So as always, here is my preview of this upcoming week's NBA action, as well as a look at the previous week's best team and MVP.
Controversies
Los Angeles Lakers (23-28, 1-3)
T
he Lakers are still yet to break into a .500 record. They've gotten close a bunch of times, they were 10-12 on December 4, and 19-21 on January 7, but they just keep fumbling their chances.
This recent stretch of play will be most remembered by their game against Memphis, where three-time Super Bowl champion and LeBron's self-proclaimed "uncle" Shannon Sharpe got into an altercation.
The Lakers haven't had the best of times since that altercation, as even though Anthony Davis made his return, they now find themselves 5 games below an even record.
Their new acquisition, Rui Hachimura, is the same exact player that he was in Washington. Good raw stats, but terrible advanced stats.
They do have a bunch of things to be happy about, though.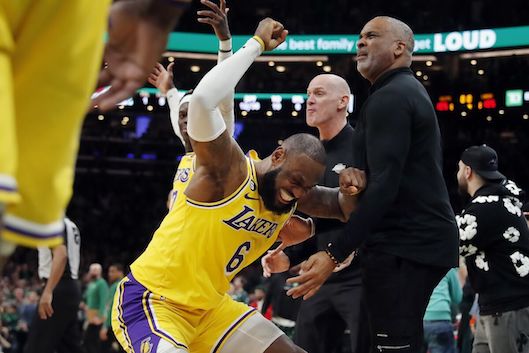 LeBron is just 117 points away from breaking the long-standing record of Kareem Abdul-Jabbar, and Russell Westbrook has moved up to 10th all-time in assists, time is passing quickly.
The "magical Lakers trade deadline" that everyone was talking about at the beginning of the year is approaching…And they need to act quickly.
The Lakers are historically one of the most active teams at the deadline and have made some major trades, such as their trades for Pau Gasol, Glen Rice, and "Big Shot Rob" Robert Horry.
The Lakers are hoping that they can make a game-changing trade like they have done before in the coming days.
Jaren Jackson Jr.
T
he Memphis Grizzlies scorekeeper is posting fraudulent numbers. That simple statement set the NBA world on fire.
A Reddit user made this post about Jaren Jackson Jr., claiming that the Grizzlies scorekeeper credits JJJ with extra blocks and steals at home.
Interestingly, the account that made the original post has only ever posted twice, despite being on the site since 2021. And both posts were about JJJ's block stats conspiracy.
His main argument is that in Memphis he has 66 blocks in 16 home games, averaging 4.13 blocks per game, whereas he only has 35 blocks in 16 road games, averaging 2.19 in nearly identical minutes, which is an 89% increase in Memphis.
He thinks there's something up with Jaren's steals too, as he says that in home games Jaren has been credited with 22 steals in 16 home games, versus only 10 steals in 16 road games.
This means Jackson is averaging nearly 1.4 steals per game at home, but just 0.63 steals on the road per game—an astounding 120% increase in Memphis.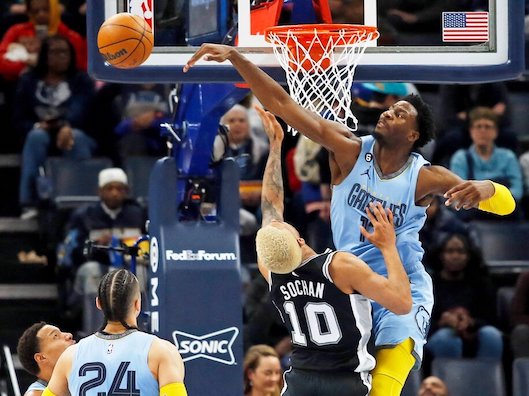 The Reddit poster concludes that Jaren has had an almost two times increase in Jaren's blocks and steals when playing at home.
It has launched a lot of debates and controversies, especially around sports betting and fantasy sports.
Many figures around the league have given their opinions on the subject, but it doesn't seem to affect how the Grizzlies view Jackson.
Taylor Jenkins called the criticism "foolish," and it seems like Jaren is still getting blocks and steals, even though scorekeepers are probably looking at him through a special lens.
After a nightmare-ish five-game losing streak, Memphis bounced back with a win against Indiana, where Jackson got 5 blocks and an additional steal.
They need to keep themselves away from paying any attention to pointless controversies like this and focus on winning basketball games if they want to catch up to the Nuggets in the race for the Number one seed.
Riches to Rags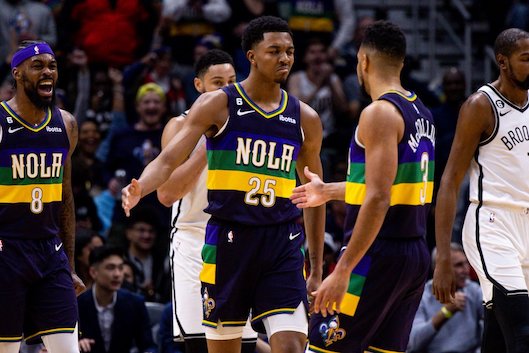 T
he New Orleans Pelicans (26-25, 0-4)
Even though Brandon Ingram is back, the Pels still need Zion. They have lost eight games in a row, and have gone 3-11 since Zion's injury.
Before Zion went down, New Orleans was shooting 48% from the field and 37% from three on 31 attempts.
They were third in points per game, sixth in rebounds, ninth in assists, second in steals, and second in free throws made and attempted. Since Zion's injury, however, there has been a complete 180.
The Pels are second to last in points per game, in the bottom half in rebounds, 24th in assists, ninth in turnovers committed, and 28th in three-pointers made.
Their shooting percentage has gone down 1.5%, and their three-point percentage has plummeted by a considerable 4%.
Before Zion went down, New Orleans was sitting pretty at third place in the West and was only one game away from the number one seed.
But now, they're eighth, 8.5 games away from the one seed, and teams like Minnesota, Utah, Portland and OKC are breathing down their neck.
Zion could be back in time to play the All-Star game, but we're eight games away from the All-Star break…
And with the way that things are going, these eight games can be difference between a long Playoff run, and not even making the Play-In tournament.
Now Or Never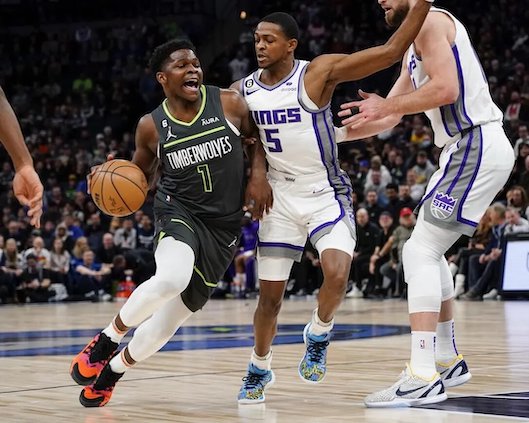 The Minnesota Timberwolves (27-26, 3-2)
T
he Wolves are really liking this New Year, as they have a record of 11-5 in 2023.
They still don't have Karl-Anthony Towns, however, and it has been frustrating for NBA fans to see such a talented player be sidelined for so long.
As of the time of writing, Towns has missed 31 games straight, and things aren't looking very good in terms of his injury. Towns said his "Four-to-Six week timetable" was inaccurate, which is always concerning.
Chris Finch has said that there have been "No setbacks at all" with KAT's recovery, but it's hard not to be skeptical.
They really need Towns on the floor as soon as possible if they want to show a semblance of improvement over last season.
Also, don't be surprised if Minnesota moves D'Angelo Russell and/or Naz Reid at the deadline, with the Russell trade being more likely.
The Wolves initially got Russell at the deadline in 2020, and it has turned out to be a very one-sided transaction.
It's very likely that Minnesota is ready to add some more talent to the roster, especially talent that can help them win, unlike Russell.
Russell is posting a -4.9 Plus/Minus per 100 possessions, which is a big falloff from last season.
Best Team of the Previous Week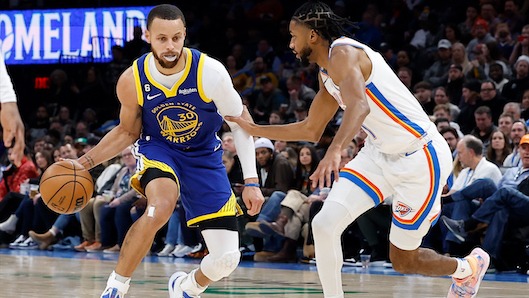 The Golden State Warriors (26-24, 3-0)
T
he Curry effect is real, and just as he's starting to get back to where he was pre-injury, the Warriors are winning again.
First was an impressive win against their hated rivals Memphis, where the Splash Bros and Jordan Poole led them to victory.
They then moved on to host the Raptors, a team that they have struggled with since their heartbreaking Finals loss to them.
Since 2018-19 and before this game, the Dubs were 6-9 against Toronto, but they won thanks to a stellar 35-point performance from Steph Curry, while three out of the four bench players scored double-digit points as well.
Their final game this week was a game against OKC which ended with yet another brilliant Curry performance and saw the return of Andrew Wiggins.
There's one slight problem, though. Jordan Poole is starting games again, even with the return of Andrew Wiggins.
Their current lineup of Curry, Poole, Thompson, Wiggins, and Draymond Green has negative net points per 100 possessions.
Meanwhile, their previous lineup of Curry, Thompson, Wiggins, Green, and Looney has a +22 net points per 100 possessions.
I've said this before, Poole is so much better off the bench and is hurting this current Warriors team as a starter. I hope that Steve Kerr can realize that before it's too late.
MVP of the Previous Week
Damian Lillard (Portland Trail Blazers)
I
t's Dame Time!!!
Lillard absolutely went off this week, producing one of the best weeks of the season: 42 Points per game, 7 assists, while shooting 60% from the floor and 49% from three.
He also went 40-42 from the charity stripe and led his team to three crucial wins.
Portland is just one game away from a Play-In spot, and just a few games away from a guaranteed Playoff spot. They've had a pretty turbulent season, going from first in the West to 13th, and now they're sitting at 12th.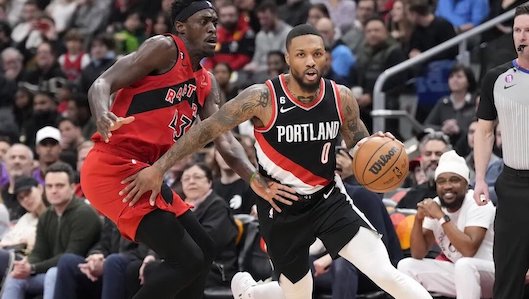 With Jerami Grant declining an extension offer from Portland, it seems like their title window is closing…
Paul Pierce certainly feels that way, as he said: "You (Kevin Garnett) just looked exhausted night in and night out. And I see the same thing in Lillard finally. It's time for him to move on from Portland."
He continued by comparing Dame's situation in Portland to what Kevin Garnett went through in Minnesota: "As loyal as he's been and similar to your situation. As prideful as he has been, it gets to a breaking point."
If Lillard can keep the Blazers afloat and push them toward a deep Playoff run, he can definitely silence the noise surrounding him and his beloved Trail Blazers.
---
—More from Aidin Ebrahimi—
Latest posts by Aidin Ebrahimi
(see all)