Posted on April 7, 2023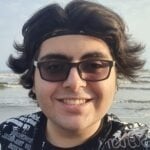 By Aidin Ebrahimi, SuperWest Sports
W
e're here. Just one more week until the Play-In Tournament begins.
Golden State, Minnesota, New Orleans, and both LA teams are all battling to get a top-six seed and avoid the Play-In Tournament.
So as always, here is my preview of this upcoming week's NBA action, as well as a look at the previous week's best team and MVP.
Watching From the Sidelines
Zion Williamson
Y
ou just had to be there. The hype for Zion Williamson was insane, even before he committed to Duke.
We hadn't seen this since LeBron's high school days, everyone was paying attention to the 14-year-old kid from Carolina who could dunk like the NBA's biggest stars.
He even used to play with Ja Morant, but no one cared about Ja, everyone was there to see Zion. In January 2017, Drake wore Zion's number 12 jersey in an Instagram post, which made him even more famous.
His unbelievably athletic build and dominance drew comparisons to other freaks of nature like LeBron, Shaq, and even athletes from other sports like Cam Newton.
Expectations were incredibly high when Zion joined the Blue Devils, especially because Duke's previous star PF, Marvin Bagley III, had a dominant season and was drafted second overall.
But somehow, someway, Zion exceeded all expectations and was even better than Bagley, as he had one of the greatest college seasons of all time, and was drafted number one overall by the Pelicans.
Unlike Bagley, Zion has become a superstar in the pros, but to be fair to Bagley, he has been plagued by injuries, and so has Zion. Same thing for some other dominant Blue Devils like Grant Hill, Jay Williams, Jabari Parker, etc.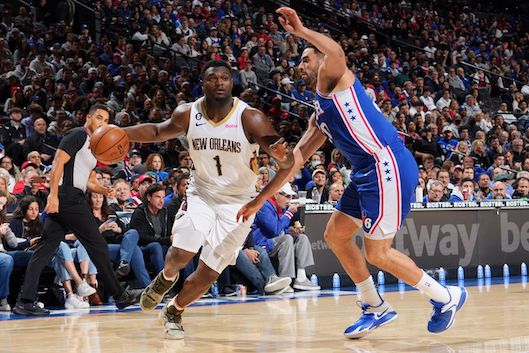 Maybe Duke players are cursed?
Anyway, Zion has been amazing in the 114 games that he's played, but the problem is that he has missed 191 games, meaning that he has missed 63% of his games as an NBA player.
That is very concerning. Zion has only played one game in 2023, getting injured on January 2 in a loss against Philadelphia.
But just like last season, the Pelicans have held on without their star man, and have all but guaranteed a spot in the Play-In Tournament just like last season.
They could even sneak into the sixth seed, avoiding the tournament altogether. Zion is still very young, but NBA fans are brutal, so imagine the amount of slander he'll receive if the Pels make the postseason without him again.
According to Shams Charania of The Athletic, Zion still has no timetable for his return, but may come back in time for the Play-In tournament.
Let's hope that Zion can return and we can see his freakish athleticism on display in the postseason.
Return of the X-Factor
Andrew Wiggins
S
peaking of former highly touted draft prospects, Andrew Wiggins is finally back and could even play in Golden State's final games in the regular season.
A lot of people love to talk about the "X-Factor players" of various playoff teams come playoff time, and Wiggins is certainly one of them.
This season, Wiggins has averaged a +6.4 Plus/Minus Net Per 100 Possessions, which shows how valuable he is to this team.
Earlier in the season, from November 7 to December 3, the Dubs went 10-3 with their "Big Four" healthy, and they beat some good teams like the Clippers, King, Cavs, and more.
Yes, the Warriors are dreadful on the road and might finish the season with less than 10 wins away from home.
But as bad as they are on the road, they are just as dominant at home, with only the Grizzlies winning more games at home than the Warriors.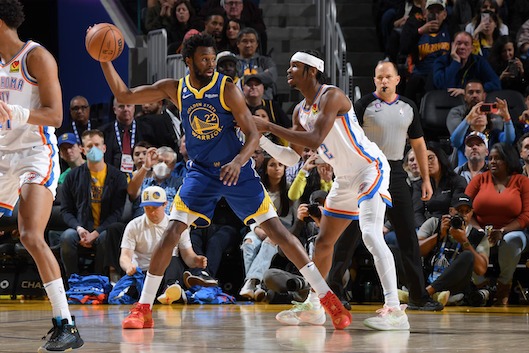 So even if they can get one win on the road in any given series, they'd be very hard to stop.
And when the games slow down in the postseason, having someone like Wiggins, who has turned into a great defender in Golden State, would be massive for the Dubs, just like it was last season.
Without Wiggins, I didn't believe that the Warriors could do anything in the playoffs this year, but now that he's back, I have gotten my hopes up once again.
And the locker room's morale has gotten a massive boost with Wiggins' return, as he is a very positive person who influences all of his teammates in a good way.
Jordan Poole had this to say about Wiggins after scoring 30 points in a win against OKC:
"He's such a bright light, has such an amazing spirit. It's just dope to be around him. It's definitely good to have him back in the locker room."
The GOAT and His Children
The Los Angeles Lakers (Overall: 41-38, Last Week: 4-0)
L
eBron has 13 new children. And these new kids will do anything for him.
The Lakers have had one of the most impressive mid-season turnarounds of all time, making many columnists (including myself, unfortunately) look completely foolish.
This is very reminiscent of the Celtics' mid-season turnaround last year, as they started the season 18-21 before going on a massive run and making the Finals.
Now, do you want to know something crazy? Okay. The Celtics were 18-21 on January 6, 2022. Guess who else was 18-21 on January 6, one year later? The LA Lakers! So, does that mean the Lakers are going to make the Finals?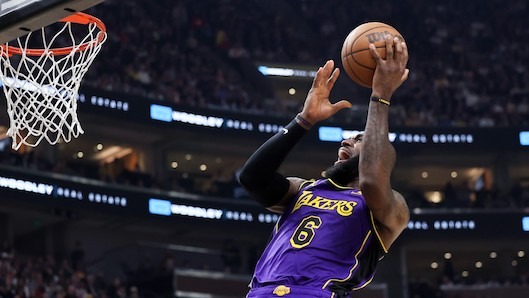 Well, who knows?
This is a cohesive team, which—and I can't stress this enough—will do anything to get LeBron his fifth ring. For all the players and everyone at the club, LeBron is like a god.
I'm entirely convinced that if LeBron asked the young Laker players to jump from a bridge, they would jump. They were making "goat noises" when LeBron was being interviewed after their 135-133 win over Utah.
They love LeBron. And that love will be their fuel in the postseason.
Is This the End?
Damian Lillard
D
amian Lillard might have just had the best season of his illustrious career, but it was all for naught.
According to Chris Haynes, Lillard has been shut down for the rest of the season.
So his final per-game stats are 32 Points, 5 rebounds, and 7 assists while shooting 46% from the field, 37% from deep, and 91% from the line.
His PPG and FG% are both career highs, as are his 8.3 offensive BPM and his 26.8 PER.
But, if we're talking about career highs, how can we not mention the ridiculous 71-point explosion against Houston?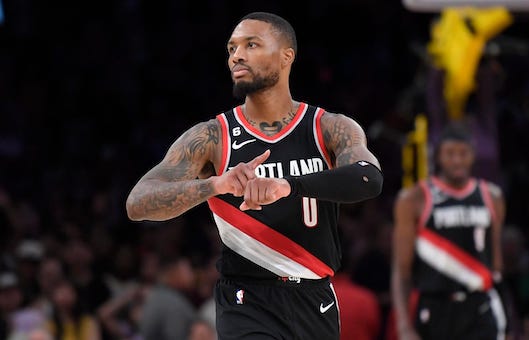 Lillard proved that he's still the man after a down year last season, but where do the Blazers go from here? Do they trade their superstar, or make an all-in move that might backfire? (Looking at you, Dallas.)
We all know that Lillard is all about loyalty, but so were Isaiah Thomas and DeMar DeRozan, and look how their teams treated them.
This league is a business, and the owners are ruthless. At the end of the day, they are all making brutal decisions that benefit their interests, so, staying in Portland isn't really up to Dame here.
It depends on the owners and the front office, and if they decide to cut ties with Dame, he'll have no choice but to leave the team he loves so much.
Of course, they can still swing for the fences and try to compete, but they might have a sour taste in their mouths after their results this season.
Best Team of the Previous Week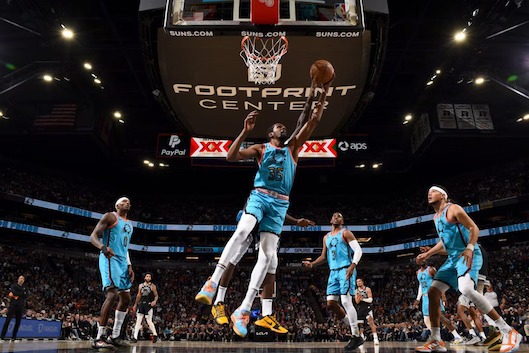 The Phoenix Suns (Overall: 44-35, Last Week: 4-0)
K
D is back, and the Suns are looking like a juggernaut. KD still hasn't tasted defeat with his new team, in fact, he has barely tasted defeat at all this season.
Kevin Durant has won 24 out of his last 26 games. That gives him a winning percentage of 92%, which is utterly insane.
Yes, the Suns still have no bench, as they had the sixth-worst bench unit last week (25 bench PPG with 39% shooting), and that might be a problem for them in the postseason.
But when your four starters are that good, you can get away with a lot of things.
Devin Booker struggled mightily from three but still averaged 26 points while shooting 47% from the field. Chris Paul was sharp as always, putting up 16 points and 8 assists a night with 49/40/89 shooting splits.
Deandre Ayton only averaged 29 minutes, but almost averaged an efficient double-double with 14 PPG and 9 RPG.
Bismack Biyombo gave the Suns a big boost, totaling 28 points, 23 boards, and 11 blocks in just 71 minutes played.
MVP of the Previous Week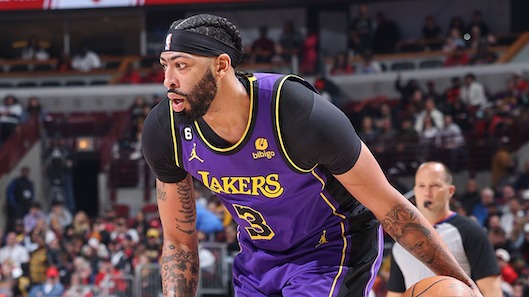 Anthony Davis (Los Angeles Lakers)
O
ne of LeBron's aforementioned children is Anthony Davis, and "The Brow" was excellent in the last four games.
He went 4-0, averaging 34 points, 12 rebounds, 1 steal, and 2 blocks on the night while shooting 61% from the floor.
All four wins came on the road, too, which means that this team is ready for all the tough Playoff battles away from home, which is a must for a team with a low seed in the standings.
Davis torched Chicago for 38 points, then he dominated Rudy Gobert and the Timberwolves for 38 points and 17 rebounds.
He then traveled to Houston and put up 40 points, perhaps giving multiple of the young Houston players a "Welcome to the NBA moment."
The Brow cooled off slightly against Utah but still scored 21 points and grabbed 14 boards, and dished out 6 assists.
AD also blocked two shots in every single one of these games.
Stretches like these should remind everyone that Davis is not to be messed with and that the Lakers are ready to go on a run of a lifetime in the Playoffs.
---
—More from Aidin Ebrahimi—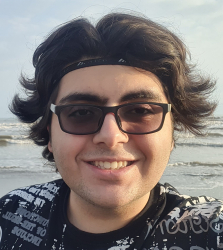 Latest posts by Aidin Ebrahimi
(see all)