Posted on April 14, 2023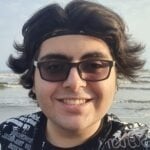 By Aidin Ebrahimi, SuperWest Sports
T
he 2023 NBA regular season is officially over.
We're now deep in the Play-In tournament, and the Playoffs are just around the corner.
Here's my review of this season's NBA action, talking about every team, as well as a look at my picks for the Team of the Year and MVP of the season.
The Highs
Sacramento Kings, OKC Thunder, Lauri Markkanen
Y
ou just can't hate on these stories.
Sure, there were a bunch of people who expected Sacramento to have a good season and potentially make the postseason, but no one expected this team to finish as the third seed in the stacked Western Conference.
Mike Brown is a tremendous regular season head coach, having missed the playoffs just once in eight full seasons as a coach.
He isn't a bad playoff coach either, as he has won 57% of his postseason games and made the Finals in 2007.
Brown has also made five Finals and won four rings as an assistant coach with Golden State and San Antonio, including a win in last season's Finals.
He won the Coach of the Year award in 2009 and certainly deserves to win it again for the fantastic job he's done this season.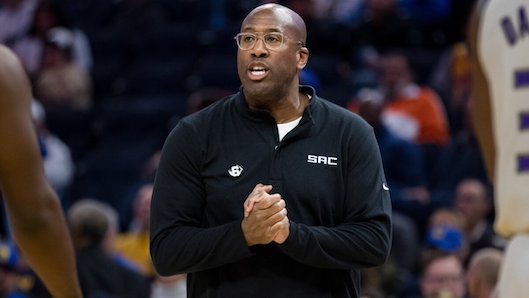 Another coach that deserves a lot of praise is Mark Daigneault.
Daigneault had experienced back-to-back 50+ loss seasons with OKC after replacing legendary Florida Gators coach Billy Donovan.
Not much was expected from them this season, especially after it was revealed that their second overall pick, Chet Holmgren, would not even play a game in the season.
The Thunder started the season off with an 11-18 record, which wasn't great, but was way better than what Thunder fans had gotten used to.
But then, they went on a 29-24 run to sneak into the Play-In tournament. Shai Gilgeous-Alexander was the star of the show, putting up 31.5 points a night while shooting 51% from the field in that stretch.
Others like Josh Giddey, rookie Jalen Williams, and Lu Dort stepped up big time, combining to average 47 points per game.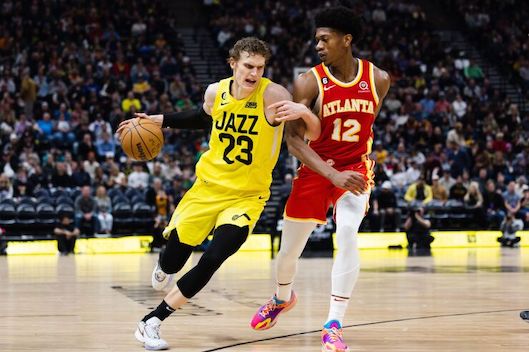 They got the tenth seed and shocked the Zion-less Pelicans to grab the ninth seed. They will now be facing Minnesota away from home, for a chance at making the playoffs.
Even if they lose, they should be extremely proud of what they have accomplished this year.
Unfortunately, Lauri Markkanen will not be in the playoffs and will have to watch the postseason from home, but through no fault of his own.
The Utah Jazz won just 5 of their 16 games without Markkanen this year, and their failure to win without their star man has resulted in them missing the playoffs.
Markkanen went from an average player in Chicago and Cleveland to an absolute star in Utah, averaging 26 points and 9 rebounds with 50/41/88 shooting splits from November to the end of March.
Lauri made an All-Star team this year, but he could get more accolades. He is a favorite to win the Most Improved Player award, and can potentially make an All-NBA team.
Who could have expected that?
The Lows
Dallas Mavericks, Minnesota Timberwolves, Zion Williamson
K
yrie Irving might return to Dallas in the offseason, so I can't call the Mavs' move for him a disaster yet, as he can easily bounce back. But man, this was so disappointing.
Irving plus Luka plus the fourth seed in the West should equal an easy Western Conference Finals or even an NBA Finals appearance.
But instead, the Mavs missed the Play-In tournament and embarrassingly tanked in a must-win game against Chicago.
The fans hate Jason Kidd and are not very fond of Kyrie. And there have been some whispers about Luka potentially demanding a trade in 2024.
Speaking of trades, the Timberwolves traded away their entire future to the Jazz for Rudy Gobert. The Wolves had an 8-4 record without Gobert and a disappointing 34-36 record with him.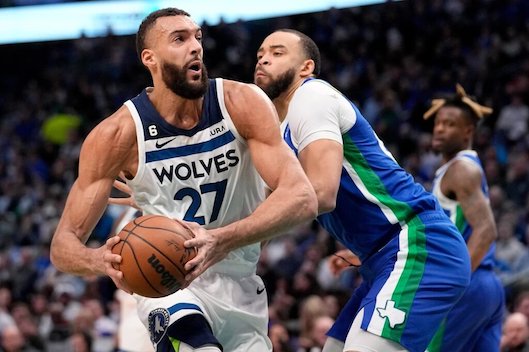 Gobert has always had awesome advanced stats in Utah, but it was a different story in Minny.
This year, Gobert's PER, Block%, Defensive Win Shares, Total Win Shares, Win Shares per 48, VORP, Offensive, Defensive, and total BPM were the lowest they've been since 2016-17.
And for the first time in his career, he averaged a negative Plus/Minus Net per 100 Possessions (-0.3).
From 2016-17 until last season in Utah, Gobert averaged a +10.1 Plus/Minus Net per 100 Possessions. He also had the least Blocks per 36 average of his entire career.
Oh, and he also fought his teammate Kyle Anderson, missed his team's Play-In game against the Lakers (which they lost), and might not be available for his team's crucial must-win game against OKC.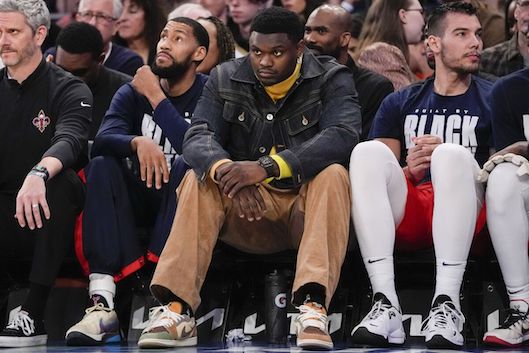 OKC beat the Pelicans, who should have never been here in the first place.
New Orleans was 17-12 with Zion and got out to a 23-13 start before 2023. But then, Zion got injured once again, despite a solid effort from the team (they went 25-28 without him).
The Pels were eliminated by the Thunder in the Play-In tournament.
Zion is so talented that he made the All-Star team after just playing 29 games, but man, he has only really had one healthy season where he played over 30 games.
Maybe Zion will be another Derrick Rose, a fellow number-one overall pick whose career was hampered by many injuries.
California's Rollercoasters
Golden State Warriors, LA Clippers, LA Lakers
F
or the first time ever, all four California teams have made the NBA playoffs, but apart from the Kings, the three other Cali teams had rollercoaster seasons.
The Warriors struggled with injuries all year long and were marred by inconsistent play. Despite being the 2nd best offensive team in the league, they were just the 21st-best defensive team.
They kept their identity, leading the league as the best passing and three-point shooting team, but struggled with things like getting to the free-throw line.
They were also the third-best home team while simultaneously being the fourth-worst away team in the league.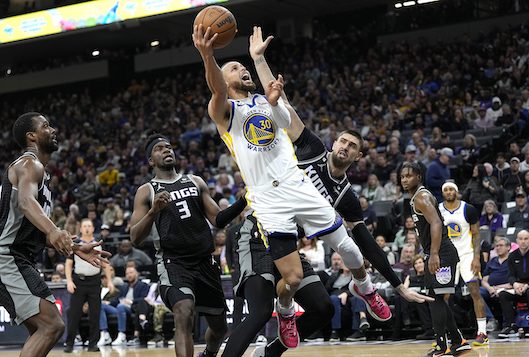 The Clippers had to endure a long stretch of games before Kawhi returned to 100%, and also had to endure the terrible play of John Wall and Reggie Jackson for months.
They also had to go through a period of growing pains after their big trade deadline acquisitions.
And just as they were hitting their stride (Kawhi and PG went 15-6 in their last 21 healthy games together), injury struck and the Clippers' playoff hopes were in serious doubt.
But Kawhi clutched up and led LA to the postseason (we'll get to that later).
LeBron James hadn't missed the playoffs for two years in a row since his first two seasons, but with missing the playoffs last year, and a 2-10 start to this season, it seemed like we wouldn't see LBJ in the playoffs until at least 2024.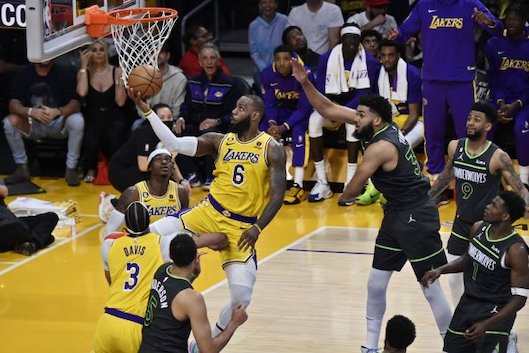 But they never gave up, and went on a massive run after the All-Star break to get the seventh seed, and beat Minnesota to get into the playoffs.
After looking kind of washed to begin the year (24 PPG on 43% shooting is fine, but nowhere near LeBron's high standards).
LeBron James ended the season as the NBA's all-time leading scorer, boosting his case of being (arguably) the greatest player in the history of basketball.
Half of the Western playoff bracket now belongs to Cali, and there's a very good chance that one of these teams can make it to the Finals.
New, Old, And Returning Faces
Jabari Smith Jr., Damian Lillard, Gregg Popovich, Kevin Durant
I
t's hard transitioning from the amateurs to the pros, and Jabari Smith Jr. certainly didn't have the easiest start to his NBA career.
Playing for an awful Rockets team, Smith Jr. put up the numbers you would expect out of a lean 19-year-old in the NBA in his first 62 games.
But in his last 17 outings, Smith Jr. put up 16 points, 8 rebounds, 1 block, and a steal a night while shooting 46% from the field, 36% from deep, and 78% from the line.
He also led the Rockets to a 7-10 record in that span, which is pretty unexpected. If he can improve and keep up that level of production in his sophomore season, he'll be a great pro for many years to come.
Damian Lillard wasn't one of those players who had a slow start, in fact, from the first time he stepped onto an NBA court in a shocking win against the failed "superteam" 2013 Lakers, Lillard knew that he'd be a star.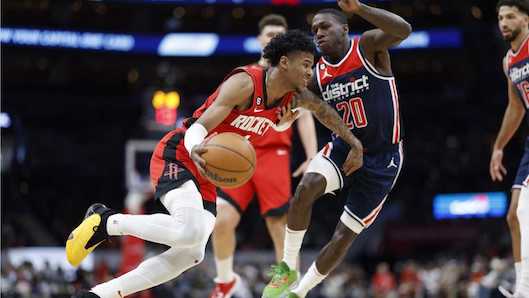 Everyone knew it, even the legend he was playing against that night, Kobe Bryant. "[He] seems to be fearless." Said Bryant after Dame's first game.
"I think he has a really bright future." Lillard has kept up his fearlessness through his 11th year in the league, as he had arguably his best season, which included a mind-blowing 71-point outing, a game that Kobe would have been proud of.
It's just a shame how the Blazers have failed Lillard.
Another man Kobe admired was Gregg Popovich. Pop had his worst full season, and honestly, he should just call it quits to keep his legacy as a top-three coach ever.
But before their last game of the season, Pop said that he was just focused on the game. "I don't think about future, past, or legacy, I think about today and what kind of fun I'll have this summer."
Kevin Durant does think a lot about his legacy though. He returned to the West at the trade deadline, still hasn't lost as a member of the Suns (8-0), and has put up elite numbers.
Time will tell if wanting out of Brooklyn was a smart move on KD's part, especially with the Suns facing such a hard opponent in the first round (the Clippers).
Best Team of the Season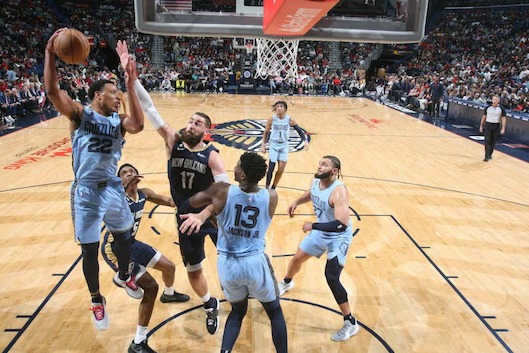 The Memphis Grizzlies (51-31)
I
believe in Memphis more than I believe in Denver. With a healthy Ja, Memphis won 66% of their games, which would have put them over Denver in the standings. Instead, we all know what happened.
But now, Ja is back, and although he doesn't look quite 100%, he should be good to go against the Lakers in the first round.
Desmond Bane took another leap and despite an injury earlier in the year, is looking good right now. Jaren Jackson Jr. had one of the best shot-blocking seasons in history, averaging 3 blocks a night with a 9.6% Block percentage.
He also finished second in total blocks (just four blocks behind leader Brook Lopez) despite missing 19 games during the season!
Tyus Jones continued to be a floor general, averaging 15 points and 8 assists with just one turnover a game per 36 minutes.
Luke Kennard has proven to be a fantastic addition, shooting 54% from deep on 5.7 attempts a night in Memphis.
They will miss Steven Adams and Brandon Clarke's presence down low though, and things will be tough against the Lakers with LeBron and AD. Still, they are the best in the West in my opinion.
MVP(s) of the Season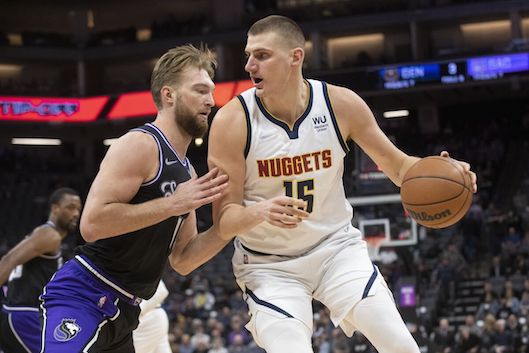 Nikola Jokic (Denver Nuggets)/Kawhi Leonard (Los Angeles Clippers)
O
bviously, Jokic has been the most consistent and best player in the West this season and has been for the last three years. We all know this.
But Kawhi's second half of the season has gone under the radar, and I will continue to talk about him until he gets his due recognition.
So I'm picking both of them as my Co-MVPs. Jokic finished just 12 assists away from averaging a Triple-Double.
Just 12.
That is brutal, but still, he had another insane season, breaking advanced stats once again and leading Denver to the best record in the West.
He probably won't win MVP, as Embiid is still the frontrunner, but at this point, he's more focused on winning Denver a ring than thinking about an MVP three-peat.
Kawhi Leonard's season was very similar to LeBron's. He also started slowly, but as time went on, he became more and more dominant.
Between January 20, 2023, and March 24, 2023, Kawhi averaged an absurd 28 points, 7 rebounds, and two steals a night while shooting 55% from the field, 50% from three, and 90% from the line.
Forget 50/40/90, that is 55/50/90! He also played elite defense and led his team to a 16-7 record. After returning from injury, he clutched up and led the Clippers to three crucial wins in a row to clinch the fifth seed.
This was an awesome season, and I hope we get an even better postseason. Let the playoffs commence.
---
—More from Aidin Ebrahimi—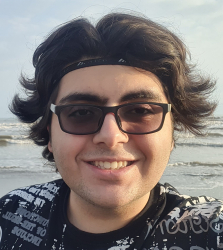 Latest posts by Aidin Ebrahimi
(see all)