Posted on March 2, 2023

  By Aidin Ebrahimi, SuperWest Sports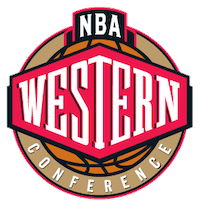 The All-Star game is behind us and regular-season NBA play has returned.
At this point in the campaign, this season has all the makings of one of the best in NBA history.
Case in point? Damian Lillard's legendary 71-point performance.
So as always, here is my preview of this upcoming week's NBA action, as well as a look at the previous week's best team and MVP.
Playoff Mode
Klay Thompson
K
lay Thompson is having the run of his life right now. And the Warriors need every bit of Klay's incredible play due to the fact that Stephen Curry hasn't returned yet.
Ever since the All-Star break, Klay has been averaging 30 points on 49% shooting from the field and 51% from three. He has also made all 14 of his free throw attempts.
After a concerning loss against the Lakers, Thompson went off for 12 threes to beat the Rockets and continued to showcase his sharpshooting skills in wins against the Blazers and the Timberwolves.
The Warriors have held on surprisingly well without Steph, as they are 12-12 without the reigning Finals MVP this season.
According to Steve Kerr, the Warriors "Know that they are going to be without Steph for the foreseeable future," and their current plan is to "Do the same thing as the last time he went down…patch things together."
Curry will be re-evaluated very soon, however, a re-evaluation doesn't always equal a full return.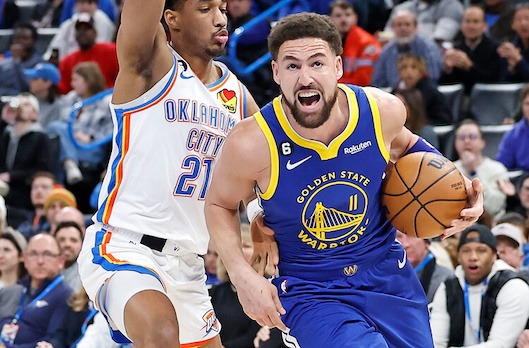 Obviously, Klay is hoping that his fellow "Splash Brother" can return to the court as soon as possible, in order to push for a guaranteed Playoff spot.
In the 2020-21 season, an injury to Curry made the Warriors fall to the eight-seed, which saw them play in the Play-In tournament, where they lost to Memphis.
A lot of people have forgotten about the fact that the Warriors almost suffered the same fate last year, too.
It's hard to remember, as they finished the year as the NBA champions, but there was a point in late March where the 7th-seeded Timberwolves had a chance to overtake the then 4th-seeded Warriors if they won the rest of their regular season games.
It would be pretty difficult to imagine the Warriors winning that championship without home-court advantage against teams like Denver, Dallas and Boston.
Nikola Jokic
R
emember when Russell Westbrook averaged a Triple-Double in the 2016-17 season? It was considered to be a monumental feat, something that would happen once every 50 years.
In fact, around 50 years prior to 16-17 Westbrook, Oscar Robertson was the only man who had ever averaged 10+/10+/10+ in a season.
Then Westbrook did it again in 2017-18, and again in 2018-19, and one more (and presumably last) time in 2020-21. It became normal. Something that looked so absurd on paper now looked normal.
This season, Nikola Jokic is averaging a Triple-Double, 24.6/10/11.7 to be exact, and no one really seems to care.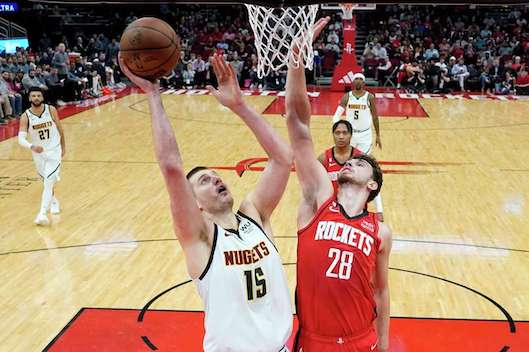 He'll probably win his third consecutive MVP too, but as has always been the case with the Joker, the media will focus on the flashier stars and their off-court antics, until he brings a championship to Denver.
Ever since the All-Star break, Jokic has been averaging 23 points, 15 rebounds and 9 assists on an absurd 64% shooting from the floor and 67% from three-point range.
He led his team to a 3-1 record, including two statement victories against the Clippers and Cavaliers.
The Nuggets are now 5.5 games ahead of Memphis, and now they're only looking to stay healthy and keep the momentum until the Playoffs. Overtaking the Bucks and the Celtics for the overall one seed (and a brand new shiny trophy that will be given to the league's best regular season team this season) would be nice too.
Growing Pains
The Los Angeles Clippers (Overall: 33-31, Last Week: 0-3):
R
eggie Jackson is gone. Good. John Wall is gone too. Great. They were replaced by Gordon, Hyland and Plumlee.
That's very good…And then…Russell Westbrook joins the team.
And now the Clippers have gone 0-3 since coming out of the break and have squandered a lot of their previous momentum.
So naturally, a lot of criticism has come Westbrook's way, just like his previous stint in the other LA team, the Lakers.
But when you look at the raw stats, and even most of the advanced stats, everything seems okay with Westbrook. So what is the problem? Well, it seems like this once defensively dominant team, can't defend.
They gave up 176 points to the Kings, 134 to the Nuggets, and 108 to the Timberwolves. However, there's no need to panic.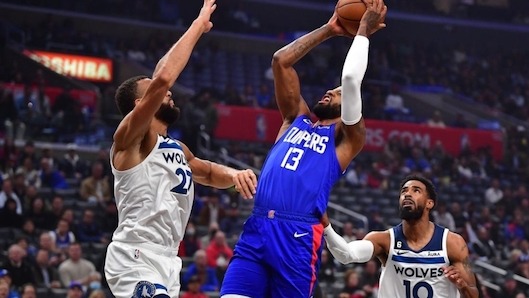 Whenever a team makes so many moves like this, they need some time to learn the team's scheme and style, and the coach needs some time to find effective lineups.
"It's a lot of new pieces here," said Kawhi Leonard, after their loss to Minnesota.
"Those guys are playing some minutes, so just learning the style of how T-Lue is coaching and our defense. You know could make some mistakes here and there. You could see our experience on court at times, but we just got to keep building our chemistry with each other."
Russell Westbrook's response was very similar: "I'm not one bit worried. We have an unbelievably talented group in this locker room and we know what we have, we just got to make sure we put it together and I really feel we gave three games away thus far. We're going to get it together."
The Clippers will be traveling to the Bay Area to face the Warriors, who have won their last 4 home games, and they're hoping to avoid their 4th consecutive loss.
The Kawhi and Paul George Clippers currently have a 7-5 record against Golden State, and they are looking to get back on track with a win.
Murphy's Law
The Los Angeles Lakers (Overall: 29-33, Last week: 2-1)
A
nything that can go wrong will go wrong, and at the worst possible time." Look at that last part again: "At the worst possible time." That's the 2022-23 LA Lakers for you.
Anthony Davis is putting up monstrous numbers? Injured for two months. LeBron breaks the scoring record? It happened in a loss to the Thunder.
And when the team finally goes on an impressive run after the trade deadline? LeBron gets injured.
I doubted LA's trade acquisitions, but they were playing really well, especially the underrated Jarred Vanderbilt.
The team finally had a semblance of spacing, for the first time in two years, and it was all coming together, but now, they need a miracle to make the Playoffs.
LeBron will be re-evaluated in two weeks, and as I said earlier in this column about Steph Curry, being re-evaluated doesn't mean that you're ready to go.
The sad thing is, LeBron feared that something like this would happen.
During the All-Star break, he said, "I hope I can figure out a way to just make sure that I'm available on the floor every single night for these 23 games to give us a chance, give our group a chance to be able to compete every night and give ourselves a chance to win every night so we can give ourselves a chance to get into the postseason."
Ever since LeBron joined LA, the Lakers have had a 157-113 record with him on the floor, and a record of 89-47 with LeBron and AD.
Without LeBron, their record stands at 36-63 in 99 games. Even if Davis regains his midseason form, and LeBron comes back right at the re-evaluation period, it'll be a monumental task to make the Playoffs this season.
Best Team of the Previous Week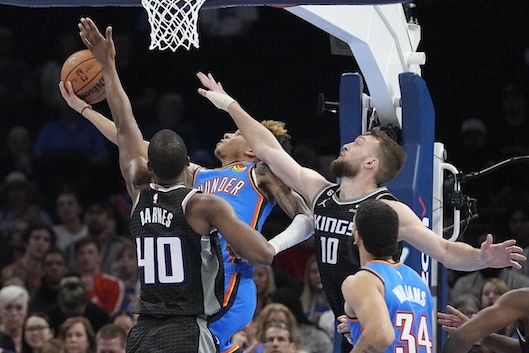 The Sacramento Kings (Overall: 36-25, Last Week: 4-0)
A
ccording to FiveThirtyEight's projections, the Kings currently have a 93% chance of making the Playoffs. The team with a record of 503-834 since their last Playoff appearance in 2006.
That's a winning percentage of 37.6%, which means that throughout this stretch, the average Kings team would go 31-51 in an 82-game season.
The Kings' best record since 2006 was 39-43, in De'Aaron Fox's breakout sophomore year. Now, Sacramento just needs three more wins to tie that mark, and there's still a large portion of the season left.
They first dispatched a Portland team that was resting their starters, then they moved to the Crypto.com Arena where they outlasted the Clippers in the aforementioned legendary 176-175 battle.
They followed that up with back-to-back wins against the Oklahoma City Thunder, and although the Thunder didn't have their star man Shai Gilgeous-Alexander, both games were in OKC.
And a back-to-back win on your opponent's home court is always impressive.
MVP of the Previous Week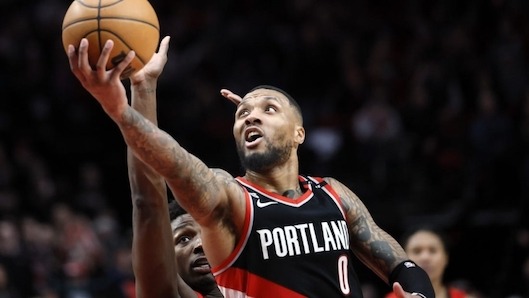 Damian Lillard (Portland Trail Blazers)
O
nce upon a time, a 70+ point performance was something that you'd see once every ten years.
Sure, Wilt Chamberlain had six 70-point performances in the early 60s, which included his legendary 100-point game.
And Elgin Baylor was the first person to score over 70, as he dropped 71 on the poor Knicks (who also felt the wrath of Wilt a 100-point game a season later).
But after the 1962-63 season, it'd take until the 1977-78 season until we saw another 70+ point performance, which was by David Thompson.
More than a decade later, in 1993-94, it was another David, "The Admiral" David Robinson who infamously scored 71 points on the Clippers to win the scoring title over a sophomore Shaq.
Another decade went by, and it was Kobe's turn with the only 80-point game in NBA history. Fun fact about that game: Kobe outscored the entire Raptors team 55–41 in the second half as he led an 18-point comeback win.
Then, ten years later, a man who was previously endorsed by Kobe, Devin Booker, dropped 70 in a loss against the Isaiah Thomas-led Celtics.
So, if you know anything about pattern recognition, you'd assume that the next 70-point performance would come somewhere around 2027.
But four years before 2027, Donovan Mitchell shocked the world by exploding for 71 against the hapless Bulls, proving that the NBA's scoring boom was real.
The last thing we expected was someone else also scoring 70+ this season, but Damian Lillard did just that, scoring 71 points less than two months from Mitchell's performance.
Dame shot 58% from the field, dropped 13 threes on Houston's defense on 59% shooting, made all 14 of his free-throw attempts, and he only turned the ball over twice.
Portland currently sits at 11th in the West, and with the season that Dame is currently having, it'd be a great shame if they don't at least make the Play-In tournament.
---
—More from Aidin Ebrahimi—
Latest posts by Aidin Ebrahimi
(see all)