Posted on March 18, 2023

  By Aidin Ebrahimi, SuperWest Sports
W
e're nearing the end of this fantastic NBA regular season.
Most teams have already played 70 games or more, and teams are fighting hard to lock up a playoff spot.
So as always, here is my preview of this upcoming week's NBA action, as well as a look at the previous week's best team and MVP.
The Bird Curse
Nikola Jokic
I
s the Larry Bird MVP curse about to strike again? Since "Larry Legend," no MVP in NBA history has three-peated.
Not Magic Johnson, not Michael Jordan, not Tim Duncan, not Steve Nash, not LeBron James (twice), not Stephen Curry, and not Giannis Antetokounmpo.
Out of all of these players, surprisingly, Steve Nash came the closest to three-peating, as he lost out the 2007 NBA MVP to Dirk Nowitzki by just 125 points.
That means Nash would have won if he had received just 13 more first-place MVP votes (he received 44).
Now, a similar thing is happening to Nikola Jokic. They lost four games in a row before finally snapping that losing streak in a 119-110 win against the Detroit Pistons, and now Joel Embiid is the MVP favorite.
Unlike most NBA fans, I am not backing a particular horse in this race, but I am of the opinion that Joel Embiid not winning at least one MVP during this three-season stretch of averaging 31 points and 11 rebounds with shooting splits of 52/37/84 would be criminal.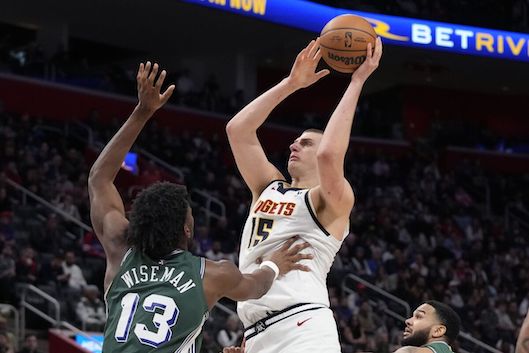 It's very similar to Kobe Bryant's situation in the mid-to-late 2000s.
In a three-season stretch from 2005-06 to 2007-08, Kobe averaged 32 points a night but lost out on the 2006 and 2007 MVPs before finally winning the award in 2008, beating out Chris Paul and Kevin Garnett.
I think DeMarcus Cousins said it best: "I think the other two guys (Jokic and Giannis) have had theirs, let's reward the big fella."
And Boogie is right, Jokic already knows what it feels like to be an MVP, twice, so he shouldn't lose sleep at night if Embiid wins MVP. He should be focused on bringing the Nuggets to the "Promised Land."
In 2019, he fell to the Blazers in a heartbreaking game seven where CJ McCollum dropped 37. In 2020, the Nuggets went on one of the greatest playoff runs in history, coming back from two 1-3 deficits, eventually losing to the Lakers.
But most of the credit went to Jamal Murray for his insane scoring explosions. In 2021, they got revenge on Portland but got swept by the Suns. And finally, in 2022, they got outclassed by the Warriors in five games.
A theme of playoff disappointment is starting to develop here, and if Jokic wants to be recognized as a true all-time great, he has to have a dominant playoff showing.
Kingless Kingdom
The Los Angeles Lakers (Overall: 34-36, Last Week: 2-2)
O
nce again we're checking up on the Lakers.
On March 10, Anthony Davis struggled mightily against the Raptors' defense, only scoring 8 points while playing over 32 minutes in what could be considered as AD's worst outing of the season.
In contrast, the reigning NBA Rookie of the Year Scottie Barnes shined by dropping 32 points and having his best game of the season. LA still won thanks to great games from D'Angelo Russell and Dennis Schröder.
AD struggled yet again against the reborn Knicks team who look like a darkhorse contender right now, and the team lost.
Davis finally had a dominant performance against New Orleans and won a key game that separated LA from their rival in the standings.
Things were finally looking good again but as always, AD got injured, and the Lakers lost to the Rockets. While AD might come back as soon as Friday against Dallas, the kingdom of Hollywood still needs its king, LeBron James.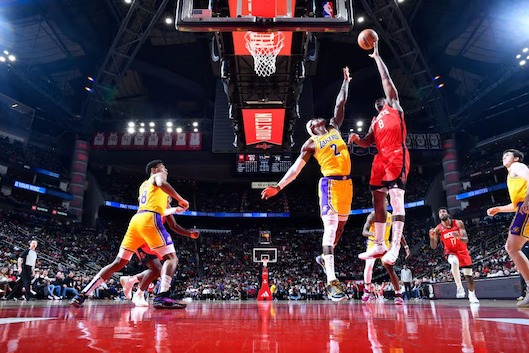 Despite LBJ claiming that he'll be back soon and that he's ahead of schedule, there have been some reports that suggest LeBron won't be back until April 2, the final week of the regular season.
"It's sounding like if he (LeBron) does (return), it's probably going to be the last week or so of the regular season." Said Jovan Buha of the Athletic.
"This has been one of the tougher things to dig on. The Lakers have played this very close to the vest. There hasn't been much out there on it."
By that point, there will only be five games left to play, against the Rockets, Jazz (twice), Clippers, and Suns.
This season has been a very interesting rollercoaster for the Lakers, and it'll be disappointing if they don't make the Play-In tournament due to LBJ's absence.
Holding On For the Big Man
The Minnesota Timberwolves (Overall: 35-35, Last Week 1-2)
B
y this time last year, the Wolves had won 41 games and were looking to spoil the struggling Warriors' plans of making the playoffs.
That didn't happen, but they still made the playoffs and lost to Memphis in a close series where they had the upper hand multiple times.
Then, they went "all in" in the summer for Rudy Gobert, and the results so far have been mixed. No, quite literally, as a 35-35 record is the definition of "mixed results."
But, NBA fans have to remind themselves that this is a team who is missing its leader, Karl-Anthony Towns.
KAT has been out of action since November 28, and it was initially believed that he'd be back by early 2023, but that didn't happen and now it has been announced that Towns will be back for the final few games of this season.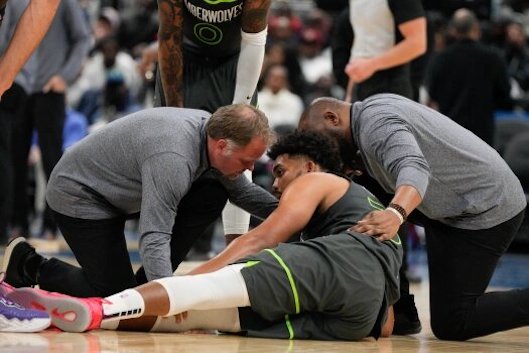 This team's 10-10 record with KAT (taking out the game he got injured against Washington) is very deceiving, as the Wolves were 5-2 in KAT's last games before he got hurt.
In those five wins, Towns put up 24 points, 6 assists, and 9 rebounds a night while shooting 59% from the field and 37% from deep.
This season his biggest problems were his fouls and turnovers, as he was adjusting to playing with Gobert.
The Wolves are in a shaky spot, they are four games away from the No. 4 seed, and also four games away from the No. 13 seed.
KAT returning would help the Wolves massively in their quest to make the Playoffs for the second year in a row for the first time since 2004.
Spotlight on the Young Guns
Trey Murphy III, Jalen Williams, and Kenyon Martin Jr.
L
ast season, I was shocked by how little Trey Murphy was used by the Pelicans. He even had a 32-point night against Charlotte on March 11, 2022. But he barely got minutes that year.
Now, he's showing his true value to the side, putting up great and efficient numbers. And exactly 366 days after his previous career-high, Murphy exploded for 41 points against Portland.
The performance was even sweeter for Murphy considering that his team won, unlike that game versus the Hornets a year earlier.
Murphy looks to have a very bright NBA future, and the same could be said for Jalen Williams, who, despite being the 12th overall pick, never got that much hype before the season.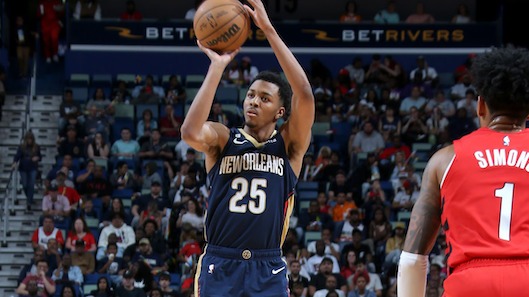 His numbers are very similar to that of Murphy's, with Williams being a better passer while Murphy is the better shooter.
Williams averaged a steady 19 points, 4.5 assists, and 7 rebounds, and shot 53% from the field in a week that was great for OKC, winning three games out of four.
Another young player who averaged 19 points this week was Kenyon Martin Jr.
The son of former number-one overall pick Kenyon Martin, he went 30-48 from the floor throughout the four-game stretch and won two games, including a very impressive win against the Celtics, which we will get to shortly.
Best Team of the Previous Week
The Los Angeles Clippers (Overall: 37-33, Last Week: 3-0)
A
fter a 2-4 start to the year, many began to question whether LAC's championship window was closed. Kawhi Leonard looked washed and PG was struggling.
Then, later in the year, they fell to 23-24 and rumors about a Ty Lue firing were starting to ramp up. Then they added Russell Westbrook and immediately went on a five-game losing streak.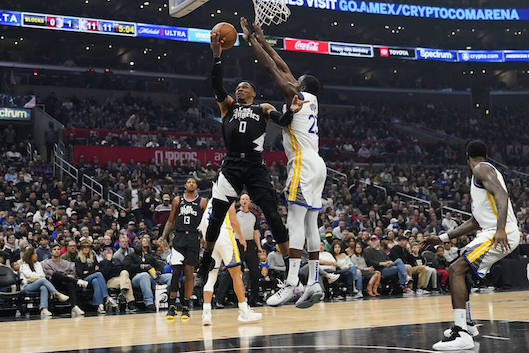 But finally, this team is looking like a massive threat to winning the NBA championship. A four-game winning streak over Memphis, Toronto, New York, and Golden State.
Three out of four of those teams are contenders, and Toronto is in the Playoff picture.
In my opinion, a healthy Kawhi Leonard is still the best player in the NBA, and he proved it by putting up 31 points, 8 rebounds, and 2 steals while shooting 57% from the floor and 50% from beyond the arch. He also went 20-24 from the charity stripe.
This team has had a record of 14-6 since January 19, when Kawhi finally started to look like himself again.
Kawhi has put up 29/7/4 with shooting splits of 54/51/91 since then, and honestly, had he not gotten injured early in the season, he could have won MVP.
But that doesn't matter to Kawhi, winning an NBA championship this season and proving that LA is his city once and for all, is the only thing that does.
MVP of the Previous Week
Jabari Smith Jr. (Houston Rockets)
Y
ou thought I was done with showing love to the young stars? No, I wasn't!
While I could have easily picked Kawhi or even Devin Booker as my MVP of the previous week, I went with the No. 3 overall pick in the 2022 NBA draft, Jabari Smith Jr.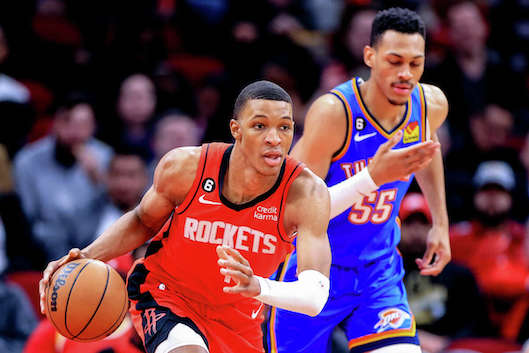 Smith put up very good numbers, 24 points, 11 rebounds, one steal, and one block while shooting 54% from the field and 52% from three.
But the biggest reason I'm giving the nod to him here is that he led the second-worst team in the NBA to a win against the second-best team in the league, the Boston Celtics.
And this wasn't a cheap victory either, as Boston played all of their stars (Jaylen Brown even scored 43 points), but Smith carried the team despite an ugly outing from Jalen Green where he missed 21 shots.
Smith had a BPM of 17 and a ludicrous Offensive Rating of 180 in that win. They also beat the Lakers, though LA didn't have Anthony Davis as previously mentioned.
The fact that he led the Rockets to two wins in four games against the Celtics and Lakers makes him my MVP of the previous week.
---
—More from Aidin Ebrahimi—
Latest posts by Aidin Ebrahimi
(see all)