Posted on January 16, 2023

  By Aidin Ebrahimi, SuperWest Sports
W
e're officially halfway through the 2022-23 NBA season.
At this point, we should have a pretty good idea about how the rest of this season is going to play out, however, there's always some room for surprises and unexpected performances.
So as always, here is my preview of this upcoming week's NBA action, as well as a look at the previous week's best team and MVP.
The Two Nines
The Memphis Grizzlies (29-13, 3-0)
A
nine-game winning streak. Nine games, straight. The Grizzlies certainly love this time of year, as they went on an 11-game winning streak from December 26 to January 13 in the previous season.
This has been the case since drafting their franchise superstar Ja Morant. Ja has a fantastic record of 30-8 in the month of January, which would translate to 65 wins in an 82-game regular season.
He is still going through three-point shooting struggles, as he shot 24% from three in this nine-game stretch. However, he still shot over 53% from the field and averaged 29 points and eight assists.
Desmond Bane doesn't quite look 100% healthy, but he's slowly making progress. He put up a very efficient showing against Indiana, scoring 25 points and recording a +24 BPM.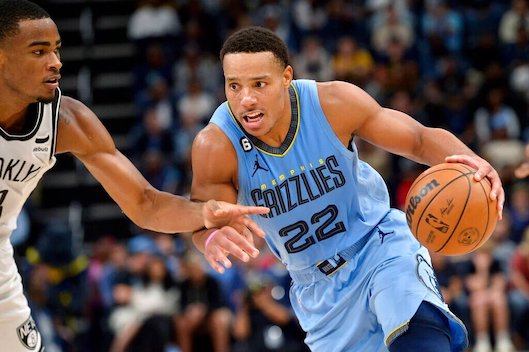 Unlike Ja, Jaren Jackson Jr is having the time of his life from beyond the three-point line, shooting 45% in the Grizz's current winning streak.
But the most mind-blowing thing about this winning streak is the numbers of Steven Adams. The former Thunder player has averaged 16 rebounds in the last nine games, which includes six offensive boards a night!
Adams' best rebounding performance came against Sacramento, where he grabbed 10 defensive and 13 offensive rebounds.
Eventually, there will be a falloff in performance, just like last season, but Memphis should not overreact. The last thing this team needs is some big moves at the trade deadline.
The Houston Rockets (10-32, 0-2)
T
his team, well it's the complete opposite. Nine losses straight, and they've gone 1-14 in their last 15 games.
Jalen Green has struggled badly. During the losing streak, Jalen had a six-game stretch where he failed to shoot over 33% from the field. In every game. That is flat-out disgusting.
Jalen was hyped up to be one of the NBA's future stars, and yes, while sophomore slumps are a real thing, this is concerning.
Kevin Porter Jr. suffered an injury against the Kings in Houston's 8th straight loss, however, it seems like he could be back soon.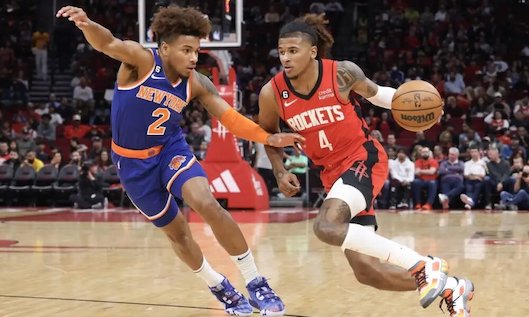 It's clear that the Rockets are "tanking" for a high selection in the 2023 NBA draft, looking to land a generational superstar like Victor Wembanyama or Scoot Henderson.
However, they're competing with the Pistons, Hornets, Spurs, and Magic in this year's "Tank Bowl," so what if they don't get a top 2 selection?
Most scouts see a massive gap between the top two prospects and everyone else, so if they land, let's say, the third pick, and choose someone who's good but not great, they fail their objective.
A roster of good but not-great players will never win you a championship. You need the Alpha Dog.
Is This the End?
Kemba Walker
T
he Kemba Walker experiment is over in Dallas, after just nine games. From the moment that Kemba's signing with Dallas was announced, I was skeptical, and I was proven right.
Kemba was turned into a "2018 Rockets player" with the Mavs, meaning that he either shot right at the basket or beyond the arch.
That is a terrible idea for Kemba Walker, someone who was never a good three-point shooter, even in his prime in Charlotte. Half of Walker's shot attempts in Dallas were from three, and he only made 25% of them.
It's no wonder why Dallas decided to cut ties with him.
"Cardiac Kemba" did have one memorable performance in a Mavs uniform, putting up 32 points with five rebounds and seven assists in his lone start of the season at Cleveland on Dec. 17, 2022.
But things got nowhere near as good for Kemba in Dallas.
With no NBA teams currently interested, Kemba has received major interest from Olimpia Milano, where he can play with a bunch of former NBA players, such as Nicolò Melli, Timothé Luwawu, and Luigi Datome.
If the move goes through, Kemba's NBA days might just be over; however, there are a couple of conflicting reports on the deal. Some say that the deal is "almost done" while some say that Milano had "no contact" with Walker.
Maybe Walker can get one final chance in the NBA, perhaps on a team that can hide his weaknesses better than the Mavs.
The Return of Steph Curry And the Poole Party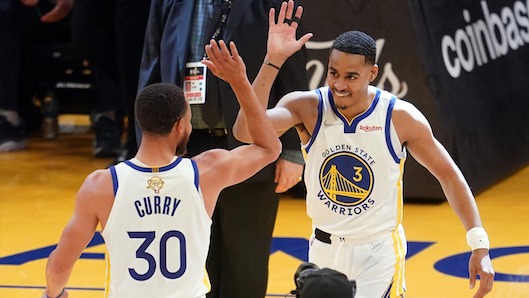 J
ordan Poole tried to make the most of his "Golden opportunity," averaging 28 points and going 6-5 in the 11 games without Stephen Curry, but you could just tell something was missing.
I love Poole, but he's most effective off the bench as an impact player. Poole's shooting numbers during that stretch were less than stellar, shooting 28% from three, and also turning the ball over five times per game.
But the moment that Steph came back, Poole felt comfortable again, averaging 26 points on 52% shooting from the floor and 46% from three with just two turnovers off the bench.
Steph was still rusty in his first two games, but he should come back to form in the next few games.
This stretch could have gone way worse for Golden State…They could have legitimately gone 2-9, as they only won two games by double digits. But instead, they're sitting at sixth in the Western Conference with a 21-21 record.
They have a perfect chance to go on a run and finish the year in dominant fashion.
Best Team of the Previous Week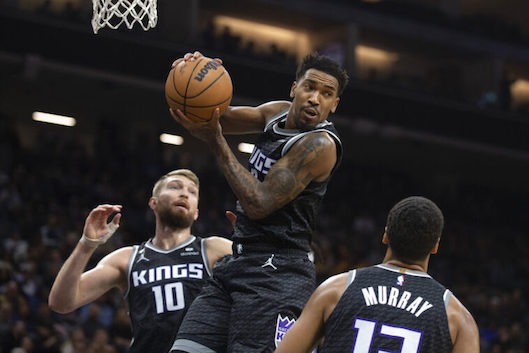 The Sacramento Kings (23-18, 3-0)
Y
es, they didn't play the best teams, but I'm seriously tired of naming the Nuggets/Grizzlies as my team of the week…
Let's look at the Kings, instead!
They won all three of their games this week by exactly 25 points, and their players looked very impressive.
The Kings' 100-miles-per-hour guard, De'Aaron Fox, shook off a bad performance against Orlando and had two great games against Houston.
Domantas Sabonis grabbed 10+ rebounds in each game, and recorded an amazing triple-double in his most recent game, putting up 19 points, 15 rebounds, and 16 assists.
Sabonis is starting to find his groove in this Kings offense, as he has averaged 22 points, 14 rebounds, and eight assists in his last 16 games.
Malik Monk, Terence Davis, and Keegan Murray were good, too…But Harrison Barnes was the King's best overall performer this week.
The former NBA champion put up 24 points on 65% shooting from the floor and 64% shooting from three. Barnes is yet another player who is making us all forget about his slow start to the year.
MVP of the Previous Week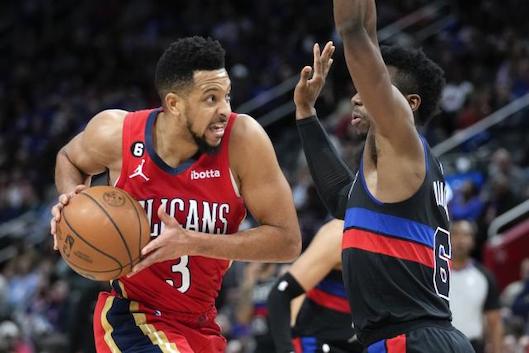 CJ McCollum (New Orleans Pelicans)
M
cCollum is proving that he's still a valuable NBA contributor.
In the 2021 NBA Playoffs, many fans thought that McCollum was "finished" after two bad performances back-to-back in games 5 and 6 against Denver.
Portland lost both games and has not returned to the Playoffs ever since. I believe it's unfair to write a player off after two bad games, but the NBA is a very brutal league…
Despite that, the 2015-16 Most Improved Player is enjoying his new role with New Orleans, as a mentor and leader of a young group that just wants to win.
CJ averaged 30 points and five assists while shooting 55% from the field and 44% from three-point range.
New Orleans has a tough stretch ahead, as they will be without Zion Williamson for at least two more weeks, while it's unclear if Brandon Ingram will even play again this season.
NOLA can be a dangerous team if they make the Playoffs, so CJ and the rest of the crew need to hold on until Zion and/or Ingram can come back to the fold.
---
—More from Aidin Ebrahimi—
Latest posts by Aidin Ebrahimi
(see all)