Posted on February 15, 2023

  By Aidin Ebrahimi, SuperWest Sports
T
he wildest trade deadline in NBA history is officially over.
Kevin Durant is back in the west, and D'Angelo Russell and Eric Gordon have returned to the Lakers and Clippers, respectively.
So as always, here is my preview of this upcoming week's NBA action, as well as a look at the previous week's best team and MVP.
Return To The West
Kevin Durant
A
nother year, another Kevin Durant "superteam." Or is it?
This Suns team legitimately has one of the worst bench units I've ever seen. Mikal Bridges and Cameron Johnson are incredible pieces for contending teams, but now they're gone.
Phoenix has Devin Booker, DeAndre Ayton, a 34-year-old KD, who has become increasingly injury-prone since his Achilles injury.
And another injury-prone star in Chris Paul who will turn 38 soon and has had trouble with shooting the basketball this season (Paul is shooting the second-worst FG% of his illustrious career this season).
They will have serious trouble finding a starting caliber small forward and a reliable bench unit. Their best bet will probably be Terrence Ross, who is expected to join the Suns after getting waived by Orlando.
However, Ross has declined since the 2020-21 season and is not the player he once was.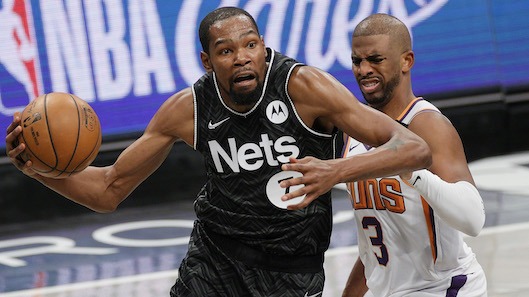 Looking at their bench options, the Suns have Josh Okogie, Cam Payne, Torrey Craig, Damion Lee, Jock Landale, Darius Bazley and the returning TJ Warren.
Looking at advanced stats, their best overall bench player is probably Lee, and as a Warriors fan, I never thought that Lee was anything special.
Warren can still score, but not much else. Bazley is a great defender, but still very raw on offense.
Yes, a lot of Suns fans will be comparing this team to the KD-era Warriors and how they could win with a subpar bench unit, but that Warriors big four was more talented than the current Suns big four, and were all younger.
All four of the Warriors stars were 28 or younger, while Phoenix has two players who are 34 or older.
I'm not questioning the abilities of these players, and I'm sure that if things go their way, they can make the Finals and compete.
But, in my opinion, they would have been better off with their old core, as the Suns will be in cap hell until 2026.
D'Angelo Russell
A
ll season long we've been waiting for the magical Lakers trade deadline.
The deadline where they could trade Russell Westbrook and all their other failing players for stars like Kyrie Irving, so that LeBron's final years aren't wasted.
Instead, the Lakers get inefficient players like D'Angelo Russell, Malik Beasley, while adding young players like Hachimura, Vanderbilt and Bamba. Swapping Westbrook for D'Lo doesn't really make a difference.
They're different in play styles, but their impacts on the team are very similar. Which is to say that both of them hurt their teams.
Yes, D'Angelo is 8 years younger than Westbrook, but when you have a 38-year-old LeBron on your team, who is desperate to win yet another ring to officially seal the GOAT debate. Does it even matter?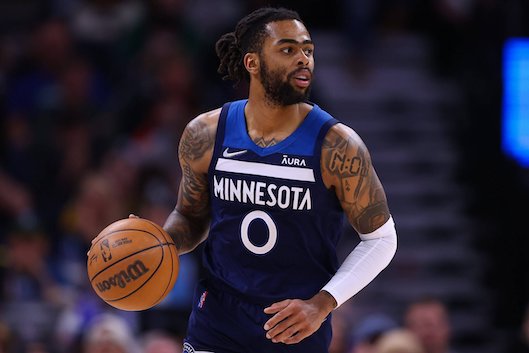 D'Angelo Russell's contract will expire by the end of this season as well. The whole situation just shows the incompetence of LA's front office. They dumped D'Lo because they were enamored by Lonzo Ball's potential.
They got Brook Lopez and Kyle Kuzma in that deal (who would unironically be incredible players for this LA team and easily walk into their starting lineup) and then dumped Kuz for Westbrook.
And now they've traded Westbrook for D'Lo.
Which essentially means that the Lakers traded a 21-year-old D'Angelo Russell for a 26-year-old D'Angelo Russell. And D'Angelo Russell isn't even that good. I feel bad for LeBron James and Anthony Davis.
Confusion, and a Sad Departure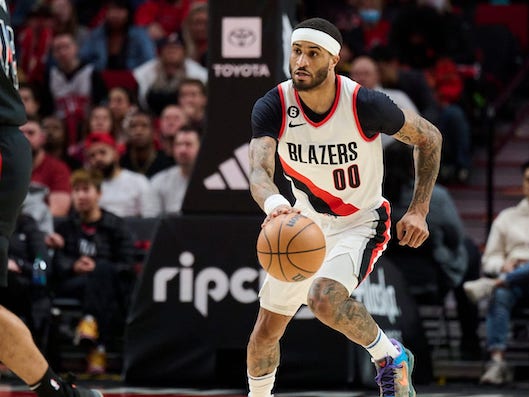 Gary Payton II and James Wiseman
T
his is very confusing. At the trade deadline, it was initially reported that the Golden State Warriors were trading their former 2nd overall pick James Wiseman to the Pistons for Saddiq Bey.
Then, it was announced that the Warriors weren't getting Bey, but instead, they were bringing back Gary Payton II. But, Payton failed his physical.
The Blazers said that he was healthy, while the Warriors said that he was dealing with a core muscle injury, and the Blazers forced him to play through it before the deadline by taking the pain-killing medication Toradol.
According to Chris Haynes, the Warriors then accused the Blazers of doing a similar thing in the CJ McCollum trade, as they believe they did a similar thing with Larry Nance Jr., as Nance Jr. immediately underwent knee surgery after joining the Pelicans and missed more than 10 weeks.
After a few days of considering their options, the Warriors went through with the transaction, and are hoping that Payton II will be back before the Playoffs.
Overall, this is a win-now move for the Warriors. They desperately missed Payton's defense this year, but they could regret trading Wiseman.
Wiseman can put up some solid numbers in a young and quiet Pistons team that coincidentally has another underachieving second-overall pick looking to revive his career (Marvin Bagley III).
Roster Moves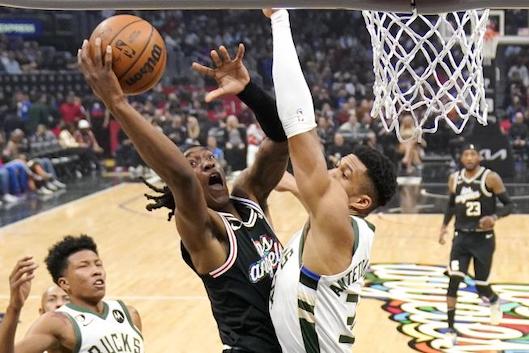 The Los Angeles Clippers (31-28, 1-2)
J
ust as I predicted, LA has finally moved on from John Wall and Reggie Jackson, two players who were over the hill and couldn't help them win anymore.
They brought back a former Clipper in Eric Gordon, who was kind of a big deal in LA before getting traded for Chris Paul.
Gordon has always been a solid and steady player who has always helped his teams, and I expect him to continue his production in LA.
I like their trade for Nah'Shon "Bones" Hyland, and although he has struggled with efficiency, he is a very young player who has two more years on his deal.
Before the Nuggets cut down on his minutes this year, Hyland was putting up some very respectable numbers. 15 points on 44% shooting from three.
There's hope that Hyland can keep growing and elevating his game with this Clippers core. Mason Plumlee is an underrated addition, too. Plumlee gives LA a good depth option at center, which will matter a lot in the Playoffs.
Ivica Zubac is a solid player, but his incredibly poor performances in the final three games of the Clippers' series against Denver in 2020 still cannot be forgotten by Clippers fans.
So, despite not getting a big name like Terry Rozier or OG Anunoby, I believe that the Clippers did a good job. Especially by getting rid of Wall and Jackson.
Best Team of the Previous Week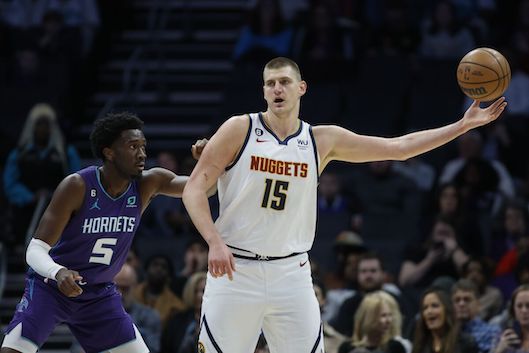 The Denver Nuggets (40-18, 3-1)
W
ill Nikola Jokic win his third MVP in a row? It's getting more and more likely with each passing day.
Only three men have won three MVPs consecutively, Bill Russell, Wilt Chamberlain, and Larry Bird. And now, Jokic is averaging a triple-double.
They started the week by demolishing the Timberwolves, with impressive performances from MPJ, Jokic, and Aaron Gordon. Gordon scored 37 on his former team, the Magic, but the Magic somehow managed to win.
They decided to take their frustration out on the poor Hornets, in a game where every man in the Nuggets starting five cracked double-digit points.
And finally, they traveled to Miami and the nameless Miami-Dade Arena to face the Heat. They won, and in that game, the Nuggets played 9 players and 7 of them managed to score 10 points or more.
This team can create scoring opportunities for their players like no other. Did I mention that Denver was without their second star Jamal Murray throughout this entire stretch?
Until something catastrophic happens, the Nuggets are my pick to make it out of the West, despite the Suns' big trade.
MVP of the Previous Week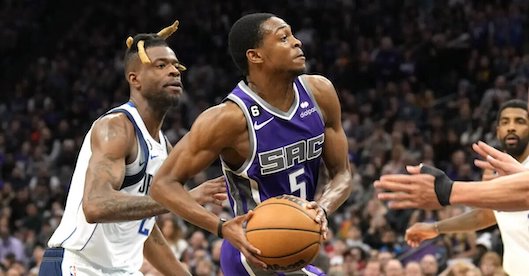 De'Aaron Fox (Sacramento Kings)
T
he 100-miles-per-hour Fox is now officially an NBA All-Star, having replaced Stephen Curry due to Curry's injury.
I said previously that if Fox didn't make the cut this year, then maybe he was destined to never become an All-Star.
Initially, that was looking like it'd be the case, but thankfully for Fox and his fans, he will be playing in Utah on February 20th.
Fox had a strong week, averaging 33 points, seven assists, and five rebounds while shooting 53% from the field despite struggling majorly from three.
Fox went 1-12 from deep, which means that he more than made up for it by going 32-50 from two. Fox played three games this week, and his last five games have been against the Texas teams (Spurs, Rockets, and Mavs).
He also shot 87% from the free throw line and led his squad to close wins against Houston and Dallas.
Sacramento has one more game before the All-Star break which will be against Phoenix.
It's likely that Kevin Durant won't be playing in that game, so it'd be huge for Fox and the Kings if they could finish that game with a win and move one step closer to making their first Playoff appearance since 2006.
---
—More from Aidin Ebrahimi—
Latest posts by Aidin Ebrahimi
(see all)