Posted on July 9, 2021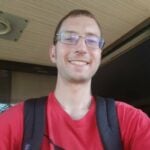 By Nick Bartlett, SuperWest Sports

This is the first in a new series of interviews with beat writers covering  Pac-12 non-conference opponents that play at least two Conference teams this season.
Those teams include Notre Dame, Hawaii, Fresno State, and BYU.
We start with Bryan Driskell, who covers the Fighting Irish for the Irish Breakdown of SI/FanNation.
Notre Dame holds the upper hand in both rivalries, leading the all-time series 47–36–5 over USC, and 20–13 over Stanford.
This season, USC visits the Irish on October 23, and Stanford hosts Notre Dame on November 27.
Nick Bartlett: First of all, thank you for taking the time share your thoughts on the Irish and their Pac-12 opponents this season.
Bryan Driskell: My pleasure.

Bartlett: How do you think Notre Dame will perform this year? Do you expect them to return to the College Football Playoff like last season, or more of a transition year with the loss of Ian Book and nine total starters on offense?
Driskell: Getting back to the College Football Playoff won't be easy for a team that is replacing a three-year starter at quarterback, lost four offensive linemen from one of the nation's best blocking units, and must also replace its defensive coordinator.

Notre Dame also faces a tougher schedule week-to-week in 2021 than what we saw last season when the Irish played Clemson, North Carolina, and then a bunch of mediocre teams.
The keys for Notre Dame will be the offensive line gelling early, and Jack Coan getting up to speed in a hurry.
This should be a much faster offense and it has more playmakers, but the offense will need a big jump in production if the Irish are going to make another playoff run.
Bartlett: How do you view USC and Stanford respective programs this season, do you think either team is capable of making a run this year?

Driskell: USC is an intriguing team. They are now going into Year Three of the Graham Harrell's offense and Year Two of Todd Orlando's defense.
Despite some key personnel losses, I think the Trojan defense could take a big jump. That will be key to USC again challenging for a Pac-12 title.
Offensively, the Trojans will put up points again, but they have to figure out a way to be more balanced offensively.
I am not saying USC has to get back to being the kind of run game it had during the Pete Carroll glory days, but they also can't go for under 100 yards per game like it did in 2020.

When Stanford was at its best, the run game and defense dominated, and both areas have been problems in recent seasons. Giving up over 30 points per game won't cut it over the course of a 12-game schedule.
Losing Davis Mills to the NFL was also a huge blow for a team that showed life on offense for the first time in a couple of seasons. There are some weapons in the backfield (Austin Jones) and on the perimeter, but the Cardinal need to find a trigger man.
Bartlett: How well do you think The Fighting Irish matchup against the Cardinal and Trojans? What are ND's biggest competitive advantages vs. each team?
Driskell: Notre Dame has dominated Stanford in the trenches in recent seasons, which is why the Irish are 2-0 against them recently, after going just 2-6 against them in Brian Kelly's first eight seasons.
The Irish averaged 41.5 points and 231.0 rushing yards in its last two matchups against the Cardinal while holding the Stanford offense to 86.5 rushing yards. If that doesn't change, Stanford will once against struggle to compete against Notre Dame.

Despite Notre Dame winning three straight games against the Trojans, the last two games have been far more competitive than they should have been, considering how much better Notre Dame was record-wise.
USC ran the ball effectively against the Irish in the second half of the 2019 matchup, which helped them outscore Notre Dame 24-13 in the second half, turning a 20-3 third-quarter deficit into a narrow 30-27 defeat.
That is the recipe for that offense. Throw it all over the field, but if you want to win big games you need some semblance of balance.
With all of its personnel losses on defense, the Trojan defense won't be quite as talented as it was in recent seasons, and the last thing you want to do early in the season is force that defense to be on the field all day.
Bartlett: Do you think Notre Dame running back Kyren Williams will be able to replicate another 1000-yard season in his sophomore campaign? How will the Irish's ground attack look this year with the departure of four veteran offensive lineman?
Driskell: He'll be used more as a versatile weapon this season, catching throws out of the backfield and lining up outside as the Irish use him and sophomore speedster Chris Tyree as a potent one-two punch.
Williams might get fewer carries per game, but I expect his yards per carry to take a jump.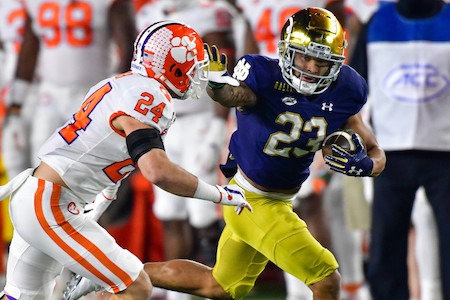 I expect him to continue racking up yards this season, but the key to the run game's ultimate success will depend on the offensive line getting on track early, and Tyree becoming more of an impactful complement to Williams.
Bartlett: In your opinion what's the bigger loss? Defensive Coordinator Clark Lea, or the obvious (or maybe not-so-obvious) choice in quarterback Ian Book?
Driskell: I don't think either will be huge losses for the Irish, but if I had to pick one I'd probably go with Lea.
Book was a game manager and I expect Wisconsin grad transfer Jack Coan to—at the very least—replicate Book's overall production. I'm someone who actually thinks Coan will outplay Book this season.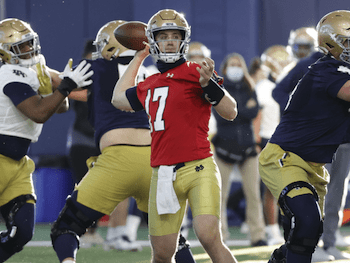 Lea is a loss because he was a great coordinator, but I'm extremely high on Marcus Freeman, who inherited a Cincinnati defense that gave up 28.5 points per game in the three seasons prior to his arrival.
But in his final two campaigns in the Queen City the Bearcats gave up just 19.0 points per game, including 16.8 in 2020.
Bartlett: What are your predictions for the two games with USC and Stanford?
Driskell: There are still so many unknowns with all three programs that I don't feel great about making predictions.
If I was forced to make one right now, I would predict the Irish to win both games.


I'd expect another high-scoring but competitive game against USC, something along the lines of a 34-27 Irish win.
I don't think Stanford matchups up well against Notre Dame right now, and I think the Irish will roll in that game to the tune of a 41-20 type of outcome.
Bartlett: Any other thoughts about Notre Dame, Stanford, or USC this season?
Driskell: I'm just glad to see Notre Dame and its rivals (USC, Stanford) back on the schedule.
Win or lose, not having the Cardinal, and especially the Trojans, on the schedule was not good for the game of football. Notre Dame and USC is one of the best rivalries in college football and I'm thrilled it's back on after last season.
Bartlett: Thanks again for your time. I wish you success in covering the Irish this season, and look forward talking with you again.
---
—More from Nick Bartlett—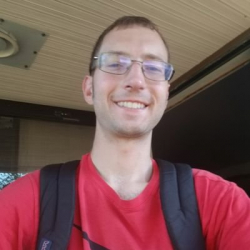 Latest posts by Nick Bartlett
(see all)