Posted on March 5, 2023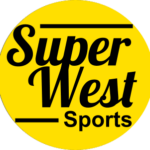 By SuperWest Sports Staff
A
total of  40 former SuperWest players are scheduled to participate in the NFL Scouting Combine, which takes place this year from February 28-March 5, with drills beginning on Thursday and running through Sunday.
The week-long showcase takes place every year (pandemic season excepted) in late February/Early March at Lucas Oil Stadium in Indianapolis.
At the event, college football players perform physical and mental tests for the benefit of National Football League coaches, general managers, and scouts.
With increasing interest in the NFL Draft, the scouting combine has grown in scope and significance, allowing personnel directors to evaluate upcoming prospects in a standardized setting.
Athletes attend by invitation only, and their performances during the combine can affect their draft status and initial salary.
The draft has popularized the term "workout warrior," whereby an average or subpar athlete's "draft stock" is increased based on superior measurable qualities such as size, speed, and strength.
The tests include the 40-yard dash, bench press, vertical jump, broad jump, 20-yard shuttle, 3-cone drill, 60-yard shuttle, and position-specific drills.
Prior to the drills, players go through interviews, physical measurements, injury evaluations, drug screening, and the Cybex test. (The wonderlic test has been discontinued.)
In this tracker, we focus on the most popular drills, the 40-yard dash, bench press, and vertical jump for each Pac-12 invitee.
The table below will be updated with the results of each as they become available. Here are links to past results for the 40-yard dash, bench press, and vertical jump.
A solid line ("—") indicates the player did not participate in that drill.
| Player | School | 40 | Vertical | Bench | Pos | Hgt | Wt |
| --- | --- | --- | --- | --- | --- | --- | --- |
| Christian Gonzalez | Oregon | 4.38 | 41.50 | 14 | DB | 6-1.75 | 197 |
| Jalen Cropper | Fresno St | 4.40 | — | — | WR | 5-11 | 172 |
| Daniel Scott | Cal | 4.45 | 39.50 | 22 | DB | 6-1 | 208 |
| Mekhi Blackmon | USC | 4.47 | 36.00 | 11 | DB | 5-11 | 178 |
| DJ Johnson | Oregon | 4.49 | 32.00 | 28 | EDGE | 6-4 | 260 |
| Jordan Addison | USC | 4.49 | 34.00 | — | WR | 5-11 | 173 |
| Clark Phillips III | Utah | 4.51 | 33.00 | 18 | DB | 5-9 | 184 |
| Kyu Blu Kelly | Stanford | 4.52 | 36.00 | — | DB | 6-0 | 191 |
| Tyreque Jones | BSU | 4.52 | 32.00 | — | DB | 6-2 | 195 |
| Zach Charbonnet | UCLA | 4.53 | 37.00 | 18 | RB | 6-0 | 214 |
| Daiyan Henley | WSU | 4.54 | 35.00 | — | LB | 6-2 | 225 |
| Elijah Higgins | Stanford | 4.54 | 35.00 | — | WR | 6-3 | 235 |
| Alex Austin | Oregon St | 4.55 | 33.00 | — | DB | 6-1 | 195 |
| Dorian Thompson-Robinson | UCLA | 4.56 | 32.50 | — | QB | 6-2 | 203 |
| Michael Wilson | Stanford | 4.58 | 37.50 | 23 | WR | 6-2 | 213 |
| Luke Musgrave | Oregon St | 4.61 | 36.00 | — | TE | 6-6 | 253 |
| Noah Sewell | Oregon | 4.64 | 33.00 | 27 | LB | 6-1.5 | 246 |
| Tavion Thomas | Utah | 4.74 | 30.00 | — | RB | 6-0 | 237 |
| Blake Freeland | BYU | 4.98 | 37.00 | — | OL | 6-8 | 302 |
| Braeden Daniels | Utah | 4.99 | 30.50 | — | OL | 6-4 | 294 |
| Jon Gaines II | UCLA | 5.01 | 32.50 | — | OL | 6-4 | 303 |
| Nesta Jade Silvera | ASU | 5.16 | 29.50 | — | DL | 6-2 | 304 |
| Malaesala Aumavae-Laulu | Oregon | 5.23 | 28.50 | — | OL | 6-5.5 | 317 |
| John Ojukwu | BSU | 5.24 | 28.50 | 26 | OL | 6-6 | 309 |
| T.J. Bass | Oregon | 5.48 | 28.50 | — | OL | 6-4 | 317 |
| Henry Bainivalu | Washington | 5.50 | 28.00 | — | OL | 6-6 | 306 |
| Viliami Fehoko Jr | SJSU | — | — | 24 | DE | 6-4 | 276 |
| Tuli Tuipulotu | USC | — | — | — | EDGE | 6-3 | 266 |
| Rejzohn Wright | Oregon St | — | — | — | DB | 6-2 | 195 |
| JL Skinner III | BSU | — | — | — | DB | 6-4 | 209 |
| Puka Nacua | BYU | — | — | — | WR | 6-2 | 201 |
| Jake Haener | Fresno St | — | 35.00 | — | QB | 6-0 | 207 |
| Tanner McKee | Stanford | — | 33.00 | — | QB | 6-6 | 231 |
| Jake Bobo | UCLA | — | — | — | WR | 6-4 | 206 |
| Dalton Kincaid | Utah | — | — | — | TE | 6-3.5 | 246 |
| Jaren Hall | BYU | — | — | — | QB | 6-0 | 207 |
| Alex Forsyth | Oregon | — | 20.50 | 29 | OL | 6-4 | 303 |
| Travis Dye | USC | — | — | — | RB | 5-10 | 201 |
| Andrew Vorhees | USC | — | 29.00 | 38 | OL | 6-6 | 310 |
| Jaxson Kirkland | Washington | — | — | 19 | OL | 6-7 | 321 |
---
—More from Staff—