Posted on July 25, 2023


  By Dane Miller, SuperWest Sports
T
his California preseason football preview is the seventh of 12 to appear over as many weeks as we count down the days to the start of the Pac-12 season on August 26th.

Each preview consists of nine sections: Overview, Best-Case Scenario, Worst-Case Scenario, What Should Happen, What Must Happen, Greatest Strength, Biggest Concern, Deciding Factors, and Schedule Analysis.
Nothing is set in stone, however, as rosters and depth charts continue to evolve over the summer.
California Golden Bears Fast Facts
• 2022 Record: 4-8
• Head Coach: Justin Wilcox (30-36 at Cal)
• Offensive Coordinator: Jake Spavital
• Defensive Coordinator: Peter Sirmon
• Home Stadium: California Memorial Coliseum (63,000), Berkeley, CA
• Last Conference Title: 2006, Pac-10
Overview
C
alifornia enters the year with a new offensive coordinator and quarterback as it seeks to right the ship.

The Bears haven't been to a bowl game since 2019 and have had losing seasons in four of Justin Wilcox's six years.
But Wilcox and his staff mined the portal with great success, bringing in the nation's No. 16 transfer class, per 247Sports. Consequently, Cal has the personnel to become bowl eligible.
Highlighted by four-star TCU quarterback transfer Sam Jackson V, the Bears' transfers figure to have immediate impacts.
San Diego State cornerback Patrick McMorris and UNLV cornerback Nohl Williams add to an already talented secondary.

And at running back, Oregon's Byron Cardwell, Tennessee's Justin Williams-Thomas, and Montana State's Isaiah Ifanse have been brought in to supplement Jaydn Ott.
With the offense expected to revolve around Ott's production, the Bears are primed for a better year than some expect.
Best-Case Scenario
J
ackson hits the ground running and leads Cal to a 6-6 record.
Leading receiver Jeremiah Hunter returns after putting up 965 yards receiving and five touchdowns last season.
Hunter figures to quickly become Jackson's primary option, although Wilcox brought in other choices via the portal.
Washington's Taj Davis has been added after posting 277 yards receiving and three touchdowns for the Huskies, along with Illinois' Brian Hightower who had 452 yards receiving and two touchdowns for the Illini.
Combined with returning receiver Mavin Anderson's 37 receptions for 372 yards and three touchdowns, the Bears have a respectable WR corps capable of getting the job done.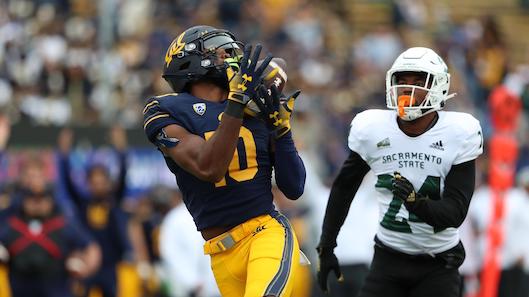 Any production Wilcox is able to get out of Mississippi State transfer receiver Marquez Dortch would be icing on the cake.
But the strength at wide receiver pales in comparison to what California has in its running back room.
Ott might be the top RB in the Pac-12 after running for 897 yards with eight rushing TDs along with 46 receptions for 321 yards and three touchdowns.
With the addition of Cardwell (493 career yards rushing), Ifanse (3,742 career yards rushing), and Williams-Thomas, Wilcox has a complete set of offensive skill position players.
If Jackson thrives as the starter under offensive coordinator Jake Spavital's offense, the Bears could reach bowl eligibility with victories over North Texas, Idaho, Arizona State, Oregon State, Washington State, and Stanford.
Worst Case Scenario
J
ackson's inexperience shows in his first year in Berkeley.
The former TCU backup quarterback has thrown just six passes over his two-year career.
The redshirt sophomore actually has more career rushing attempts (15) than passing attempts (6) and posted more yards rushing (64) than passing yards (63) last season.
Without any experience as a starting quarterback and expected to lead a team, Jackson tries to do too much. The results are turnovers, forced throws, and poor decision-making in general.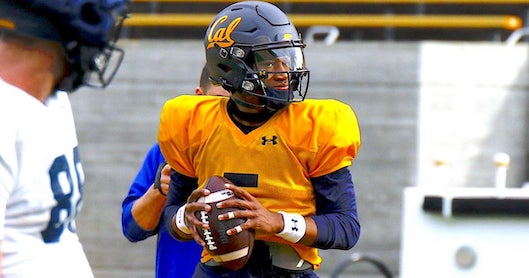 The Bears have the weapons in the backfield and receiver room to get the job done, but fairly significant questions at quarterback.
NC State transfer Ben Finley has been brought in as a fallback. But he has only started two games in his career.
Suffice it to say that there is little to no experience in the quarterback room and if Jackson doesn't play well, the Bears are in trouble.
If that happens, disaster could strike with a Week One defeat to North Texas.
But even if California squeaks by the Mean Green, a struggling quarterback unit might only be able to post additional wins over Arizona State and Stanford to end the season with just three wins.
What Should Happen
T
he Bears' defense should improve after taking a step back in 2022.
California's identity under Wilcox has been a strong defense, but that wasn't the case last year. The Bears were 79th in the FBS in scoring defense, allowing 27.8 points per game.
The high number was a far cry from the Cal teams over the previous few seasons.  The 2021 team allowed just 22.2 points per game, the 2019 version gave up 21.9, and the 2018 roster allowed only 20.4.
In other words, the defense has been trending in the wrong direction over the last half-decade.
Yet, 10 starters return on defense.
That's an unheard-of number in modern College Football. No other team in the Pac-12 returns more starters on defense.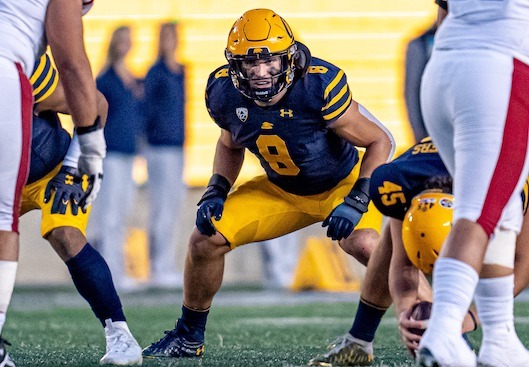 Linebacker and leading tackler Jackson Sirmon returns as does starting safety Craig Woodson. Top corner Jeremiah Earby returns, too, after leading the team in passes defended as a freshman.
Top linebackers Xavier Carlton and Myles Jernigan are back as well.
On top of that, Wilcox brought in even more weapons via the portal. McMorris is a two-time First Team All-Mountain West corner from San Diego State with 27 career starts to his name.
And Williams is a three-year starter from UNLV with 98 career tackles to his credit. 247Sports ranks Williams as the No. 16 cornerback transfer in the 2023 cycle and the No. 3 cornerback transfer entering the Pac-12.
Taken together, the Bears should see an improvement on the defensive side of the ball this season.
What Must Happen
I
t's fairly simple: California will go as far as its quarterback, offensive line, and offensive coordinator take it.
The Bears return eight starters on offense and have added depth via the portal.
Along the offensive line, Matthew Cindric returns to lead the way while four-year starter Barrett Miller has been reeled in from Stanford.
The duo have combined for 63 career starts on their own and will act as the anchor of the O-Line.
Texas A&M transfer Matthew Wykoff has been added, too. With nine starts over his 16-game career in the SEC, Wykoff is another solid addition to the front line.
Returning starters Brayden Rohme (9 starts in 2022), T.J. Session (7 starts in 2022), Brian Driscoll (12 starts in 2022), and Sioape Vatikani (9 starts in 2022) are all back, as well.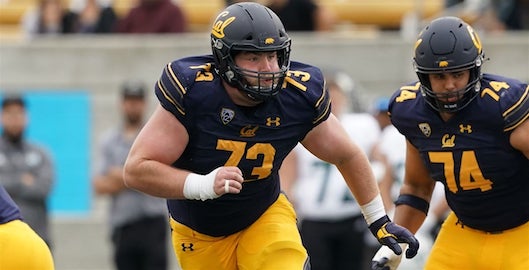 But the offensive line play was poor last season and must improve. Despite having one of the top running backs in the Pac-12, California was last in the Conference in rushing yards per game (96.6 YPG and 122nd in the FBS).
The O-Line was similarly bad at preventing sacks, giving up 2.58 per game which was 87th in the nation. The group had similar numbers in tackles for loss, allowing 6.08 per game which was 82nd in the FBS.
Those numbers must improve with the transfer additions of Miller and Wykoff along with the hiring of new offensive line coach Mike Bloesch.
At the same time, new offensive coordinator Spavital must effectively implement his system and Jackson must run it efficiently.
Expected to be a fast-tempo offense, Spavital has a history of altering his run-pass split ratios to conform with his personnel's strengths.
Whether or not Spavital is able to take advantage of the weapons on this particular roster, however, remains to be seen.
Altogether, it's a bit of a tall order considering the tough schedule the Bears face in 2023.
Greatest Strength
D
espite some questions along the line and in the quarterback room, California has one of the top running back units in the Pac-12.

Ott might be the top running back in the Pac-12 and Cardwell is a talented addition via the portal.  The duo project to form a deadly one-two punch that could take the pressure off Jackson under center.
But the RB room is exponentially strengthened by Jackson's willingness and ability to run. The transfer quarterback is a dynamic dual-threat that has the potential to jumpstart California's traditional ground game.
Dual-threat quarterbacks always improve the traditional rushing attack by forcing the defense to account for their running capability.

The result is lanes that stay open longer and a generally hesitant defense that is ripe for taking advantage of.
Montana State transfer running back Ifanse is an under-the-radar option, too. The transfer has 3,742 career rushing yards to his name but missed most of last season with a knee injury.
If his game translates well to the FBS level, California might just have the top running back unit in the Conference.
Biggest Concern
C
redit Wilcox for doing what needed to be done in the portal along the offensive line.

Miller and Wykoff probably both end up starting while getting Cindric back was a pivotal development.
But the numbers the group put up last year can't be ignored. California's quarterback room is woefully inexperienced and is a cause for concern, but the bigger problem is the offensive line.
If the O-Line struggles again despite the transfer additions, California won't come close to making a bowl game.
Deciding Factors
A
s always in Berkeley, Wilcox has a strong secondary that should boost the defense.
Woodson, Earby, Lu-Magia Hearns III, and Collin Gamble form a solid core while McMorris and Williams add veteran experience and skill.
Colorado starting defensive back Kaylin Moore has been added to the mix via the portal, too, after posting 35 tackles in 12 starts for the Buffs last year.
Combined together, the players form one of the top defensive back units in the Pac-12.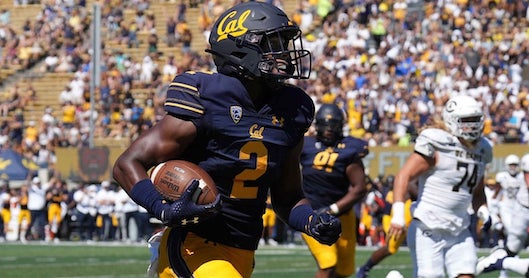 A strong year from the secondary with pivotal stops and turnovers in key moments will be one of California's deciding factors.
But, perhaps more importantly, the play of the Bears' defensive line could alter the trajectory of the season.
Ethan Saunders started all 12 games last season and returns up front along with Brett Johnson who missed last season due to injury.
But the production of California's D-Line has to be improved. Tellingly, no defensive line players were in the Top 5 on the team in tackles for loss or sacks. That can't be repeated. And if does repeat, Wilcox's defense won't return to its former glory this season.
Schedule Analysis
2023 USC Trojans Schedule
• Sept. 2 at North Texas
• Sept. 9 vs Auburn
• Sept. 16 vs Idaho
• Sept. 23 at Washington
• Sept. 30 vs Arizona State
• Oct. 7 vs Oregon State
• Oct. 14 at Utah
• Oct. 28 vs USC
• Nov. 4 at Oregon
• Nov. 11 vs Washington State
• Nov. 18 at Stanford
• Nov. 25 at UCLA
T
here's no beating around the bush: California faces a steep hill to reach bowl eligibility.
All told, five wins appear to be the ceiling, and getting there might even be a stretch.

So much depends on improvement along the offensive and defensive lines in addition to the successful implementation of Spavital's new offensive scheme.
If Jackson exceeds expectations and runs the offense better than expected, a bowl game is a realistic possibility.
But questions about implementing a new offense, breaking in a new quarterback, and shoring up a questionable defensive line make it hard to project Cal reaching six wins.
The year starts off with a test on the road against North Texas. The Mean Green are starting their first year in the American Athletic Conference and are fresh off a bowl appearance last season.
Yet, UNT fired their coach and hired Washington State's Eric Morris to take over the role. And with North Texas projected to win only six or seven games this year, California should secure the victory.
But if the Bears lose, a bowl game is probably not going to be in the cards.
Cal then hosts Auburn in a game that likely ends in defeat followed by what's expected to be an easy win against Idaho.
In Pac-12 play, the Bears play Washington, Utah, Oregon, and UCLA all on the road while hosting USC. All five of those games likely end with a loss.

But it's the matchups in Berkeley against Arizona State, Oregon State, Washington State, and the Big Game at Stanford that figure to define the season.
Assuming the Bears go 2-1 in nonconference play, the only path to bowl eligibility appears to be going undefeated against the Sun Devils, Beavers, Cougars, and Cardinal.
Wilcox's team should handle business in Berkeley against ASU and beat Stanford on the road, leaving the showdowns with OSU and WSU as the deciding bouts.
Upsetting Wazzu is more realistic, but taking down Oregon State might be too much to ask.
At the end of the day, a five-win year is a somewhat reasonable projection that borderlines on the high end. Realistically, four wins is a more comfortable projection at this point in the offseason.
---
—More from Dane Miller—

Latest posts by Dane Miller
(see all)