Posted on July 17, 2023


  By Dane Miller, SuperWest Sports
T
his USC preseason football preview is the sixth of 12 to appear over as many weeks as we count down the days to the start of the Pac-12 season on August 26th.

Each preview consists of nine sections: Overview, Best-Case Scenario, Worst-Case Scenario, What Should Happen, What Must Happen, Greatest Strength, Biggest Concern, Deciding Factors, and Schedule Analysis.
Nothing is set in stone, however, as rosters and depth charts continue to evolve over the summer.
USC Trojans Fast Facts
• 2022 Record: 11-3
• Head Coach: Lincoln Riley (11-3 at USC)
• Offensive Coordinator: Josh Henson
• Defensive Coordinator: Alex Grinch
• Home Stadium: Los Angeles Memorial Coliseum (77,500), Los Angeles, CA
• Last Conference Title: 2017, Pac-12
Overview
T
he Trojans enter the second year of the Lincoln Riley era with one goal in mind: making the College Football Playoff.

A hamstring injury to quarterback Caleb Williams in the Pac-12 Championship Game arguably cost USC an appearance in the Playoff last year.
But with the Heisman Trophy winner back for another season, the expectations in L.A. are clear.
Still, there's an elephant in the room.
The Trojan defense allowed 29.2 points per game last year and was 94th in the FBS in scoring defense. And instead of showing defensive coordinator Alex Grinch the door, Riley brought him back for another year.
To be fair, Grinch's defense was No. 5 in the nation in turnovers forced per game and No. 20 in sacks per game.

But USC gave up 40 points or more in four different contests and went 1-3 in those matchups, including the Pac-12 Championship Game and the Cotton Bowl.
As a comparison, Playoff teams Georgia and Michigan had the No. 5 and No. 7 scoring defenses in the nation, while Ohio State was No. 25. Runner-up TCU was the outlier, though, with a defense ranked 90th in points allowed per game.
Yet, unless the Trojans improve on "D" they will remain on the outside of Playoff looking in.
To do so, Riley pulled down the No. 3 transfer class in the country with six defensive players rated as four-star transfers, per 247Sports.
Best-Case Scenario
T
he eight returning starters on defense combine with the impact transfers for a markedly improved unit.
USC was an unacceptable 109th in the FBS on Third Down last season, allowing conversions 42.9 percent of the time. For a team expecting to get to the Playoff, that's not going to get it done.
Safety Calen Bullock, defensive back Max Williams, linebacker Shane Lee, and linebacker Eric Gentry highlight the returning starters. But the keys are the transfers.
Former Oklahoma State linebacker Mason Cobb and former Georgia defensive lineman Bear Alexander might be the most impactful.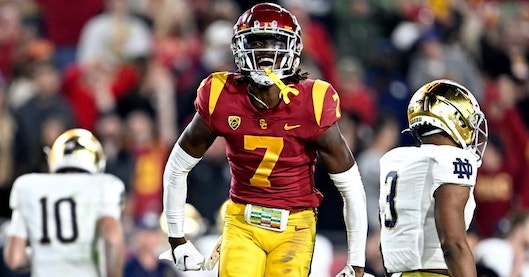 Yet, Arizona transfer cornerback Christian Roland-Wallace, Arizona defensive lineman transfer Kyon Barrs, and Purdue defensive lineman transfer Jack Sullivan project to be just as valuable.
The five immediate impact players should all contribute to help bolster SC's third down and scoring defense.
Texas A&M DL transfer Anthony Lucas, Alabama CB transfer Tre'Quon Fegans, and Georgia State LB transfer Jamil Muhammad all have opportunities to carve out roles, too.
With an improvement on defense and zero expected drop off on offense, the Trojans post wins against Notre Dame, Utah, and Washington with the lone regular-season defeat coming on the road to Oregon.
Worst Case Scenario
T
he Pac-12 Conference has improved in football over the last few seasons and one of the primary reasons why is elite offensive line play.
Last year, Oregon was No. 1 in the nation in sacks allowed per game, while Washington was No. 2, Utah was No. 16, and Oregon State was No. 17.
And as for tackles for loss allowed per game, Washington was No. 1 in the country, Oregon State was No. 8, Oregon and Utah were tied for No. 10, and Arizona was No. 17.
Suffice it to say that the league's strength is highly tied to the quality of its offensive lines.
But, despite what some player grading services published, USC's O-Line was a step behind.
The Trojans were an embarrassing 73rd in the nation in sacks allowed per game (8th in the Pac-12) and a somewhat respectable 37th in tackles for loss allowed per game (7th in the Pac-12).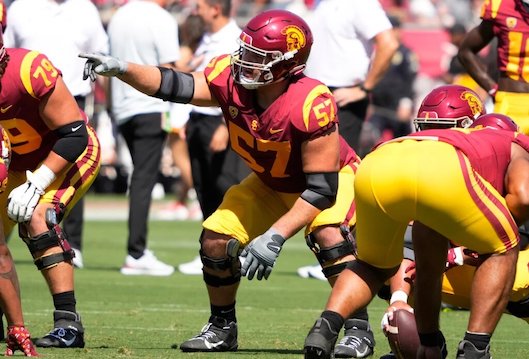 Two primary starters—Justin Dedich and Jonah Monheim—return from last year's line. Mason Murphy is the other returner with notable experience starting, although he only started five games last year.
To address the line play, Riley mined the portal with great success.
USC brought in three offensive linemen transfers with starting experience in Wyoming transfer Emmanuel Pregnon, Florida transfer Michael Tarquin, and Washington State transfer Jarrett Kingston.
The trio combined to start for 28 games last year and make this year's version of SC's O-Line among the best in the Pac-12. At least on paper.
The three newcomers must quickly learn Riley's offense and Williams's tendencies. If the three new players aren't able to do so, the Trojan offensive line could once again be a liability.
If that happens, USC could drop games to Notre Dame, Washington, and Oregon to finish a disappointing 9-3.
What Should Happen
T
he Trojan offense shouldn't miss a beat.
Weapons have been added around Williams with Arizona wide receiver transfer Dorian Singer (1,105 yards receiving and six touchdowns in 2022) and South Carolina running back transfer MarShawn Lloyd (573 yards rushing and 11 total touchdowns in 2022).
USC's freshman class is elite, too.
Ranked No. 7 in the nation, per 247Sports, Riley has added three five-star freshmen and six four-star freshmen to his offense.
Five-star tight end Duce Robinson might have the most immediate impact, but five-star receiver Zachariah Branch should contribute as well.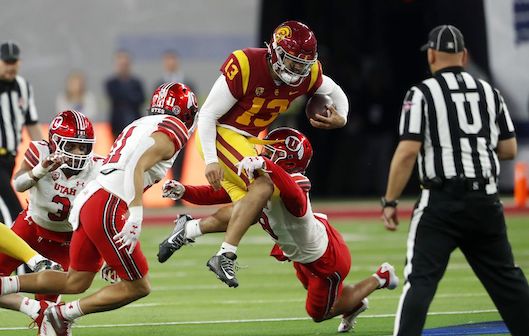 The Trojans were No. 3 in the country in scoring offense and return several key skill-position players.
Running backs Austin Jones and Raleek Brown are both back after combining for 1,374 yards from scrimmage and 12 total touchdowns.
At the same time, three of the top four receivers are back with Tahj Washington, Mario Williams, and Brenden Rice combining for 2,027 yards receiving and 15 receiving touchdowns.
With a total of six returning starters on offense and the impact newcomers, Riley's offense should once again be one of the top units in College Football.
What Must Happen
A
s the last several seasons have shown, the line play on both sides of the ball must improve.
A team with the No. 3 scoring offense in the country shouldn't lose a Cotton Bowl game to Tulane. Nor should it be blown out in its conference's championship game.

But, the primary knock on USC has been its issues on the offensive and defensive lines. And for good reason.
Riley's scheme and Williams's skill covered up many of the issues along the O-Line, but the D-Line remained problematic.
The Trojans were 124th in the nation in First Down Defense, a stat that measures the number of first downs an opponent secures.
Tellingly, SC was dead last in the Pac-12 in that category, and much of the issue is arguably attributable to the defensive line.
Riley lost his top linemen, too. Tuli Tuipulotu posted 13.5 sacks and 22.0 tackles for loss last season and will be missed immensely. Nick Figueroa is gone as well, after putting up 5.5 sacks and 6.0 tackles for loss.

Tyrone Taleni and Solomon Tuliaupupu do return, though, after notching a combined 7.5 sacks and 10.5 tackles for loss last season.
But the three impact transfers along the line—Alexander, Barrs, and Sullivan—must produce. Credit Riley and his staff for identifying the needs on defense and successfully reeling in transfers able to make immediate impacts.
Yet, if they don't do what's expected of them, USC's defensive line could shift from a concern to a certified liability.
Greatest Strength
W
ithout a doubt, USC's greatest strength is its offense.

Riley's system and scheme are elite, while Williams is arguably the top quarterback in College Football. Combined with the depth at wide receiver and the weapons at running back, it's clear SC's offense is at or near the top of the FBS.
An entire series of stories could break down the strength of each individual position group and detail the depth across the board.
But the offensive strength is expected and a given. The key to USC making the Playoff is on the other side of the ball.
Biggest Concern
T
he numbers don't lie: USC's defense was bad last season.

Its rushing defense was No. 80, its passing defense was No. 112, and its total defense was No. 106.
One of the relative bright spots was SC's Red Zone Defense, which slotted in at No. 52. But overall the Trojan "D" wasn't on the level of a College Football Playoff contender.
This year, the linebacker group is arguably stronger and the D-Line might be slightly deeper. But until the production is shown on the field, the defense is easily USC's biggest concern.
Deciding Factors
G
rinch and Riley need production from their sophomores.
Domani Jackson and Raleek Brown, in particular, could be pivotal to an improved 2023 season.
Jackson was a five-star recruit in the 2022 Class, but played in just seven games and only recorded two tackles. There's an opportunity for him in the defensive back room and an uptake in production would be impactful.
Brown, on the other hand, had a productive first year. In a position to contend for the starting running back role, the sophomore is projected to be a consistent piece of SC's offense.
At the same time, defensive back Zion Branch has an opportunity to show what he can do after missing last season with an injury.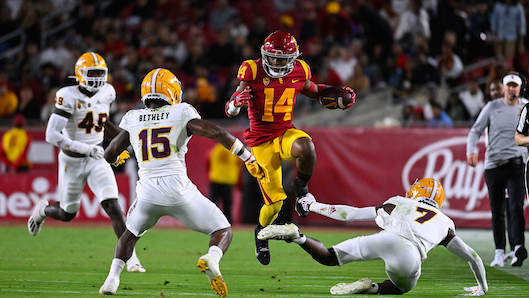 The four-star from the Class of 2022 could be an impact player, or at least contribute, to a defense that needs all the help it can get.
And although he is not a sophomore, it's time for Korey Foreman to finally put up numbers.
The No. 3 overall recruit from the Class of 2021 has just 24 tackles after two seasons. If he can emerge as a consistent threat along the D-Line, Grinch's defense will be in a stronger position.
Individual players don't usually make or break a team, but a collection of them can certainly tip the scales in the right direction.
And after several years of securing highly regarded players, it's time for them to live up to their billing.
Schedule Analysis
2023 USC Trojans Schedule
• Aug. 26 vs San Jose State
• Sept. 2 vs Nevada
• Sept. 9 vs Stanford
• Sept. 23 at Arizona State
• Sept. 30 at Colorado
• Oct. 7 vs Arizona
• Oct. 14 at Notre Dame
• Oct. 21 vs Utah
• Oct. 28 at California
• Nov. 4 vs Washington
• Nov. 11 at Oregon
• Nov. 18 vs UCLA
T
he Trojans should start the year with six-straight wins.
San Jose State is a mildly interesting matchup to start the year, but the Trojans should roll over the Spartans and Nevada.

Stanford is trending up thanks to strong recruiting, but those players don't enter the program until next season and USC should dominate at the Coliseum.
The game against Arizona State is somewhat noteworthy. The Sun Devils will have that one circled on their calendar and will give it everything they have. But ASU doesn't have the defense to contain USC.
Neither does Colorado.
The matchup against Arizona is a slightly closer call. Several UA starters transferred to USC during the offseason, which will give the Wildcats an extra level of motivation.
But Jedd Fisch doesn't have the defense to pull off the road victory in L.A.

The October 14th showdown with Notre Dame is pivotal to the Trojans' Playoff hopes. A loss to the Irish might not eliminate them, but it would probably require the champion of the ACC to have a two-loss year.
A home game against Utah follows. It's a long way away from the matchup, but a USC victory is a comfortable prediction.
The Utes are 1-5 at the Coliseum since joining the Pac-12 and the Trojans are seeking revenge after last year's title game.
A trip to Berkeley to face California follows. Similar to nearly every other team in the Pac-12, the Bears don't have the defensive strength to slow down SC nor the offensive firepower to outscore it.
The November 4th matchup with Washington is a different story.
Kalen DeBoer's offense is on the same level as Riley's and the Huskies have the offensive personnel to hang with the Trojans. But facing UW in L.A., the Men of Troy should win in a high-scoring affair.

A road game against Oregon follows. The Ducks have consistently strong recruiting classes and one of the top quarterbacks in the country in Bo Nix.
Combined with the game potentially being USC's final trip to Autzen Stadium ever, the Ducks figure to pull off the upset.
The year ends with a rivalry game against UCLA that should result in another USC victory.
All told, a 9-3 season appears to be the floor while an 11-1 campaign is a realistic possibility. The defense will be the deciding factor, making a 10-2 finish a fair projection.
---
—More from Dane Miller—

Latest posts by Dane Miller
(see all)