Posted on August 1, 2023


  By Dane Miller, SuperWest Sports
T
his Stanford preseason football preview is the eighth of 12 to appear over as many weeks as we count down the days to the start of the Pac-12 season on August 26th.

Each preview consists of nine sections: Overview, Best-Case Scenario, Worst-Case Scenario, What Should Happen, What Must Happen, Greatest Strength, Biggest Concern, Deciding Factors, and Schedule Analysis.
Nothing is set in stone, however, as rosters and depth charts continue to evolve over the summer.
Stanford Cardinal Fast Facts
• 2022 Record: 3-9
• Head Coach: Troy Taylor (0-0 at Stanford)
• Offensive Coordinator: Troy Taylor
• Defensive Coordinator: Bobby April III
• Home Stadium: Stanford Stadium (50,424), Stanford, CA
• Last Conference Title: 2015, Pac-12
Overview
S
tanford enters the 2023 season in full rebuild mode.
After going 14-28 over the last four years, David Shaw resigned and the Cardinal administration hired Troy Taylor from Sacramento State.

Taylor quickly secured three four-star recruits for the Class of 2023, then turned his attention to next year's recruiting haul.
As of the end of July, the new Stanford coach has already reeled in four 4-star players that will enter the program in 2024.
But this upcoming season is a bridge year for Taylor and his staff.
Stanford Football has been on a multi-year downtrend and it won't be a quick turnaround. There's an open question at quarterback heading into fall camp and issues up and down the defense.
Yet, Taylor's new offensive system should take advantage of the Tree's star tight end Benjamin Yurosek and star wide receiver John Humphreys.
Combined with a respectable backfield in Casey Filkins and E.J. Smith, Stanford has the offensive pieces to start the program's multi-year journey back to relevance.
Best-Case Scenario
T
he Cardinal get their quarterback battle resolved early in fall camp and the starter gets extended reps with the ones and twos.
With just three starters returning on offense, the chemistry between the new quarterback and offensive line is pivotal.
Taylor has one of the top tight ends in the Pac-12 with Yurosek and a respectable receiver in Humphreys. But unless the O-Line takes steps forward, the new QB could be in trouble.
Offensive lineman Levi Rogers started 11 games for the Tree last year and returns to anchor the unit.
Penn transfer Trevor Mayberry has been brought in after starting 18 games over the last two seasons, while Harvard transfer Alec Bank has been added after starting 20 straight games over the last two years.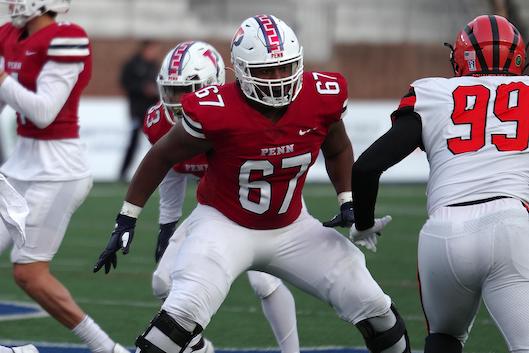 Both transfers' production could arguably make-or-break Stanford's O-Line.
Junior Jack Leyrer is back, too, after starting three games last season. Expected to contend for a more consistent role this year, Leyrer is one of the few returning Cardinal offensive linemen with any career starting experience.
Rounding out the returning players with starting experience is Logan Berzins. But he started just one game in 2022. The Tree will need former four-star offensive linemen Lucas Heyer and Fisher Anderson to make jumps in their second seasons.
All told, the Stanford offensive line is inexperienced and a major source of concern heading into the season. Combined with the lack of experience under center, Stanford's expectations are fairly low in Taylor's first season.
If a quarterback distinguishes himself early enough in fall camp, the Tree could post wins over Hawaii, Sacramento State, and California for a three-win year in 2023.
Worst Case Scenario
T
he mixture of problems along the offensive line and quarterbacks with little to no experience results in an ugly one-win season.
The strength at tight end is wasted with a QB under heavy pressure. Interceptions are frequent and Taylor is forced to try multiple different starters under center.
The result is a painfully ineffective offense that becomes one-dimensional on the ground.
On defense, returning star linebacker David Bailey and Florida International transfer linebacker Gaethan Bernadel do everything they can to stop opposing offenses.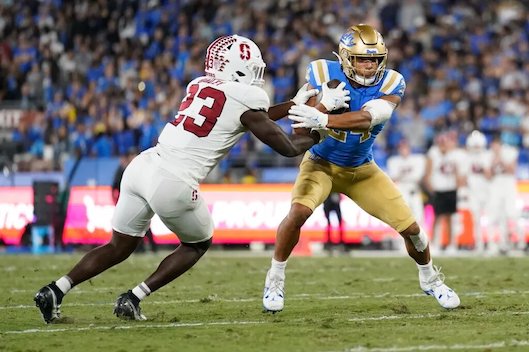 The duo combine to create a respectable unit that is the strength of the defense.
But the secondary becomes a liability and there's not enough depth along the defensive line. Jaxson Moi leads the unit up front and forces opposing coordinators to game plan for him.
Tobin Phillips, Lance Keneley, and Anthony Franklin do their part, too.
Yet, the four starters aren't supported by enough quality depth and teams are able to move the ball with relative ease, particularly through the air.
What Should Happen
T
he Cardinal offense should run through Yurosek and Humphreys.
The duo are each capable of making plays and figure to be prominent in Taylor's scheme. Complemented by a respectable one-two punch in the backfield, Stanford's passing attack should be the strength of its offense.
Running backs Filkins and Smith should take advantage of the opportunities they get, helping to alleviate pressure on the inexperienced quarterback.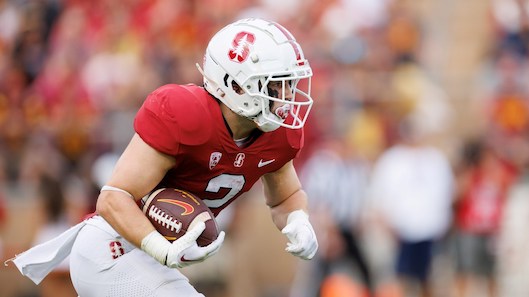 Taylor's focus on the offensive line via the portal should pay dividends, with both Mayberry and Bank starting from Day One. The result is an offense that improves its 21.3 points per game from last season.
On the other side of the ball, the starters in the front seven should combine to form a better-than-expected unit.
Stanford's main issue on defense is its secondary and depth. But its front seven is probably better than some expect. Sophomore lineman Franklin is an under-the-radar player that could have a breakout year.
Florida International transfer LB Bernadel should have a productive season, too, while returning starting LB Bailey and starting DL Moi should, as well.
What Must Happen
T
here are more than a few areas that Stanford must iron out this season.
For starters, a quarterback must emerge to lead the team.
The QB battle is between returner Ari Patu, freshman Myles Jackson, Syracuse transfer Justin Lamson, and sophomore Ashton Daniels.
Patu and Daniels are the early favorites, by default, as the only quarterbacks on the roster with a sniff of experience playing college football.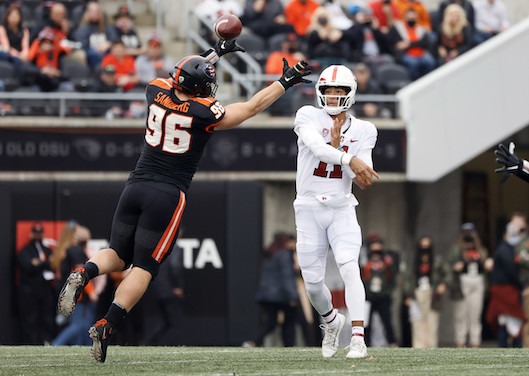 Lamson didn't appear in a single game for Syracuse and Jackson is a true freshman.
Patu has one start in his career while appearing in six games. Daniels, on the other hand, is a more compelling option. The sophomore appeared in 10 games last year, completing five of his six passes while running for 156 yards with three touchdowns.
Taylor's offensive scheme is much more exciting than anything Shaw ran on The Farm, arguably making Daniels the betting favorite to win the job.
Outside of the quarterback situation, the Tree must have players emerge in the secondary. The lack of star power in the unit is concerning, to say the least.
Greatest Strength
Y
urosek is not only one of the top tight ends in the Pac-12, but he is also one of the top offensive weapons in the Conference. Period.

Totaling 49 receptions and 445 yards receiving last year, Yurosek is head and shoulders the best player on Stanford's roster.
Getting him the ball will be pivotal and opposing defenses promise to game plan specifically for him. To counteract the heightened attention, the Tree have to get strong production out of their running backs.
A reliable and effective run game would open up the passing attack like nothing else can.
But, outside of Yurosek, the Tree's linebacker duo is a substantial strength. Bailey had 46 tackles with 8.5 tackles for loss last season and Bernadel had 103 tackles with eight tackles for loss.
The two players should make for a productive unit in 2023.
Biggest Concern
T
he offensive line and secondary are the primary concerns heading into the year.

Taylor did well to bring in experienced O-Linemen via the transfer portal, but the product must be shown on the field before the concerns can be allayed.
The secondary, though, is another animal entirely.
Jonathan McGill, Kyu Blu Kelly, Ethan Bonner, Kendall Williamson, and Patrick Fields are all gone from last year's group.
The only returning players with noteworthy production are safeties Alaka'i Gilman and Omari Porter. Gilman started two games last season while Porter started one.
The lack of experience among the defensive backs is a certified problem for Taylor in his first season on The Farm.
Deciding Factors
O
ther than getting the quarterback battle resolved, developing chemistry within the offensive line, and learning Taylor's new offense, the Cardinal's ability to force turnovers is a major key to their success this season.

The Tree were No. 126 in turnovers forced last year and tied for dead last in the Pac-12. The team managed to generate just 11 TO's all season. Only four teams in all of College Football created fewer.
And when it came to turnover margin, Stanford was equally as bad. The Cardinal were No. 122 in turnover margin with a -10 mark.
Turning those two stats around could be the difference between a one-win year and a surprise to the upside.
Schedule Analysis
2023 Stanford Cardinal Schedule
• Sept. 1 at Hawai'i
• Sept. 9 at USC
• Sept. 16 vs Sacramento State
• Sept. 23 vs Arizona
• Sept. 30 vs Oregon
• Oct. 13 at Colorado
• Oct. 21 vs UCLA
• Oct. 28 vs Washington
• Nov. 4 at Washington State
• Nov. 11 at Oregon State
• Nov. 18 vs California
• Nov. 25 vs Notre Dame
I
n all reasonable interpretations of the schedule, a three-win year feels like the maximum.
The winnable games are Hawaii, Sacramento State, and California. Perhaps there's a small chance of an upset victory on the road to Colorado, but there's very little chance the Tree get to four wins or more.

In fact, the opener on the road against Hawaii is concerning. The Warriors play better on home soil and Taylor's team is breaking in a new quarterback. A defeat to UH wouldn't be a surprise.
The matchup in Week Three against Sacramento State will be a challenge. Taylor's former team will be motivated and well-versed in how to slow down his offense.
Depending on the play of Stanford's quarterback, a loss isn't out of the question.
The road game against Colorado is somewhat intriguing. But the Buffs will view the game as a must-win. And with limited experience under center, the Tree probably fail to get the job done.

That leaves the Big Game with California as the most important matchup of the season. The Bears could be fighting for bowl eligibility and a victory over Cal could be what triggers the firing of Justin Wilcox.
Anything can happen in the game and it's somewhat of a toss-up.
Still, with that schedule ahead of them, a one-win season is a possibility in Taylor's first year. At a minimum, two wins are probably the expectation, and a three-win year would arguably exceed expectations.
---
—More from Dane Miller—

Latest posts by Dane Miller
(see all)